Avoidable pain and permanent health issues can be caused due to a fracture being misdiagnosed. Therefore, you could potentially receive compensation for the unnecessary pain and suffering if the misdiagnosis was caused by medical negligence. Depending on the extent and ramifications of the injury, you could receive both general and special damages compensation for the misdiagnosis of a fracture.
This guide will answer important questions, such as:
How can fractures be misdiagnosed?
What are the commonly missed fractures in radiology?
What is the personal injury claims time limit?
In personal injury claims, what kind of damages can you claim?
What are the benefits of using a No Win No Fee personal injury solicitor?
Our advisors are available 24/7 and offer free legal advice so, to see if you're eligible to claim, please get in touch with us at a time that works for you.
Please read on to learn more about how you could claim for a misdiagnosed injury, such as a fractured wrist or fractured ankle.
Select A Section
A Guide To Claiming Compensation For Misdiagnosis Of A Fracture
A missed fracture could happen for different reasons. For the purpose of this guide and making a compensation claim the missed fracture must have occurred because of medical negligence. Medical negligence is when doctors or medical professionals do not provide care within their professional standards that can lead to a negative impact on your quality of life. They have a duty of care to patients they accept to treat and, if their actions go below the expected standard of care within their profession, causing avoidable harm you could claim compensation.
Therefore, as with any personal injury claim, to make a medical negligence claim for compensation, the below three things need to be true:
The third-party has a duty of care towards you
Their actions or inactions must lead to a breach of this duty of care
This must lead to a worsening of your injury or create a new injury
It's important to bear in mind that a worsening of your condition doesn't necessarily mean that medical professionals did anything wrong or acted below the standards of their profession.
If you decide to claim, peers of the doctor you're claiming against will review the medical actions to see if the required standard was met. This is called the Bolam Test. Therefore, if medical professionals deem that the relevant doctor or department has been negligent, your claim is more likely to succeed.
For more information about this process or to see what compensation you could receive, please contact our team for free legal advice. You can contact them 24/7 using the details above.
What Is A Fracture Of A Bone?
A fracture is either a partial or complete break in the bone. This can be caused by extreme force to a bone or joint through a slip, trip or fall or an accident at work. The symptoms of a fracture include:
Immediate pain or discomfort
An inability to move the injured body part
The body part being unable to bear weight
Immediate medical attention is required to alleviate the pain and receive treatment. Depending on the severity of it, a fracture can lead to potential medical complications. For example, a fractured rib bone can cause a collapsed lung.
A Misdiagnosed Fracture
A misdiagnosed fracture is when a fracture is missed or diagnosed as something else. This leads to the incorrect treatment or recovery plan being performed or recommended by medical professionals. This can then result in further medical complications.
If the medical professionals are deemed negligent, you could receive compensation for all unnecessary pain and suffering caused by the misdiagnosis. For instance, extensive surgery could be required once the correct diagnosis is made. If the injury had been treated correctly in the first place, this may not have been needed. It could cause undue stress and trauma.
You could claim for clinical and medical negligence if you've been injured or suffered unnecessarily because of negligent treatment by medical professionals. The same principles apply to any healthcare provider, whether you want to claim against the NHS or a private healthcare company. Medical professionals have a duty of care. If their actions have gone below the required standard, this could be considered medical negligence.
To learn more about claiming compensation for the misdiagnosis of a fracture, please contact our team for free legal advice. They can confirm if you're able to claim and even provide you with a compensation estimate over the phone in just a few minutes. Call them using the details above.
What Are The Symptoms Of Misdiagnosed Fractures?
As highlighted above, a fracture injury, such as a fractured arm, can be very painful in and of itself. These symptoms of fractures can include:
Swollen limbs
The area also becoming very painful and potentially deformed
Limited mobility
Bruising and tenderness
An inability to move or put weight on the injured area.
Misdiagnosis can lead to unnecessarily prolonged symptoms.
There are different types of medical negligence claims you may be able to make. If you've been provided with the wrong medication or the wrong dosage of medication, it could negatively impact your quality of life. Therefore, you may want to see if you can seek compensation. If so, contact us today using the above details.
How Should Fractures Be Diagnosed And Treated?
If you feel you may have fractured a bone, you should seek immediate medical attention. This is so medical professionals can diagnose the injury and begin treatment. An X-ray is usually performed to determine the nature of your injury upon entering the hospital. A plaster cast is normally placed around the injured area to let it heal.
Surgery may be required to realign the broken bones if you've suffered a complex or comminuted fracture, for instance. Similar to the above actions, this is so the healing process can begin. Depending on the nature of the fracture, it can take weeks or months for the bone to heal. This is something your medical team would clarify with you as part of your recovery plan.
Could an X-Ray or MRI miss a fracture?
You may be wondering, "how can fractures be misdiagnosed?" If the radiographer positions the limb at the wrong angle then an X-ray could miss a fracture. For instance, a hairline fracture could be missed due to how small the fracture line is.
However, it's important to note that other tests may be done to confirm the correct diagnosis. An MRI scan or CT scan may also be performed. Therefore, while you may have an X-ray performed, the medical professionals involved may choose another type of scan in the hope that it would lead to a clearer diagnosis.
Whether you could claim for such an error may depend on the assessment provided by the medical professional's peers. As explained above, this is called the Bolam Test. If your missed injury is seen as an understandable error that doesn't go outside the standard of required care, you may not receive compensation.
Common Types Of Misdiagnosed Fractures
With over 200 bones in the human body, you could be seeking compensation for the misdiagnosis of a fracture for any number of injuries. Commonly missed fractures include:
Knee
Metatarsal
Fibula
Hand
Finger
Neck
Clavicle
Rib
However, theoretically, any fracture could be misdiagnosed due to human error. The misdiagnosis could lead to you being discharged prematurely from the hospital, further exasperating the injury.
If you'd like to have a reliable compensation estimate, use our claims calculator today to get a quotation in just a matter of minutes. Alternatively, you can call us 24/7, so we can give you free legal advice to assess the worth of your injury. Use the contact details above.
Complications Caused By The Misdiagnosis Of A Fracture
Very often fractures will need some type of treatment to be able to heal correctly. However, if a simple fracture receives no treatment because it has been misdiagnosed it could result in surgery being required as the fracture has healed incorrectly. Potential complications include:
Damage to the nerves surrounding the fracture
Compartment syndrome is when blood flow is restricted to that area of the body due to tissue swelling around the fracture.
Malunion, which is when the bone doesn't heal properly. This can cause joint complaints.
Osteoarthritis. This can cause long-term joint pain that could become permanent.
The compensation for the misdiagnosis of a fracture partly depends on how it has negatively impacted your life. Complications such as the ones above can have long-term or short-term effects that can greatly impact the quality of your life.
Calculating Compensation For Misdiagnosis Of A Fracture
There are two potential heads of claim when you're seeking compensation.
The physical and psychological pain, as well as the general decline in your quality of life, can be claimed through general damages.
Financial losses can be claimed separately through special damages.
Therefore, just because you receive general damages due to a successful medical negligence claim doesn't necessarily mean you'll receive special damages compensation. But to receive special damages you must qualify for general damges.
Regarding the amount of compensation, you could receive may be calculated using the work by the Judicial College. They provide a document that lists an array of injuries and illnesses with reflection brackets amounts using the settlements of past court cases. They analyse previous payouts based on the extent and severity of the injury. Therefore, they've built compensation brackets which we use to help provide you with an estimate. We use the same figures in our personal injury claims calculator as we do over the phone.
Below is a list of fracture injuries and their relevant compensation brackets. The Judicial College supplied these figures.
| Area of Injury | Amount of Compensation | Description |
| --- | --- | --- |
| Chest | Up to £3,710 | Injuries in this bracket include fractured ribs or soft tissue injuries causing serious pain and disability that last for only a period of weeks. |
| Neck | £23,460 to £36,120 | Injuries in this bracket include dislocations or fractures causing immediate and severe symptoms that could result in requiring spinal fusion. |
| Back | £36,390 to £65,440 | This bracket is for injuries including disc lesions or disc fractures which can lead to chronic symptoms including personality changes and the risk of arthritis. |
| Back | £7,410 to £11,730 | This bracket includes less serious injuries. Recovery takes place without surgery within 2- 5 years. |
| Arm | £36,770 to £56,180 | Injuries in this bracket include serious fractures to one or both forearms causing permanent and substantial disablement. |
| Arm | £6,190 to £18,020 | Injuries in this bracket include simple forearm fractures. |
| Hand | Up to £34,480 | This bracket includes severe finger fractures that can lead to partial amputations causing deformity and reduced mechanical function. |
| Leg | £51,460 to £85,600 | Injuries in this bracket include ones that led to permanent mobility problems, causing the need for crutches and ones where multiple fractures have taken years to properly heal. |
| Leg | £26,050 to £36,790 | Injuries in this bracket include multiple or complicated fractures or severe crushing injuries to one limb. |
| Ankle | £46,980 to £65,420 | This bracket includes cases of a transmalleolar ankle fracture with extensive soft tissue damage causing deformity. |
We completely understand if you'd like a compensation estimate that specifically relates to your fracture. So we can provide this estimate to you, please give us a call. Our advisors will be more than happy to help you. They're available 24/7 and have years of experience. They can even put you through to a No Win No Fee personal injury solicitor from our panel to begin claims proceedings. Call us today using the phone number above.
What Costs Could Compensation Help Me With?
Special damages relate to the financial losses caused by the injury. You need to be able to prove the value of the special damages you're claiming for you to potentially receive special damages compensation. Therefore, you'll need to provide receipts, invoices and bank statements that correlate with the value you're claiming.
You can claim for losses such as:
Travel costs
Medicine/prescription costs
Loss of future earnings
Care costs, such as the costs of needing a care nurse.
Costs of recreational activities that you can no longer commit to.
You may also be wondering what the medical negligence claims time limit is. If you are over the age of 18 and have mental capacity then you must begin your claim within three years of knowing that medical negligence caused avoidable suffering.
Claiming Compensation For Misdiagnosis Of A Fracture With A No Win No Fee Solicitor
You may be wondering, "what are the benefits of using a No Win No Fee medical negligence solicitor to help with a claim?" The benefits of this include:
The fact that you don't have to pay legal fees either upfront or during claims proceedings.
Instead, they take a legally capped, small percentage of your compensation as payment.
You also don't have to pay legal fees if your claim is unsuccessful.
Why Choose Us When Claiming Compensation For Misdiagnosis Of A Fracture?
Our advisors offer free legal advice and are available 24/7, so you can call them at a time that suits you. They can help with any queries regarding medical negligence claims that you might have. They can also inform you if you're eligible to claim and provide you with a reliable compensation estimate in just a few minutes.
Should you want to make a claim, our medical negligence solicitor works on a No Win No Fee basis. They're hard-working, diligent and will do everything they can for you to receive compensation for the misdiagnosis of a fracture.
Start Your Claim 
Contact us at a time that works for you using the details below.
Learn More
Use the links below for more useful information about making a claim.
Visit the NHS website to learn more about what to do if you've suffered a broken bone.
To see how to treat fractures, view this NHS guidance.
View our website to see if you can make clinical and medical negligence claims.
Has delayed treatment worsened your injury? If so, view this page to learn more about claiming.
To learn more about hospital infection claims, view our website.
Statistics On Misdiagnosis In Accident And Emergency Departments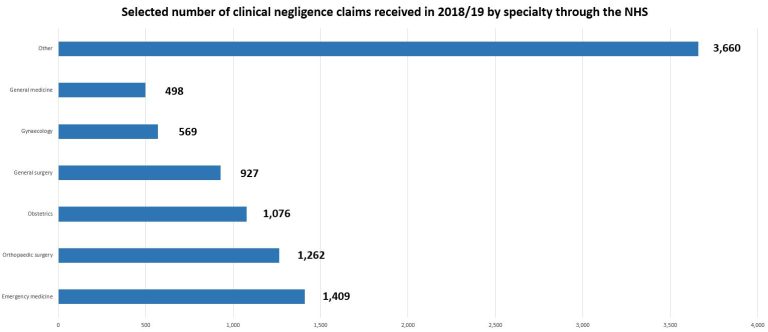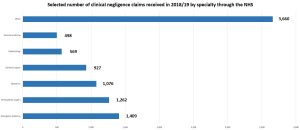 In 2018/19, the NHS had 10,678 clinical negligence claims made against them. Above are the seven categories with the highest number of claims. There were over 1,000 claims in emergency medicine, orthopaedic surgery and obstetrics. There were also over 500 claims in gynaecology and over 900 in general surgery.
This shows that clinical negligence claims may happen more than you think. Human error could lead to your condition worsening. You can see if you're eligible to claim in just a few minutes by calling us for free legal advice using the details above.
FAQs About Compensation For Misdiagnosis Of A Fracture
To conclude, for answers to frequently asked questions about making a claim, see below.
Can I claim if a hospital missed my fracture?
Missed fractures can be claimed for if they are caused by medical negligence and you suffer further avoidable injury as a consequence.
How long do I have to claim for misdiagnosis of a fracture?
You have three years from the date you are made aware that the misdiagnosis caused avoidable suffering.
Could I claim for any lost income or earnings?
You can only claim loss of earning if you make a successful medical negligence claim.
Who is eligible to claim compensation?
To learn more about claiming compensation for the misdiagnosis of a fracture, contact our team using the details above.