By Joanne Jeffries. Last Updated November 9th 2021. Welcome to this case study covering personal injury claims payouts for loss of a leg.
In this case study, we take a look at a claim made by a man, who was injured by a drunk driver in a road traffic accident. His initial injuries were severe, but the full damage was not apparent until much later. Having eventually lost a leg, as it had to be amputated, he claimed a total of £1.3 million in compensation.
The final settlement was not received until over 6 years after the accident, and this alone makes this an unusual claim to examine. This case study is an example of how a simple claim for compensation for a fractured ankle, can, due to compilations, evolve into amputation claims. It also demonstrates how in certain circumstances, a compensation claim can take several years to reach a final resolution.
If you have suffered a serious injury in a road traffic accident, Accident Claims UK should be able to help you make a claim, call us on the number at the end of this page to find out how.
Statistics For Serious Injuries From Road Traffic Accidents
Road traffic accidents are the most common type of accidents that a personal injury lawyer will process a claim for in the UK each year. However, the vast majority of these claims are for minor accidents and fairly trivial injuries. The graph above shows just how many serious injuries occurred in the UK in 2015. We can clearly see that of all 186,200 injuries caused by a road traffic accident, only just over 22,000 people suffered a serious injury.
Extensive Fractures To Both Legs
The claim we are examining, was of special interest due to the way the injury the victim was claiming personal injury compensation for, actually got much worse over time. Initially, the victim suffered severe fractures to both legs. These injuries were bad enough for him to make a personal injury claim in their own right.
However, after several surgical procedures, doctor's agreed that the best course of treatment would be to amputate the left leg at the knee. The right leg was saved, but was damaged severely, and metal pins had to be inserted into the bone to keep it fixed in place. These were note short-term pins to help the bone knit, these were permanent pins, to give the bone strength.
Obviously, the victim suffered a significant loss of life quality, as he could no longer walk, and was for all intents and purposes, entirely immobilised. The real problem with this, is that the claimant had been the primary carer for his wife, who suffers from a back problem. More on this below.
How Did Solicitors Help In This Case, And How Are Amputation Claims Conducted?
The claimant was pursuing loss of limb compensation, using a personal injury solicitor. The solicitor was attempting to claim damages for the very severe injuries. The loss of the left leg below the knee, and the serious damage to his right leg, leaving it almost unusable. This meant that the claimant could no longer act as the primary carer for his disabled wife, as he had been doing before the accident.
The claimant's solicitor was successfully able to claim an interim payment, to cover the financial losses the victim has suffered until the claim could be completed entirely. Some six years after the accident, the claimant, who was by this time, having to use a wheelchair full time, received the final settlement.
What Loss Of Limb Settlement Was The Road Traffic Accident Victim Awarded?
As mentioned above, during the claim process the solicitor the victim chose to process his claim, was able to win leg amputation settlement amounts as interim payments, to cover short-term financial hardship. Due to the extended length of time that the claim took to complete, so these interim payments were vital.
Initially, the lawyer representing the defendant, offered the claimant £300,000 as an out of court settlement. However, the claimant's solicitor advised him that the figure was far too low. Another year went by, making this an atypical clam with regard to how long it took to process. After this year, the defendant offered the claimant £600,000 in damages as a total settlement figure. Once again, the claimant's lawyer recommended that he did not accept this figure, and to try for more.
Eventually, after the claim taking more than 6 years from the date of the road traffic accident, the claimant was offered an overall settlement that totalled £1.3 million. This claim is an excellent example of how in the case of serious injuries, accepting the first out of court settlement offered, may not be the best idea.
Very few personal injury claims take 6 years to reach a settlement. A pivotal point of this claim was that the victim used a No Win No Fee solicitor. Due to the financial hardship caused by his injuries, it is unlikely that the claimant could have funded their claim out of their own pocket for 6 years. The fact that the claimant received a fairly substantial interim payment was also an important factor. This gave the claimant enough financial breathing room, to stick to his guns and hold out for a higher compensation payment.
Overall, even though this particular claim is somewhat unique, it is a good example of how claims for serious injuries often see the victim being offered an out of court settlement which is far too low. The offer is made by the defendant, in the hopes that the claimant is in such bad financial shape, that they are desperate for the compensation payment. The defendant is hoping that the claimant cannot afford to go the whole way, and hold out for the most compensation possible.
No Win No Fee Loss Of Limb Claims
Accident Claims UK can offer to process your claim under a No Win No Fee agreement. As No Win No Fee solicitors, the national claims service we offer to all residents of the UK, is an entirely risk-free way to process a claim, from a financial viewpoint. This is because we will never charge you a penny unless we actually win you a compensation payment.
To explain the fee structure of our claims service, and what you have to pay when, it works like this:
We begin processing your claim – at zero cost to you, there is nothing to pay when we take your claim on.
We seek a compensation settlement – at zero cost to you, as no matter how long it takes to process your claim, we won't ever ask you to pay any ongoing costs.
We win compensation for you, and receive a payment on your behalf – we will deduct our fee automatically from the money received, and give you the rest.
If we fail to win your claim, we still won't charge anything. This is what makes the Accident Claims UK claims service a risk-free way to make a claim. Call us on the number below to learn more.
Begin Your Loss Of Limb Compensation Claim And Receive Personal Injury Claims Payouts For Loss Of A Leg
If you have been the victim of a serious injury, Accident Claims UK may be able to help you claim a high compensation payout, under our national claims service. We always aim to get our clients the highest amount of compensation possible, without taking any actions that could endanger their claim.
When you call us, one of our team will be on hand to talk you through our new claim onboarding process. This starts with a series of questions which are designed to tell us what we need to know about your claim, so that we can give you some proper legal advice on what to do next. If you are ready to start your claim for a road traffic accident, call 0800 073 8801 today, so we can get your claim started.
Could I receive personal injury claims payouts for loss of a leg caused by an uninsured driver?
Whether you were hit by a car as a pedestrian, and the driver failed to stop at the scene, or you were involved in a road traffic accident whereupon the at fault driver was not insured, you may be worried about whether you could receive compensation. After all, in many road traffic accident claims, your compensation would come from the at fault drivers' insurance. If a driver could not be traced, or was not insured, then where would your compensation come from?
Luckily, there is a scheme in place that could help you. The MIB, or Motor Insurers Bureau to give it its full title, could compensate victims of uninsured or untraced table drivers for their injuries. We could help you with a claim of this type. Our specialist solicitors, who are authorised and regulated by the Solicitors Regulation Authority could launch a claim for you. We could fight for the maximum compensation settlements possible for your injuries, and the costs associated with them.
Could I receive personal injury claims payouts for loss of a leg in an accident abroad?
If you are injured and lose your leg in an accident that happened while you were on holiday, for example, we could still help you. You may be surprised to learn that you would not need to use a solicitor in the country in which your accident happened. In some cases, making a claim for a loss of a leg or a holiday, could mean you are taking action against a package holiday company here in the UK. To find out whether we could help you with the holiday accident claim for the loss of a leg, please call our team today. We would be glad to offer you an no obligation assessment free of charge. We could then provide you with no win no fee solicitors with up to 30 years experience to assist you with fighting for the maximum compensation possible for your claim.
How do I maximise personal injury claims payouts for the loss of a leg?
If you are looking to maximise your compensation settlement, it is vital that the claim is put forward with as much evidence as possible, so that the liable party could find it hard to dispute or refuse your claim. Not only would you need to seek an examination from an independent medical professional, so that medical evidence could be provided with your claim. You would also be wise to consider using a personal injury solicitor to help you. Then you could have peace of mind that your claim was put together professionally, and your solicitor would fight for the maximum settlement amount possible for your claim.
How many people were seriously injured in RTAs in 2020?
When it comes to however many people suffered a serious injury on UK roads in 2020, you would think that the figure would be much lower than in previous years. This is because there were four months in which people were restricted as to where they could travel, due to the coronavirus pandemic. However, as you can see from the graph below, there were still a significant number of people who suffered serious injuries or were killed in road traffic accidents in the UK. The figures below come from the Department for Transport statistics.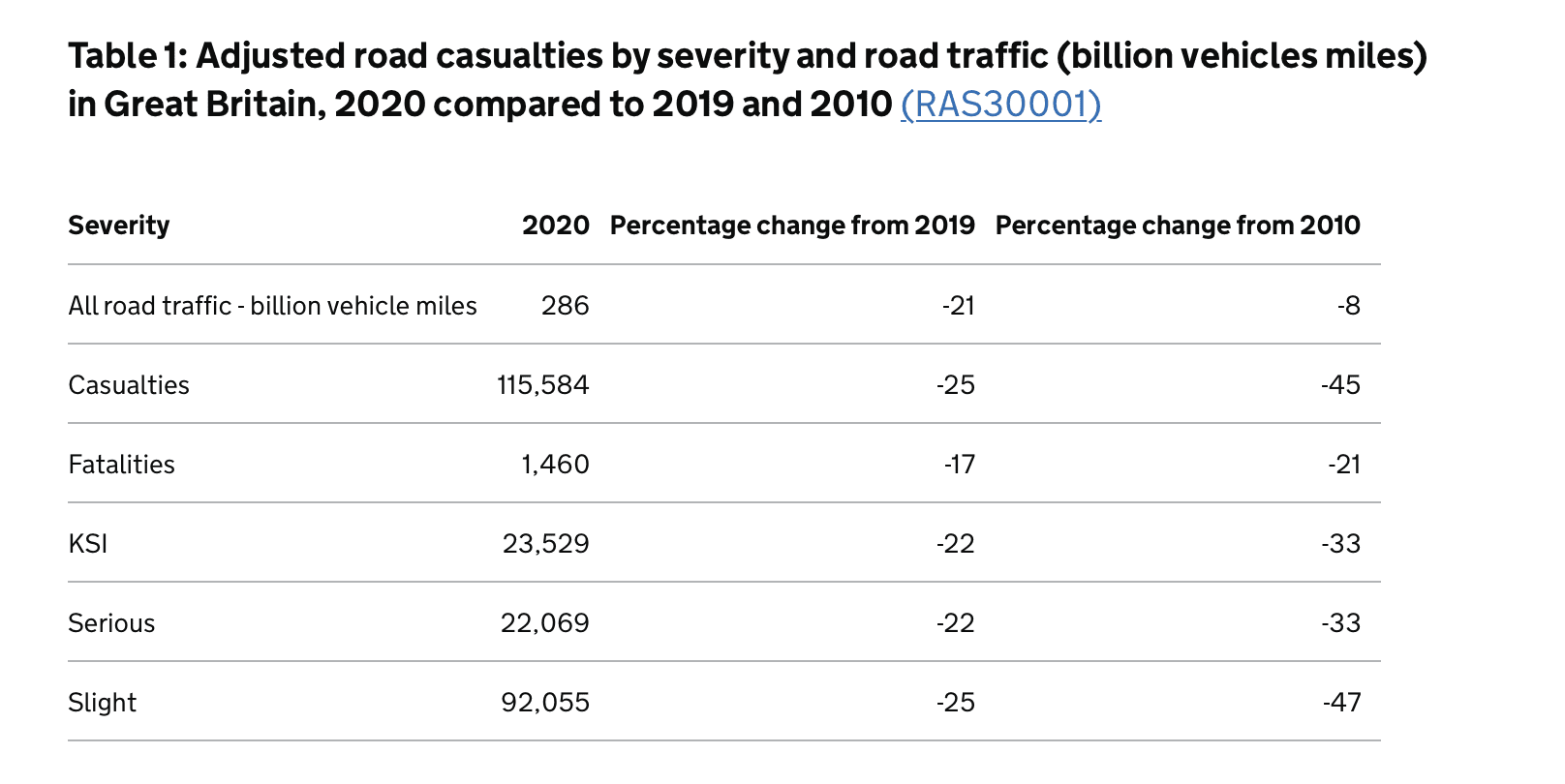 Useful Links Relating To Personal Injury Claims Payouts For Loss Of A Leg
At the link below, you will find a detailed guide to claiming compensation for road traffic accidents:
A guide to claiming for road traffic accidents
At the link below, you will find a detailed guide to claiming compensation for serious injuries including an alternative to a compensation calculator:
A guide to claiming for serious injuries
The UK Government has published detailed statistics related to road traffic accidents in the UK, which can be found at this link:
UK Government road traffic accident statistics
The Department of Transport has published a report covering road traffic accidents in the UK as a PDF here:
Department of Transport report on road traffic accidents
Other Useful Compensation Guides
Thank you for reading this case study on personal injury claims payouts for loss of a leg. Whether you're looking to claim special damages for loss of earnings from an injury at work that caused you to lose your leg or you would like help to get the maximum compensation possible in general damage for pain and suffering from accidents at work leading to amputation, we could help you make a leg injury compensation claim.