By Joanne Jeffries. Last Updated 16th November 2021. Welcome to this case study surrounding medical negligence payouts for misdiagnosed tear after childbirth.
Here at Accident Claims UK, we have helped many different people to claim compensation for a whole host of accidents and injuries. This includes women who have had the misfortune of suffering an injury during birth due to clinical negligence. While some injuries simply cannot be avoided, there are lots of injuries that have occurred because of a poor standard of care or failure to notice certain symptoms. This was certainly the case for one woman whose case we researched who was left with incontinence after a third degree tear was missed. This is a great example of the sort of cases that can be launched to secure compensation successfully. In this specific example, the woman was awarded £100,000 in medical negligence compensation for her injuries and the ongoing damage. In this case study, we are going to take a look at third degree tears in further detail, as well as providing you with specifics regarding the claim that this woman brought forward.
What Is A Third Degree Tear, And What Effects Can It Have If Not Properly Treated?
What is a third degree tear? Let's begin by taking a look at this sort of injury. The perineum is the area between the rectum and the vagina, which can commonly be referred to as your back passage. This injury can also sometimes involve the rectum itself, as well as the muscles around the rectum, which as the external and internal anal sphincter muscles.
There are a number of different incidents that can increase the likelihood of someone suffering a third degree tear. This includes the following:
You have an episiotomy – this can extend into a third degree tear
You have a long labour
You have a large baby
You need help with the birth by ventouse or forceps
Your perineum is short
Your baby is born facing upwards
This is your first vaginal birth
In almost all cases, precise surgery is required in order to repair a third degree perineal tear. The third degree tear repair should be done in an operating theatre and the individual will usually have spinal anaesthetic or an epidural. In rare cases, a general anaesthetic may be used. Throughout the procedure, the woman will be given antibiotics. This is to stop an infection from arising. Moreover, to enable the drainage of urine, a urinary catheter will be passed into the bladder. It is also important that the correct aftercare procedure is followed in terms of a course of antibiotics being given and regular pain relieving medication being provided.
What Happened To The Claimant?
This case happened in the summer of 2006. The claimant was admitted to hospital in August when she was 41 weeks pregnant, as she was experiencing regular contractions. The following day, at roughly 3 am, she was 7 cm dilated. She then had a strong urge to push around two hours later. However, the heart rate of the baby had begun to drop with a slow recovery. The claimant was then completely dilated around 20 minutes later. Ten minutes after this, she was reviewed by a locum registrar, who felt that the claimant should be transferred to the operating theatre to deliver the baby because there was concern about the wellbeing of the baby. A ventouse cup was unsuccessfully applied on two attempts, so due to inadequate suction, this was abandoned. Forceps were then applied, and the baby was delivered.
The claimant was discharged from hospital on August 27th. However, when a community midwife saw the claimant the following day, she discovered the new mum was experiencing incontinence and that her perineum was torn open and swollen. It was then recorded that a third-degree tear had been missed.
How Did Solicitors Help To Claim Third Degree Tear Compensation?
In this case, solicitors successfully argued that the claimant would not have become incontinent if a competent repair had been carried out at the time. They also established that the claimant had suffered social embarrassment and anxiety due to the incontinence she now suffered with.
How Was The Claim Valued And What Payout Was Awarded?
The solicitors working on this case were able to secure £100,000 in personal injury compensation for the claimant. They not only showcased how the new mum had suffered physical injuries but they displayed the psychological injuries she had suffered too. The anxiety the woman had suffered with and the social embarrassment she experienced were taken very seriously. The payout awarded will help the claimant by enabling her to seek cognitive behavioural therapy, which will help her to learn techniques so that she does not suffer the physical and mental symptoms of anxiety. When making a third degree tear claim, it is important to note that you do not only receive a payout for the suffering you have experienced but also any out-of-pocket expenses too. If you have been forced to miss work or you have had to pay for someone to look after your children while you recover, this can all be included in your claim.
How To Make A No Win No Fee Claim For Medical Negligence During Childbirth
There is no denying that times have been rough financially over the past few years or so. Yes, the recession may seem like a distant memory for a lot of people. Yet, the effects can still be felt, and living costs are undoubtedly high. It seems most people don't have the money to spend that they once did. Because of this, a lot of individuals who suffer personal injuries do not make a case and get the money they are entitled to. Why? Because they do not have the cash spare to begin a personal injury claim, or because they are worried about the potential monetary implications should they lose their case. This is why No Win, No Fee claims are becoming exceedingly popular. This type of claim eliminated all of your concerns.
No win no fee claims offer several monetary benefits. First and foremost, you do not actually need any money to begin your claim. This eliminates one of the major hurdles people find themselves facing. Yet, there are no barriers to entry if you use a No Win, No Fee personal injury solicitor. In addition to this, as the payment structure is entirely different, the financial risk is diminished dramatically. The result of your case will play a role in how much you have to pay, and this is extremely advantageous.
You will be pleased to know that ALL of the solicitors on our panel work on a No Win, No Fee basis at Accident Claims UK. Therefore, no matter what type of accident you have been involved in or injury you have suffered, you can be sure you will be able to benefit from a No Win, No Fee service when using us.
Start Your Claim Today For Medical Negligence Payouts After Misdiagnosed Tear After Childbirth
All you have to do is give us a call on our legal helpline and you will speak to one of our polite and seasoned professionals. They will talk you through the process and answer any queries you may have. They will then put you in contact with the best Accident Claims UK personal injury lawyer for your case. As mentioned, our team is made up fully of No Win, No Fee solicitors, meaning there is no monetary risk involved. The number you need to get started with your claim is 0800 073 8801. This is our personal injury claims line, which is open seven days per week, and 24 hours per day, so you can call at any time that suits you. There are plenty of other ways for you to get in touch with us as well, as you will see via our website. You can use the live chat feature or you can send us an email. Head to the contact page for more information. You will also see a box on our homepage that enables you to request a free call back. No matter how you choose to get in touch with us, you can be confident that your claim will be handled with complete confidentiality. There is really no reason not to get in touch with us should you feel you may have cause to claim, so don't delay.
What damages could make up medical negligence payouts for misdiagnosed tear after childbirth?
When it comes to calculating medical negligence payouts, you may be interested to learn that different types of damages could make up your personal injury compensation payout. As well as receiving general damages for the loss of amenity, and the pain and suffering of a birth injury, you could also receive special damages. These are designed to compensate personal injury and medical negligence claimants for the costs and losses they have suffered because of their injuries. Special damages could include, but may not be limited to:
Medical costs – if you have sustained medical expenses relating to prescription medicines, or medical care for your injuries, you could include these withing your misdiagnosis claim.
Care costs – should you have needed at-home care because your injuries were so severe that you could not perform daily tasks such as dressing and washing, for example, you could claim care costs.
Travel expenses – travelling to see your lawyer or attend medical appointments could cost you money. If it does, you could claim for travel expenses.
Loss of earnings – sometimes, people may need to take time off from work because of their injuries. If they do, and they lose out on income because of this, it could lead to a claim for loss of earnings. If it does, a loss of earnings claim could include both regular bonuses and overtime, as well as future loss of income in some cases.
To find out what you could be eligible to claim for when it comes to medical negligence settlement amounts in the UK, please call our team.
Why should you not use a compensation calculator to look at medical negligence payouts for misdiagnosed tear after childbirth?
You may have seen medical negligence compensation calculators online, and you may be tempted to see how much compensation they say your case could be worth. However, we would advise you not to rely on the figures given by such tools. This is because they would not be able to give you any accurate figure. When calculating compensation settlement amounts, courts and solicitors would assess all the specific evidence, facts and circumstances of your case. No two cases are precisely the same and no injuries affect people in exactly the same way. Therefore, your compensation settlement would only be arrived at once all the evidence was assessed and scrutinised.
How common is clinical negligence on the NHS?
If you're wondering whether you're alone in suffering medical negligence, figures from NHS Resolution could give you some insight into this. In 2020-21 alone, the NHS paid out large sums of money to clinical negligence payouts for a variety of clinical negligence cases. We have illustrated this below.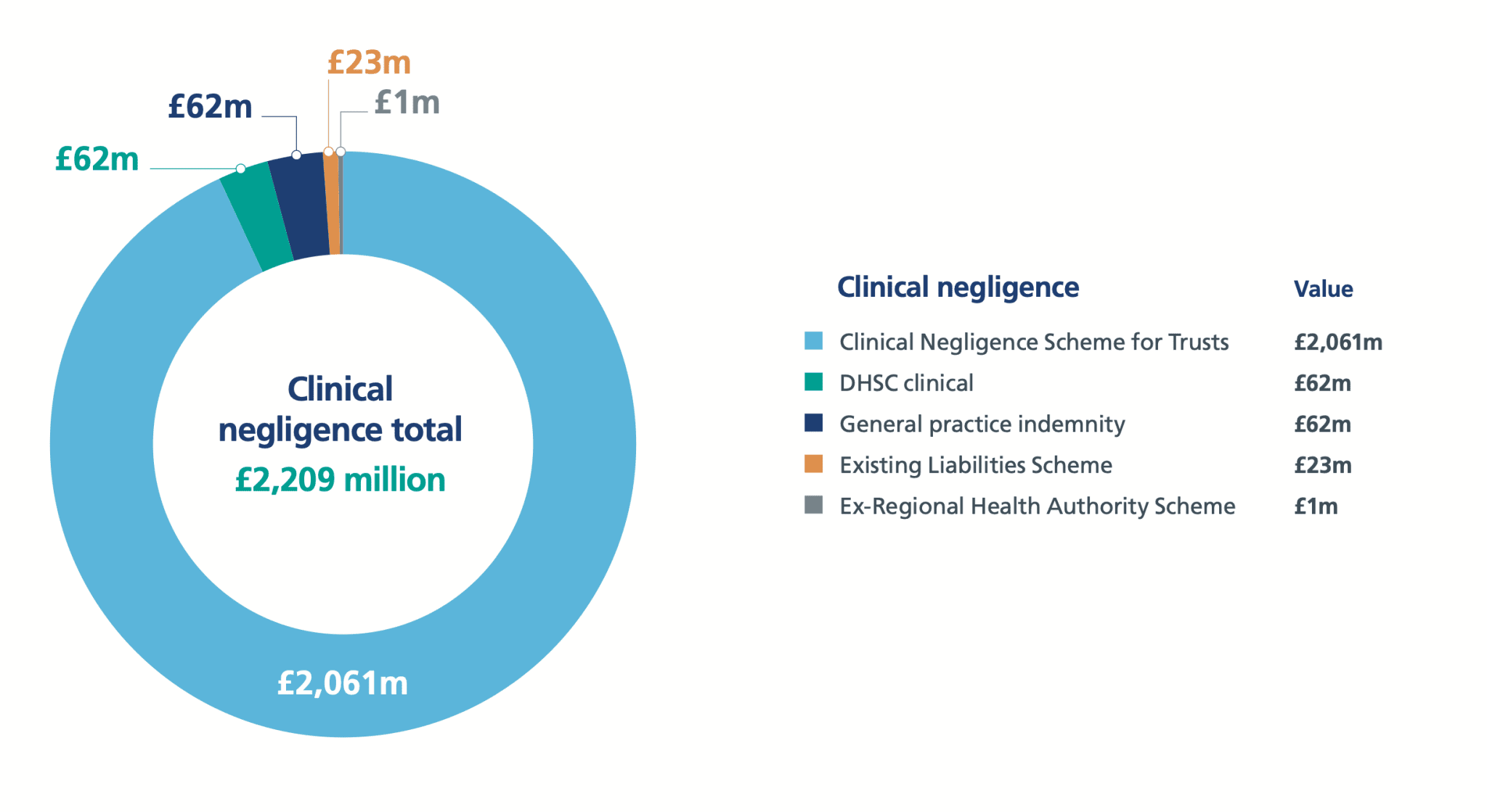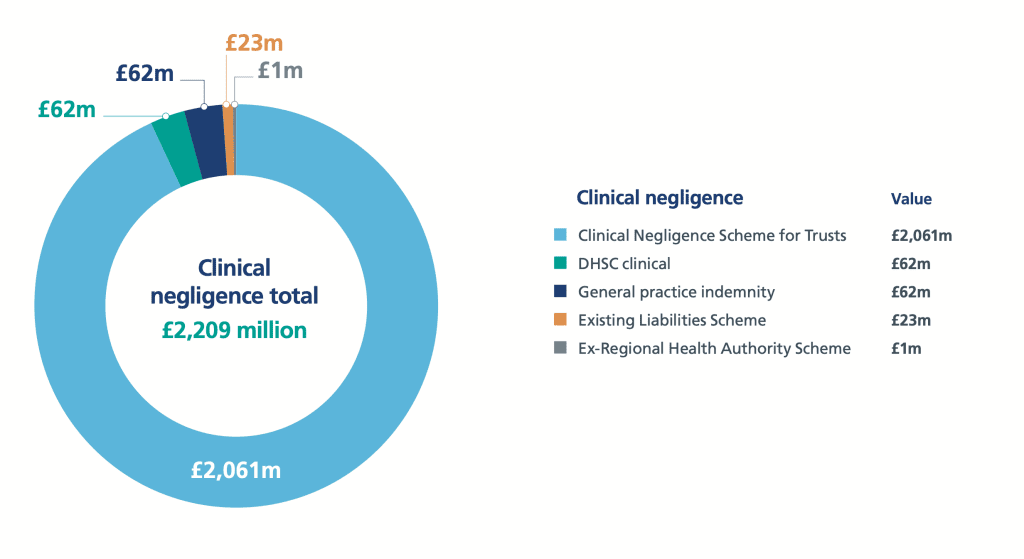 When it comes to claiming for clinical negligence of any type, getting free advice from a friendly solicitor could be useful. If you call our team, not only could we offer free legal advice, we could also provide you with a quality No Win No Fee solicitor, authorised and regulated by the Solicitors Regulation Authority. They could fight for the maximum compensation possible for your negligence claim.
Useful Links Relating to Medical Negligence Payouts After Misdiagnosed Tear After Childbirth
We hope that you have found this guide helpful while looking for more information on making a claim for a third degree tear incontinence caused by medical negligence. However, if you need more details, the links below may be useful.
Injuries in the birthing process – How to go about looking into making a claim –The first link takes you to our guide on birth injury negligence claims, including a section on how much compensation you may receive if you make such a claim.
Misdiagnosis – Can you look at making a claim for compensation –The second link takes you to our guide on misdiagnosis compensation claims.
All about tears and episiotomy – NHS Guide – The third link takes you to the NHS website where you will find more information on third degree tears.
Other Guides Available
Thank you for reading this case study relating to medical negligence payouts for misdiagnosed tear after childbirth. if you've suffered a vaginal tear, whether a 1st degree, 2nd degree, 3rd degree tear or 4th degree tear that has caused long term faecal incontinence or other issues, we could help. If you could prove a doctor or midwife, obstetrician and gynaecologist could be at fault, we could help you make medical negligence claims.