By Joanne Jeffries. Last Updated 20th October 2021. If you have endured any degree of scarring due to the fault of a negligent third party, you may consider taking legal action to get scar injury compensation. Throughout this guide, we will look at permanent scar injury compensation claims in detail and outline how a personal injury solicitor could offer to take on the case.
Scars are not only cosmetic injuries. In some circumstances, they can have a long-term adverse effect on the victim's life, such as preventing them from moving their fingers properly or stopping them from flexing a knee joint properly. Regardless of whether your scarring is medically problematic, or cosmetically stressful, this guide is for you.
However, if you would instead not read this guide, and would simply like to begin a compensation claim for your permanent scar injury, then you can call Accident Claims UK on 0800 073 8801 now, and we can begin the claims process on your behalf.
Please be aware that there is a 3-year time limit on personal injury claims, meaning if you want to pursue permanent scar injury compensation, you must do so within this period.
Select a Section:
A Guide to Claiming Compensation for Permanent Scarring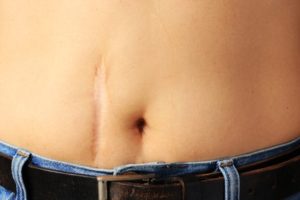 Welcome to our permanent scar injury compensation claims guide.
If you have had your life affected by serious scarring, you may be able to claim compensation. For example, if your dentist damaged your face during a dental procedure and left you with a scar, you could be eligible to claim permanent facial scar compensation against your dentist.
This guide to making permanent scar injury compensation claims for all types of permanent scars will provide you with all of the information you need to understand the claims process fully. Within this guide, you will find information such as:
A complete definition of exactly what permanent scars are.
An explanation of how work-related accidents often cause permanent scars, and how you can claim for these.
An examination of the types of permanent scars that can be caused by a fire or other burns.
Information on permanent scars that are caused due to a poorly executed surgical procedure or some other form of medical negligence.
A general look at many of the other types of accidents that can lead to permanent scarring.
A discussion of the adverse effects on your health that a permanent scar can have in the long-term.
The steps you should take if you have a permanent scar injury that you wish to claim for, to give you the best chance possible of winning your compensation claim.
Information about the amount of compensation you might receive for a permanent scar, as well as a detailed table showing typical compensation amounts for a range of permanent scar injuries.
A short case study that looks into how a specific permanent scar injury was managed with regard to claiming compensation.
An introduction to the No Win No Fee scar injury compensation claims service operated by Accident Claims UK and our argument for presenting claims service as the best way to make a permanent scar claim.
If you don't have time to read the entire guide below, you can simply call Accident Claims UK on the number you will find at the top of this page, and we can help you begin to claim compensation for a permanent scar right away.

What Is the Definition of a Permanent Scar Injury?
Permanent scar injuries can be cosmetic, physically harmful, or both. However, in the eyes of the law when it comes to making a compensation claim, every permanent scar fits into one of these categories, and these are:
Scar contractures – this type of permanent scar occurs when the skin shrinks or become stretched, for example, the skin over the knee shrinking after it has been damaged in a fire. This means that it would be difficult to move the knee joint because of the scar.
Flat pale scars – generally, these types of permanent scars or solely cosmetic in nature have no natural effect on the body's function.
Keloid scars – these are large, dark coloured welts that are caused by skin healing without proper stitches or dressings. These scars can be both cosmetics in nature, and if they are in areas such as a joint, can also stop the joint from functioning properly.
Permanent scar compensation claims could be made by those who suffer scars in an accident that was not their fault. Whether you obtained a permanent scar due to a workplace accident, road traffic accident, or medical negligence, or someone else's negligence or breach of duty of care, you could make a personal injury claim.
No matter which of the three types of permanent scar you have, Accident Claims UK can help you claim permanent scar injury compensation. Call us at the number at the bottom of this page to start your claim now.

Permanent Scarring Caused by an Accident at Work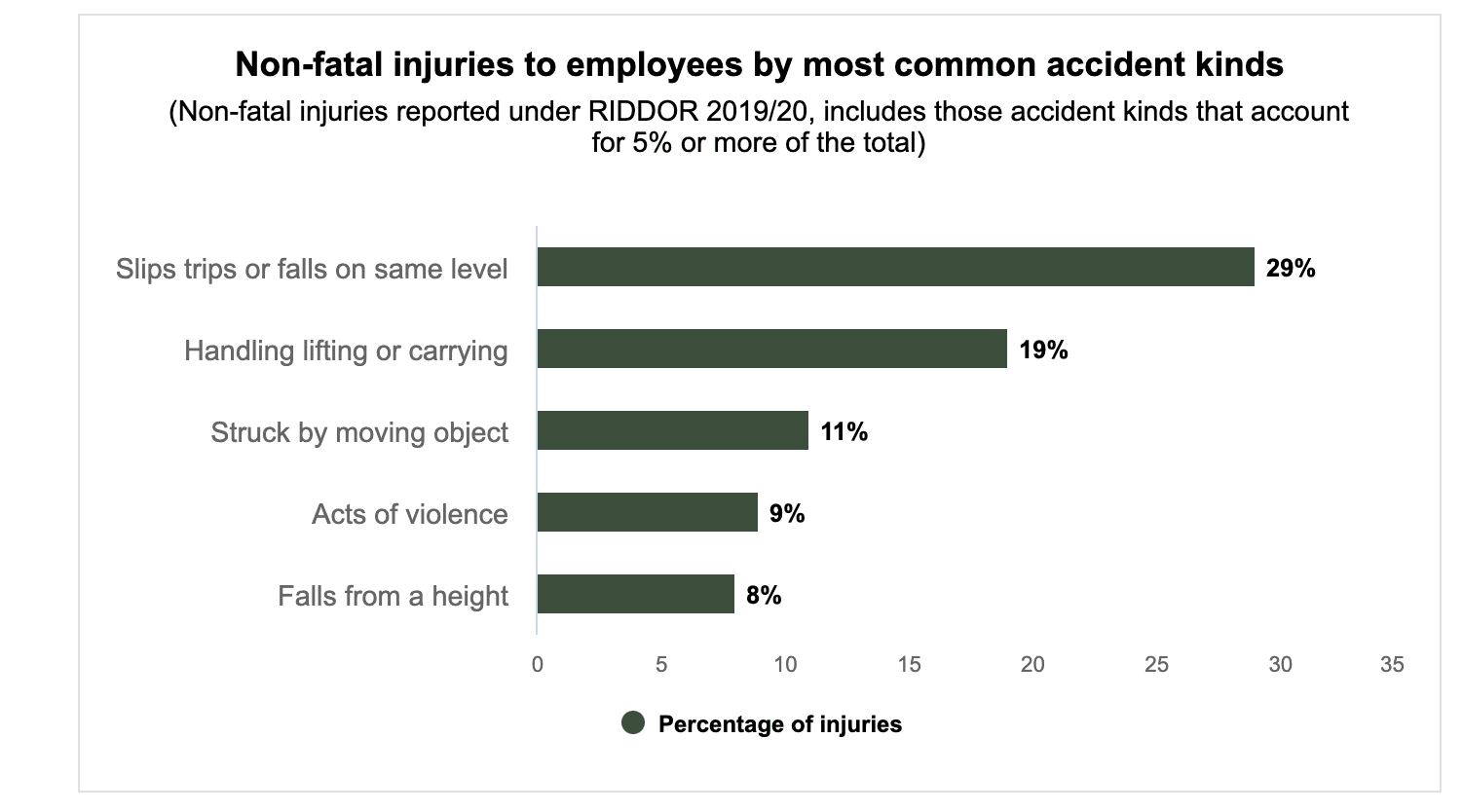 Source: HSE Statistics
Take a look at the table above, which show the most common causes of an accident at work. Almost all of these types of accidents could result in an injury that could produce permanent scarring. And if they do, you can claim workers comp scar money. And although claiming for stitches is possible, in this guide we are more concerned with permanent scarring.
Every single company in the UK is required under the Health and Safety At Work etc. Act 1974 to provide a safe and healthy working environment for its employees at all times. When the company fails in this duty, there will be a valid reason to make a personal accident claim.
Let's take a look at some critical workplace accident statistics provided by the Health and Safety Executive (HSE):
17.9 million working days were ultimately lost as a direct repercussion of work-related anxiety, depression and stress.
0.8 million cases relating to depression, anxiety and stress.
111 fatal workplace injuries.
07. million workers endured a non-fatal injury at work.
65,427 workplace non-fatal injuries were reported by employers.
Accident Claims UK has decades of experience in claiming for work-related injuries for our clients, including those entitled to scar injury compensation. Call us on the number at the bottom of this page so we can help you make a No Win No Fee claim for a scar that was caused by an accident at work, whether you suffered a warehouse injury or were injured in an office block, showroom or shop.

Permanent Scars Caused by a Burn Injury
In order to answer the question, how much is a scar worth UK? the answer will depend almost entirely upon the severity of scars. And without a doubt, scars caused by a burn injury are often the most serious of all.
Burn related scars are not necessarily caused by fire. They can be caused by other injuries such as a chemical burn, or even radiation burns (although unlikely). For example, if you were the victim of an acid attack that resulted in a serious permanent scar, criminal injuries and permanent scar injury compensation claims are a possibility for these types of injuries.
If you have suffered either a cosmetic or physically disabling scar due to a fire, or a chemical accident, then call Accident Claims UK at the number at the bottom of this page so we can begin claiming you the compensation you are entitled to.

Permanent Scarring Caused by Negligent Medical Treatment
No doctor is perfect, they can and do make mistakes from time to time. If this mistake can be proven to be a negligent action, then the medical negligence victim will have a valid reason to make a permanent scar injury compensation claim.
A permanent scar can be caused by a badly or incorrectly carried out surgical procedure. Either due to the doctor making a physical mistake during the surgery or by a member of the nursing staff failing to provide adequate treatment and care for a person who has had surgery and is in recovery. For example, allowing a wound that was caused by the doctor making an incision during surgery to become infected, with the infection causing the wound to heal badly, leaving a permanent scar.
No matter how your scar was caused medically, Accident Claims UK has the experience required to be able to take on large organisations such as the National Health Service and win scar injury compensation. Call us today at the number at the bottom of this page, and find out how we can help you claim for a permanent scar caused by medical negligence.

What Are Some of the Other Common Causes of Permanent Scarring?
Above, we have covered many of the most common ways that a person can receive a permanent scar, such as work-related accidents and medical negligence. However, there are many other ways a permanent scar can be caused, such as:
Cosmetic surgery – such as breast implants, a tummy tuck or liposuction. Facial scar settlement amounts can be quite high for badly carried out facial cosmetic surgery.
Tattoos – either having a new tattoo done, getting a cover-up job, or even laser tattoo removal can result in terrible scarring.
Body piercing – especially facial piercings can result in horrendous permanent scarring.
Welding sparks – if a welder is not wearing the proper protective gear, welding sparks can cause serious scarring to the arms.
These are just a few of the ways that permanent scarring can happen; there are many more. Give Accident Claims UK a call on the number at the bottom of this page and tell us how you have been scarred so we can advise you on whether or not you have a valid reason to claim scar injury compensation.

What Can Be the Long-Term Effects of Suffering a Permanent Scar?
The long-term effects of permanent scar injuries fall into two main categories, physical problems and psychological problems.
Physical problems include loss of function due to scar contractures and keloid scars. This can be fairly mild such as a stiffness in the fingers, to very severe such as preventing the knee or elbow from bending fully.
Psychological problems are more usually related to cosmetic permanent scarring. For example, somebody who has suffered severe facial scarring may suffer depression, loss of self-esteem, social anxiety and a number of other psychological disorders.
And of course, there are those cases of permanent scarring which are comprised of both physical issues and also psychological problems.
Regardless of whether you need to claim general damages for physical or psychological trauma or special damages for financial losses, Accident Claims UK can help you claim compensation if you call us at the number at the bottom of this page.

What Should You Do If You Have Been Permanently Scarred?
If you have suffered an injury due to an accident and has left you permanently scarred, there are a number of things you can do to give any permanent scar injury compensation claims you wish to make, the best chance of succeeding. The things you can do to help your claim are:
Gather evidence of the accident – such as taking photos of the cause and arranging for statements from any witnesses to the accident that caused the injury.
Obtain medical evidence – so that the severity of the permanent scarring can be discerned, and also its impact on your physical health and mental wellbeing.
Gather financial evidence – if you have suffered from loss of earnings or have had to pay any other out of pocket expenses due to your scar injury, you will need to present financial evidence to prove this.
Accident Claims UK can help you gather and prepare all of these kinds of evidence. Call us at the number at the bottom of this page so that we can help you prepare for your scar injury claim.

Calculating Compensation for Permanent Scarring – Updated July 2021
Answering questions such as, how much compensation per stitch UK? is difficult, as each claim will be entirely unique. However, the table below gives an indication of the kind of payments we have typically seen permanent scar victims claim:
Scar
Compensation
Notes
Very Severe Scarring - facial
£27,940 to £91,350
n a relatively young claimants (typically teens to early 30s) where the cosmetic effect is very disfiguring and the psychological reaction severe.
Less Severe Scarring - facial
£16,860 to £45,440
Where the disfigurement is still substantial and where there is a significant psychological reaction.
Significant Scarring - facial
£8,550 to £28,240
Where the worst effects have been or will be reduced by plastic surgery leaving some cosmetic disability and where the psychological reaction is not great.
Less Significant Scarring - facial
£3,710 to £12,900
In these cases there may be but one scar which can be camouflaged or, though there are a number of very small scars.
Trivial Scarring - facial
£1,600 to £3,310
In these cases the effect is minor only.
Mental Anguish
£4,380
Fear of reduction in life.
Hair Damage
£6,890 to £10,340
Stemming from dermatitis, eczema or burning sensation on the scalp
Hair Damage
£3,710 to £6,890
Minor cases where only a few bald patches result.
Dermatitis
£12,900 to £18,020
Cases of both hands, involving cracking, soreness and mental anguish.
Bodily scarring
In the region of
£8,110
An exploratory surgery scar where no internal injury was found
For a much more accurate idea of how much you might receive in permanent scar injury compensation, call us on the number at the bottom of this page.

Scar Injuries Compensation Case Study
In this particular case, the person who was claiming for scar compensation had been bitten by a dog. This was a serious bite that happened while the person, a postman, was delivering letters. The bite was to their stomach, causing deep lacerations, and the incident itself was extremely traumatic.
Once the lacerations had healed, the victim was left with permanent scarring of their stomach, with the tight skin causing pain whenever they moved. Accident Claims UK was successfully able to claim compensation for the permanent scar. Call us at the number at the bottom of this page so that we can do the same for you.

How to Begin A Personal Injury Compensation Claim For Scar Injury Compensation
If you have been the victim of an accident that has led to a permanent scar, such as a permanent scar from a road traffic accident, then Accident Claims UK can help you claim scar injury compensation.
When you call us, we will spend some time asking you questions to learn everything we need to learn about your injury and the accident that caused it. We will ask questions such as:
Where and when did the accident happen?
Who was at fault?
Were there any witnesses to the accident?
Have you suffered any financial loss due to your accident?
These questions and more will help us to come up with a solid plan of action to make a compensation claim for permanent scarring on your behalf.

No Win, No Fee Compensation for Permanent Scar Injuries
Accident Claims UK offers a risk-free way for our customers to make personal injury compensation claims. Our No Win No Fee personal injury claims service is simple and effective to use.
Under a No Win No Fee agreement you pay nothing at all at the start of your claim, and there is nothing to pay as your claim is being made. If in the unlikely event of us failing to make a claim on your behalf, then you don't need to pay us anything at all. The only time that we ask you to pay our fees is when you receive a compensation payment.
This means that our No Win No Fee scar injury compensation claims service is entirely risk-free from a financial viewpoint.

Why Choose Us to Make Your Scar Injury Compensation Claim?
When you choose Accident Claims UK to make your personal injury, we will leverage our 30 plus years of experience in making claims in a wide range of complex cases, to win you the maximum amount of compensation possible.
We will always do everything we can to make sure that you have the best chance possible of winning your compensation claim, but we will never go so far as to do something that might jeopardize your claim.
We always keep you updated on your scar injury compensation claim's status and will answer any questions you have using simple, easy to understand English and not complicated legal jargon.
Innovations In Scar Treatment
Currently, according to the NHS, treatments available for scar sufferers involve
Skin camouflage (such as makeup), which can be applied by the patient themselves
Silicone sheets or gels, utilised on skin that is already healing to flatten and soften scars
Steroids to reduce swelling and flatten scar tissues
Laser therapies
Cryotherapy
Dermal fillers
Pressure dressings
Creams
Skin needling
Surgery
According to the University of Birmingham, there are estimated to be 4.5 million people in the UK that suffer with scars that affect their lives. In 2018, it opened a centre in order to develop innovative new treatments for scars which aims to make healing without scars possible by the next generation.
Some of the research in scar treatment conducted by the centre will involve laser treatments, which could offer more insight into the way lasers break down scarring. Laser scar therapy can already help to target structures within a scar with photothermal energy. This therapy helps to improve the colour and assist with dermal remodelling. Innovations in this area could potentially further improve the results that sufferers see.
Another method of research will target an innovative dressing for scars which incorporates an anti-scarring molecule.
As the centre is focused on helping those with scarring in all areas of their lives, other experts will assist with research too. Some specialists from the University of the West of England who have conducted research into how to support scar sufferers will also be involved at the centre.
Source: https://www.birmingham.ac.uk/research/inflammation-ageing/news/2018/november/developing-cutting-edge-treatments-for-a-scar-free-future.aspx
Permanent scar injury compensation claims FAQ
Is a scar disfigurement?
In short, a scar may also be referred to as a disfigurement. However, a disfigurement can also be in relation to a person who has suffered a burn, skin texture, a missing body limb, or someone who has a differently shaped body part.
Can I sue for scarring?
If you happen to endure a scar due to the fault of a negligent third party, then you could have grounds to make a compensation claim. Here at Accident Claims, we could connect those who intend on pursuing scar injury compensation claims with a personal injury solicitor with experience. For more information, contact our team today.
How much can I claim for a scar?
Those who have intentions on pursuing permanent scar injury compensation claims may question how much compensation they could be awarded for a scar. The amount of compensation you deserve will vary from case to case, so please contact us today to get a free consultation.
How is compensation calculated?
As with every claim, the amount of compensation awarded will heavily reflect the cause of the scar, the physical and physical impact, as well as various other factors. In short, the severity of the claimant's suffering will be reflected in their payout.
Do I need to get a solicitor?
We advise you to seek legal help in order to give your claim the best chances of success, as navigating the claims process with no experience can be particularly challenging. By securing a solicitor to handle your claim, this can ease the process as well as maximise your payout.
Where can I get a solicitor?
At Legal Expert, we work with a panel of specialist solicitors that could handle your claim on a No Win No Fee basis. With over 30 years of experience winning cases for their clients, they have what it takes to get you the payout that you deserve.
What does a No Win No Fee agreement involve?
Here are some benefits of this type of agreement:
There are no upfront fees or hidden fees
You don't have to pay your solicitor a penny if they don't win your case
The financial risk involved in the claims process is eliminated
Could I claim scar injury compensation for medical negligence?
The NHS paid out a significant sum in compensation in 2020/21 as you can see below.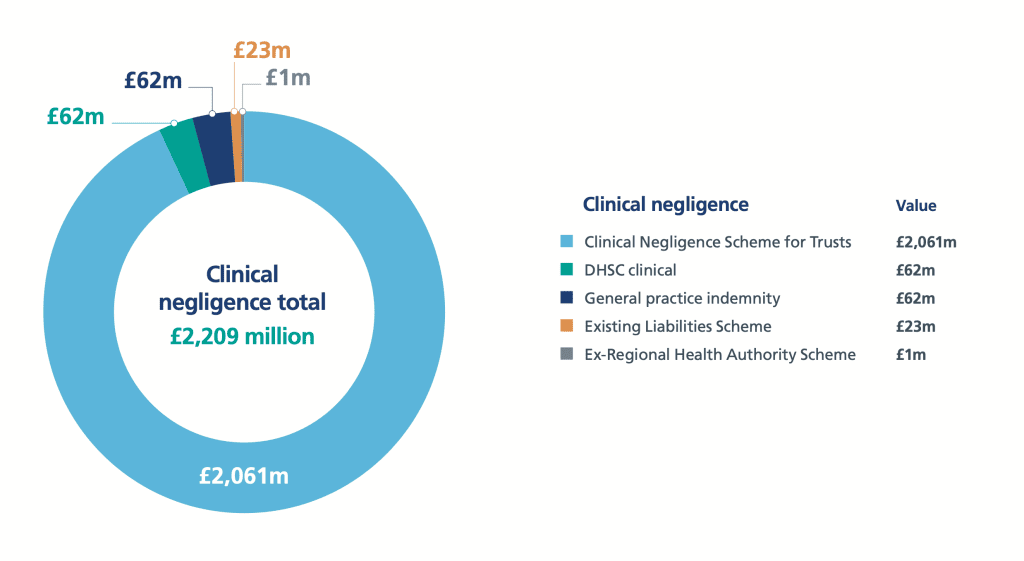 If you are looking to claim scar injury compensation because you have been the victim of medical negligence we should explain a few things. First of all, you may be interested to know that you would not claim for your initial injury. You will be claiming for the medical negligence that had caused you to suffer undo scarring. For example, if you are operated on without there being a need for surgery, this could be constituted as medical negligence. The resulting scars could lead you to  a claim if compensation. Proving medical negligence has led to a permanent scar could be tricky. One of our solicitors who are authorised and regulated by the Solicitors Regulation Authority could assist you with your claim on a no win no fee basis. They could take on all the legal legwork of making your claim for you.
Do I need a local solicitor to help me claim scar injury compensation?
No, you could use a solicitor that is based within the UK and is registered in England and Wales to practice. Their location does not matter. As much of the claims process is now handled via email, letter and telephone call, you would not even need to visit your lawyer to make a claim for compensation. We could help you no matter where in the UK you are based. Please contact us if you would like the assistance of one of our no win no fee solicitors.
How can I contact Accident Claims?
Below, you'll find some options on how to get in touch and receive a free consultation today.
Contact Us Today About Scar Injury Compensation
If you are ready to begin your compensation claim for a permanent scar, Accident Claims UK call 0800 073 8801 today.
Once we have spent a little time going over your claim's details, we will give you some free legal advice on what to do next. For most people, this will be to use our simple, effective and risk-free No Win No Fee personal accident claims service to get you the scar injury compensation you are entitled to.
Useful Links
General information on scars from the NHS – At the link, you will find some general information about scars that the NHS has published:
Information on how scar massage works from the NHS – At the link, you will find more details information on the cause of scars from the Royal Berkshire NHS Foundation Trust:
Medical Negligence – take a look at our guide to learn more about medical negligence compensation claims.
Assaulted at work claim guide – if you have been assaulted at work, please look at our guide to learn more.
Burn injury Guide – if you have endured a burn due to a third party's fault, please reach out and contact our team to learn more.
Thank you for taking the time to read our guide on permanent scar injury compensation claims. If you happen to have any questions, please feel free to contact our team today.