By Joanne Jeffries. Last Updated 16th November 2021. Welcome to this case study surrounding personal injury claims payouts for a fractured heel.
Working on the roads can be very difficult, and whether it is lifting and handling, trip and fall or crush accidents, there's no doubt there are a lot of risks to be considered. But what if an employer knows the risks and does not do enough to minimise them? A case that can be attributed to this, as we have found when researching similar cases to that which we've handled, is the case where a gentleman fell from a JCB bucket, badly fracturing his heel and leading to £145,000 compensation for a fractured heel at work. If you are looking for compensation for a fractured heel at work, you might be interested to read more about this fracture of the heel case in order to see how it compares to yours. You might also want to look into our services to see how we can help with fractured heel at work compensation on a no win no fee basis.
Fractures, Breaks, And Specified Injuries To Workers
You may feel that it would be uncommon to have a fracture at work, but this is not the case. Broken bones happen quite often at work, and in fact they are so common that they appear on the HSE's website as specified injuries. According to RIDDOR, there were a huge number of broken bones reported between 2016 and 2017 that happened in a place of work.
Some of these were because of trips, slips and falls, and some were because of falls from height, others were due to crush injuries or being hit by something. Depending on the industry you're working in, you may have a higher chance of obtaining one of those slip trip and fall injuries we've mentioned before. As you'll see from the graphic we've found below, industries that workers are most at risk of suffering a fall, or a trip or slip are construction, public defence and admin etc, but there are plenty of other types of workplace where these injuries occur. The graph below might well surprise you.
Whatever the reason you're looking for compensation for a fractured heel at work, the important question to ask is who was at fault. You might have received it due to a slip accident, or you might have been struck by another object, but if the accident at work was not your fault and could have been awarded if someone else had acted more responsibly towards your wellbeing, it is a good idea to look into making a compensation claim.
How Serious Is A Fractured Or Broken Heel?
In this case, the injuries suffered by the man seeking compensation for a heel fracture at work were Calcaneus (heel) fractures on both feet. This injury can be intensely painful and can lead to loss of function in the foot. The initial symptoms will be the lack of ability to put weight on the area, as well as pain. Treatment must be sought quickly in these cases, as any delay may result in improper healing. There are 2 different methods of heel fracture, ones that have the heel pushed out of place and those that do not. If the heel has not been pushed out, then rest and elevation and temporarily stabilising the foot may be the only methods of treatment, followed by a cast and staying off the foot for up to 10 weeks.
If the fix is surgery, this is done under a general anaesthetic. It is often done with plates and pins, but can sometimes require a bone graft in some cases. This can obviously be painful and will usually lead to you having to stay off the foot for some time, but with physiotherapy, you can often recover well.
In the case of the claimant, however, he was not able to continue at work.
What Allegation Did The Claimant Make?
The claimant in this case believed that an unsafe practice had been allowed by his employer, as the practice of standing in the JCB bucket appeared unsafe and the employer knew about it but had not moved to stop it from happening. The employer was also deemed to be vicariously negligent in terms of the JCB operator that caused the JCB (or allowed it) to move.
Liability was not admitted straight away, but after court proceedings had started, the employer admitted liability and settled on a payout.
A huge amount of medical evidence was collected and presented from a psychiatrist, an orthopaedic surgeon, an occupational therapist and a pain specialist in order to bring the case to its successful conclusion.
What Settlement Did The Claimant Receive For Their Fractured Heel At Work?
The claimant in this case was awarded in total £145,000. The payment was meant to cover a few different facets of the compensation for a fractured heel at work claim. Usually in these cases, people with this sort of injury have to have time off work and need treatment for their injury for some time, such as physio, etc. Loss of earnings as well as travel costs and medical expenses can also be included. The main part of the compensation, however, is meant to compensate the victim for the extent of pain and the suffering deemed to have been attributed to the injury. If you would like us to explain typical injury pay brackets for a particular injury, you can call our team any time.
Why Make A No Win No Fee With Our Team
Seeking compensation for a fractured heel at work? Not sure you have the funds to begin such a case? You'll likely be glad to hear that the case can more than likely be taken on no win no fee terms. Your heel fracture claim does not have to mean you footing a legal bill upfront. A capped percentage of your compensation payout will instead be used to pay legal fees and the rest will be yours. Better yet, should the compensation for a fractured heel at work claim be rejected, you won't have to pay the legal bills. This can also be termed a conditional fee agreement. We are always happy to explain to our clients how this works, and how no win no fee solicitors get paid, so do ring us for a chat and we'll gladly give you any information about this process that you require. There really are no hidden catches, we are very transparent about how this works and what the benefits are to you if you should choose to make a heel fracture claim with our service.
Talk To Our Specialist Team About Personal Injury Claims Payouts for  a Fractured Heel
When calling 0800 073 8801, or filling in our contact form you will certainly have some questions about the service we offer and the validity of your claim. We're always happy to talk to people for the first time, and whether you have some experience with the legal system or none at all we will try our best not to overwhelm you with information, but to tell you everything you need to know, along with some things we feel it is important for you to understand. For example, we will happily go through the details of no win no fee solicitors and how they work, can explain what kinds of accidents can lead to the possibility of seeking compensation for a fractured heel at work, as well as giving you an idea of typical payouts for certain injuries. We can also provide solicitors that have much experience in personal injury claims of this type and can push your case to a successful conclusion. The solicitors we provide to our clients are all regulated by the SRA (Solicitors Regulation Authority) and are of an extremely high professional standard. We want you to feel secure in your choice of claims company, and can speak to you about any facet of our service, including providing testimonials, so you are happy with the service you've chosen.
How serious could an accident at work be?
There are a number of different injuries and accidents that could happen in the workplace. Unfortunately, some of them could leave claimants with serious injuries, while others could lead to loss of life. Even in 2020- 2021, when many people were working from home due to the coronavirus pandemic, there were still 142 people who lost their lives in workplace accidents. You can see the industries affected below.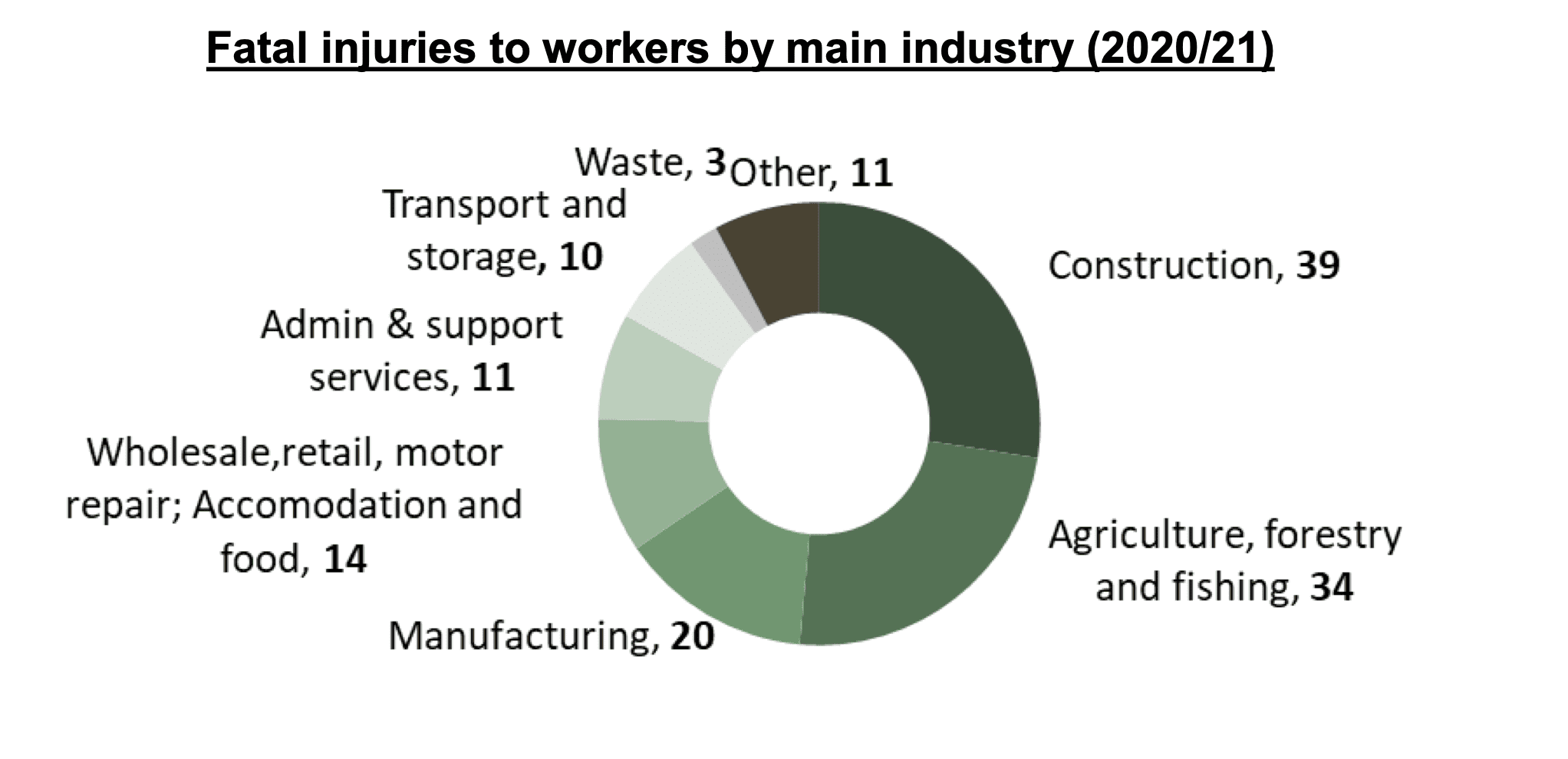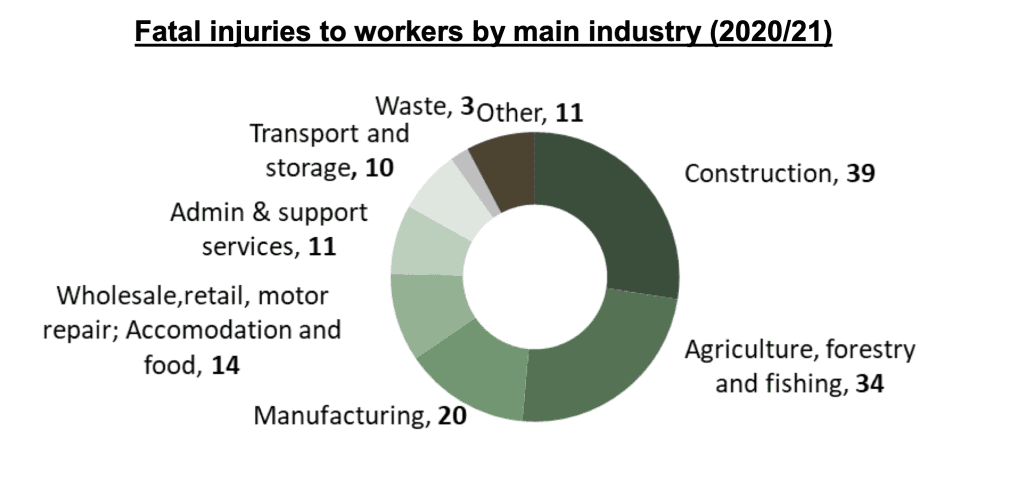 If you are considering making a claim for compensation because you lost someone you loved in a fatal workplace accident that was their employer's fault, we could help. Not only could we help you claim for your loved one's pain and suffering before their death, but we could also help you receive damages for financial expenses such as funeral costs, and even a bereavement award. We recognise that claiming compensation after someone you love has died could be quite traumatic. Our expert team and specialist solicitors who are authorised and regulated by the Solicitors Regulation Authority would handle your claim with the sensitivity and care it deserves.
Why shouldn't I use a compensation calculator to find out personal injury claims payouts for a fractured heel?
When you search online for a compensation calculator to get an idea of the compensation you could receive for an accident that wasn't your fault you may be surprised to learn that the sum you would receive would not be accurate. This is because there are no online tools that can truly assess all of the evidence and facts and circumstances of your case. Since compensation payouts are determined by the strength of the evidence provided, as well as the nature and severity of your injuries, it simply would not be possible to predict an accurate compensation settlement amount for your claim online.
Do I need to use a local solicitor to get personal injury claims payouts for a fractured heel?
If you are considering using a personal injury solicitor to help you make a claim for compensation, this could be considered a wise decision. A knowledgeable lawyer with years of experience could fight for the maximum compensation possible for your claim. They could also take all of the legal legwork from your shoulders, which could allow you to recover from your injuries stress free. When it comes to claims that are disputed or refused, an experienced solicitor could support you through the court process to get the compensation you deserve. When it comes to choosing a solicitor, you may be looking locally. However, you do not have to restrict yourself in this manner. Solicitors right across the UK could help you with your claim, as a lot of the claims process can be handled via letter, video chat or phone call. It could also be handled via digital means such as email. This does not mean that you could not meet your lawyer face to face you chose to do so. No matter where in the UK you are, we could find you a lawyer that could fight for the maximum compensation possible for your claim.
Useful Links Relating To Personal Injury Claims Payouts for  a Fractured Heel
We'd like to think we've covered the basics of this case so that you understand the types of case we can take on, but there is bound to be more than a few other questions you have. If, before calling us, you'd like to do a little more reading, then the links below might help you.
Statistics and resources – HSE – The HSE do a lot of research into work related injuries. Here, there are a huge number of different statistics pertaining to accidents and injuries within the workplace. You might find them interesting.
What rights do you have? – After work accidents, you might wonder if you have any comeback against your employer. Our complete guide will furnish you with the relevant information and show you how to claim.
Assaults in work – If your broken heel compensation claim has come about because of the violent actions of either a customer or a colleague, then take a look at this information contained within our guide. We could also help with car accidents a truck accident or other injury cases.
Heel Pain NHS Guide – To learn more about this injury, you can visit the link here. It guides you right through the injury, explaining what it is, and how it can be treated. It could be useful to any one who suffers a fracture heel bone, a comminuted fracture, a calcaneus fracture or a fracture of the subtler joint, no matter whether the injury may require surgery or not.
Thank you for reading this case study relating to personal injury claims payouts for a fractured heel. Whether you've broken bones in the foot in a vehicle accident, accident at work or slip, trip and fall, we could help you file injury lawsuits to get the injuries compensation you deserve.