This is our guide on what you can do if you are injured in a construction accident. It can be difficult to know how to proceed after being injured whilst working on a building site. If your injury at work took place due to the negligence of someone else, then you could be owed compensation.
Knowing the process of making a construction site accident claim is important. Otherwise, you might not know where you stand. In this article, we'll be explaining everything in the most accessible way possible. We will also answer questions such as:
How many construction workers are injured each year?
What are some of the causes of accidents on construction sites?
If you have any questions that you wish to ask us about your constriction accident, get in touch today. Personal injury claims have time limits imposed on them by law. If you allow this window of opportunity to expire, then you could miss your chance to be awarded compensation.
Our advisors are standing by and ready to help you in any way they can. What's more, they're available 24/7 and give free legal advice. Once we know more about your construction site accident claim, we will have a better idea of how we can assist you.
Construction Site Accident Claims
If we think you have a valid claim, then we could connect you with one of our expert personal injury solicitors. You can reach us in a number of ways:
Select A Section
A Guide To Construction Accident Claims
A construction site accident claim can be made for a variety of injuries. It's not only physical ailments like a bone fracture or spinal injury. Psychological damage such as post-traumatic stress disorder (PTSD) and other mental health disorders that arise can also be claimed for.
In short, if your injury was caused by someone else's negligence and the symptoms impact your life, then you could be compensated for this.
Building sites are fraught with risks and potential hazards. Because of this, the person or people in charge of the area need to be extra vigilant to make sure these dangers are kept to a minimum.
What Are Construction Accidents?
A construction accident is when someone is injured whilst on a building site due to negligence. The injury can be minor or severe. Minor injuries don't mean that you can't make a claim. However, severe injuries tend to retrieve more compensation on the whole.
How long a construction site accident claim can take to complete will also vary depending on the case. Simple claims may take a relatively short time to complete. However, more complex claims could take months or even years to come to a conclusion.
Construction Site Safety Statistics
Statistics from the Health and Safety Executive (HSE) relate to injuries sustained due to accidents at work. (The HSE advises organisations on health and safety practices and legislation.) 
Their statistics include construction site accidents. Whilst some accidents can lead to relatively minor injuries like a dislocation or a broken bone, some can be so severe that fatalities occur. 
Figures from 2020/21 tell us that there were 142 cases of deaths caused by workplace injuries to employees across Great Britain. (This is as reported by employers.) Of these deaths, 39 were in the construction industry. This makes it the industry with the most fatal accidents in the country over this period.
If you have lost a loved one due to their employer's negligence, then you can still make a claim on their behalf.
Below, you'll find a graph that shows how construction fatalities measure against other industries.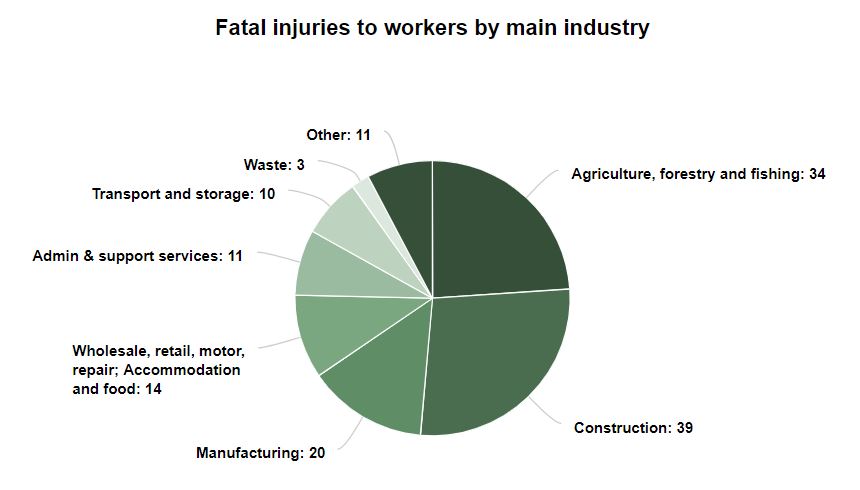 What Could Cause A Construction Accident?
A construction accident can take place due to a number of factors. In this section, we have included some examples of how negligence can lead to an employee sustaining an injury.
Working For Too Long Without A Break
Employees are legally entitled to a break whilst at work if they work a certain number of hours. When your role requires you to operate heavy and potentially dangerous machinery then this can feel especially important to take breaks. If you are tired, then you could be more prone to mistakes.
Losing control of specialist equipment due to fatigue or loss of concentration can lead to you injuring yourself and others. 
Faulty Or Damaged Equipment
It's stated in section 2 of the Health and Safety at Work etc. Act 1974 that employers must take reasonable measures to provide a safe working environment for their employees. This legal obligation includes the responsibility of maintaining/repairing equipment present in the workplace.
Limbs or extremities could be trapped in certain pieces of machinery that malfunction. This could lead to severe injuries, including body part(s) being completely severed.
Alternatively, you could be supplied with defective personal protective equipment (PPE). A building site can be a very noisy environment. If you are not given ear protection, or the protection you are given is inadequate, then this could lead to industrial illnesses like tinnitus and/or noise-induced hearing loss.
Exposure To Hazardous Substances
Some older buildings contain cladding lined with asbestos and there may be other dangerous materials present. They need to be removed. This can be a risky procedure. If you are not put in a position to do this safely then you could inhale the fibres and develop conditions that can be fatal, such as mesothelioma or asbestosis. 
Where it is essential to your role, you should be supplied with breathing apparatus and other PPE by your employer at no cost to you. This is a legal requirement.
Types Of Accidents That Happen On Construction Sites
There are a few different incidents that could make up a construction site accident claim. For example:
Falls from a height –

certain sites may require you to work at a height. For example, you could be working up a ladder. If the ladder provided is defective then it could collapse. You could be seriously injured when you impact the ground.

Falling objects –

everybody must be extra vigilant when there are others below you. Dropping hammers and other tools is a real possibility, so you should be adequately trained in working at a height. If this training is poor and causes you to drop equipment and hit others from above then this could result in some serious head injuries amongst others.

Trips and falls –

hazards on the floor such as debris and loose materials need to be cleared away if possible. Alternatively, appropriate signage could be used. If no action is taken to do this despite awareness of the hazards, then employees could fall and injure themselves.

Vehicle accidents – vehicles

like forklifts require specialist skill to operate. If you are forced to operate one without any training then you could injure yourself or others. Receiving inadequate training could also be an example of employer negligence.

Vibrating tools –

 tools like power drills can cause harm if used for too long because the employee doesn't have adequate breaks. This is even true if the tools are used properly. Conditions such as vibration white finger (VWF) can arise.

Noise –

excessive noise without ear protection can lead to permanent issues with your hearing.
Contractor And Self-Employed Injury At Work Claims
You may not be aware of this, but you can still make a claim as a contractor or if you're self-employed. Whilst you may not have an employer, the person who has hired you has a duty of care to you. This means they must make sure the area you are working in is as free of hazards as possible.
This legal responsibility is stated in the Occupiers' Liability Act 1957. If a self-employed person is injured on private property due to the occupier's negligence, then they could make a claim.
Liability For Building And Construction Site Health And Safety
When a construction accident takes place, the liability could rest with a number of parties. It is possible that your injuries were entirely your own fault. If this is the case, then you may not be eligible to receive compensation. Should you only be partially responsible for how your injuries took place, then you could still receive a partial payout.
Construction industry health and safety
Everybody who is present at a construction site has the same right to safety. This includes people who are merely visiting the site, not just employees. This means that the employer and/or occupier must make sure that the risk of someone being injured is kept to a minimum. 
This is a legally binding responsibility. However, this doesn't mean that every injury that takes place on a construction site automatically makes an individual eligible to make a claim for compensation. The injured party must be able to prove that their injuries were sustained due to the negligence of someone else.
HSE resources
HSE construction safety guidelines highlight a number of steps that those responsible for the safety of others can take to reduce the risk of injury. These include:
Having the right people carry out the relevant role at the correct time.

Coordinating your work with others; teamwork is key.

Making sure the information you have is correct, and that risks are being managed properly.

Planning out the work you have to do properly.

Telling everyone present of the risks, and how they should be managed.
Calculating Compensation For Construction Accidents
If you have been injured in a construction accident, then you probably want to know how much you could be awarded in compensation. However, there is no specific figure that would be accurate to everyone's circumstances. Every claim is different.
What we can do is supply you with figures from the Judicial College Guidelines (JCG). This publication is used to help calculate the head of claim known as general damages. This is the portion of your settlement that is awarded to account for your physical and mental injuries. 
Below, we have supplied a small cross-section of figures from the JCG. Don't worry if you don't see your injury represented here. This doesn't mean you can't make a claim.
| Injury | Description | Amount |
| --- | --- | --- |
| Hearing | (b) Total deafness, but no tinnitus or speech deficit for the lower end of the bracket. The higher end will involve both. | £85,170 to £102,890 |
| Hearing | (d) (iii) Mild tinnitus and some noise-induced hearing loss. | £11,820 to £13,970 |
| Chest | (c) Damage to the chest and/or lung(s) that causes lasting damage/disability. | £29,380 to £51,460 |
| Chest | (g) When your ribs are fractured or soft tissue is damaged, but the pain will only last a matter of weeks. | Up to £3,710 |
| Neck | (a) Severe - (i) Causing incomplete paraplegia, there will be no to little neck movement and headaches will be persistent. | In the region of £139,210 |
| Neck | (c) Minor - (iii) When a full recovery is made within 3 months. | Up to £2,300 |
| Back | (c) Minor - (i) The recovery will be fully or almost complete within 2-5 years, and there will have been no surgery. | £7,410 to £11,730 |
| Back | (c) (iii) Three months will be the timeframe for a complete recovery. | Up to £2,300 |
| Shoulder | Clavicle fracture | £4,830 to £11,490 |
| Mental anguish | When you fear your life will end or your life expectancy will be reduced. | £4,380 |
lf you can't see your injuries in the compensation table above, or you'd like an accurate estimate of how your injuries might be valued, why not get in touch? Our advisors are available 24/7.
In order to prove general damages, you'd attend a medical assessment as part of the claims process. An independent medical professional would assess your injuries and write a report to show:
Whether your injuries were caused by, worsened by or had no relation to the accident. (You'd find it difficult to claim if there was no relation.)
How severe your injuries are.
If you use the services of a solicitor to claim, they'd use this report to help them support your claim and value your injuries.
Special Damages For Accidents On Building And Construction Sites
Special damages are the other head of claim that can be included in your final settlement. These damages compensate you for financial losses that you have had as a result of your injury. This can include, for example, a loss of earnings due to time off work while you recover.
Damage to your property or even medical bills are other losses that you could be reimbursed for. However, it's vital that you keep records of these expenditures and/or losses. If you aren't able to prove that these outgoings took place, then you might find it difficult to have them paid back to you via special damages.
For more information on how compensation for a construction accident is calculated, get in touch with us today.
No Win No Fee Claims For Construction Accidents
All of our lawyers work with their clients on a No Win No Fee basis. If you don't know what this is, let us explain.
If your lawyer is successful in helping you win your claim, then you would be responsible for covering their legal costs. However, this would be taken from your settlement amount in the form of a small percentage before the money reached you. The percentage is also agreed upon in advance, so there are no surprises.
However, should your lawyer be unsuccessful in a No Win No Fee claim, then you will not have to pay them a penny in lawyer fees.
There are no hidden costs or upfront lawyer fees. So, if you are worried about losing out financially by making a claim with the help of a solicitor, you needn't be. No Win No Fee agreements such as this exist so that anyone who requires legal assistance has access to it.
Getting legal help is not a requirement by law. However, we believe a lawyer's assistance can be invaluable. 
Why Choose Our Workplace Accident Claims Team?
Our solicitors are incredibly experienced. They have handled many construction accident claims in the past to great success. They are amongst the best in the business and will try to get you the compensation that you deserve.
The fact that they operate a No Win No Fee basis means that they aren't paid for the work they put in unless your claim is successful. Therefore, they share the risk of the claim with you. 
Get In Touch
So, now that you have read our article, you hopefully understand more about this subject. Why not reach out to us? Get in touch with us today and we can take the next steps together.
Read More
We've included some helpful links to additional information on this and similar subjects below.
Construction Accident Claim FAQs
We've answered some of the more common questions we're asked.
How many fatal accidents occur each year on construction sites?
2020/21 figures show that there were 39 fatal injuries caused by accidents in the construction industry over that period.
What is the most common injury in construction?
Slips and falls are common ways to be injured whilst working on construction sites. This can lead to fractures, lacerations, dislocations, and more.
Thank you for reading our guide on claims regarding injuries caused by a construction accident.
Guide by DB
Edited by RV