By Joanne Jeffries. Last Updated 4th November 2021. Welcome to our case study which provides insight into personal injury claims payouts for a fractured finger.
Here at Accident Claims UK we deal with a large number of personal injury claims including claiming for compensation for fractured finger injuries on behalf of our clients. This case study research shows how a personal injury solicitor successfully claimed £16,000 for a fractured finger on behalf of their client. This case study shows how a good solicitor can progress a case to ensure the injured party receives the right amount of compensation for their injury.
This accident, which led to fractured finger injuries, happened when the claimant, a HGV lorry driver, was helping to unload steel packs from his lorry. The forklift driver at the drop off location was told that the packs were too far into the lorry for his truck to reach and so the lorry driver got into the truck to help move the packs manually. Instead of waiting, the forklift driver began to move the packs while the claimant was still moving the packs by hand. He ended up with his fingers trapped between two packs of steel. After being freed he was taken to A&E where, following x-rays and diagnostic assessments, he was told he'd fractured two fingers in the accident. The injuries were to the index finger and the middle finger and required immediate treatment and pain relief which was administered at the hospital.
After the claim was processed by the personal injury solicitor and after a considerable legal battle with the third party's insurer, the claimant was awarded £16,000 for his fractured finger accident.
Reported Injuries To HGV Drivers
There are a number of obvious injuries that might happen to HGV drivers including whiplash and head injuries from collisions but according to the Health and Safety Executive (or HSE for short) there are 4 main types of injuries to HGV drivers (and none of them are actually related to driving):
Slips and trips (these types of accident can lead to fractured finger injuries)
Manual Handling (this is the type of injury that the driver in this case was involved with when he fractured his finger
Falls from less than 2 meters.
Being struck from falling objects.
It's might be somewhat understandable why a fractured finger injury is common with HGV drivers when you consider the report from the HSE shows that so many accidents involve falling or objects falling on to the driver of the HGV. It is natural instinct to put a hand out when falling or when something falls towards us and this defence mechanism can actually lead to fractured fingers.
Broken Finger Injuries
There are fourteen digital bones in a human hand (finger and thumb bones) and fractured finger can mean any one them being broken. If the hand is crushed, hit by a heavy object or forced into a hard object then a fractured finger may occur.
Symptoms of a fractured finger, according to an NHS online guide to broken bones in hand, which you may have had if you're thinking of claiming compensation for a fractured finger include:
Numbness,
Stiffness of the finger or it is difficult to move,
Bruising, pain or a swollen finger,
Or a particularly bad fractured finger may be pointing in an unusual direction.
Advice from the NHS regarding a fractured finger injury includes: trying to limit the movement of the fractured finger, hold the hand above the level of your heart to reduce the level of swelling and carefully hold ice, wrapped in a cloth, next to the fractured finger. As always, it is best to seek medical advice to decide on what treatment is required. If you decide to make a claim for a fractured finger then the medical records for your treatment can be used as evidence of the damage caused and the full extent of the injury.
What Were The Consequences Of The Injury And What Action Did The Claimant Take?
In the accident suffered by the HGV lorry driver he didn't suffer one fractured finger, it was two: one to his index finger and one to his middle finger. After being treated by a medical professional an assessment was carried out which showed that, as a result of the fractured finger injuries, the claimant had suffered permanent loss of grip and other long term symptoms.
Because of the fractured finger injuries, the legal team employed argued that the claimant had trouble completing daily tasks like looking after his step-son, getting washed, getting dressed and he had to miss out on playing for his football team for a sustained period.
Furthermore, the fractured finger injuries led to time off of work and loss of earnings as the company that employed the claimant only paid statutory sick pay. All of these elements were used by the solicitors when assessing how much personal injury compensation the victim of the accident was entitled to.
What Settlement And Payment Was Agreed In This Case?
The solicitor involved in this case argued that the forklift driver was to blame for the fractured finger injuries to the claimant, but the insurance company employed by the other company disagreed and denied liability.
Therefore, the solicitor involved on behalf of the driver gathered evidence to prove that it was normal for a driver to help unpack a lorry, gathered witness statements and medical evidence from the hospital proving the extent of the injuries and the suffering that the fractured finger injuries had caused.
This demonstrates why a good personal injury solicitor is important as without the correct evidence the insurers for the other party would easily have dismissed this case. It is a vital part of what the solicitor should do for you when lodging a personal injury claim for a fractured finger injury. If the solicitor had accepted that the insurance company's claims were true then their client would've ended up with no compensation at all for his fractured finger injuries.
Following this, unusually, they had to lodge a court date to argue the case for compensation but the insurer, prior to court offered £16,000 compensation which the claimant accepted in full settlement of the case.
It is very unusual in personal injury cases, including those for a fractured finger, for a case to actually enter a court room. The high majority of cases, in our experience, are settled out of court. We always tell our clients when an offer of compensation has been made and advise them if we think it's an acceptable offer for their fractured finger injury.
No Win No Fee Claims For A Fractured Finger
When you begin to consider employing a solicitor to claim compensation for a fractured finger you may worry about the costs involved. That's why, at Accident Claims UK, we offer a no win, no fee service for all claims for a fractured finger injury that we take on.
This means that you won't pay anything to begin your claim, you won't pay up front or hourly for us to prepare your claim and you don't have to pay us anything if we don't get any compensation for your fractured finger.
We believe this is the fairest way to deal with personal injury claims and, unlike solicitors who charge by the hour regardless of the outcome, means you can begin an accident at work compensation claim risk free.
How To Begin A Claim After An Accident At Work And Receive Personal Injury Claims Payouts for A Fractured Finger
Now that you've read how a personal injury solicitor can make a successful claim for a fractured finger at work injury and you've seen how we, at Accident Claims UK, work on no win no fee basis we hope you're ready to talk to us and let us know how your fractured finger injury happened and what impact it's had on you.
If so, you can contact us by:
We're ready to begin a free consultation to discuss your compensation for a broken finger claim right now. Whether you're looking to make a finger injury compensation claim for the loss of a finger in a slip, tripe or fall, or other hand injuries and thumb injuries that weren't your fault, we could help you with your compensation settlement.
How can I achieve the maximum personal injury claims payouts for a fractured finger claim?
When it comes to claiming compensation for a fractured finger, you could maximise compensation payouts in a number of different ways. Firstly, you should make sure that you have all the evidence you need to prove your accident and injuries. This could include witness details, photographs of the scene of the accident or your injuries, and proof of any costs and losses you'd sustained because of your injury. This could include loss of earnings, or medical treatment that you've had to pay for, for example you could claim for these as special damages. In terms of claiming general damages for the loss of amenity, pain and suffering of your injury, you would need to obtain an independent medical report. You would need to see an independent specialist as part of your claim. They would need to examine your injuries and write a report detailing the nature and severity of your injury and your prognosis. Lawyers and courts could use this alongside the Judicial College Guidelines to come to an appropriate compensation payout.
Could my choice of solicitor impact personal injury claims payouts for a fractured finger?
Another factor that could influence compensation payouts in the UK would be the quality of the solicitor you choose for your claim. Solicitors that are authorised and regulated by the Solicitors Regulation Authority can be found all over the UK. You would not have to use a local lawyer to make a claim, either. You could choose your lawyer based on their experience and past track record, as your lawyer can handle most of your claim by letter, email and video chat. If, however, you wanted to meet your lawyer face to face, this could still be arranged for you no matter where your lawyer is based.
Could I claim personal injury claims payouts for a fractured finger that my child suffered?
Whether your child was injured in a public place, at school, in an airport or in a road traffic accident, if the accident was not their fault you could make a claim for compensation as their litigation friend. This would mean you would be able to make some of the decisions pertaining to their claim. When you make a claim on behalf of a child you would have to initially apply to be their litigation friend. Once you have done this you could make a claim with the help of one of our no win no fee lawyers. You would have up until your child turns 18 to make a claim for them. Alternatively, they could make their own claim once they turn 18 if you haven't claimed for them before.
Could I achieve personal injury claims payouts for a fractured finger in a car accident?
Over 100,000 people were injured on UK roads in 2020, despite there being four months in which there were national restrictions on where people could travel. You can see the types of road users that were injured in the graphic below.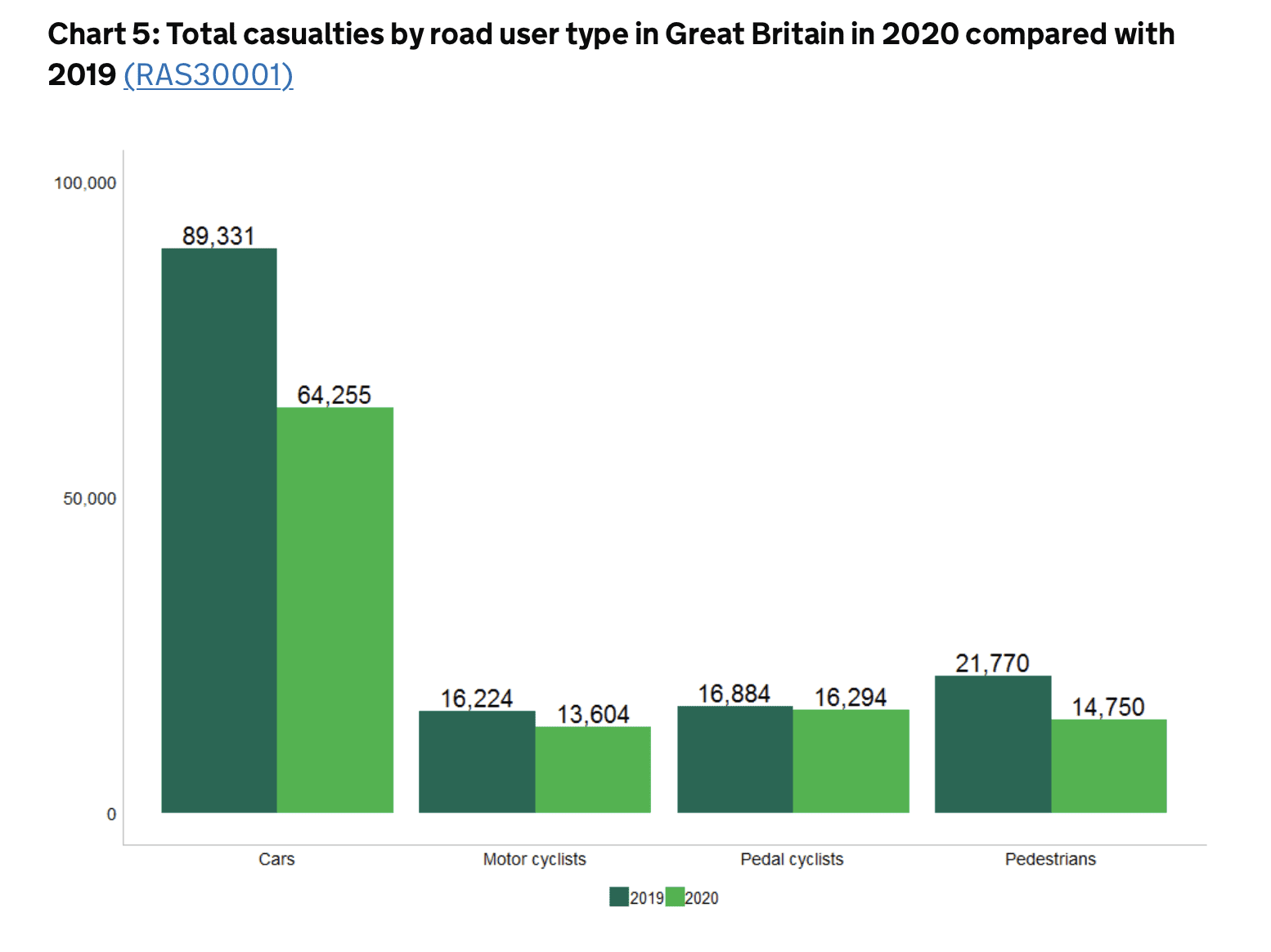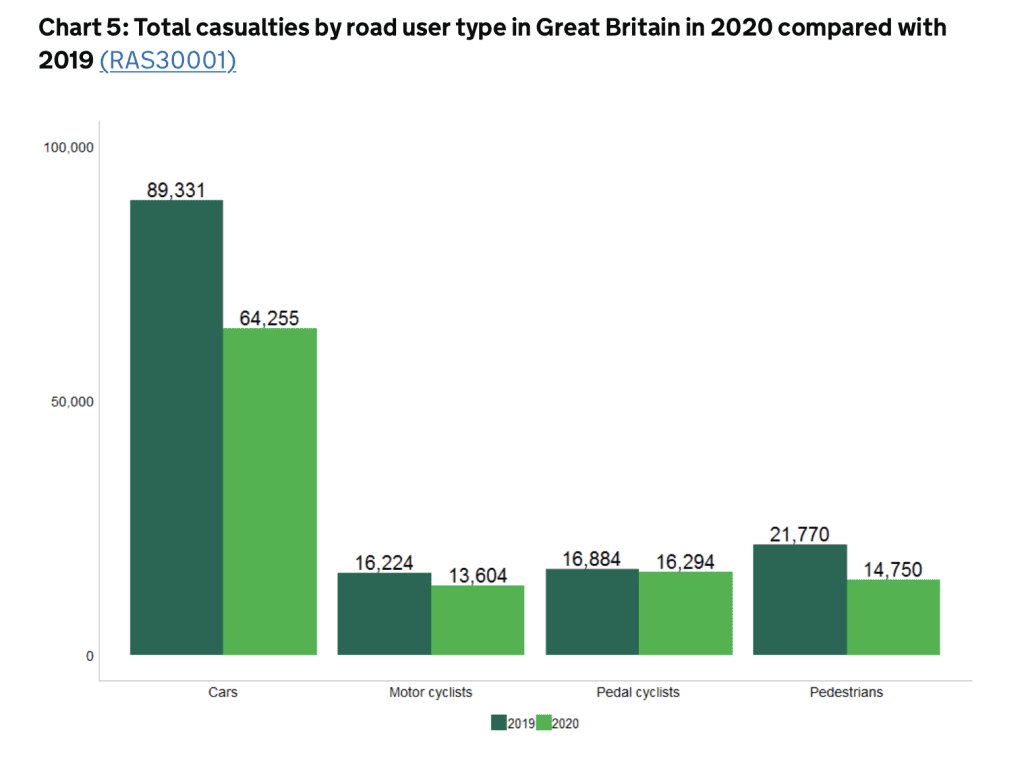 When it comes to claiming compensation for a fractured finger in a car accident, we would be happy to assess your case and see if we could help you with a no win no fee claim.
Helpful Links and Resources Relating To Personal Injury Claims Payouts for A Fractured Finger
If you need any more information before starting your no win no fee fractured finger claim then here are some useful article which may help:
Accident At Work Claims – this is our guide to claiming compensation for accidents at work. It's more general than this guide and covers most accidents, not just a fractured finger accident.
NHS Broken Finger Guide – An information guide from the NHS regarding diagnosis and treatment options for a fractured finger.
HSE Health and Safety in Road Haulage – A useful guide regarding health and safety issues and recommendations in Road Haulage (.pdf document)
Thank you for reading our case study explaining more about personal injury claims payouts for a fractured finger. Whether you want to claim for vibration white finger, partial loss of a digit or other common finger injuries, we could help you.