By Joanne Jeffries. Last Updated 3rd November 2021. Welcome to this case study covering personal injury claims payouts for a fractured forearm.
In this personal injury compensation case study, we look at the case of a claimant who suffered a simple forearm fracture in a park close to his home. The park was directly outside the claimants home. Previously, the park space had had a playground in it. The local authority had removed the playground equipment, such as slides and swings from the area. However, they had also failed to correctly remove all of the supports for the equipment. The claimant tripped over the stump which had been left. As he fell, he suffered a forearm fracture. The defendant, in this case, was the local authority (the council) and they did not dispute their liability for the claimant's injuries. As such this case did not need to go to court for a judge to decide the amount of liability that the claimant should be awarded and negotiations could be entered into between the two parties. The majority of personal injury claims for compensation can be amicably resolved in this way between the two parties. However, a small number of cases will need to proceed to court.
At Accident Claims UK, we work with an experienced panel of personal injury solicitors across the country to help people claim for lower and upper arm injuries and the loss of earnings and other costs they cause. Our specialist legal solicitors have the knowledge and skills necessary to successfully bring arm injury compensation claims against local authorities and councils. We have helped claimants with similar fractured forearm compensation injuries from an accident at work, a slip trip or fall or a road traffic accident. Read more information on the case study below to see how specialist solicitors helped them.
Personal Injury Compensation Claims Against The Council
Slip, trip, and fall accidents are the most common type of accidents in the UK, whether out and about on the streets, in a park or at work. According to the UK's Health and Safety Executive, slips, trips and falls, such as that which led to the simple forearm fracture, make up around 29% of all personal injuries suffered in the UK. In the UK, councils do not always keep records or statistics on the number of people who slip over each year and make compensation claims. As such, it is difficult to know how common these claims are across the country as a whole. Not all accident records are kept over the long-term, and most cases will be settled out of court. However, councils across the country have paid out millions of pounds in personal injury compensation each year to people who have been injured on a pavement. We work with council accident solicitors with the experience to successfully bring such claims.
In this case study, the claimant tripped over materials which had been left in the ground. The stump for a metal post which had previously supported a swing had been left on the surface of the new pavement area. The claimant tripped over this and as he fell, he stretched out his arm and immediately suffered a forearm fracture. As such, he contacted solicitors to make a fractured forearm compensation claim against the local authority responsible.
Details Of The Simple Forearm Fracture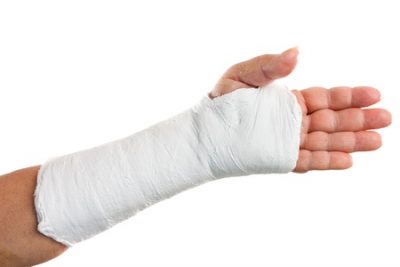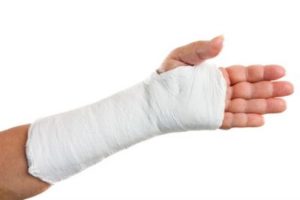 The claimant suffered a simple fracture to the forearm. When the claimant fell over the stump, the claimant acted instinctively and reached out with their right hand and arm to brace their fall. The impact from the fall caused a fracture of the forearm, including a fracture to the scaphoid bone. The scaphoid bone is a carpal bone in the wrist. It is located on the thumb-side of the wrist, between the forearm and the hand. The fractured forearm symptoms necessitated surgery to repair the damaged area. The surgery was a success, and the claimant was able to fully recover.
How do you know if you have a broken arm or wrist? The NHS has a great guide to broken forearm and wrist injuries. A simple fractured forearm will need to be treated as quickly as possible to either set the bone, or fix the break with surgery. The typical fractured forearm recovery time will be around two months. Though this can be a little quicker or longer, depending on the nature and location of the forearm fracture. Fractured forearm symptoms will generally become apparent quickly after the injury is suffered. Fractured forearm symptoms can commonly include any or all of the following;
Tenderness, pain and bruising in the area around the broken forearm, as well as swelling in the area. There may also be tingling or numbness.
Difficulty in using the hand or whole lower arm with the fracture of the forearm.
Forearm fractures can leave the arm with an odd or different shape.
Forearm fractures may also make a snapping sound when the break happens and, if the bone penetrates the skin, there may be bleeding.
You can find information on forearm fractures, as well as a forearm fracture healing time in this handy NHS guide.
The Compensation Case And Settlement
The vast majority of compensation claim cases do not need to go to court to be resolved. Compensation amounts could be negotiated without needing the courts intervention. Specialist council accident solicitors who have experience of these types of compensation claims can work with claimants to recover the damages they are owed.
In this case study the defendant was the local authority for maintaining the park area, and clearing the materials from the ground. The simple forearm fracture claim asserted that the council had breached their liability owed to pedestrians under the 1980 Highways Act. The council did not dispute their liability for clearing the materials, nor the defendants liability. The claim was settled between the two parties out of court. Solicitors for the defendant and claimant were able to negotiate a settlement of £30,000 in damages. This was agreed upon to cover the pain and suffering the claimant felt as a result of the simple fractured forearm, as well as the loss of use of the forearm for a period of time (known legally as a "loss of amenity"). The award also covered expenses incurred by the claimant, such as medical expenses and the care they needed.
No Win No Fee Personal Injury Solicitors
Across the UK, Accident Claims UK works with a panel of specialist, no win, no fee solicitors to help claimants after accidents and injuries which were not their fault. We offer the claimants who we work with a comprehensive service. Our no win, no fee solicitors work offer claimants what is called a 'contingency fee agreement', also known as a 'CFA'. These are a special type of contract which is offered by some solicitors, which means that the claimant does not have to make any upfront payments towards their case fees. The agreement will also set out what work the claimant can expect the solicitor to carry out on their behalf. The no win, no fee agreement should include a schedule for when and how the solicitors for the claimant will be paid. It should say that these fees will be paid out form or as part of the compensation award. It will include the circumstances under which no fee is charged (the no fee part). No win no fee agreements have allowed claimants across the country to hire specialist solicitors, without having to face upfront costs or fees. These agreements can be highly beneficial for compensation claimants as they do not need to take any financial risks. If the solicitor that you hire is not able to recover compensation for you, you will not have to pay anything.
How Accident Claims UK Can Help You Get Personal Injury Claims Payouts for A Fractured Forearm
Accident Claims UK is the UK's number one, comprehensive online resource for personal injury compensation claims. From case studies (such as this one), to claims guides and information on different injury types. We have a wide range of resources which are designed to help you find out everything you need to make a successful compensation claim. Our resources are written with you in mind and help to illustrate the crucial role an expert solicitor can play in helping you to recover the damages you are owed. This case study shows how solicitors helped the claimant with a simple fractured forearm.
You can start your personal injury claim today by talking to the specialist team at Accident Claims UK. Our team can help you find out more about how dedicated no win no fee solicitors are able to help you get the compensation you deserve. Whether you were injured in a slip, trip, or fall on the pavement, in a park, or elsewhere, our team can help you. Contact Accident Claims UK today by calling us on 0800 073 8801. You can also email us at info@accidentclaims.co.uk, or you can start your claims process by filling in our online claims form.
How do I get personal injury claims payouts for a fractured forearm?
Initially, when you are looking to get personal injury claims payouts for a fractured forearm, you may not know where to turn with regards to the claims process. We would be happy to assess your case for free, and could provide you with case specific guidance to support. If you have a good chance of receiving personal injury compensation payouts, we could provide you with no win no fee specialist solicitor, who is authorised and regulated by the Solicitors Regulation Authroity. They could then start to gather evidence and build a case on your behalf. Once they have built a case they would put it to the liable party, and negotiate a compensation settlement for you. Should the liable party dispute or refuse your claim, it may be necessary to go into further negotiations. If negotiations failed, your case may need to be heard in court. A specialist solicitor could support you throughout this process to help you get the maximum compensation payouts possible for your injury claim.
What evidence do I need to maximise personal injury claims payouts for a fractured forearm?
In order to maximise personal injury compensation settlements in the UK, you would need to have a strong body of evidence. Perhaps most importantly, you would have to have detailed medical evidence regarding the level and severity of your injury and how it could affect you in the future as well as how it is affecting you now. Also need to be able to evidenced if you have lost out on income because of your injury, and if you have incurred other costs or losses. This is so that you could get the maximum possible in general damages and special damages for your claim. In addition to this, you would need to provide evidence that the accident was someone else's fault and that it led to you suffering an injury.
Does my choice of solicitor affect personal injury claims payouts for a fractured forearm?
When it comes to claiming compensation, many people prefer to have the support from a legal professional such as a personal injury solicitor. They do so, so that they know the claim is being handled by a legal professional. This could give them peace of mind that they are likely to have the best chance of success. However, not all solicitors provide the same level of service, and you might find that some are better than others. Therefore, you should choose your solicitor with care. You might want to look for one that works on a no win no fee basis, as well as one that has years of experience and has handled claims like yours in the past. It might also be a wise idea to look into their success rate when making your choice.
How common are road traffic accidents leading to broken bones?
Traffic accidents are one common cause of broken bones. In 2020 there were over 115,000 casualties on UK roads. These may have included some incidents with broken bones. Despite there being four months with national lockdown restrictions, which affected traffic on the road, this is still a significant number of casualties. You can see what types of road users were most commonly injured below.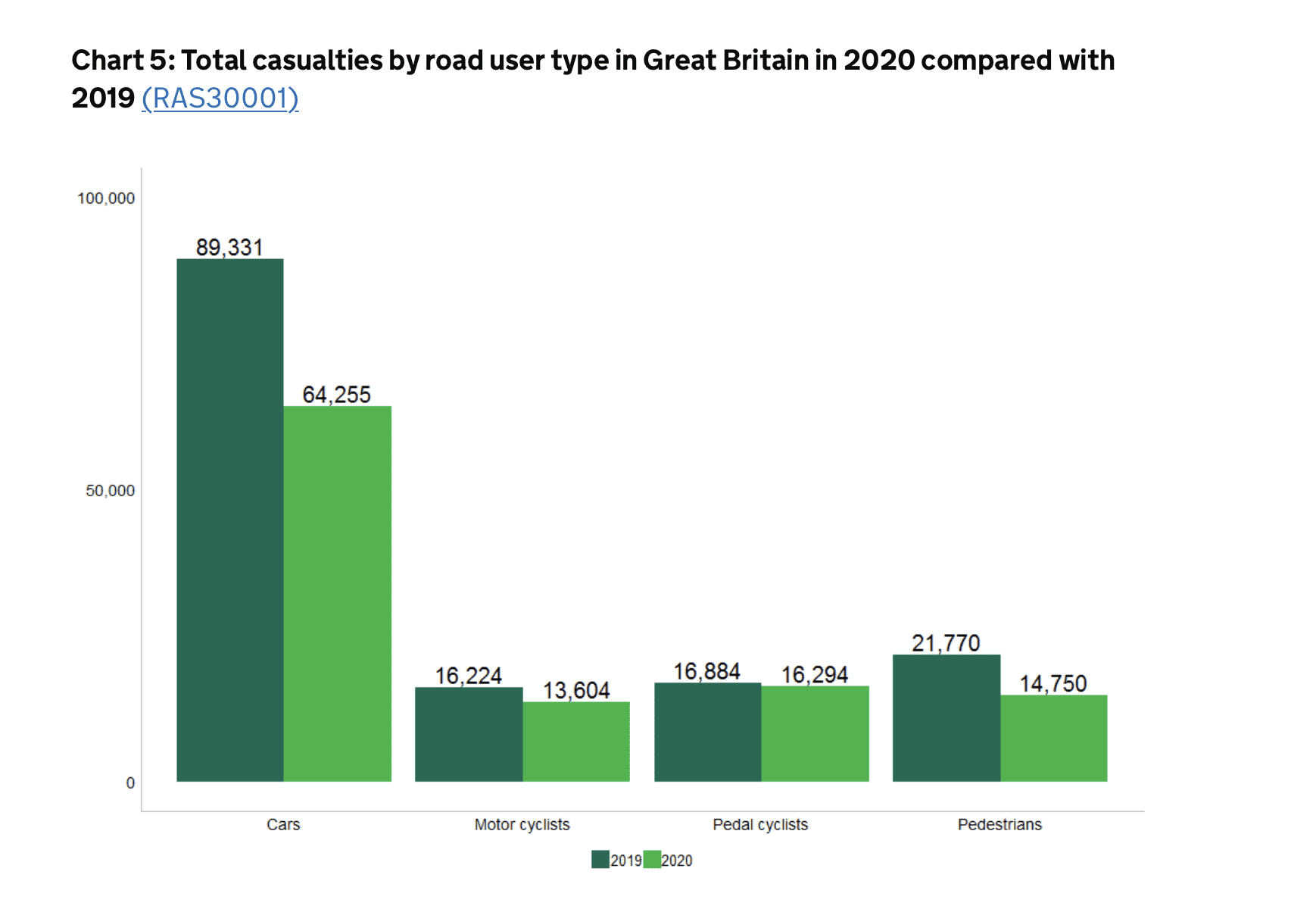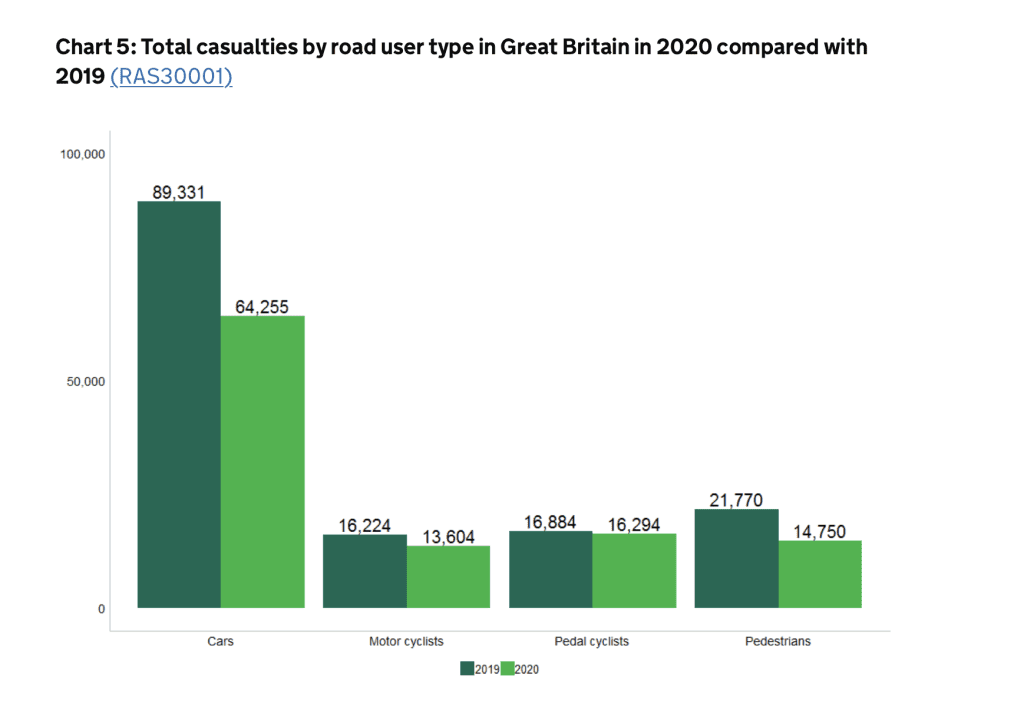 Useful Links Relating To Personal Injury Claims Payouts for A Fractured Forearm
How Do You Know If You Have A Broken Arm?
Read this guide to broken bones in the arm, with information on forearm fracture types and recovery times.
Council Accident Claims Solicitors
View the Accident Claims UK guide to how to make a successful local authority compensation claim with our guide, which includes an alternative to a compensation calculator.
ROSPA
Accident advice and guides from the Royal Society for the Prevention of Accidents.
Other Useful Guides
Thanks for reading this case study on personal injury claims payouts for a fractured forearm.