By Joanne Jeffries. Last Updated 12th November 2021. Welcome to this case study covering personal injury claims payouts for a frozen shoulder.
It may be the case that you were injured while you are abroad, and if you are then you may feel that it is not possible for you to make a claim. However, in many cases such as the one we have researched below, and it is certainly possible to claim personal injury compensation for any injuries that you have sustained that we due to an accident that wasn't your fault.
The case we are looking at at this point is one where a lorry driver was on the roads in Germany, when he was rear ended on one of the motorways. The accident left him with a left shoulder injury-a frozen shoulder-which left him unable to perform his work duties for around half a year. In this claim, the victim was awarded £25,000 payout for a frozen shoulder for the injuries caused by this incident. We will go into further detail about the claim and payout for a frozen shoulder below as well as explaining how to begin a similar injury at work claim without having to pay out legal bills upfront for your shoulder joint injury, as well as explaining how we can help provide you with the personal injury solicitor you need to undertake a similar claim for general damages for pain and suffering and special damages for financial losses due to your accident at work. Claims could bring you both types of damages.
Road Traffic Accident Abroad Statistics
You may not realise it, but we all take a risk getting on the road, in whatever country we choose to do so. It is important to take the proper precautions and if you are driving in a foreign country you must abide by their road rules fully to ensure that you are not at fault for any RTA that happens. However, not every road user is as diligent in checking and remembering road rules in other countries and if they do not and an accident is caused, it may be a possibility for you to claim for compensation for any injuries that you are left with.
Here, we take a look at the numbers with regards to statistics for road accidents abroad.
The picture above details the number of fatalities per country in 2016/17. While this frozen shoulder injury was the result of a traffic accident in Germany, you can see many other countries and the rates of fatal accidents in the graph above. While Germany and the UK are quite low in comparison to other countries as far as RTAs go, accidents do happen. Whilst road traffic accidents are not always fatal, they often do cause injury, as can be seen below in the table obtained from bast Germany.
This table does not take into account the type of injury, but as you can see, the autobahn (motorway) is a common place for accidents to happen, and if it can happen in Germany, it can happen in any other country in the world. Should you have been on the roads in any other country and suffered injury of any type due to someone else's negligence on the road, then it is important you seek expert advice on whether you can claim for compensation.
What Injuries Did the Claimant Suffer?
The claimants obtained a frozen shoulder injury due to this accident, and whilst this may seem on the face of it quite a minor injury it can cause extreme pain, and in fact be quite debilitating. But what is a frozen shoulder? A frozen shoulder injury is basically pain in the shoulder and stiffness as well as frozen shoulder pain down arm that does not go away quickly. It can be so painful that patients find it very difficult to move their shoulders and arms. In terms of treatment, there are three main steps to take to recover, but this might take a while.
If you receive a frozen shoulder diagnosis NHS from your GP, then it is likely that you will be told to only move the shoulder in a gentle manner and try to avoid pain causing movement. You will likely initially use either ibuprofen or paracetamol as frozen shoulder pain relief in order to help your frozen shoulder symptoms, neck pain etc. Should this not be working for you, you may require either painkillers that come only on prescription or even pain relief frozen shoulder injections. These are usually steroid based. Once the shoulder feels a bit less painful, you will likely need to do some exercises with the shoulder either at home or possibly at a physiotherapy centre where you will learn what exercises to do for a frozen shoulder. Unfortunately, long recovery times are possible with this type of injury, and while in the majority of cases, around 18 months to 2 years is the recovery time, in some cases stiffness and pain symptoms can go on for up to 5 years. Your prognosis, and recovery time for such injuries will help to determine the payout for a frozen shoulder injury that you receive. If you would like to know more about typical payout for a frozen shoulder brackets, our team will happily speak to you about this.
The Allegation and Establishing the Defendant's Liability
Victim in this case alleged that the driver behind was much too close to the back of his vehicle on the motorway. What has happened was that on the inside lane of a motorway way approaching Regensburg (A2), the driver had spotted an incident that was happening on the hard shoulder, and appropriately slowed his vehicle down to around 10 km/h. When the driver slowed his vehicle down, the other driver behind him did not follow suit, and therefore shunted into the back of the lorry and pushed it around 50 m. As a result of this shunt, the driver's shoulder was injured, which meant he had to stay off work for half a year. After medical appointments physiotherapy and negotiations with the defendant, a settlement was reached and compensation awarded.
What Was The Compensation Payout?
The damages settled upon intense in these shoulder injury compensation claims reflected the time that the victim had had to have off work causing loss of earnings, along with pain and also suffering that he had experienced. In this case, the payout for a frozen shoulder injury was £25,000. It is important that you understand, however, that your pay out for frozen shoulder injury may not be exactly the same. Many things are taken into consideration when calculating the value of a payout frozen shoulder injury. Not least, the wages you were on and had lost, the prognosis for recovery and whether you suffered any other injuries as well as your frozen shoulder injury.
No Win No Fee Payout For A Frozen Shoulder Injury
One of the most pressing questions that we get about personal injury claims is, aside for what is the typical pay out for frozen shoulder injury, how can I go ahead if I don't have the money to pay for a solicitor? The answer to this question is that we provide no win no fee solicitors who will work on your case solely for a pre-agreed percentage of the compensation received at the end of the case. Many people worry about going ahead with this sort of claim, especially if they feel that there is some question over whether they would receive a compensation payout for a frozen shoulder injury. However, they need not worry. Because of this no win no fee, solicitors rarely take on cases they are not fully confident they can win, but if the worst happened and you were not awarded compensation, then there would be no legal bill for you to pay at all. It is only natural that you would have some questions about going ahead with this sort of personal injury claim, so if you'd prefer to talk this over in more detail with our team why not pick up the phone and call?
Speak to Our Experts Today About Personal Injury Claims Payouts for a Frozen Shoulder
Speaking to an experienced personal injury lawyer is something you should certainly consider doing before you decide to go ahead and look for a payout for a frozen shoulder injury or consult a compensation calculator. Luckily this is something that we here at Accident Claims can help you with. Not only can we provide an experienced frozen shoulder injury personal solicitor, but we can also offer use some useful advice from our legally trained team of operators before you decide whether or not you would like to use our service. We promise not to overwhelm you with information you don't need but will provide answers to any question you choose to ask us, if you just call 0800 073 8801. Whether your claim happened here or abroad, we will certainly strive to do our best to ensure you are furnished with the appropriate information before you decide whether to go ahead with the claim.
Could I receive personal injury claims payouts for a frozen shoulder that my child suffered?
If your child has been injured in an accident that was not their fault, whether it was a road traffic accident, a slip, trip or fall, or an incident of medical negligence, for example, you may be wondering if you could claim on their behalf and if their compensation payout would come to you. If you decided to make a claim for your child, you would have open till their 18th birthday to do so. However, if you did make a claim for your child as their litigation friend, their compensation would not come to you. Usually, it would be held in a trust for your child for them to access when they are adults. Your child, if no one made a claim on their behalf, could also make a claim for compensation once they turn 18 years old. Making the difficult decision over whether to wait or whether to make a claim on behalf of your child could be made easier by talking to our team. You could get free advice from a friendly solicitor who could give you all the information you need to make a decision on what to do.
How do I maximise personal injury claims payouts for a frozen shoulder?
In order to get the maximum compensation settlement possible for your claim, you would need to collate a body of strong evidence. This would include medical evidence come out which you would collect by attending an independent medical assessment. You could also provide documentary evidence of the accident, the injuries it has caused you, and the costs associated with those injuries and the accident. In addition to this having a specialist solicitor who has the knowledge and experience required to handle your case could maximise your compensation payout also.
How common are road traffic accidents in the UK?
Even in 2020, when there were four months in which national restrictions on travel applied due to the COVID-19 pandemic, there was still a significant number of road traffic accident casualties. Below, you can see the breakdown of these between different types of road users.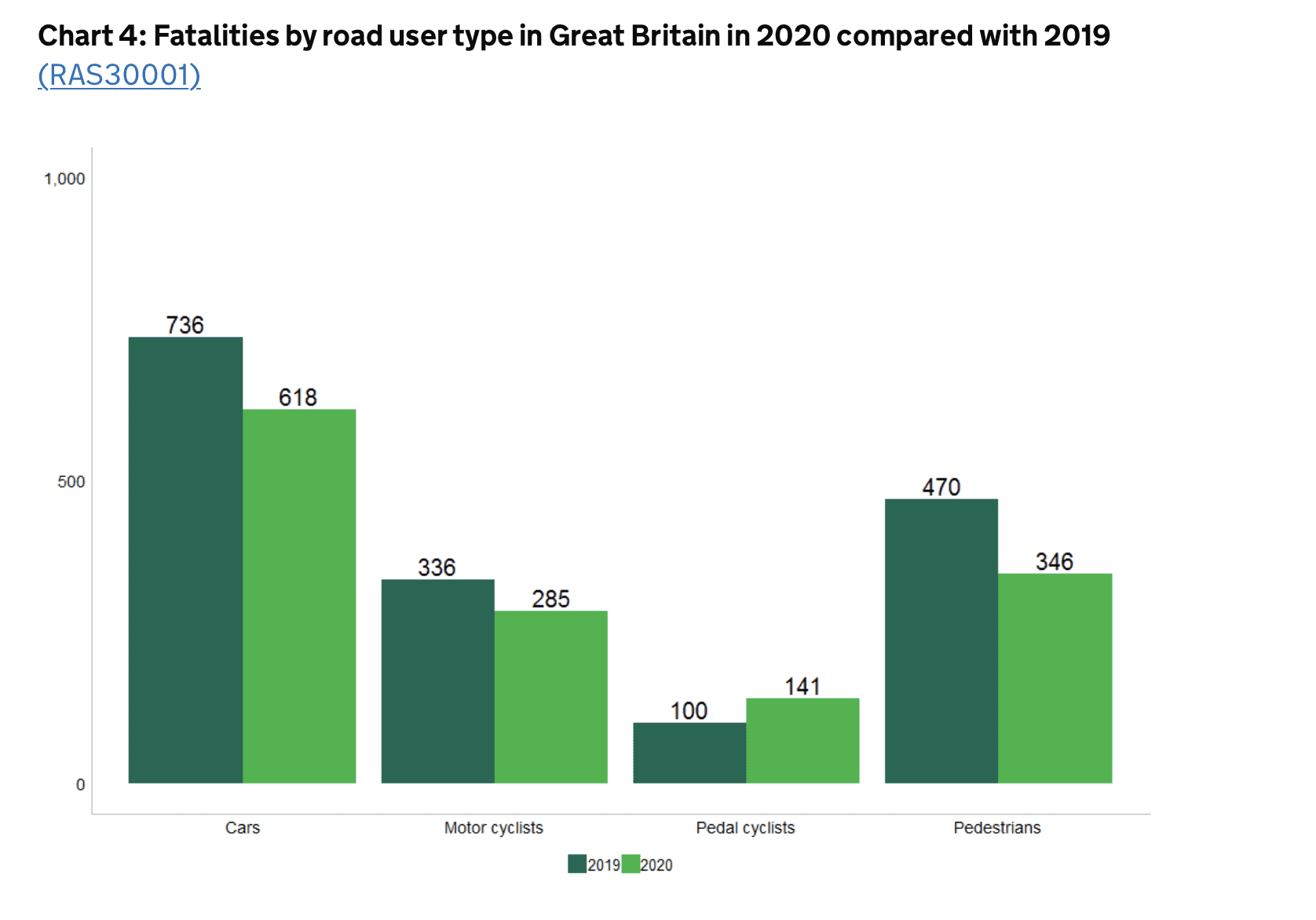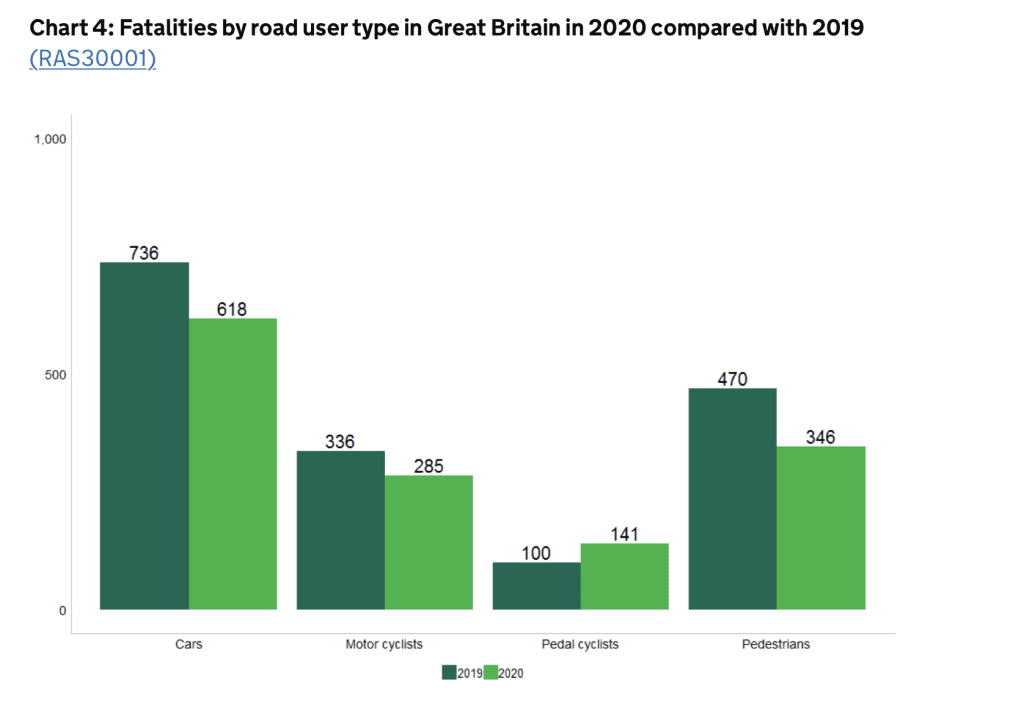 Our team could help you whether you have suffered injuries in a road traffic accident that has caused a frozen shoulder, or any other type of injury. We could help you make pedestrian accident claims, hit and run accident claims, or any other type of personal injury claim as a road user that has been injured due to someone else's fault. In some cases, it may not even be another motorist that is at fault for the accident. If the council, have not maintained roads to a safe standard, for example, this could lead to a compensation claim against the local council for personal injury compensation. We would be happy to assess your case for free to ascertain whether you could have a strong claim for compensation. No matter who you are claiming against, or what type of road user you were, we could help fight for the maximum compensation possible for your claim.
Useful Links Relating To Personal Injury Claims Payouts for a Frozen Shoulder
If you are intrigued as to other places to research in terms of making claims for frozen shoulders or any other injury that has happened abroad or in this country, you may find the below links quite helpful.
HGV Accidents – What to do about claiming – HGV accidents are common folk in this country and others. Find out more on making HGV accident claims here.
Foreign Accident Claims – if you have been injured abroad, as we touched on earlier on this page, getting help is important. Click this link to get more information on foreign claims.
Bast – Traffic accident Statistics – German traffic details you might be interested to look at.
GOV – Accident Statistics by country – Find the data in the chart above and more information too.
Thank you for reading this case study on personal injury claims payouts for a frozen shoulder.