By Joanne Jeffries. Last Updated 11th November 2021. Welcome to this case study surrounding personal injury claims payouts for a passenger.
Unfortunately, car accidents happen every day in the United Kingdom. While a lot of people walk away from car crashes and they are perfectly fine, only suffering minor whiplash if they're lucky, there are those who end up with injuries that impact them for the rest of their life. This was certainly the case for one woman in a case that we researched who lost her leg in a car crash.
The woman, who is a triathlete, was awarded a sum of £4,098,051. This money was paid by her husband's insurance provider. He was driving the car on the M5 when they crashed in 2013. The large sum of money was designed to ensure that she had all of the aids and equipment she needed for the rest of her life, as well as covering loss of earnings, care and more.
On this particular page, we will take a look at the incident in further detail, providing information on how the claim was conducted and how the settlement was reached. We will also take a look at the injury that was sustained, i.e. a below the knee amputation, in further detail. If you have any queries, you will find our contact information at the end of the guide, so please do not hesitate to get in touch.
We have helped many people in similar positions to get the compensation they deserve. Whether you want to make a passenger whiplash claim or a claim for any other sort of passenger car accident, we can assist.
Below The Knee Amputations
In this incident, the woman had to have a below the knee amputation. The aim of any amputation is to get rid of tissue that is not healthy, resulting in a remaining leg that is more useful and less painful. This type of procedure is often performed for ankle and foot problems, and it tends to result in the use of an artificial leg so that the patient can still walk. There are some incidents and scenarios whereby a person may not be a good candidate for this type of amputation. This includes patients who do not want or walk for certain reasons, individuals with limited knee function or knee pain, those with scar tissue or muscle or skin loss, tumours or infections above the knee, and poor blood flow.
How Was The Case And Court Claim Conducted?
The solicitors working on this case argued that the woman enjoyed travelling across the world to far-flung and remote destinations, often going alone. She was also incredibly active before the passenger car accident, enjoying the likes of cross-country skiing, snowboarding, water-skiing, and tennis. She wanted to reclaim as much of her sporting and work lifestyle as she could prior to the accident, and this is what was argued when making a claim. Claims are often dependent on what you can prove with regards to previous and currently lifestyle options, and if someone's quality of life has been affected, then this can affect the amount that is offered in compensation.
What Settlement Did The Courts Award?
How much money can a passenger in a car accident get you might be wondering? In this case, the woman was awarded £4,098,051. This sum was awarded so that she could get the care and equipment she needed, as well as enabling her to life as much of an independent lifestyle as she did prior to the car accident. Out of the money that was awarded, £913,000 was attributed to equipment and aid. This is to cover a lifetime's supply of prosthetic limbs. It was deemed she would require two 'everyday' limbs, including one that enables her to wear high heels. This sum also covered a running blade. Aside from this, £250,000 of the money awarded was for additional holiday costs. There was almost £970,000 awarded for extra housing costs. In addition to this, over £480,000 was secured for loss of earnings, and there was almost £670,000 for care.
When making any sort of claim, it is important to recognise that compensation is split into two parts. One part is general damages, which is the money you will receive for the pain and suffering for passenger, both physical and psychological. It is calculated based on the severity and the impact it is having on your life, i.e. whether there will be any long-term effects for example. Aside from this, you also have special damages. This is compensation for any out of pocket expenses. In order to give you a better idea of this, read below for some key examples of special damages…
Medical expenses – There is only one place to begin and this is with medical expenses. After all, if you have suffered an injury it is highly likely that you will experience some form of medical expense. This can include anything from the cost of your treatment, to prescription fees, to the purchase of painkillers and so on and so forth.
Loss of income – Have your injuries left you unable to work? If so, you will be entitled to compensation for this if you are not covered by sick pay. This is frequently the case for people that are self-employed. An injury could cause huge damage to the amount of money they usually make. However, the good news is that you can actually claim for loss of income as special damages.
Travel expenses – Travel costs are one of the most popular forms of special damages. They can occur in a whole host of different ways. You will be able to claim for the money you have spent on travelling back and forth to the hospital. You can also claim for any hospital parking tickets. Moreover, you may have needed to use alternative transport during the recovery phase. You can claim for this as well
No Win No Fee Traumatic Amputation Claims
When it comes to personal injury compensation there is one evident trend, and this is the rise of No Win, No Fee claims. Traditional services offered by solicitors are being cast aside, whilst more and more personal injury victims are turning towards No Win, No Fee solicitors instead. So, why is this the case?
There is little denying the fact that times have been tough in the United Kingdom over the past few years. The recession had a huge impact on families throughout the country and the effects can still be felt. Living costs are high and people have to be extremely selective regarding where they spend their cash. Therefore, a lot of personal injury victims cannot take the risk of going for a traditional personal injury solicitor's service, nor can they afford it.
There are lots of costs associated with going down this route. You will have to pay for your initial consultation and a lot of fees follow this. This is a major hurdle for many individuals, as they cannot afford the high outlays. Moreover, people are concerned that they are going to spend all of this money on the service and then lose their case. The risk is too great.
However, such problems are eliminated when going for No Win, No Fee claims. Did you know that you actually do not need any money to begin your case? This is one of the main reasons why No Win, No Fee claims have become so popular. Furthermore, financial risk is eliminated substantially. The payment structure is entirely different and, therefore, the financial implications of losing a case are not as substantial as they would be with a traditional service.
When you take the points that have been mentioned into account, it is not difficult to see why No Win, No Fee claims are so popular. All solicitors provided at Accident Claims UK work on this basis. Give us a call today to find out more.
Begin Your Claim Today And Get Personal Injury Claims Payouts For A Passenger
If you want to make a claim for compensation for a fractured ankle, amputation, or any other type of pain and suffering caused due to a car accident, we can assist. You can reach one of our friendly advisors by calling our personal injury claims line, which is available on 0800 073 8801. This line is open seven days a week, 24 hours a day, so you can call at any time that is convenient for you. You can be sure that our advisors are all friendly and professional. They will be happy to answer any sort of queries you have and they will handle everything with full confidentiality. There are a number of other ways you can get in touch with us too. View our contact page for more information on this.
Could I receive personal injury claims payouts for a passenger that passed away?
If a loved one has passed away in a car accident that was not their fault and they were a passenger in that car, you could make a claim for compensation. Despite there being four months of lockdowns in 2020, you may be surprised to learn that there was still a significant number of fatalities on UK roads. The statistics from the Department of Transport can be found below.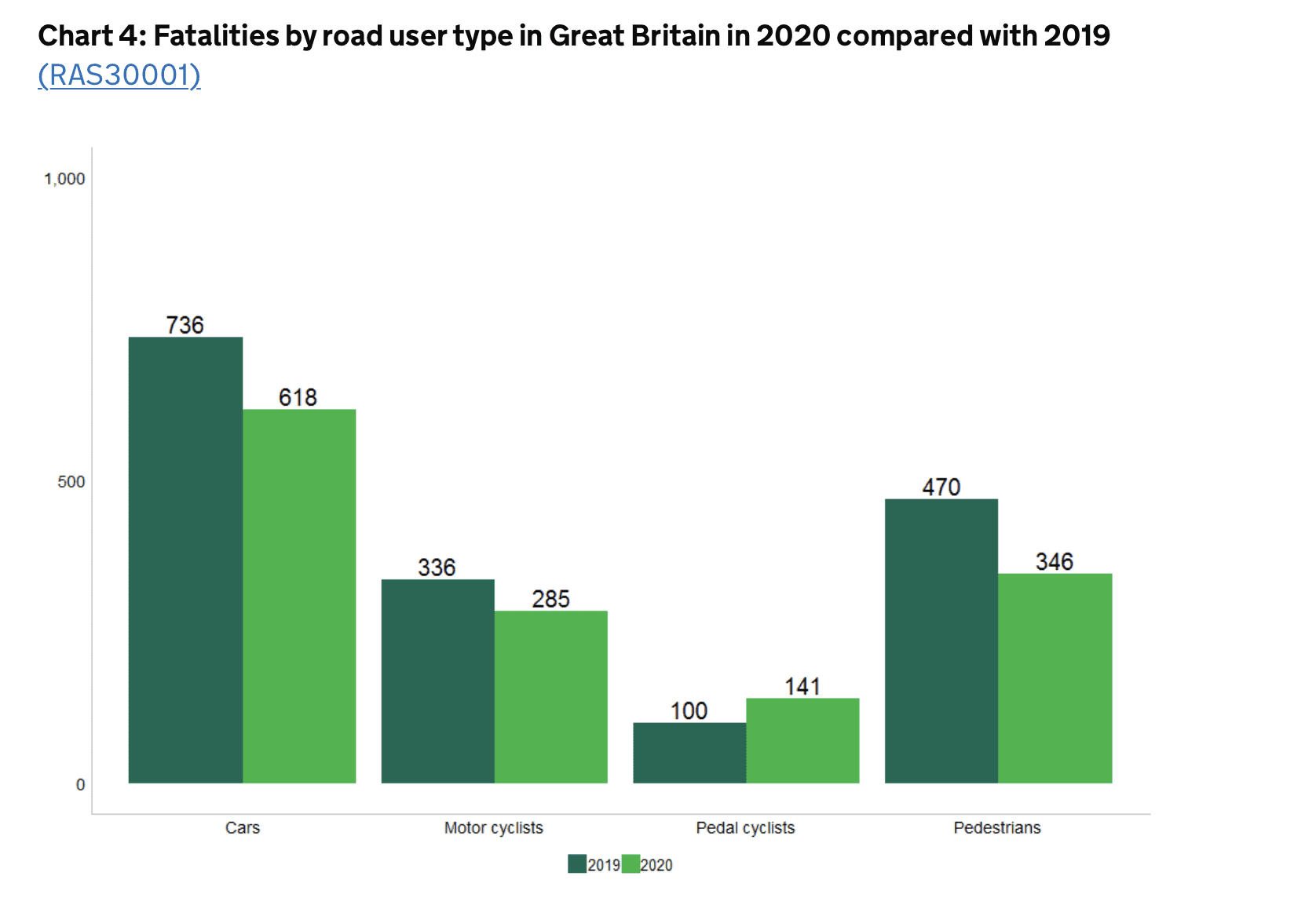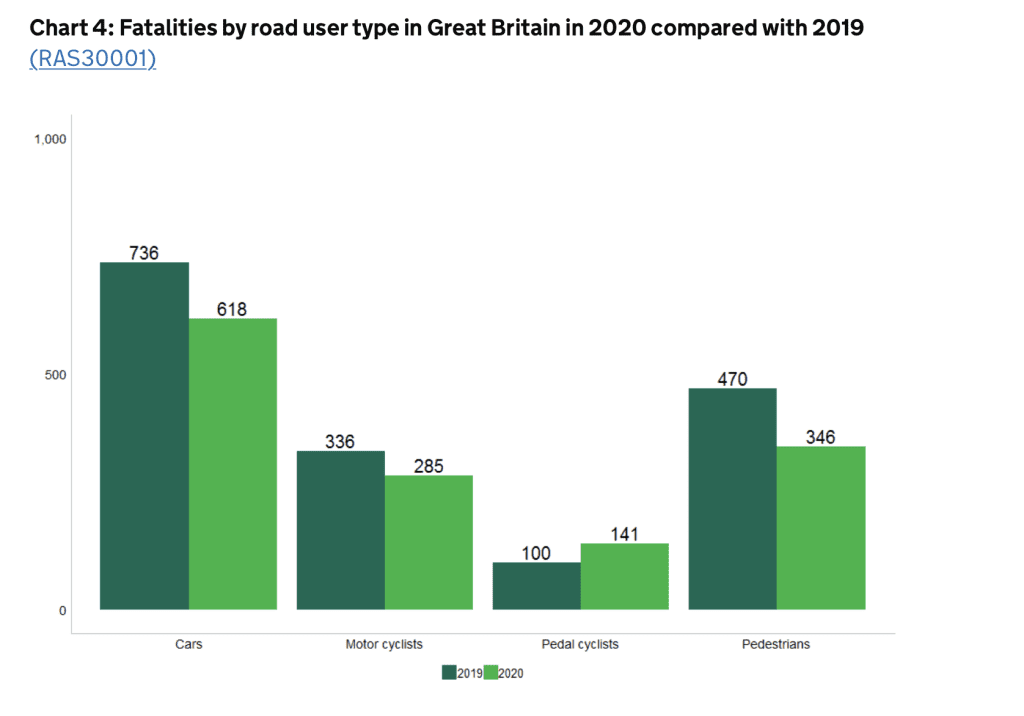 How could I maximise personal injury claims payouts for a passenger injury?
In order to maximise the amount of compensation you could receive for your claim, you should present solid evidence of your injuries and their severity. To do so you would need to visit an independent medical expert, whereupon they could examine you and put together a report detailing the severity of your injuries that could be used in evidence. It could also help your case to have an experienced personal injury solicitor on your side. If you would like free advice from a friendly solicitor who could assist you with your claim on no win no fee basis please call us. We could provide you with a solicitor with up to 30 years experience who is authorised and regulated by the Solicitors Regulation Authority, and that could fight for the maximum compensation settlements possible for your case.
How do no win no fee claims work?
When you are injured in an accident that was not your fault and want to make a personal injury claim, you may be considering using a lawyer. If you do so, it would be a good idea to choose a no win no fee personal injury lawyer as we have explained above. In terms of how the process works when making a claim, please note that you would have to sign a Conditional Fee Agreement in order to begin your no win no fee claim. The Conditional Fee Agreement contains details of a success fee. This is the sum that you would pay your lawyer out of your compensation payout. It represents a small percentage of your compensation, and is legally capped. Once you have successfully fought your claim and your compensation settlement comes through, the lawyer would deduct this fee, and the rest of the compensation would benefit you.
Do I have to use a local lawyer to receive personal injury claims payouts for a passenger injury?
When you choose to work with a personal injury solicitor on your claim, you may be surprised to learn that you could choose one based anywhere in the UK. You are not restricted to choosing a solicitor from your local area. We could help provide you with a solicitor that could take on your claim and fight for the maximum compensation possible for you no matter where in the UK you are based. Please do not hesitate to contact our team today to get the help and support you need and the compensation you deserve.
Helpful Resources Relating To Personal Injury Claims Payouts For A Passenger
We have put together a number of different resources that may be helpful if you are looking for more information about making a personal injury claim.
What if a passenger was injured? – The first link takes you to our guide on making a claim for compensation if you were injured as a passenger in a car accident.
Accidents in cars, claiming guide – The second link takes you to our guide on car accident claims in general.
Amputations – An NHS guide The third link takes you to the NHS page on amputations.
Thank you for reading this case study relating to personal injury claims payouts for a passenger. If you would like to ask us anything about the road traffic accident claims process or a passenger accident claim against the local authority or road users' insurance companies, we'd be happy to help. We could give you insight into the time limits you'd have for claiming if you've been involved in an accident that wasn't your fault.