By Joanne Jeffries. Last Updated 10th November 2021. Welcome to this case study which looks at personal injury claims payouts for a needlestick injury.
A syringe needle infection can be one of the most traumatic and worrying types of injury as there can be a long period waiting for test results to arrive. In the compensation claim that this case study covers, a female doctor suffered an accidental needle prick injury. In the two years after this, the claimant received inadequate support or training. Subsequently unable to carry our many of her duties over this period and was eventually signed off work.
The claimant was (at the time of her accident) recently qualified as a doctor, having done so in the past twelve months. At the time of the accident she was a house officer. The claimant was carrying out a procedure on a patient and accidently pricked herself with a needle. Whilst it was found that she did not pick up any infection or disease from this, she did develop a serious phobia of needles which led to her being unable to continue working as a doctor.
That is why she chose to ask a personal injury solicitor to seek compensation for a potential syringe needle infection. The doctor in question sought help through the British Medical Association (her representative union) and solicitors to take action against two respective health authority. Following the claim made by the doctor which alleged that she had not had enough training on what to do after this form of accident and did not receive any occupation support. The claim was successfully concluded with £465,000 being awarded to the claimant.
Accident Claims UK are a specialist personal injury solicitor who can help clients seeking compensation for a syringe needle infection on a no win no fee service. We could answer questions relating to injuries caused by the poor disposing of needles causing a sharps injury, as well as helping you work out whether you could make needlestick injury compensation claims as a healthcare worker or patient. We could assisting with a needlestick injury at work caused by a puncture wound, infection, or transmission of bodily fluids, whether with a hypodermic needle or other sharp object.
If you're ready to start your no win no fee claim now, then please call us on 0800 073 8801 or if you want to know more please carry on reading.
What Are Syringe Needle Infection Injuries?
A syringe needle infection happens when a previously used needle pricks or scratches another person accidentally.  If the needle contained any trace of virus from the original user, then this can be passed on and the person involved in the accident can become infected with:
Hepatitis B
Hepatitis C
HIV
As well as needles, blood can remain on other sharp objects and cause a syringe needle infection during an accident.  These objects could include: glass, scalpels, lancets and some other medical supplies.  The blood doesn't need to be fresh either as some viruses can survive in dried on blood for many weeks.
According to the NHS, professions that are at higher risk of syringe needle infection include:
Doctors, nurses and surgeons (one of the most susceptible careers to syringe needle infection. This was the case in this instance.)
Cleaners, especially in hospitals but anywhere where an infected needle may have been discarded
Police officers
Dentists and dental nurses
Tattooists
Prison officers and staff
Social workers
Builders and demolition staff (as syringe needle infection can occur from glass or other sharp objects)
The NHS have produced a list of things you should do if you're involved in a syringe needle infection accident which includes letting the wound bleed, holding it under running water with plenty of soap and then dry the wound and cover it with a waterproof plaster.  The wound should not be sucked or scrubbed, and medical advice should be sought regarding the risk of infection from a GP, hospital or by calling the NHS on their 111 service. If in any doubt you should attend A&E immediately.
How Was The Claimant Injured?
While treating the patient, the house officer/ doctor accidentally suffered a prick from a needle which had previously been used on a patient. As such there was a risk that infection or disease has been transmitted from patient to doctor. Whilst the doctor did find that she had not acquired any health risks from the syringe needle injury, she developed serious anxiety and eventually a phobia about using needles in general.
Whilst medical care, such as testing for any infections, as provided to her she felt that both the training she had been provided for what to do in such a circumstance. She also claimed that after the incident she had not been provided with any occupational health support from the health authorities in question.
The claimant began to be unable to treat various types of patient ostensibly in her care. This started by avoiding 'high risk' patients. The claimant would hide in the loo so that other doctors would have to provide care. She also avoided stitching wounds (again her phobia of needles played a role in this) and she would avoid taking blood tests from any patient. She covered this behaviour by pretended results had gotten lost.
The claimant behaved in this way as she felt she could neither trust her colleagues (fellow doctors and nurses) to have correctly and safely disposed of their 'sharps' (needles, etc).
The risk of syringe needle infection caused the claimant to experience a great deal of stress, become unable to leave her home, and to develop a phobia which prevented her carrying out her and and subsequently ended her career.
Details Of This Case
The claimant employed a personal injury solicitor to make her syringe needle infection claim as it can be a complex and time-consuming process and she wasn't sure how much compensation for a syringe needle infection, and debilitating effect this had had upon her, she could claim for.
The allegation, was made that inadequate training and support had been provided to the claimant before, during, and after this incident, and that it was this lack of support and training which can caused her to experience the mental health symptoms which had effectively ended her career.
In our experience at Accident Claims UK, it is very rare for a personal injury case to go to court.  Around 99% of claims are settled prior to a court hearing which we find beneficial to our clients as it negates the need for them to endure a court hearing but we will only accept out of court settlements if they are for the amount of compensation that we believe is fair for our clients.
Settlements For Syringe And Needlestick Infection Injury Claims
The judgment in the case was that the distress and subsequent phobia of needles and even going outside was due to the lack of training and occupational health support. As such the health authorities in question agreed to pay a settlement of £465,000 to the claimant in light of the effect on her career.
Employers have a duty of care to try and prevent injuries for their staff and in this case that duty hadn't been fulfilled The claimant was happy that it recompensed her fairly for the pain and suffering and mainly the stress, side-effects and pressure placed on her family life because of the needlestick injury.
No Win No Fee Syringe Needle Infection Compensation Claims
If you are considering seeking compensation for a syringe needle infection but are worried about the costs of using legal specialists then don't worry as Accident Claims UK offer a no win no fee service (sometimes referred to as a conditional fee arrangement) for all cases we take on.
This means that when we have a free consultation with you to discuss your syringe needle infection claim we'll let you know how much you'll pay for our service if we win compensation for you.
You pay nothing up front, no hourly rate and if we're unsuccessful then you won't pay us anything at all.  We believe this is the fairest way to operate and it is risk free for our clients and takes the stress away from what can be a complex process.
Speak To Accident Claims UK Today About Personal Injury Claims Payouts For A Needlestick injury
If you want to know how much compensation for a needlestick injury or want to go ahead and start a compensation claim, then we're ready to talk to you now.   To get in touch with Accident Claims UK you can:
Remember, we offer a free consultation and if we agree with your claim and take it on then it will be on a no win no fee basis.  Our team of specialists understand that re-living the injury may be quite traumatic for some clients so can take as long as needed to go through your claim with you.
Could I receive personal injury claims payouts for a needlestick injury as a patient?
When you visit the doctor or hospital, or you have a paramedic come to see you to treat you for a medical condition, they may need to give you an injection, or insert a cannula into your arm to give you medication. These are just a few of the incidents where it may be possible for you to suffer a needlestick injury. It is vital that paramedics, and other medical professionals are well trained in providing a good, safe standard of care to patients. If your care falls short of the minimum standard of care, and you suffer a needlestick injury because of this, this could constitute clinical negligence.
Making a claim for medical negligence or clinical negligence could be quite complex. You would need to prove that but for the clinical negligence you'd suffered, your condition would not be as bad as it was. This is why many medical negligence claimants prefer to use the services of specialist solicitors who are authorised and regulated by the Solicitors Regulation Authority when making a claim for clinical negligence. While it isn't  a legal requirement for you to have a legal professional on your side, it could significantly benefit you when it comes to the compensation settlements you receive. After all, an experienced solicitor with up to 30 years of experience could fight for the maximum compensation possible for your claim, using all of their legal knowledge and expertise. If you are considering making a claim for compensation and would like a medical negligence solicitor to help you, we could provide you with such a solicitor. Please call our team whereupon we will ask you a few questions about your claim, to see how we could help you best. You could receive free legal advice from a friendly solicitor regarding your case.
How do I maximise personal injury claims payouts for a needlestick injury?
In order to prove that you have suffered injuries as the result of a needlestick, you would need medical evidence. Many claimants believe that simply seeing their GP or the local hospital would be sufficient. However, the medical evidence you'd need to submit with your claim would have to come from an independent medical specialist. An appointment could be arranged for you as part of your claim. When you visit the medical expert, they would examine you and they may ask you some questions about the nature of your injuries and how they have affected you. They could also take a look at any relevant medical notes in your patient history if necessary. Once they had compiled all the information they needed, they could produce a medical report, which could be used to evidence your injuries. This could significantly impact the level of compensation you could receive for general damages. The evidence you submit for special damages, such as loss of earnings, care costs and travel expenses could also impact the amount of compensation you could receive.
How common are needlestick injuries leading to clinical negligence claims?
While we don't have figures relating to the number of needlestick injuries that have led to a claim, we can show you how much NHS paid out in clinical negligence compensation in 2020- 2021. The graphic below breaks this down.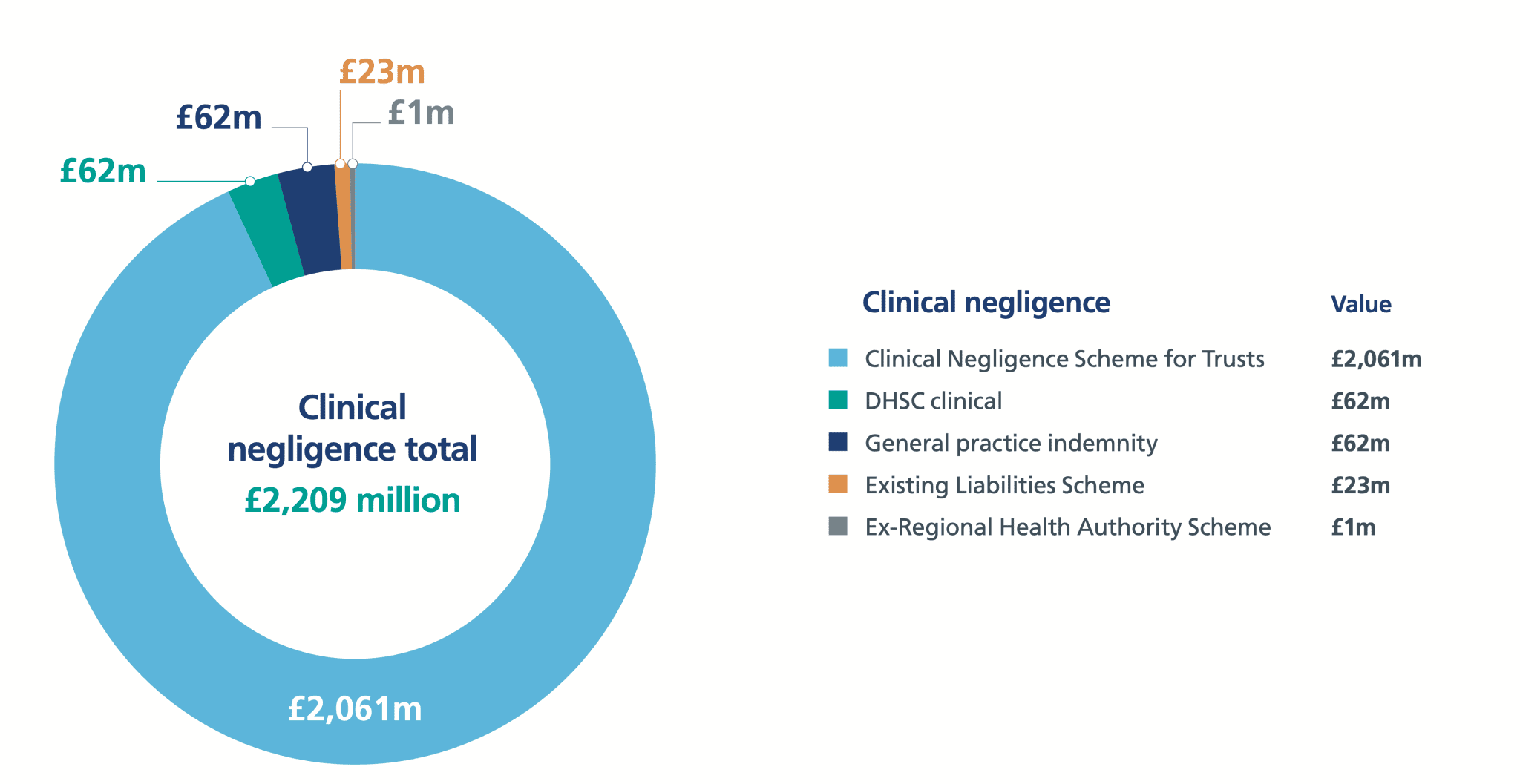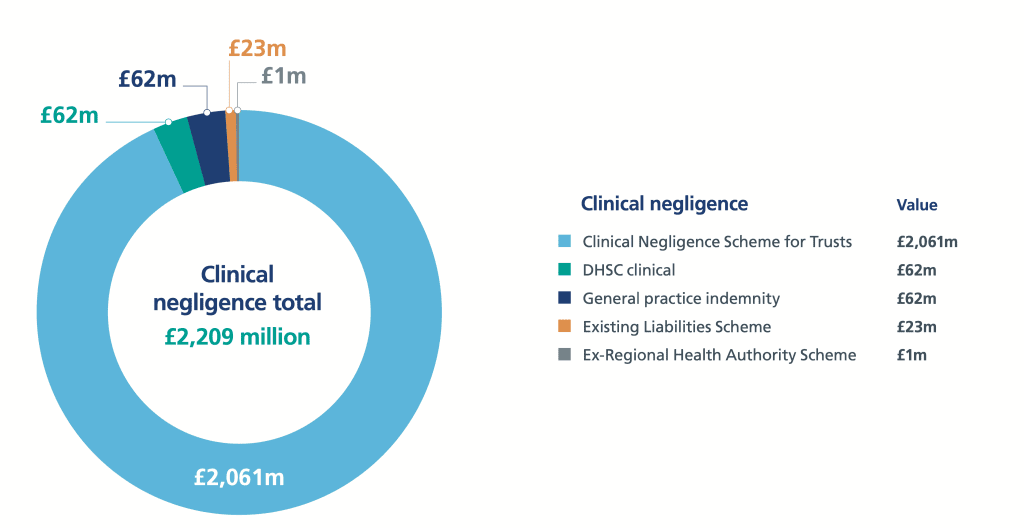 Useful Links Relating To Personal Injury Claims Payouts For A Needlestick injury
If you need any more information regarding syringe needle infection injuries, then here are a few more useful articles:
NHS Infections from needles – covers what viruses can be spread by syringe needle infection accidents.
Work accident claims – This is our guide to general accident at work claims (not just syringe needle infection accidents), including trip, slips and falls.
Thank you for reading this case study on personal injury claims payouts for a needlestick injury.