Have you suffered a needle stick injury at work? Perhaps you were the victim of a needlestick or syringe injury that happened because of medical negligence? No matter the scenario, you will be entitled to compensation if the incident was not your fault.
Syringe and needlestick injuries range in severity considerably. There are some injuries that cause penetration wounds, which are very painful but will heal over time. There are other cases whereby the needlestick injury has caused the person to contract an infection or disease, which has a negative impact on the rest of their life. Such incidents do not only cause physical injuries, but mental injuries too. When claiming, you will be able to secure damages for both physical and mental scars. In order to do this, though, you are going to need an expert legal firm by your side. This is exactly what you have with Accident Claims. We have many years of experience when it comes to needlestick injury compensation claims. You can reach our personal claims line on 0800 073 8801, but first, read on to discover everything you need to know about this type of claim.
Select a section
Your guide to needlestick injury compensation claims
Needlestick injuries are also commonly known as sharp injuries. They happen when a sharp object, typically a needle, penetrates the skin. Not only is this painful, but it can lead to severe health problems, as the needle may transmit an infection or disease. Needlestick or syringe injuries can happen in many different environments. While it is often the case that negligent medical care is to blame for patients suffering from such an injury, there are also a lot of incidents involving medical workers themselves who have been the victim of negligent work procedures. In this guide, you will discover everything you need to know about needlestick injury compensation claims. This includes details regarding your needlestick injury claim value, how to launch a needle stick injury lawsuit, the ins and outs of needle stick injury law, how to launch specific cases, for example, workplace accident claims, and much more.
What is a needlestick injury?
This refers to any type of injury that is caused when a needle or sharp object punctures the skin, be it by accident or on purpose. These injuries can also be referred to as percutaneous injuries or sharp injuries. As needles are typically used in a healthcare environment, you will find that most cases relate to negligent medical treatment or injuries within the workplace. However, there are a lot of other ways that such an injury can be caused. For example, scalpels and tattoo needles can easily cause such an injury. Essentially, if a sharp object is being used, there is always a risk and potential for injury.
It is also important to note the knock-on impact of such an injury. The most worrying side effect is contamination. If the needle is carrying someone else's blood, the person who has been injured could end up with an infection, some of which are life threatening. There are other physical symptoms that you may experience. This includes bleeding due to the skin being punctured, swelling on or around the area that is impacted, and tenderness at the area of the puncture. While all of these symptoms are undesirable and pain can be experienced, there is no denying that the most problematic result of such an injury is an infection. Contaminations, such as bacteria and viruses, can be transmitted if the needle contains traces of bodily fluids or blood. This is why all needles need to be disposed of properly. There are laws in place regarding this, and all working environments that use needles need to follow a very stringent procedure. If you have been injured despite this, you will most definitely be entitled to compensation.
Needlestick statistics
There have been a number of studies and reports regarding needlestick or syringe injuries in the UK. There have been a small yet significant number of workers in the healthcare sector that have developed life-threatening illnesses because of such injuries. In fact, there have been five workers that have contracted HIV and 11 workers that have contracted hepatitis C since the late 1990s.
There has been a study carried out by RCN, which produced an insight into the risk of needle stick injuries for nurses. The survey involved 4,407 nurses, with 48 per cent admitting that they had been struck by a sharp or needle that had been used on a patient at least once. Not only this, but 52 per cent of those interviewed stated that such injuries are a great fear for them in the workplace. Perhaps even more worryingly is that 45 per cent stated that they had not received any training on safe needle use from their employer.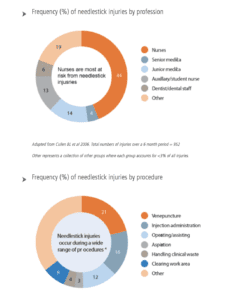 You can find an interesting National Audit Office report from the UK Government here. Although this was carried out in 2003, it reveals that needle and sharp injuries account for 17 per cent of all accidents to staff working for the NHS. This makes it the most common cause of injury after moving and handling injuries. A more recent press release from the UK Government stated that work exposures to hepatitis C, hepatitis B, and HIV are still on the increase. Needless to say, although healthcare workers are those that are most impacted by sharp injuries, other occupations can be impacted. This includes carers, cleaners, refuse collectors, and tattoo artists. There have also been cases whereby children have been injured due to picking up used needless.
How are needlestick injuries suffered?
Needlestick or syringe injuries can be suffered in any work environment whereby needles or sharps are used. Those in the health and social care sector are the most at risk. However, there are many other working environments whereby there is cause for concern, from tattoo parlours to refuse collecting services. If you handle a sharp directly, you are at risk. Individuals can also be at risk if they are in an environment whereby a needle has not been disposed of or stored properly. In terms of infection, hollow-bore needles posses a higher risk of infection. Moreover, higher risk procedures include injections, venepuncture, and intravascular cannulation, as well as the utilisation of phlebotomy needles, syringes, winged steel-butterfly-needles, and IV cannulae.
What can be the consequence of a needle stick injury?
The consequences of a needle stick injury can be severe. Not only does this relate to the physical injuries and symptoms that are associated with a needlestick, but the psychological impact as well. Needle stick injuries can have a severe impact on an individual's life, causing an extensive amount of stress. This could lead to time off work. It is important to note that, as per needle stick injury case law, you can claim for mental damages as well as physical ones.
In terms of the major blood-borne pathogens that are linked with needlestick injuries, these are HIV, hepatitis C, and hepatitis B. However, there are other infectious agents that can be carried through a needlestick. This includes the following:
Prion agents, for example, those that are linked with TSEs
Malarial parasites
West Nile virus (WNV)
Transfusion-transmitted virus (TTV)
Parvovirus B19
Epstein-Barr virus (EBV)
Cytomegalovirus (CMV)
GB Virus C
Hepatitis D
Human T-lymphotroopic retroviruses
There are also a number of different features of a percutaneous injury that come with a greater risk. This includes the following:
A needlestick injury whereby the needle has been placed in the source patient's vein or artery
If there is visible blood on the sharp that has caused the injury
If the source patient has a terminal HIV-related illness
A deep injury
Who can claim for a needle stick injury
Anyone can claim for a needlestick injury if the accident was not his or her fault. This includes workers that have been injured because their employer has not provided the correct training. It also includes accidents that have happened because of someone who has not disposed of sharps as per procedure, as well as incidents in a public place if sharps had been reported and not dealt with or they should have been spotted and removed.
How to begin a needlestick injury compensation claim
If you were the victim of a needlestick injury, it is wise to take certain steps to pull together evidence so you can increase your chances of a successful claim and maximise your chances of securing one of the higher needle stick injury payouts. This involves the following:
Making a note of everything that happened.
Reporting the incident. If you have been injured at work, you need to inform your boss so that this can be recorded in the accident book.
Take photographs of the scene or your injuries, if applicable.
Get the contact information of anyone that witnessed the incident.
I suffered needlestick injury due to medical negligence – can I claim?
Yes, if you have suffered a needlestick injury because of medical negligence, you can make a claim. Such injuries can be very traumatic. After all, when we go to hospital, we expect to get the treatment we need to get better. We do not expect to suffer a further illness or injury because of a mistake made by a healthcare professional. Examples of medical negligence range from needles not being disposed of correctly to used needles being used again.
I had a needlestick injury in a public place – who can I claim against?
This depends on where your accident has happened. Generally, though, the local council oversees most public places, and so you will be making your claim against the local authorities. Such cases can happen if there has been a needle that has been reported and ignored or should have been disposed of and hasn't been.
I had a needlestick injury at work – Could I make a claim?
Yes, if you have suffered a needlestick injury at work, you can make a claim for needle stick injury workers compensation. Although such incidents do usually happen in medical environments, they can occur in environments outside of the healthcare sector. Please do not be deterred – you can make a claim no matter where you work. When it comes to making a successful claim, you need to prove that your lawyer has failed to adhere to the legal requirement they have to provide a safe and healthy working environment. There are many ways they could do this, from failing to carry out risk assessments to a lack of training.
How will my needlestick injury be assessed?
You will see a medical professional, and you will firstly be tested for any of the contaminants that may be present. Aside from this, you will be evaluated for the psychological impact, both now and in the future. You may have to be re-tested or treated depending on whether you've been infected. This will be put together in a report that will go towards your compensation case, ensuring you get the right sharps injury compensation for what you have experience.
What kind of payments will make up a needlestick injury payout?
You will receive general damages for the pain and suffering you have encountered. This relates to both the physical and mental pain. Not only this, but you can claim for any costs you have experienced as a direct consequence of the needlestick injury. This includes medical expenses and loss of income. It also includes anything from childcare costs to the cost of counselling and travelling expenses. Make sure you record all costs and keep proof.
How much compensation for a needlestick injury will I get?
How much compensation for a needle stick injury? This is a question that we often get asked when people call our legal helpline. When it comes to the compensation amount, it is vital to recognise that all claims are handled on a case-by-case basis. There is not a set list of payouts, so to speak. This is because no two accidents are ever the same, and so the individual circumstances are taken into consideration to ensure that a fair amount is awarded every time. With that being said, it is simply not possible to give you a fully accurate number for the payout you will receive. What we can do, though, is enlighten you to the average payout for a syringe or needle stick injury. You will find this information in the table below:

| Type of injury | Severity of Leg Injury | Injury Common Payout Bracket | Notes |
| --- | --- | --- | --- |
| Stab wounds | Moderate | £5,000 - £9,575 | Penetrating stab wounds |
| Loss of benefits | | £5,000 - £500,000 | When someone experiences a needlestick injury, they often have to miss work. You will be able to claim for any money you have lost during this period. There are cases whereby people have received more than £500,000. |
| Loss of expected income | | £10,000 - £400,000 | If it is anticipated that you will miss more work in the future, you can claim for this. In order to determine how much you will receive, your current rate of pay and future prospects are considered. There are cases whereby people have received more than £400,000. |
If you cannot find the sort of syringe injury you have sustained in the table below, please do not worry. All you need to do is give us a call to find out more about the average payout for the needle stick injury that you have sustained.
Making needlestick injury compensation claims via no win no fee
One of the key features of our service is the fact that all of our claims are No Win No Fee. If you want to launch a needle stick injury lawsuit, you can have the peace of mind that you are never going to end up in a worse financial position than when you started. This is what a lot of personal injury victims fear. Many people miss out on compensation every year because they do not want to run the risk of missing out on syringe injury compensation yet having legal fees to pay. We understand that, and that is why we only offer a No Win No Fee service. With this approach, all financial risks are eliminated. This is because you only pay for legal services if your case is a success. In which case, you will have compensation to cover the cost. If your case is not a winning one, you won't need to pay anything. Not only does this make the service much fairer for personal injury victims, but also it ensures that all victims can claim no matter their current financial situation. It also means that the solicitor working on your case is going to be accountable for the service they provide, and this naturally leads to a much higher standard of legal aid. No matter whether you choose to work with Accident Claims or not, we would highly advise you to only ever go for a No Win No Fee service.
Why call the team Accident Claims for needlestick or syringe injury claims?
There are many reasons why Accident Claims should be your number one choice if you wish to make a claim for needle stick compensation. This includes the fact that we have an outstanding reputation, years of experience, and we always put our clients first. When you make a claim through us, you can be sure that you will have a solicitor working on your case with up to 30 years of experience. We also provide free advice on needlestick injury compensation claims, with no obligation to continue with our service, so you really have nothing to worry about by giving us a call. The number you need is 0800 073 8801. We are open seven days a week, 24 hours a day, so you can call at a time that is convenient for you. If you would prefer, though, there are plenty of other ways to contact us. You can request a call back via our website, as well as using our popular live chat feature. Or, send an email to office@accidentlcaims.co.uk and we will aim to get back to you within three hours if you email on a weekday. So, what are you waiting for? Get in touch today and we will secure the compensation you deserve for the wrongdoing that has happened to you.
Useful links
This link takes you to a report on needlestick or syringe injuries for NHS staff. It contains information on the number of needlestick injuries, as well as the steps that need to be taken to minimise them.
This link takes you to the UK Government Health and Safety Executive website. It contains a lot of different information and resources regarding sharp injuries.
This link takes you to an NHS advice page where you will find information on what you should do if you injure yourself with a needle. This includes advice on assessing the severity of the injury, treatment options, and getting support.