By Joanne Jeffries. Last Updated 22nd April 2022. Welcome to our guide on syringe and needlestick injury compensation claims. Here, we explain everything that you should know about filing needlestick injury claims, syringe injury claims, syringe compensation claims and about a needlestick infection injury in general. We explain needle stick injury symptoms, offer accidental needlestick statistics, and provide answers to common questions on syringe injury claims, such as 'What diseases can you get from a needlestick?'
Have you suffered a needlestick injury at work? Perhaps you were the victim of a needlestick or syringe injury that happened because of medical negligence? No matter the scenario, you could be entitled to compensation if the incident was not your fault.
Making Syringe Injury Claims
Syringe and needlestick injuries range in severity considerably. There are some injuries that cause penetration wounds, which are very painful but will heal over time. There are other cases whereby the needlestick injury has caused the person to contract an infection or disease, which has a negative impact on the rest of their life. Such incidents do not only cause physical injuries but
psychological injuries
too.
Getting Help From The Professionals At Accident Claims UK
When claiming, you will be able to secure damages for both physical and mental scars. In order to do this, though, you are going to need an expert legal firm by your side. This is exactly what you have with Accident Claims. We have many years of experience when it comes to syringe injury claims and needlestick injury compensation and believe we are one of the law firms that could help you. You can reach our personal claims line on 0800 073 8801, but first, read on to discover everything you need to know about syringe injury claims, the claims process and how much compensation you could receive for puncture wounds and psychological effects of such an injury.
Select a section
Your guide to needlestick injury compensation claims
Needlestick injuries are also commonly known as sharp injuries. They happen when a sharp object, typically a needle, penetrates the skin. Not only is this painful, but it can lead to severe health problems, as the needle may transmit an infection or disease. Needlestick or syringe injuries can happen in many different environments.
While it is often the case that negligent medical care is to blame for patients suffering from such an injury, there are also a lot of incidents involving medical workers themselves who have been the victim of negligent work procedures. In this guide, you will discover everything you need to know about needlestick injury compensation claims. This includes details regarding your needlestick injury infection claim value, how to launch syringe compensation claims, the ins and outs of needle stick injury law, how to launch specific cases, for example, accident at work claims, and much more.
If you still have questions regarding syringe injury claims or needlestick injury claims after you've finished this guide, you can call our helpful team for more advice and information on syringe compensation claims.
What is a needlestick injury?
You could make a needlestick injury claim for needlestick injury compensation if your suffer medical negligence as a patient or an accident at work leads to a needlestick injury or infection, for example. 
This refers to any type of injury that is caused when a needle or sharp object punctures the skin, be it by accident or on purpose. These injuries can also be referred to as percutaneous injuries or sharp injuries. As needles are typically used in a healthcare environment, you will find that most cases relate to negligent medical treatment (clinical negligence) or injuries within the workplace. However, there are a lot of other ways that such an injury can be caused. For example, scalpels and tattoo needles can easily cause such an injury. Essentially, if a sharp object is being used, there is always a risk and potential for injury.
What diseases can you get from a needlestick?
It is also important to note the knock-on impact of such an injury. The most worrying side effect is contamination. If the needle is carrying someone else's blood, the person who has been injured could end up with a needlestick infection injury, some of which are life-threatening. There are other physical symptoms that you may experience. This includes bleeding due to the skin being punctured, swelling on or around the area that is impacted, and tenderness at the area of the puncture.
While all of these symptoms are undesirable and pain can be experienced, there is no denying that the most problematic result of such an injury is an infection. Contaminations, such as bacteria and viruses, can be transmitted if the needle contains traces of bodily fluids or blood. This is why all needles need to be disposed of properly. There are laws in place regarding this, and all working environments that use needles need to follow a very stringent procedure. If you have been injured despite this, you will most definitely be entitled to compensation.
If you'd like more information about whether you could claim for your needlestick infection injury, get in touch with our team today. We can answer any questions you may have regarding syringe injury claims.
Needlestick Infection Injury Statistics
There have been a number of studies and reports regarding needlestick or syringe injuries in the UK. There have been a small yet significant number of workers in the healthcare sector that have developed life-threatening illnesses after a needlestick infection injury. In fact, there have been five workers that have contracted HIV and 11 workers that have contracted hepatitis C since the late 1990s.
There has been a study carried out by RCN, which produced an insight into the risk of needle stick injuries for nurses. The survey involved 4,407 nurses, with 48 per cent admitting that they had been struck by a sharp or needle that had been used on a patient at least once. Not only this, but 52 per cent of those interviewed stated that such injuries are a great fear for them in the workplace. Perhaps even more worryingly is that 45 per cent stated that they had not received any training on safe needle use from their employer.
You can find an interesting National Audit Office report from the UK Government here. Although this was carried out in 2003, it reveals that needle and sharp injuries account for 17 per cent of all accidents to staff working for the NHS. This makes it the most common cause of injury after moving and handling injuries. A more recent press release from the UK Government stated that work exposures to hepatitis C, hepatitis B, and HIV are still on the increase. Needless to say, although healthcare workers are those that are most impacted by sharp injuries, other occupations can be impacted. This includes carers, cleaners, refuse collectors, and tattoo artists. There have also been cases whereby children have been injured due to picking up used needles. Any of these scenarios could result in you receive needlestick injury compensation.
How are needlestick injuries suffered?
Needlestick or syringe injuries can be suffered in any work environment whereby needles or sharps are used. Those in the health and social care sector are the most at risk. However, there are many other working environments whereby there is cause for concern, from tattoo parlours to refuse collecting services. If you handle a sharp directly, you are at risk. And that could open the door for potential needlestick injury claims or syringe injury claims.
Individuals can also be at risk if they are in an environment whereby a needle has not been disposed of or stored properly. In terms of infection, hollow-bore needles possess a higher risk of infection. Moreover, higher-risk procedures include injections, venipuncture, and intravascular cannulation, as well as the utilisation of phlebotomy needles, syringes, winged steel-butterfly-needles, and IV cannulae.
What can be the consequence of a needle stick injury?
The consequences of a needle stick injury can be severe. Not only does this relate to the physical injuries and symptoms that are associated with a needlestick, but the psychological impact as well. Needlestick injuries can have a severe impact on an individual's life, causing an extensive amount of stress. This could lead to time off work. It is important to note that, as per needle stick injury case law, you can claim for mental damages as well as physical ones.
In terms of the major blood-borne pathogens that are linked with needlestick injuries, these are HIV, hepatitis C, and hepatitis B. However, there are other infectious agents that can be carried through a needlestick. This includes the following:
Prion agents, for example, those that are linked with TSEs.
Malarial parasites
West Nile virus (WNV)
Transfusion-transmitted virus (TTV)
Parvovirus B19
Epstein-Barr virus (EBV)
Cytomegalovirus (CMV)
GB Virus C
Hepatitis D
Human T-lymphotropic retroviruses
There are also a number of different features of a percutaneous injury that come with a greater risk. And the higher the risk, the greater the chances are that you could potentially claim compensation. So, the risks include the following:
A needlestick injury whereby the needle has been placed in the source patient's vein or artery
If there is visible blood on the sharp that has caused the injury
If the source patient has a terminal HIV-related illness
A deep injury
Who can claim for a needle stick injury
Anyone could claim for a needlestick injury if the accident was not his or her fault. This includes workers that have been injured because their employer has not provided the correct training. It also includes accidents that have happened because of someone who has not disposed of sharps as per procedure, as well as incidents in a public place if sharps had been reported and not dealt with or they should have been spotted and removed.
If you're unsure whether your needlestick infection injury is something you'll be able to claim for, then contact our team today to chat with one of our advisers.
How to begin a needlestick injury compensation claim
If you were the victim of a needlestick injury or needlestick infection injury, it is wise to take certain steps to pull together evidence for your syringe injury claims. This is to can increase your chances of successful needlestick injury claims and maximise your chances of securing one of the higher needle stick injury payouts. This involves the following:
Making a note of everything that happened.
Reporting the incident. If you have been injured at work, you need to inform your boss so that this can be recorded in the accident book.
Take photographs of the scene or your injuries, if applicable.
Get the contact information of anyone that witnessed the incident.
I suffered needlestick injury due to medical negligence – can I claim?
Yes, if you have suffered a needlestick injury because of medical negligence, you can make a claim. Such injuries can be very traumatic. After all, when we go to the hospital, we expect to get the treatment we need to get better. We do not expect to suffer further illness or injury because of a mistake made by a healthcare professional. Examples of medical negligence range from needles not being disposed of correctly to used needles being used again. Such cases could be grounds for syringe injury claims.
I had a needlestick injury in a public place – who can I claim against?
Who you make your needlestick injury compensation claim against depends on where your accident happens. Generally, though, the local council oversees most public places, and so you will be making your claim against the local authorities. Such cases can happen if there has been a needle that has been reported and ignored or should have been disposed of and hasn't been. If you'd like more information on syringe injury claims after a needlestick injury in a public place, don't hesitate to contact our team.
I had a needlestick injury at work – Could I make a claim?
Yes, if you have suffered a needlestick injury at work, you can make a claim for needlestick injury workers compensation. Although such incidents do usually happen in medical environments, they can occur in environments outside of the healthcare sector. Please do not be deterred – you can make needlestick injury claims no matter where you work. When it comes to making a successful claim, you need to prove that your lawyer has failed to adhere to the legal requirement they have to provide a safe and healthy working environment. There are many ways they could do this, from failing to carry out risk assessments to a lack of training. And any of these errors could result in you suffering a needlestick infection injury.
If you'd like to speak with our personal injury claims team about needlestick injury compensation claims, please call us today on the number at the top of this page.
How will my needlestick injury be assessed?
You will see a medical professional, and you will first be tested for any of the contaminants that may be present. Aside from this, you will be evaluated for the psychological injuries, both now and in the future. You may have to be re-tested or treated depending on whether you've been infected. This will be put together in a report that will go towards your compensation case, ensuring you get the right sharps injury compensation for what you have experienced.
What should I do after a needlestick injury?
Nobody wants to be injured by a needle. But sharps injuries, or injuries involving needles, blades or other medical equipment that could pierce the skin, are a real risk for those who work in medicine or social care. And unfortunately, anyone can be at risk of a needlestick injury if they're somewhere where used needles can be found.
If you've found yourself pierced by a used needle, then you should try to get the wound to bleed by holding it under running water. You shouldn't scrub the wound or suck on it, but you should wash it with plenty of soap and water. After the wound has been washed, dry it and cover it with a waterproof dressing before seeking medical attention. If you've suffered from your needlestick injury in work, then you should report this in your work accident book.
When you seek medical attention, your doctor will determine what kind of risk they think you have of being infected from your needlestick injury. If they think your injury carries a low risk of infection, then you may not need treatment at all. If necessary, you might be given antibiotics, treatment to stop you from contracting HIV such as post-exposure prophylaxis, or vaccination against hepatitis B. All of this medical information could play a key role in your needlestick injury claims.
Needlestick Injury Statistics
While no set of definitive data exists in relation to needlestick injuries, it's possible to gain an insight into their prevalence by looking more specifically. For example:
It was reported in 2019 that 94% of UK surgeons had either experienced a needlestick injury or witnessed someone else suffer one.
The estimated cost to NHS England of needlestick injuries each year is around £127m, averaging out at around £500,000 per trust.
There is an estimated 300,000 healthcare-associated infections each year in the NHS, costing an annual sum of around £1 billion.
Source: https://www.news-medical.net/news/20190925/Survey-9425-of-UK-surgeons-have-encountered-a-needlestick-injury.aspx
To learn more about needlestick injury compensation claims, please continue reading.
What kind of payments will make up a needlestick infection injury payout?
You will receive general damages for the pain and suffering you have encountered. This relates to both the physical and mental pain. Not only this, but you can claim for any costs you have experienced as a direct consequence of the needlestick injury. This includes medical expenses and loss of income. It also includes anything from childcare costs to the cost of counselling and travelling expenses. Make sure you record all costs and keep proof ahead of your syringe injury claims.
To find out more about what might be included in your needlestick infection injury claim, get in touch with our team today.
How much compensation for a needlestick infection injury will I get? – Updated October 2021
How much compensation for a needle stick injury? This is a question that we often get asked when people call our legal helpline. When it comes to the compensation amount, it is vital to recognise that all claims are handled on a case-by-case basis. There is not a set list of payouts, so to speak. This is because no two accidents are ever the same, and so the individual circumstances are taken into consideration to ensure that a fair amount is awarded every time. With that being said, it is simply not possible to give you a fully accurate number for the payout you will receive. What we can do, though, is enlighten you to the average payout for a syringe or needle stick injury. You will find this information in the table below:

Type of injury
Injury Common Payout Bracket
Notes
Damage from a traumatic Injury (stomach)
£40,370 to £58,100
Continuing pain/discomfort
Damage from a traumatic Injury
(stomach)
£15,750 to £26,050
Serious, causing long-term complications (permanent)
Damage from a traumatic Injury
(stomach)
£6,190 to £11,820
Penetrating stab wounds
Mental anguish
£4,380
Feeling that you were about to die or have your life expectancy cut short
Facial scarring
£27,940 to £91,350
Very severe
Facial scarring
£16,860 to £45,440
Less severe
Facial scarring
£8,550 to £28,240
Significant
Facial scarring
£3,710 to £12,900
Less significant
Facial scarring
£1,600 to £3,310
Trivial
If you cannot find the sort of syringe injury you have sustained in the table below, please do not worry. All you need to do is give us a call to find out more about the average payout for the needlestick infection injury that you have sustained. And we can advise from that point regarding your needlestick injury claims.
Making needlestick injury compensation claims via no win no fee
One of the key features of our service is the fact that all of our claims are No Win No Fee. If you want to launch a needle stick injury lawsuit, you can have the peace of mind that you are never going to end up in a worse financial position than when you started. This is what a lot of personal injury victims fear.
Many people miss out on compensation every year because they do not want to run the risk of missing out on syringe injury compensation yet having legal fees to pay. We understand that, and that is why we only offer a No Win No Fee service. With this approach, all financial risks are eliminated. This is because you only pay for legal services documented within the No Win no Fee Agreement if your case is a success. In which case, you will have compensation to cover the cost. If your case is not a winning one, you won't need to pay anything.
Not only does this make the service much fairer for personal injury victims, but also it ensures that all victims can claim no matter their current financial situation. It also means that the solicitor working on your case is going to be accountable for the service they provide, and this naturally leads to a much higher standard of legal aid. No matter whether you choose to work with Accident Claims or not, we would highly advise you to only ever go for a No Win No Fee service. Start your claim on a No Win No Fee basis by contacting us today.
Why call the team Accident Claims for needlestick or syringe injury claims?
There are many reasons why Accident Claims should be your number one choice if you wish to make a claim for needlestick injury compensation. This includes the fact that we have an outstanding reputation, years of experience, and we always put our clients first.
When you make a claim through us, you can be sure that you will have a solicitor working on your case with up to 30 years of experience. We also provide free advice on needlestick injury compensation claims, with no obligation to continue with our service, so you really have nothing to worry about by giving us a call.
The number you need is 0800 073 8801. We are open seven days a week, 24 hours a day, so you can call at a time that is convenient for you. If you would prefer, though, there are plenty of other ways to contact us. You can request a call back via our website, as well as using our popular live chat feature. Or, send an email to office@accidentlcaims.co.uk, and we will aim to get back to you within three hours if you email on a weekday. So, what are you waiting for? Get in touch today, and we will secure the compensation you deserve for your needlestick infection injury.
Useful links Relating To Needlestick Infection Injury
You've reached the end of our guide to needlestick injury compensation claims. In this final section, we've included some other links you may find useful about needlestick injury claims.
This link takes you to a report on needlestick or syringe injuries for NHS staff. It contains information on the number of needlestick injuries, as well as the steps that need to be taken to minimise them.
This link takes you to the UK Government Health and Safety Executive website. It contains a lot of different information and resources regarding sharp injuries.
This page will give you information on the NHS's non-emergency number.
Our guide to making a claim for an accident at work
Information on making a claim following clinical negligence from your GP or doctor.
Soft Tissue Compensation Claims 
A helpful guide to claiming compensation after a soft tissue injury.
Birth Injury Compensation Claims
Needlestick Injury Compensation FAQs
Can you claim for needlestick injuries?
Yes, you could, whether it's for hypodermic needles or other types of needles so long as you have sufficient supportive evidence.
What is your first priority when dealing with a needlestick injury?
You should allow the wound to bleed by placing it under running water. And then wash the wound with running water and lots of soap. But don't scrub the wound until the washing is complete.
How long after a needlestick should you get tested?
You should undergo the necessary tests both immediately and also around 6 months afterwards.
What tests are done after a needlestick?
Tests include those for HIV, HCV RNA, Hepatitis B and Hepatitis C.
How long can a virus live on a needle?
The virus could live for as long as 42 days in the case of HIV, albeit after refrigeration.
Would you know if you get pricked by a needle?
It's highly unlikely that you wouldn't notice either the pain or the potential bleeding from a needle prick.
Do needlestick injuries bleed?
Usually, there is only minor bleeding, though there could still be virus transmission. If you are stuck with a needle that has been used on someone high risk who injects drugs or is HIV positive, has the hepatitis B virus or other blood borne viruses for example, this could contaminate sharps and if you do not receive a post exposure prophylaxis PEP, no matter how little it bleeds, you could experience an infection from a needle injury. For public health care workers in health care settings, exposures to blood could be much worse than an original needlestick injury.
Could you use the same needle twice on yourself?
No, you must dispose of a needle and a syringe after first-time usage.
What evidence should I collect to prove needlestick injury claims?
There are lots of pieces of evidence that could help you prove your claim for compensation. These include:
Medical evidence – if there are records in your medical notes about the injury, this could be useful. However, you'd still need to go and see an independent doctor so they could produce a medical report as vital evidence. During your assessment with them they might ask you questions and examine you. They would put together a report which expressed their professional opinion of your injury as well as details of your prognosis.
Witness details – did anyone witness your injury? If so, it could be worth taking their contact details, such as a name and telephone number, for example. Your solicitor could approach them to see if they could provide a witness statement to help your claim.
Documents detailing the expenses you suffer – If you have bank statements that show you've paid for prescriptions, receipts for travel costs and payslips detailing a loss of income, these could all help with your claim for special damages.
Your own notes – sometimes it could be useful to write down what happened as soon as possible after your injury. That way, you could look back on your notes to remind yourself of crucial details.
Photographs – if you can, try to photograph your injuries as well as the scene of the accident.
An injury diary – writing down the details as your injury or infections progresses could be useful. You could write down whether your injury has stopped you from doing usual activities and how it has made you feel, for example.
Needlestick Infection Injury Claim Against The NHS
If you have experienced a needlestick infection injury from medical or surgical negligence, you might want to know if you could claim against the NHS. If you could prove medical negligence relating to a needlestick infection injury has harmed you, you could be eligible to claim. If you're wondering how common negligence claims against the NHS could be, the following figures, taken from the NHS Resolution Report for 2020/21 might shock you.
Could I claim for a needlestick infection injury if no longer employed at my place of work?
If you've suffered a needlestick infection injury at work, and you're no longer employed by the company you may assume you'd have no right to take action against them. However, if you claim within the relevant personal injury claims time limit for your case, you could still take legal action against your employer.
What if I was an agency worker? Could I still claim for a needlestick infection injury?
While it could be said that agency workers do not have the same rights as employees, every worker has the right to have their health and safety protected while they are at work. If you were an agency worker and suffered a needlestick type injury that was not your fault, you could still be eligible for compensation. We would be happy to assess your case to see if you could have a valid claim. In addition, we could provide you with no-obligation legal advice pertaining to your claim.
Accidental needlestick statistics – what are the main causes of needlestick accidents?
According to a report by the Royal College Of Nursing, titled, Blood and Body Fluid Exposures in 2020, there were several contributing factors to needlestick injuries sustained.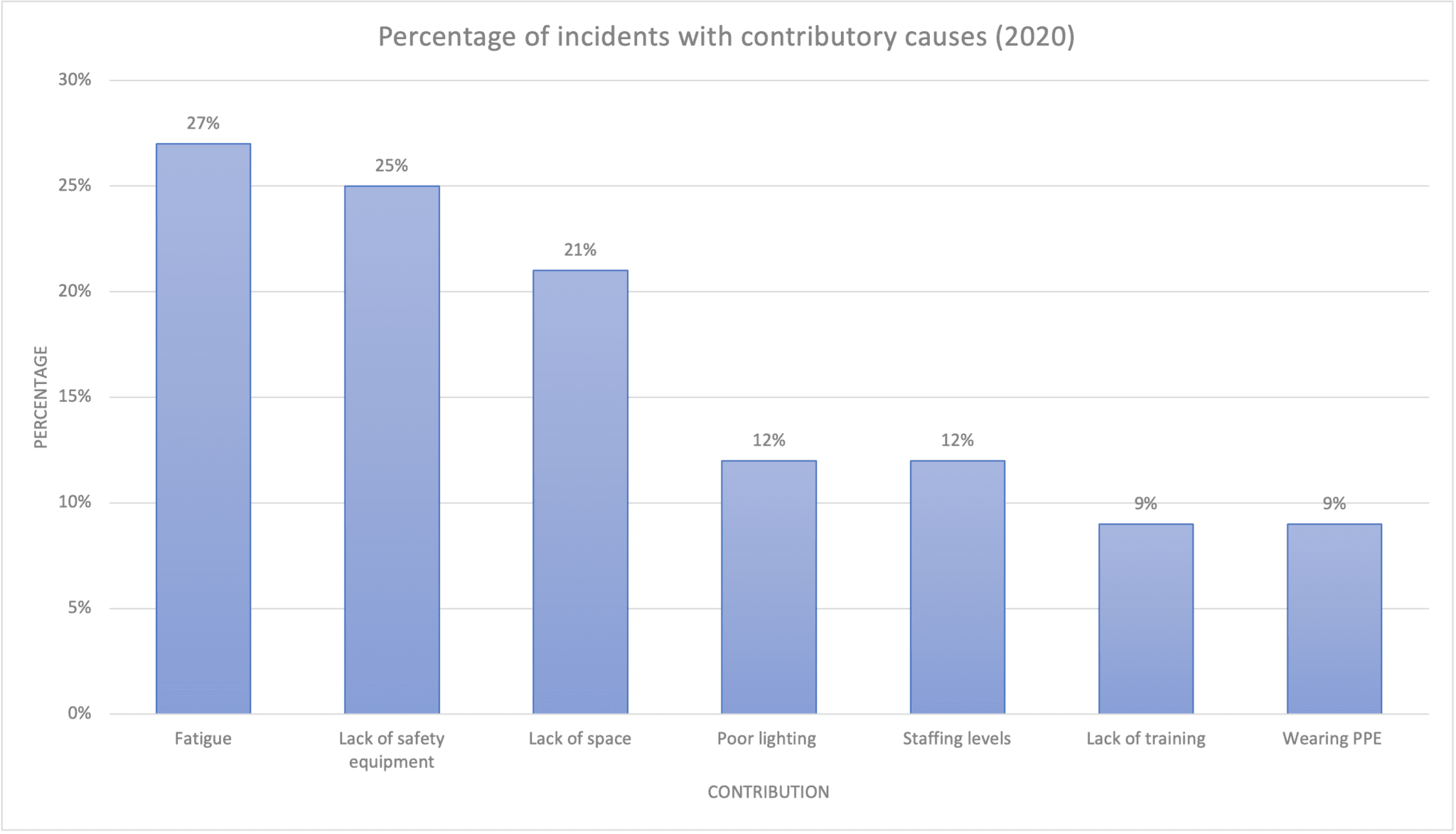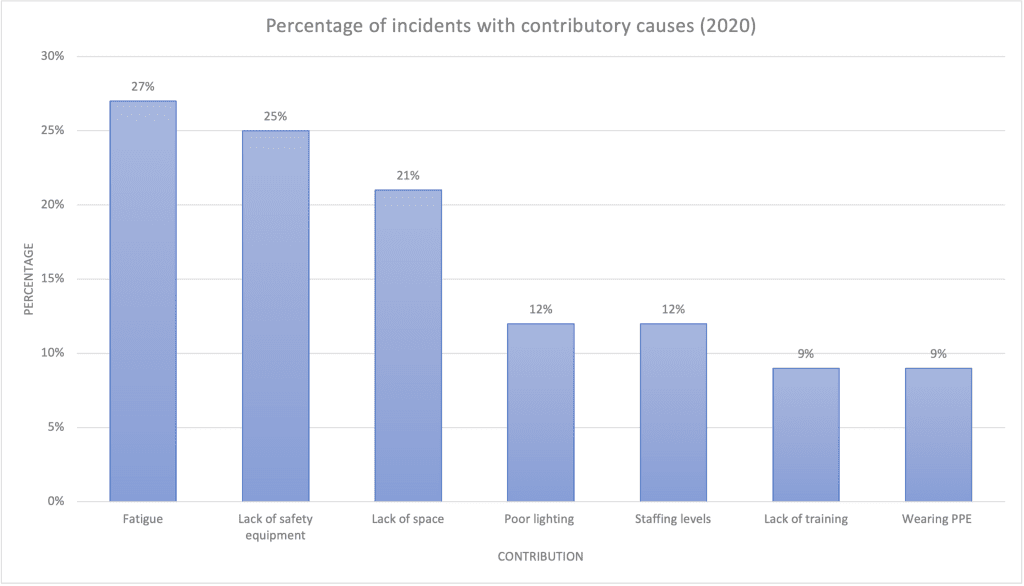 What diseases can you get from a needlestick?
There are various diseases a person could suffer that could relate to a needlestick. According to the NHS, the following viruses could be contracted after sustaining a needlestick injury from a used needle: 
Hepatitis B
Hepatitis C
HIV
If you believe you have contracted a disease from a needlestick that was caused by someone else acting negligently, you could be eligible to claim compensation. Please call our team for free advice. We could assess your case to see if you could have a strong claim.
What needlestick injury symptoms could I suffer?
There are various needlestick injury symptoms you could suffer, such as those that appear after contracting diseases from used needles. If you have symptoms you're unsure of, you should seek medical attention from a trained healthcare professional.
What could I claim for in successful needlestick injury claims?
You could not only claim for the physical and mental injuries from a needlestick injury, but also for the out-of-pocket expenses you have suffered. These could include loss of earnings if you've needed time off work to recover. They could also include medical and travel costs. You would need to provide evidence of such costs to include them within your claim.
Thank you for reading our guide on syringe and needlestick injury compensation claims. We hope you have learned a lot about needlestick injury claims/syringe injury claims/syringe compensation claims. But if you'd like to know more about claiming for a needlestick infection injury, don't hesitate to contact us for legal advice.