By Joanne Jeffries. Last Updated 11th November 2021. Welcome to this case study surrounding criminal injury payouts for hit and run victims.
On this page, we take a look at a case study regarding a hit and run accident that led to a man fracturing his skull, causing brain injuries that would impact him for the rest of his life. The claimant launched a claim for hit and run compensation payout of £500,000 for losses of earnings as well as injury compensation and the claim was settled out of court, although the actual hit and run compensation amount that the claim was settled for was not printed. On this page, we discuss compensation amounts that could be awarded in cases of fractured skulls, as well as providing information on making personal injury claims for those who may have a case that is similar to this one. We'll also discuss finding a solicitor to help you with claiming compensation following a hit and run. If you would like to talk to us about your own situation, then you could call us on 0800 073 8801. But, why not read on to find out more about this case before you call.
Select A Section
How Did The Claimant Sustain The Fractured Skull Injury?
The claimant, in this case, was hit by a sports car, knocking him over and fracturing his skull. Before we take a look at the hit and run compensation payout for this claim, let us look at how claims of this type could occur. Road users have to abide by the rules of the road while they are driving. If they fail to do so and injure someone because of their dangerous or negligent behaviour, the driver who is at fault could have a claim made against them. In many situations, the claim would be paid out by the person's insurance company. However, the driver of the car in this hit and run case was not insured at the time of the accident.
Circumstances In Which The Accident Happened
The pedestrian accident occurred when the claimant was crossing the road and the driver of a sports car ran through the red light at the crossing and the pedestrian was run over, fracturing his skull. The claimant's injuries were said to be life-changing, as he suffered a bleed on the brain from the accident, as well as being unable to walk without crutches for 6 months afterwards.
What Is A Hit And Run Accident?
A hit and run accident is one where a driver fails to stop at the scene of an accident that they have caused. Where the driver can be traced, a claim for hit and run compensation could be made against them, which their insurance company should pay out on if the claim is successful. However, if the driver is uninsured, then either a civil case against the liable party or a claim through the Motor Insurance Bureau may be appropriate. A personal injury lawyer would be able to help work out the most appropriate way of making a claim like this.
What Injuries Did The Claimant Sustain?
As well as the fractured skull that was caused by the hit and run accident, the claimant was said to have suffered a brain injury, and a bleed on the brain. His injuries were said to be likely to impact the rest of his life.
When a skull is fractured, there are several different types of fracture that may be suffered. These could include:
A basal fracture – which is at the base of the skull
A depressed fracture – where parts of the skull are crushed inwards
A linear fracture – a break in a straight line
A compound fracture (open) – when the tissue and skin is broken, and the brain can be seen
A simple fracture (closed) – where there are no injuries to the surrounding tissue and the skin is not broken
Treatment for a fractured skull could range from allowing the fracture to heal itself, neurosurgery to treat the nervous system, craniotomy and so. Any head injuries can have a major impact on the victim and recovery may take up different lengths of time.
What Other Injuries Did The Claimant Sustain?
After the claimant had left the hospital, he had to use crutches for 6 months afterwards. It was also reported that he had to quit his job as he was unable to stand up for long periods of time, and he still suffered pain in the leg 21 months after the accident. It was reported that the claimant has suffered memory and eyesight problems, as well as mental health problems that have left him nervous when crossing the road.
How Was This Case Handled?
In September of 2018, the case was heard in the Sheriff's court for the driver that caused the accident to be sentenced. He pleaded guilty to the charge of causing a serious injury by dangerous driving and for driving without insurance. He was sentenced to 280 hours of work (unpaid) and ordered to wear an electronic tag for 6 months.
With regards to the personal injury claim for £500,000, this was due to be heard in the Court of Session, but a settlement was reached before the court date. The compensation settlement was withheld from the report, but was said to include loss of earnings, legal expenses and hit and run compensation for the injuries.
Source; https://www.dailyrecord.co.uk/news/scottish-news/ally-mccoists-son-settles-out-21223172
Personal Injury Claims Calculator
When you are considering making a claim for a hit and run accident, it may cross your mind to research previous hit and run compensation payouts to give you an idea of what hit and run compensation amounts might be appropriate for your own claim. If you've looked for a hit and run compensation claim calculator, you may have noticed that you'd have to fill in some details to get an approximate payout amount for your injuries. Instead of including a hit and run compensation calculator on this page, we've instead chosen to give you an alternative option to the standard personal injury claims calculator, by putting together information from the Judicial College Guidelines used in English law when calculating general damages. However, this would also only give you a rough guide to your hit and run compensation payout, your claim would be valued once you have undergone a medical assessment with an independent doctor.

| Injury | Notes | Payout Bracket |
| --- | --- | --- |
| Brain Damage – V severe | Full time care would be required by nursing staff. There would be little to no meaningful responses to the victim's surroundings, and little to no language function, although there might be some small ability to follow the most basic of commands and the patient may have waking and sleeping patterns. | £264,650 to £379,100 |
| Brain Damage -Moderately Severe | Very serious disablement, with a substantial level of dependence on other people, and constant care required. Disabilities could be physical or they could be cognitive, or there could be a mix of the two. | £205,580 to £264,650 |
| Brain Damage – Moderate | Less dependency than the moderately severe bracket – but a moderate to a severe level of intellectual deficit, with personality changes, a high risk of epilepsy, and inability to work | £140,870 to £205,580 |
| Brain Damage – Moderate | Less dependency than the moderately severe bracket – but a modest - moderate level of intellectual deficit,a risk of epilepsy, and reduction in ability to work | £85,150 to £140,870 |
| Brain Damage – Moderate | Limited dependence on others, a small epilepsy risk, but concentration and memory would be affected. | £40,410 to £85,150 |
| Brain Damage – Less Severe | Where the victim has been able to make a good recovery, but where not all normal functions would be restored. However, they would be able to work and have a normal social life. Concentration and mood may have been affected. | £14,380 to £40,410 |
| Epilepsy – Established Grand Mal | | £95,710 to £140,870 |
| Epilepsy – Established Petit Mal | Awards would be calculated based on behavioural problems resulting from the epilepsy, the effectiveness of medication and more. | £51,460 to £123,340 |
If your injuries don't appear in the table above, why not call our team. We could look into the approximate compensation amounts for your claim.
No Win No Fee Compensation Claims For A Hit And Run Victim
Making a claim for compensation with a personal injury lawyer need not require you to pay upfront for their assistance. No win no fee claims allow you to pay the lawyer at the end of your claim, not the beginning. A document would be issued to you called a Conditional Fee Agreement, which you would need to sign before your claim could be started. This would detail the percentage that the lawyer would take from your total compensation payout as a success fee. This cannot, by way of a government cap, be over 25% of the total payout, so you could be sure that the majority of the settlement would be for your benefit and would not be swallowed up by legal fees. Once the agreement was signed, your lawyer would be able to begin working on your case, and once the case resulted in a payout, your lawyer's fees would be deducted from this. If your lawyer failed to obtain you a payout for a valid personal injury claim, you would not have to pay them a success fee. If you are interested in hearing more about the way that these claims work, or have any questions about this payment structure, we'd be happy to answer them.
How Do I Claim Compensation For A Fractured Skull?
Now we have explained more about hit and run compensation payouts, and how a hit and run accident could lead to a personal injury claim, you may be wondering how to get started with your own claim. Claiming hit and run compensation in the UK could be complicated, and we would advise you to consider using the services of a personal injury lawyer to make the process less stressful for you. If fighting for a hit and run compensation payout, it would be wise to have built the strongest case possible for your circumstances, as this could lead to higher hit and run compensation amounts being awarded. A lawyer could help you to build a strong argument for compensation for your injuries so that you could claim the maximum that your claim deserves.
The process of finding a solicitor might be a search you are not looking forward to, but if you call Accident Claims UK, not only could we offer free advice and support for your case, we could also provide you with an appropriate personal injury solicitor from our panel, to save you the legwork of finding a solicitor that suits you. You might be interested to know that all of the lawyers on our panel could take on claims on a no win no fee basis, meaning we could help you begin your claim without you having to pay the solicitor upfront. With years of experience, and many happy previous customers who would attest to the quality of our service, we feel we could be a good choice to handle your claim.
How To Start Your Hit And Run Victim Compensation Claim To Get Criminal Injury Payouts for Hit and Run Victims
If you now feel ready to claim hit and run compensation, or have further questions, then we'd be glad to hear from you. We don't charge for the advice we offer to potential claimants and there's no obligation to use our services. We've made it easy to get in touch with our team too! You could call our helpline on 0800 073 8801, or you could use the Live Chat feature on the site. Otherwise, you could e-mail the team on office@accidentclaims.co.uk or complete the contact form with your details and we'll come back to you as quickly as we can.
Could I receive criminal injury payouts for hit and run victims that have been killed?
If you are looking to claim compensation because you have lost a loved one in a hit and run accident, we could help you. We know that it would never make up for the loss of a loved one, but claiming compensation could help to ease any financial burden caused by their death. A criminal injury payout for a hit and run victim on their family could include a bereavement award, help towards funeral expenses, and even in some cases financial compensation for the loss of household income. If you are considering making such a claim, we could speak to you in confidence to assess your case for free. We would be delighted to provide you with one of our specialist solicitors, authorised and regulated by the Solicitors Regulation Authority, who could fight for the maximum compensation payouts for your claim.
Do I need a local lawyer to receive criminal injury payouts for hit and run victims?
If you are making a claim for compensation, you may be looking for an appropriate solicitor to help you with your claim. No matter where in the UK you are based, you could get free legal advice from a friendly solicitor if you contact our team. We could give you all of the guidance and support you may be looking for when it comes to making a claim and maximising compensation settlements in the UK. Whether you are claiming criminal injury compensation, or you are making a claim through the Motor Insurers Bureau, we have solicitors with up to 30 years of experience that could help you. Your solicitor does not have to be based near to where you live, either. Solicitors all across the UK could take on your claim and fight for the maximum compensation payouts possible for you. Please contact us to find out more.
How do I maximise criminal injury payouts for hit and run victims?
The amount of compensation that you would receive for your claim would be dictated by the strength of the evidence of your injuries, their severity, and your long term prognosis. During your claim you would need to attend a medical examination with an independent specialist. Once they have examined you and asked you about your injuries, they could write a medical report that could be used in evidence. This could significantly impact the level of compensation you receive for your claim.
How common are road traffic accidents in the UK?
According to the Department of Transport, over 115,000 people were injured in the UK in road traffic accidents in 2020. If you're wondering what types of road users were injured, we have the below statistics to show you. As you can see, it isn't just motorists that are affected by road traffic accidents. Pedestrians, cyclists, and motorcyclists are just some of the road users that were injured on UK roads in 2020. This is despite there being four months of national lockdowns during this period.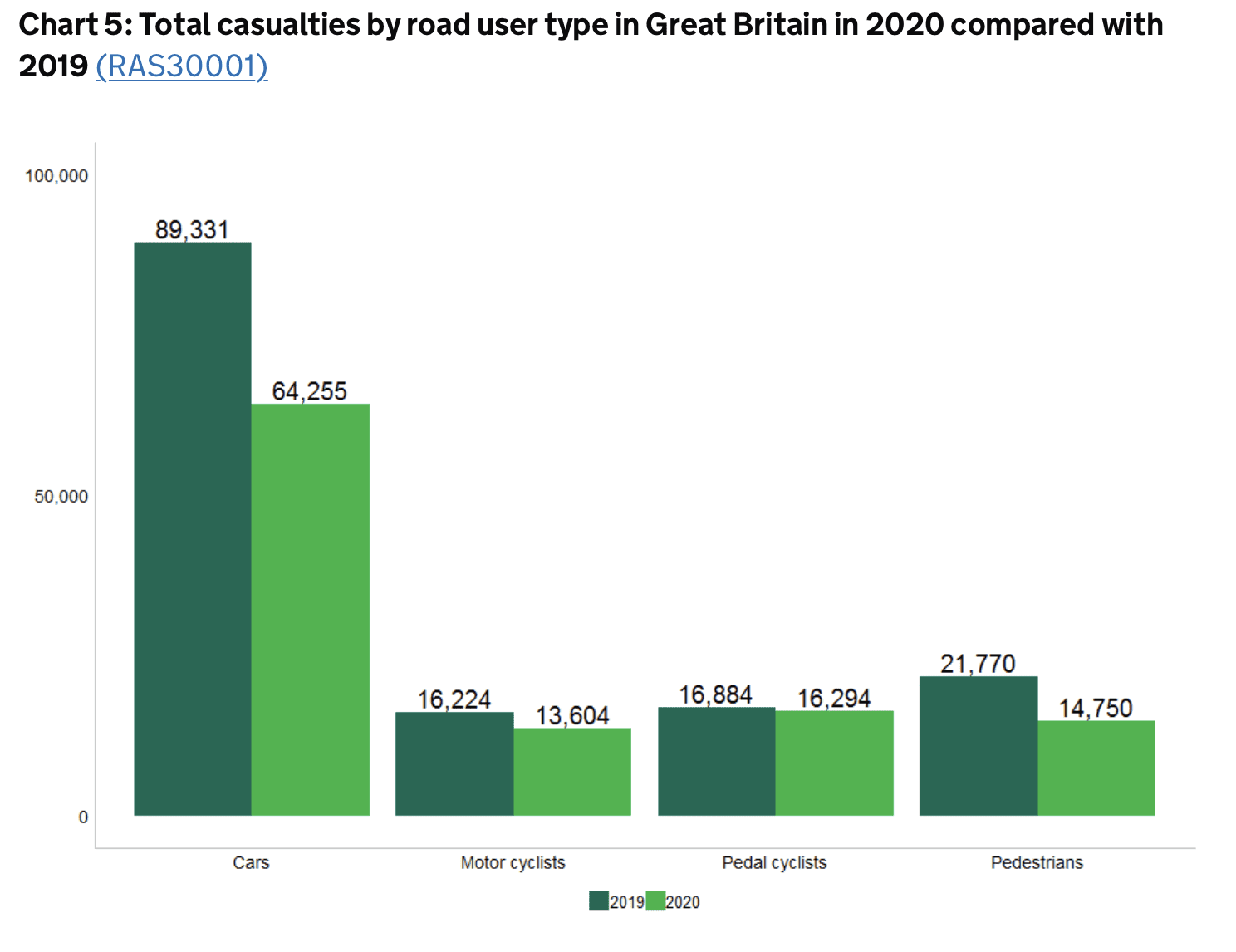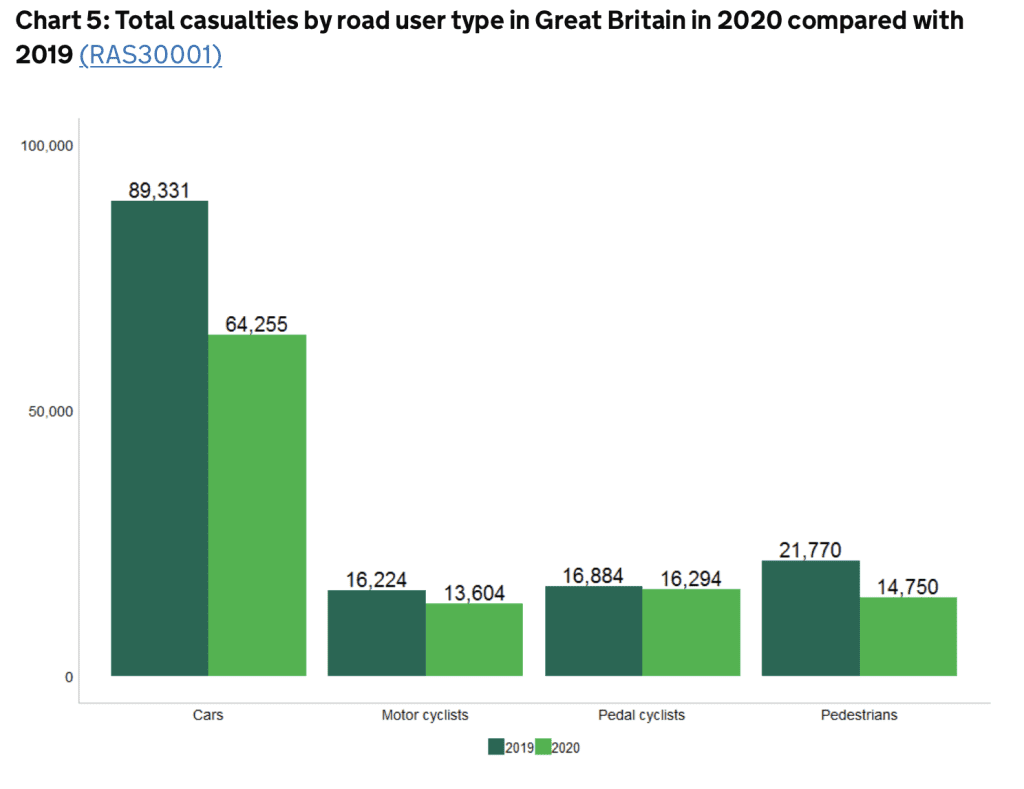 Road Traffic Accident Resources Relating to Criminal Injury Payouts for Hit and Run Victims
Treatment For Severe Head Injuries – This page on the NHS website might give some insight into a severe head injury.
Uninsured Driver Compensation – This page, on the government website, may shed some light on making claims against uninsured drivers.
Car Accident Claims – Here, you can read our guide on car accident claims, which may provide some useful information on making a claim.
Pedestrian Claims – This page shows more about making pedestrian accident claims. If you are seeking hit and run compensation payouts, then this may be of use to you. We also explain what you may want to look for when choosing law firms for your claim and the relevant time limits for claiming.
Thank you for reading this case study relating to criminal injury payouts for hit and run victims. If you have been injured by a hit and run driver, or you're looking to make claims for victims of violent crime, we could help. Not only could we help answer questions about the claims process, but we could give you insight into why a criminal injuries compensation calculator may not give you an accurate compensation sum if you've suffered an injury that you want to make a claim for.