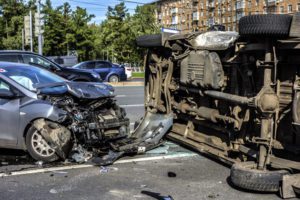 The loss of a spouse, partner, member or your family, or another loved one in an unexpected way is always shocking and traumatic to deal with. If their death was due to a fatal accident caused by someone else or can be attributed to being a 'wrongful death' the pain and suffering you experience could be all the more difficult to deal with. Whilst compensation for a fatal accident is not designed to ease your grief, it can help to relieve any financial burdens which you may be facing.
In our fatal accident claims guide below, we will look at the different people who may be able to bring a compensation claim after someone's wrongful death or a death in a fatal accident. Read on to find out whether you are eligible to claim compensation after the death of a loved one.
When you are ready to make a claim, call our dedicated team on 0800 073 8801.
Select a section
A guide to compensation claims for fatal accidents
There are three different groups of people who can pursue claims for wrongful death or fatal accident compensation claims. These are, the deceased dependents, certain members of the deceased's family and finally the estate of the deceased. Cases which are pursued by a dependent or other family member of the deceased may be clearer and easier to pursue, whilst claims made by the estate as a legal entity may be more complex.
On top of the emotional distress, in cases where the immediate family and/ or dependents of the deceased need to claim compensation for a fatal accident, the potential claimant may already be facing financial hardships and large expenses brought about by the death of their loved one. This can be more pronounced if the deceased was the main income provider for the household. Our aim is to help people in these claims without leaving them out of pocket. As well as compensating people for their loss and trauma, we also take expenses such as funeral costs and other ad-hoc expenses which can arise after a death into account when pursuing a claim.
Many of the people we help often begin by asking the question of how much compensation and expenses or costs they could be entitled to claim for. Unfortunately, it is very difficult to estimate this without appraising the circumstances of the death, and estimating it's impact. Each claim we conduct is unique and both the claimants and circumstances are individual to that claim.
Fatal accident statistics
Fatal accident statistics for the UK covering the population as a whole, and in all causes are not available. However, agencies such as the Health and Safety Authority and the Royal Society for the Prevention of Accident do record figures for certain types of fatal accident, such as accidents in the workplace. The headline numbers for fatal accidents in the workplace are as follows.
In the year 2016/17 137 workers died in fatal accidents in the workplace. Additionally, 92 members of the public died as a result of a fatal accident in a workplace. The most dangerous industries were construction and agriculture and the most common causes of these fatal accidents were people being struck by a moving vehicle or falling from a height. You can see more of the statistics collated by the HSE in the graph below.

Overall there has been a consistent downward trend in the number of fatal accidents in the workplace.
What is the definition of a fatal accident?
A fatal accident is one in which a third party caused the death in some way. The main criteria are that the deceased was not at fault. In some cases, the third party will not be fully liable for the accident and resulting death. Examples of this could be accidents in the workplace, deaths caused by a road traffic accident or criminal activities which lead to a person dying. In such cases, you may still be able to claim compensation for death in a car accident or other types of compensation.
The differences between fatal accidents and wrongful death
Wrongful death are deaths which have occured due to a third party acting in a negligent way. They are also defined as accidents in which the deceased was in no way at fault. They are subtly different to fatal accidents. The biggest difference between the two is that in the case of a wrongful death it can clearly be shown who was at fault and thus responsible for the death and why they were so. This is not always the case in deaths through a fatal accident. Clear examples of wrongful deaths could be deaths caused by medical negligence or operating unsafe machinery in the workplace.
The Fatal Accident Act, 1976
The 1976 Fatal Accident Act states that the dependents of someone who died in such an accident are eligible to claim compensation for this if it can be shown that the accident was caused by the negligence of a third party. For the purposes of a compensation claim, a dependent is defined as;
The dependents spouse, or ex-spouse.
Someone who has been cohabiting with the deceased as a spouse for a minimum of two years prior to the fatal accident.
Direct descendants such as a biological child or children who have been adopted or those who have become family through marriage or civil partnership.
Parents, grandparents, and great-grandparents or those whom the deceased has treated as a parent.
Siblings, aunts & uncles, as well as nephews and nieces.
What is the statutory bereavement award?
As well as the other types of fatal accident compensation that you may be eligible to claim for, you may also qualify to claim the statutory bereavement award. At the time of writing this amount was £12,980. This payment separate from any other accident or bereavement compensation you could be entitled to and is also not part of anything, you can claim for in compensation as a dependent. In successful cases, the fatal accident bereavement award will be paid by the party found to be negligent, even if the claimant has not suffered any loss of benefits or income. This payment can only be claimed by the deceased's spouse, or the in the event of the death of a child, their parents.
In what circumstances can compensation for a fatal accident be sought?
There are numerous different circumstances which can lead to some suffering a fatal accident or a wrongful death. We have created a list below of just some of these. Please note that this list is by no means exhaustive, but that these are the most common ways in which they can happen.
Circumstances in which you can claim compensation for death in a car accident
You can claim for the wrongful death of a loved one who died in motorcycling and bicycling accidents as well as accidents which result in the death of a pedestrian. You can also claim compensation for the death of a driver or passenger in a vehicle, such as claiming compensation for death by careless driving.
Fatal accident compensation claims in the workplace
As we saw in the graph earlier, accidents involving vehicles are the leading cause of death in the workplace. They may happen to those driving/ operating the vehicle, passengers or people close to the vehicle. The second most common cause were slip, trip, and fall accidents. Other common fatal workplace accidents are deaths caused by faulty machinery, roofing accidents, industrial diseases such as workplace cancers and those contracted by exposure to harmful substances, such as asbestos.
Circumstances surrounding medical negligence
Deaths due to medical negligence can happen in a wide variety of ways. Some of the most common of these can include surgical errors and the misdiagnosis of a condition (such as cancers), resulting in the application of incorrect treatment. Negligence can also arise in patients who are not being cared for in the correct way or if a mother is not treated correctly during childbirth. Medical negligence resulting in death can also occur in care homes.
Accidents in public places
Fatal accident claims in public places may include accidents which have happened in an individual shop or shopping centre. Fatal accidents in public places can also include accidents in leisure centres, theme parks, and other recreational areas. They also include accidents taking place in holiday parks and other private leisure or recreational venues, such as a sports stadium.
What can you claim compensation for after losing someone in a fatal accident?
Each accident and death is unique and as such, each claim will be different. The amount of compensation that you could be entitled to will vary depending on the circumstances of the accident your loved one was involved in, as well as other factors such as the effect this has had upon you and other relatives. However, the components which could make up a claim are set as below.
Compensation for pain and suffering. This type of compensation may include awards for the loss of amenity of the deceased. This type of compensation could be awarded if they died due to a workplace disease or if they were restricted in what they could do due to medical negligence or another cause. The pain and suffering will be awarded for that experienced by the claimant prior to their death.
Financial losses. This is designed to compensate the claimant for any costs they have previously incurred in carrying for the deceased as well as any costs associated with administering their estate and costs involved in dealing with their death. 'Actual costs' may include medical expenses and nursing care as well as the cost of medication and adaptations which had to be made to the deceased's home. This category of expenses may also include funeral expenses.
Loss of earnings and benefits. This should compensate for any loss of earnings the deceased experienced as a result of the accident (or illness) whilst alive but not able to continue working.
Loss of services. Services is a wide category of compensation. It is there to recognise that whilst the deceased was dying and that now they are dead this will have an impact on the people left behind, such as their family. They may have helped with childcare or other household chores. If the family now has to hire a carer for children or other family members these costs will be taken into account.
Loss of dependency. This is similar to the category above but is still different. In many cases, this will be the largest component of a fatal accident claim. It is paid out to the dependents of the deceased, such as providing funds for a spouse, elderly parents, or any children the deceased was responsible for. The death compensation calculation will also account for things such as the loss of their pension (if applicable) and other employment bonuses such as health care benefits enjoyed by the deceased and their dependents as well as company cars and other services.
The types of damages listed above are the most common types of compensation claimed for. However, there can be other expenses which are associated with death which people can be entitled to claim for. These could include settlements to help with the long-term effects on those surviving the deceased. This could include the effects of lost inheritance on children as well as the overall loss of parental care for them. Compensation can also take the emotional trauma and suffering that the family of the deceased have already been through as well as what they may go through in the future, and the effect this may have on their life.
Compensation claim time-limits
Whilst there are some specific instances in which this is not the case, such as extra time allowed for children to bring a claim, there is a three year period in which fatal accident claims must be filed. This time-limit begins either from the date of death or from the date on which the deceased's cause of death was determined to have been caused by the fatal accident or exposure to a hazardous substance.
For some, the deceased will have already been in the process of making some form of a compensation claim for the initial injury or illness at the time of their death. If this was the case, the three-year time-limit will restart at this new date. This means that the family or partner of the deceased have a full three-year period in which to make their compensation claim.
Fatal accident compensation claims calculator
As the circumstance of each fatal accident claim and the injury or illness which led to it, as well as the effect it has had on those left behind, will be different, it is difficult to estimate how much your compensation claim could be worth without fully assessing your claim. In the fatal accident compensation calculator below we look at common amounts of compensation that you may be able to claim for.
| Reason for settlement | Settlement band | Comments |
| --- | --- | --- |
| Death (baseline) | £12,500 - £300,000 | Amount of compensation can vary substantially. |
| Death (unconsciousness following a brief period of awareness) | £8,000 - £10,650 | Death may have been caused by (and deceased may have suffered with prior to death) severe burns and/or damage to the lungs resulting in serious pain. Multiple other factors will affect settlement amount. |
| Death (unconscious death within six weeks) | £6,400 | Unconscious following the injury. Death will have occurred within six weeks of sustaining the injury. |
| Death (unconscious death within one week) | £1,050 - £2,125 | Unconscious following the injury. Death will have occurred within one week of the injury/ accident happening. |
| Death (full awareness) | £15,950 - £18,100 | Again, multiple factors will affect this and the deceased will have experienced pain, suffering and a period of unconsciousness before death. |
| Mental anguish | £3,550 | Fear of death happening and the imminent expectation of the end of life. |
| Funeral costs | £3,000 - £10,000 | These are highly variable. In some cases people may be able to claim for more than £10,000 in certain cases. |
| Punitive damages | £1,000 - £275,000 | Beyond the upper limit, people may be able to claim for higher amounts in complex cases. |
| Pain and suffering | £1,000 - £200,000 | Maximum level of payout is determined by level of pain and suffering experienced. |
| Loss of benefits | £5,000 - £500,000 | Settlements are calculated based on actual lost income in benefits. |
| Loss of anticipated earnings | £10,000 - £400,000 | There is a potential for higher maximum settlements. |
| Loss of care, protection and companionship for family members. | £2,000 - £100,000 | There is a potential for higher maximum settlements. |
These figures are provided as a guideline and show how much could be awarded under different circumstances.
Why choose Accident Claims UK?
Fatal accident claims can be very complex, involving some of the most complicated areas of personal injury law. As such it is important to ensure that your claim is conducted by the most qualified solicitors you can find. Accident Claims UK is a specialist legal firm. We are dedicated to helping people successfully pursue a compensation claim in cases such as these. We do so by providing you with the best legal advice available as well as highly qualified solicitors and lawyers who can pursue your claim.
We will always act with your best interest in mind and strive to provide you with the clearest and most honest legal advice, taking you through the claims process and ensuring that you fully understand what is happening at each step. We provide all our clients with a dedicated and highly professional service conducted in a sympathetic way. Clients also choose to work with Accident Claims UK as we are committed to getting you the maximum level of compensation for your type of claim.
We know the the decision to undertake any type of legal action is never undertake lightly. As such, we always endeavour to make the process of claiming compensation quick and smooth, especially in cases involving fatal accidents and wrongful deaths.
No win no fee compensation for a fatal accident
Pursuing any form of legal action in the UK, whether it is compensation for a fatal accident or the death of a loved one, can take both time and money. Claims for compensation after a fatal accident and wrongful death can be more complicated than other types of claim and as such, they could leave claimants having to pay large legal bills. For many people, the added expense of legal fees after already losing a loved one can make taking action to get the compensation they could be entitled to an impassable obstacle.
In these circumstances, and for other personal injury claims, we offer our clients what is commonly known as a 'no win, no fee agreement'. The agreement sets out very clearly that if the solicitors we provide do not win you a compensation settlement, you won't have to pay a penny in fees or charges. If your claim is successful, the agreement will set out the fees due and how these will be paid, meaning you will never be left out of pocket. Under these agreements legal costs are limited, meaning you will always be left with the maximum amount of compensation.
Contact us today
At Accident Claims UK our friendly advisers are on hand to take your call 24 hours a day, 7 days a week. We will listen to your individual circumstances, claim or injuries before helping you through the next steps. You can contact our team directly by calling 0800 073 8801. You can also use our online contact form to request a call back from one of our advisors. You can also send the details of your case and claim to office@accidentclaims.co.uk.
However you choose to contact our team, we are ready to start your fatal accident claim today.
Useful links
What should you do after a death?
From how to register the death to organising a funeral, find out what you should do after someone dies in this guide from the Citizens Advice Bureau.
Cruse Bereavement Care
Get help and support after a death of a loved one with Cruse Bereavement Care.
NHS guide to coping with Bereavement
Learn more about the stages of grief and how to cope with feelings of grief in this guide from the NHS.