What is a recruitment agency data breach? And how can one take place? In this guide we go through the personal data breach claim process and who may be eligible for data breach compensation. We also break down what damages can be awarded in successful data breach claims.
Strict data protection laws require our personal data to be handled with much greater care. Our profiles or CV's (curriculum vitae) contain a great deal of information that could be exploited in the wrong hands. The consequent emotional aggravation and financial inconvenience can be severe.
Perhaps you may not know this, but it is possible to seek compensation for the damages that a personal data breach can cause. However, you must be able to demonstrate that the recruitment agency failed in its duty to adequately protect your personal data in order to claim.
Do you have proof to demonstrate how you suffered because of a data security incident that occurred through an employment agency? If so, we could connect you with a data breach specialist solicitor to start your claim. Find out more by:
Getting in touch by calling us on 0800 073 8801
Contact us online and request a callback
Or use our 'live support' option below for immediate help
Select A Section
What Is A Data Breach At A Recruitment Agency?
In the UK there are laws that protect our personal data. The Data Protection Act 2018 and the UK General Data Protection Regulation (UK GDPR) require all companies, organisations, and agencies (data controllers) that process personal data to take greater steps to safeguard personal information.
Personal data breaches have the potential to cause enormous distress to those they impact. An independent body called the Information Commissioner's Office (ICO) has the power to investigate and penalise any data controller that fails to adhere to data protection laws.
There are 7 Core Principles of the UK GDPR which are:
Collect data in a lawful, fair, and transparent way
Limit the purpose of data collection
Minimise the amount of data
Keep data accurate
Limit retention of data periods
Display integrity and confidentiality at all times
Take personal accountability at all times.
UK GDPR recognises that generally, two main groups called controllers and processors handle our personal information. In addition to this, there are 6 lawful bases for the processing of personal information.
Demonstrating that you have grounds to start a recruitment agency data breach claim will need to show how that agency failed to adhere to these data protection laws. And also how this lead to monetary losses and/or mental illness.
It's important to note that not all data breach security incidents could have been prevented. A data controller can apply all data protection laws and implement data security procedures within their company and a data breach may still occur. If this is the case then a claim is not likely.
Determined cybercriminals can breach defences and infiltrate the most secure companies. In cases such as this, the company may not be liable. If you're not sure, speak to our team for advice on how to claim.
Data Security Incident Statistics
Below are some statistics provided by the ICO which show the prevalence of data security incidents across the main industry sectors during the 3rd fiscal quarter of 2021/22: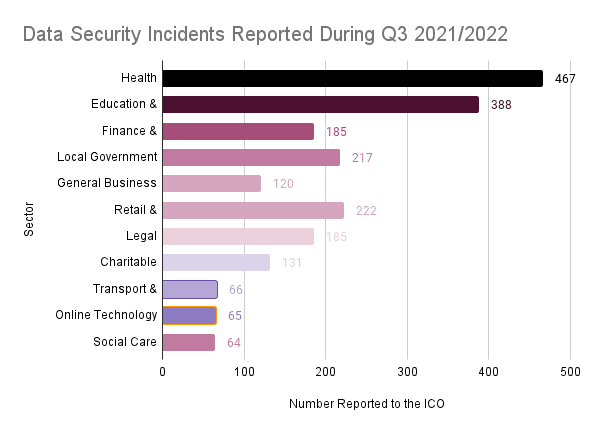 Types Of Recruitment Agency Data Breach
A data breach at a recruitment agency could be the result of human error, but there are other ways in which data breaches or attacks could happen at an employment company. Example scenarios such as:
Staff discussing personal details or making verbal disclosures to others about a client's personal processed data with someone who has no authority to receive it.
Emails forwarded in an unredacted or non-Bcc (blind copy carbon) format
CV'S or references left in unsecured public places
Letters containing personal information posted to the wrong recipient
Filing cabinets not locked
Misdelivery of data
Unauthorised access or weak password security that allows a breach
Poor IT defences that suffer an external breach
A Recruitment Agency Data Breach Case Study
Sonic Jobs based in the UK is a recruitment company for retail and restaurants. Their services are online, through an app. It is reported that it may have exposed over 29,000 CV's. The exposure seemed to happen through their cloud storage service. 
Source: https://news.sky.com/story/job-applicants-worried-as-hundreds-of-thousands-of-cvs-exposed-online-11836935
Preventing Data Breaches At Recruitment Agencies
UK GDPR and the DPA 2018 protect two types of data 'special category' that applies to information about you, the data subject, and personally identifiable data that is information that can be used to identify you.
Data controllers have 72-hours to report serious data breaches to the ICO. They must also inform you without undue delay when your rights may be affected.
There are practical steps that a recruitment agency can take to limit or restrict data breaches. These steps could include:
Training staff in UK GDPR expectations
Rigid IT security defences
Strong passwords and privilege access controls
Changing the culture around data protection in their firm and encouraging regular consultation with staff or clients about data use.
Calculating Compensation For A Recruitment Agency Data Breach
It would be very difficult to give an average compensation amount for a recruitment agency data breach. However, successful claims take into account the emotional distress and financial losses a breach causes.
After a case called Vidal-Hall vs Google Inc, heard in the Court of Appeal, it set a precedent for claiming psychological injury in its own right. The Judicial College Guidelines can be used to assess non-material damage accordingly, as this excerpt demonstrates:
| Psychiatric Harm | Degree Suffered and JC Guideline Award | Supporting Notes |
| --- | --- | --- |
| Psychiatric Damage Generally | (a) Severe Degree - £54,830 to £115,730 | The claimant suffers serious debilitating problems in all areas of life |
| Psychiatric Damage Generally | (b) Moderately Severe Degree - £19,070 to £54,830 | Significant issues with a more positive prognosis than above. |
| Psychiatric Damage Generally | (c) Moderate Degree - £5,860 to £19,070 | Issues that show an improvement by the time the case is heard |
| Psychiatric Damage Generally | (d) Less Severe Degree - £1,540 to £5,860 | Reflective of length of illness and how daily activities such as sleep is effected |
| PTSD (Post-Traumatic Stress Disorder) | (a) Severe Degree - £59,860 to £100,670 | A level of impact that has detrimental and disabling effects in every area of the person's life |
| PTSD (Post-Traumatic Stress Disorder) | (b) Moderately Severe Degree - £23,150 to £59,860 | Less pessimistic prognosis than above with professional help |
| PTSD (Post-Traumatic Stress Disorder) | (c) Moderate Degree -£8,180 to £23,150 | An overall recovery with any continuing effects being bearable |
| PTSD (Post-Traumatic Stress Disorder) | (d) Less Severe Degree - £3,950 to £8,180 | A virtually complete recovery within a 1 - 2 year period |
In addition to these amounts, you may have documented evidence that shows how you suffered in a financial way because of the breach – material damages can also be compensated for.
With this in mind, retain all the appropriate documentation that shows what out-of-pocket expenses you incurred. You can speak to our team for guidance on this or try our online compensation amounts calculator.
In addition, you can complain directly to the ICO if you have raised a concern with the employment agency but had no satisfactory response. Crucially, wait no longer than 3 months since the date of last meaningful contact on the matter or the ICO may consider the issue resolved. Whilst they do not pay compensation, their attention to the problem can help your claim.
Talk To Us About Your Data Breach Claim
Have you considered working with legal representation for your recruitment agency data breach claim? Whilst anyone is free to structure and launch a claim for damages themselves, cases such as this can be complex. There is also a 6-year time limit for launching a data breach claim which reduces to 1-year if the claim is against a public body.
Data breach cases can require a good deal of evidence gathering. A No Win No Fee data breach solicitor could do this for you at no upfront charge.
In fact, under a No Win No Fee agreement, an amount only needs to be paid if the case is a success. A maximum 25% deduction is made from the overall settlement amount. This rewards the solicitors for the work on your behalf. Accident Claims can introduce you to a data breach solicitor today. Please get in touch on the contact details below if you would like to learn more:
Further Resources
In conclusion, as well as help with a recruitment agency data breach claim, the links below offer further resources around this topic: