By Joanne Jeffries. Last Updated 12th Jan 2022. Welcome to our guide to work-related illness compensation, which discusses illness examples and gives advice to those looking to make a work-related illness claim.
In this guide, we are going to discuss compensation for a work-related illness compensation in length. After taking the time to read our guide, you will have a greater understanding of the claims process, how a personal injury lawyer could handle your case, and how much compensation for work-related illness examples could be awarded.
If you are suffering from what you believe to be a work-related illness and it is due to your employer's negligence, you could possibly make a compensation claim as they have a duty of care to keep you safe and healthy whilst at work. Read on to find out how we could assist you.
Select a Section
A Guide To Work Related Illness Compensation Claims
This guide covers a variety of information that relates to work-related illness compensation claims. The information we have provided is there so you can make informed decisions about making your claim for compensation for work-related illness.
The guide contains information such as what is involved in the claiming process and how to begin making your claim. It will also give help and advice on what you could include in your claim and how you can gather evidence to get the maximum possible amount awarded for your circumstances.
There is a lot of information to read and digest about compensation for a work-related illness. So, if you need any further advice, you can always call us at Accident Claims UK on 0800 073 8801, and we will do our best to help you.
What Could Work Related Illnesses Be? – Work-related Illness Examples
Your employer has a duty of care to protect you from harm caused by your work or workplace. If you suffer an illness because of a breach of this duty, you could be eligible for compensation. Compensation for a work-related illness could be related to stress, cancer, and many other illnesses.
A work-related illness may cover any medical disorder or condition that has either developed or been made worse from undertaking work-related duties at a place of employment. The term 'work-related illness' could potentially cover a comprehensive spectrum of illnesses that could be caused by being in the workplace and potentially covers conditions that have been made worse since being in the workplace rather than being caused by it.
To make a successful compensation claim, you will need to be able to prove that your illness was caused by or made worse by being in your place of employment through negligence of your employer.
Work Related Statistics And Facts
According to the HSE, in 2019/20 there were 1.6 million workers reported to be suffering a new or ongoing work-related illness. 51% of these were due to stress, depression or anxiety, 30% due to musculoskeletal disorders and 19% with other types of illnesses.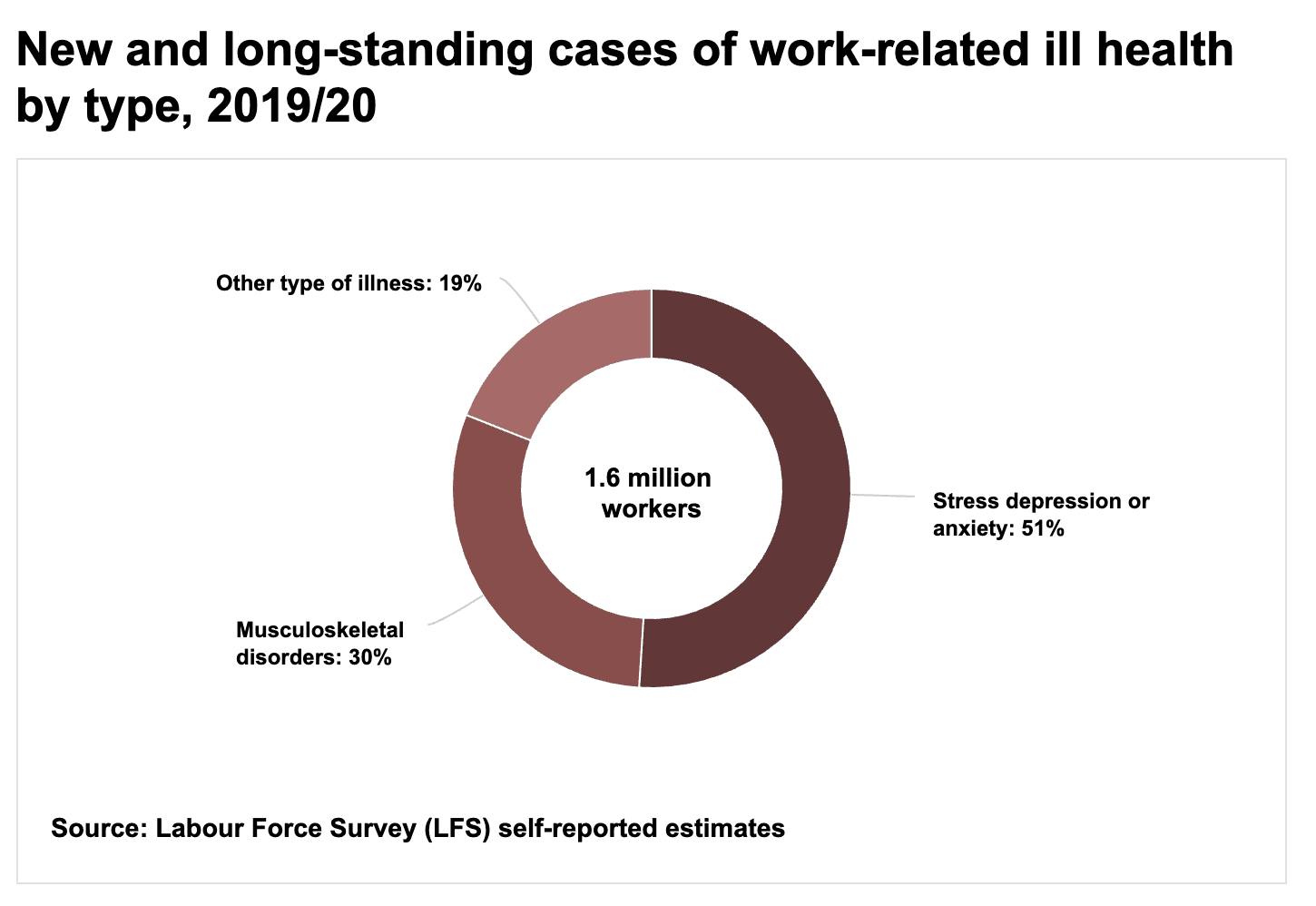 Work Related Cancer Claims – Could You Receive Work Related Illness Compensation
The HSE has estimated that there are over 13,000 new cases of work-related cancer cases every year. Even though this number is staggering, it is believed that it could well be underestimated as not all links to workplace environments and cancer have yet been proven.
Various forms of carcinogens may be found in the working environment, such as liquids, gases, vapours, solids or dust. Inhalation of a carcinogen or contact with the skin can be enough exposure to cause serious health issues such as cancer.
Any product that is classified as carcinogenic in the workplace gets given a rating by IRAC, better known as the International Agency for Research on Cancer, as being 'definitely', 'probably' or 'possibly' carcinogenic.
Work-related Illness Examples – What Industries Are Affected
With 5,500 cancer cases registered each year, the HSE shows that the construction sector is the most at risk of developing work-related cancer. And therefore the chances of receiving compensation for a work-related illness increase accordingly. Other industries high at risk include:
Manufacturers of plastics, rubber, textiles and pesticide/fertilisers
Metal and glass production factories
Gasworks
Aerospace
Tyre making
Petrol and diesel
Leather treating plants
Paint production factories
Chemical manufacturing
Printing
Dentistry
Work-related Illness Examples – What Cancers Are There?
What type of cancer someone is diagnosed with will depend on which carcinogen they were exposed to whilst at work.
The IOHS (Institution of Occupational Health & Safety) list the most common carcinogens and the cancers they cause as:
Asbestos – lung, larynx, pharynx, ovary, colorectum, stomach and mesothelioma.
UV radiation due to working in sunlight – skin.
Wood dust – sinonasal and nasopharynx.
Fluids in metalwork and minerals oils – sinonasal, skin, bladder and lung.
Exhaust from diesel engines – lung and bladder.
Silica dust – lung.
Coal tar – skin (non-melanoma).
Dioxins – Lung.
Arsenic – lung, bladder and skin.
Passive smoking – lung.
Paint – lung, bladder.
Welding – Melanoma of the lung and eye.
Night work has been associated with breast cancer.
Criteria For A Successful Work Related Illness Claim
For a compensation claim to be successful, it must be proved that the claimant's illness is directly due to being exposed to a known carcinogen in the workplace. Some cancers can take a minimum of ten years and longer to appear after initial exposure, and so a claimant's work history should be looked at in detail to determine when and where they had been exposed. A reputable personal injury solicitor will be able to help the claimant gather as much supporting evidence as possible to help construct a strong case.
Work Related Asbestosis And Lung Cancer Claims
Being diagnosed with asbestosis caused by exposure in the workplace could potentially mean that you may be eligible to claim compensation or receive financial assistance, depending on your circumstances.
If filing a claim against a previous employer where the asbestos exposure took place, we advise having a specialist solicitor to help you. When making a claim, it is a good idea to work with a personal injury lawyer that specialises in these types of cases.
Work-related Illness Examples Of Lung Injuries You Could Claim For
Those with asbestos-related symptoms may be able to apply for industrial injuries benefits if they suffer from at least one or more of the illnesses below:
Asbestosis
Asbestosis with lung cancer
Mesothelioma
Pleural thickening
Lung cancer without asbestosis; this is basically if there has been a lot of exposure over time to asbestos occupied in specific occupations.
As well as Industrial Injuries Benefits, there are also Government compensation schemes under the Pneumoconiosis etc. (workers compensation) Act 1979 and the Diffuse Mesothelioma Payment Scheme that people may choose to apply to.
Can I Claim Compensation For Stress Or Mental Health Problems In The Workplace?
The most common reason for taking time off work for a work-related illness is stress. According to the Health & Safety Executive, in 2015/2016 year alone, 448,000 people had to take time off of work because of stress, according to the Health & Safety Executive.
There are two reasons why stress could be a widespread illness within the workplace. The first is because it could affect anyone in any career, regardless of whether the risk factor for injury and illness is high or not. The second reason could be that stress related to work could cause pre-existing conditions to worsen, leading to other health problems such as anxiety or insomnia.
Making a work-related stress compensation claim could be a very complex process, and it could be difficult to determine who is responsible and financially liable for stress at work. In circumstances where stress has developed from working overtime voluntarily, then the employer may not be liable. However, an employer could be liable if after an employee has spoken with his/her employer regarding the matter and nothing has been done to help the employee in question allowing his/her condition to worsen. And that could lead to the employee receiving compensation for a work illness.
Claiming Compensation For Work Related Back Pain – More Work-related Illness Examples
Back pain could affect both office and manual workers. Office workers may develop back pain due to long periods of sitting, poor posture and poorly designed working areas. However, manual workers are more commonly prone to back pain due to obvious reasons such as poor moving, lifting and handling techniques.
An employer has a duty of care in accordance with the health and safety rules and regulations set by the Health and Safety Executive to ensure that risk assessments are carried out on any task to be undertaken by an employee and to ensure that any work stations are suitable and pose no health risks. If an employer fails to hold their duty of care to their employees, a manual worker is not trained in manual handling, and a manual handling injury is caused, the employee may be eligible to claim. The employer may be liable for the harm caused.
Workplace Injury Compensation Claims For Musculoskeletal Disorders
Work induced musculoskeletal disorders, although slightly less common are more common in manual workers. Musculoskeletal disorders could include various injuries or illnesses such as upper limb and back disorders, usually due to constant heavy lifting, lifting awkwardly shaped items, and carrying out a task that involves holding an awkward position for long lengths of time regularly. Often this disorder could develop and worsen over long periods of time especially if left untreated.
All manual employees or those who are asked to lift, carry, pull and push items within a workplace setting must be provided with the correct training so that any potential risks of a musculoskeletal disorder could be significantly reduced.
What Other Types Of Workplace Injury Could Occur?
Below we have included some examples of other work-related illnesses that could potentially occur within certain working environments. The conditions that are mentioned could also happen but may not be work-related. And any of these might result in the victim receiving compensation for work-related illness:
Hearing Loss – Any noises above 85 decibels may cause hearing loss if ears are not protected. Worker's within the construction industry may be most at risk.
Asthma and other breathing problems – These typically could develop if employees have repeated exposure to materials that sensitises the respiratory systems and lungs such as powders or chemicals used for cleaning.
Dermatitis and other skin conditions – Often found to be a problem in the domestic and cleaning industry, skin complaints often arise due to repeated exposure to irritants found in cleaning agents.
These are just a few examples of other workplace illnesses or injury, if we have not discussed the work related illness you may have please do not hesitate to contact Accident Claims UK to have your case assessed.
What Could Be The Long Term Effects Of Illness Caused By Your Work?
Recognising the effects your work related illness has had and their longevity is essential when making work related illness claims as the compensation award will largely depend on the severity of your situation. Knowing what the effects to every work place illness could be is very difficult that is why it is vital to have a specialist solicitor handle your case as they can have your condition examined by medical experts who know to forecast your prognosis.
The effects of your work-related illness may fall into the following three categories;
Physical effects – These are the pain and suffering you have endured and any surgery or treatment you have had done to help the problem.
Mental effects – These are the emotional pain and suffering you may have experienced and still be experiencing depending on your illness/injury's future prognosis.
Effects on your life – This includes any negative effects your illness has had on your life in general such as on your financial position or by causing a loss of any future prospects for example.
It is imperative to have medical evidence of your condition, treatment and any future prognosis so that your personal injury solicitor can build a compensation package that will suit your needs.
What Should You Do If Your Work Has Made You Ill? – Should You Make A Work Related Illness Claim
If you are contemplating suing your employer for a work related illness, you may be feeling somewhat confused by the whole process of making a claim. However, with the help of this guide it needn't be quite so confusing.
To make a successful claim there are a few steps you could take in order to gather some of the evidence you may need to build your case such as:
Accident record – If your illness or injury is due to an accident at work, you will need evidence. Supporting witness statements are very useful as is CCTV or other camera footage or photos. Still, it is also important to get a copy of the works accident book and it is required by law for any accidents at work to be recorded, which will be strong evidence for your claim.
Evidence of employers negligence – In order for to make a successful claim, liability of the defendant needs to be proven. This may be that you've not had sufficient training, or health and safety rules and regulations have been ignored or not adhered to properly.
Medical report – As mentioned earlier, it is beneficial to have a medical report of your condition and its severity.
Once you have everything in place, it is highly recommended that you contact a reputable personal injury claims firm to investigate further into your claim. We will be able to make sure that you have everything you need and can help you obtain the evidence you require.
What Can A Work Related Illness Claim Include?
There are a number of things that could be included in a compensation claim that people don't always think to include, such as:
General Damages – These cover the physical and psychological pain and suffering that the claimant has endured.
Medical Expenses – Any medical costs that you have incurred as a direct result of your work related illness could be included in your claim.
Travel Costs – As with the medical expenses, any travel expenses incurred because of your work-related illness such as travelling to GP appointments for example, could potentially be included. Also any vehicle or home adaptions that may have had to be made to accommodate your illness could also be included.
Loss of Earnings – Any financial losses due to your illness should be recorded and included.
Care Claim – If you have needed help around the home or have needed to be cared for because of your illness, the person who has helped you could possibly be included in your claim for compensation for a work-related illness.
Work Related Illness Compensation Personal Injury Claims Calculator – Updated January 2022
Due to the vast number of possible work-related illnesses that could potentially occur, and the many different circumstances in which they may come about and how different the effects of an illness could have on one person to the next, we cannot give an exact figure of what you may be awarded if you were to make a successful compensation claim without evaluating your case first. However, by using our personal injury claims calculator, we have provided you may be able to use it to estimate what you would be awarded in terms of general damages.
It is important to understand that every case is assessed according to its own specific facts. For example, two people could suffer the same injury or illness, but it could affect them totally differently. Therefore, it is vital that independent medical evidence is submitted as part of a claim for work related illness compensation.
During your claim, you'd need to attend a medical appointment with an independent medical specialist. The specialist would examine you and talk to you about how you have suffered with your injuries, and how you believe they have affected you.
They would use the information they gained at the appointment to write a medical report. This could be used as evidence of your injuries and the level of severity of them. It could also include information about your prognosis, and whether any further treatment may be required in the future.
This medical evidence could be assessed alongside the Judicial College Guidelines. This is a publication that legal professionals may use to arrive at an appropriate compensation amount for your pain and suffering. The figures in the table below come from this publication.
| Injury | Severity | Amount |
| --- | --- | --- |
| Psychiatric damage (generally) | Severe | £51,460 to £108,620 |
| Psychiatric damage (generally) | Moderately severe | £17,900 to £51,460 |
| Psychiatric damage (generally) | Moderate | £5,500 to £17,900 |
| Psychiatric damage (generally) | Less Severe | £1,440 to £5,500 |
| Lung cancer | In older person causing impact on quality of life, function impairment and pain. | £65,710 to £91,350 |
| Disease of lungs such as emphysema | Causing worsening lung function which is significant, frequent prolonged coughing, breathlessness and impacts on employment and physical activity. | £51,420 to £65,710 |
| Mesothelioma | Severe pain, impairment of function and life quality. | £65,710 to £118,150 |
| Lung cancer proving fatal | Less severe than mesothelioma but more prolonged | £65,710 to £91,350 |
| Asbestosis and thickening pleura | Level of disability over 10% | £36,060 to £99,330 |
Don't worry if your illness/injury is not listed, just give us a call at Accident Claims UK and we will be able to help with your enquiry.
Work Related Illness Claim – Making No Win No Fee Claims
Accident Claims UK work on a No Win No Fee basis. This means that we provide a service where you are not required to pay us any legal fees or other costs at all if we were not to be successful with your claim. However, we do require a one-off payment if we do win your case but this is taken directly as a small percentage out of your awarded amount of compensation. We feel this is a really fair way that allows anyone who has suffered due to someone else's negligence to claim compensation for a work-related illness regardless of their financial position.
How Accident Claims UK Can Help You Claim Work Related Illness Compensation
Accident Claims UK is a team of personal injury claim experts who have specialised in the industry for many years and have a fantastic track record of making successful claims.
We are friendly, honest and reliable and will work alongside you to get the compensation you deserve. We are emphatic of your situation and will work as quickly and as efficiently as we can on your behalf to get you the best possible result allowing you to concentrate on your recovery and finally move on.
We really care about our clients and do our best for them with our sole aim being to successfully get them the maximum possible payout for their individual circumstances.
Contact Accident Claims UK Today About A Work Related Illness Claim
Starting a compensation claim can feel overwhelming especially if you're not really sure what you're doing.
Contact us at Accident Claims UK today on 0800 073 8801 and let us do the hard work for you, you really will not regret it.
Useful Links And Work-Related Illness Examples
The Health and Safety Executive website gives a lot of information and facts and figures regarding work related illnesses.
NHS guide to asbestosis, what it is, causes, symptoms and treatments and prognosis.
How to claim for an accident at work
This guide gives you some more information about us so that you can make an informed decision of whether you'd like us to represent you with your claim
Work-related Illness
 Compensation FAQs
What are accidents in the workplace?
Workplace accidents are when an employee suffers ill health or an injury. In some cases, an accident at work is an unfortunate and blameless turn of events. However, there are some cases where a workplace accident could be caused by negligence. In cases of this nature, a compensation claim could be a suitable course of action.
You could make a claim for compensation if somebody passes away due to the negligence of their employer. You could do so for work related illness or injury. Unfortunately, 142 people died in 2020/21 due to work related accidents, and you can see the types of industry they worked in below.
While a claim for compensation would never replace your loved one, it could help to cover some of the financial costs associated with their death. It could provide compensation for funeral expenses, a bereavement award and even loss of financial support for dependants, for example.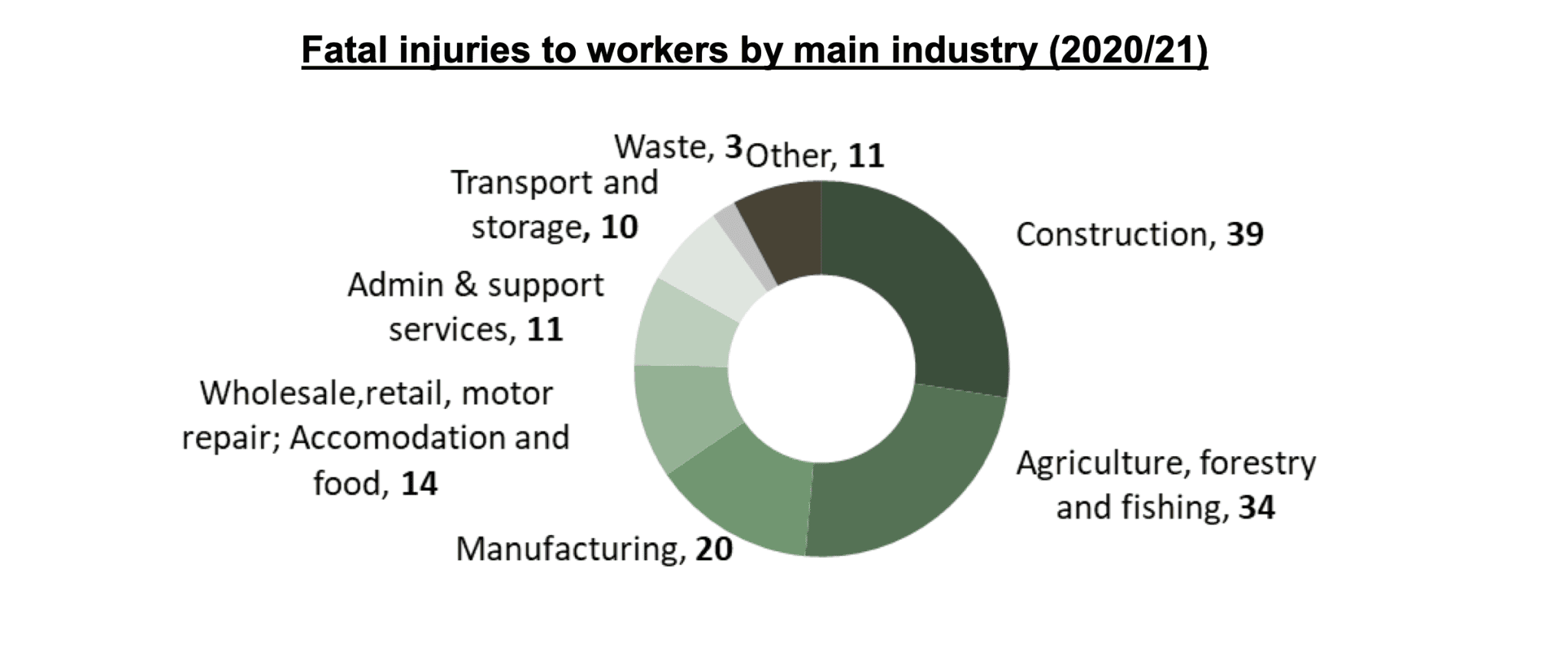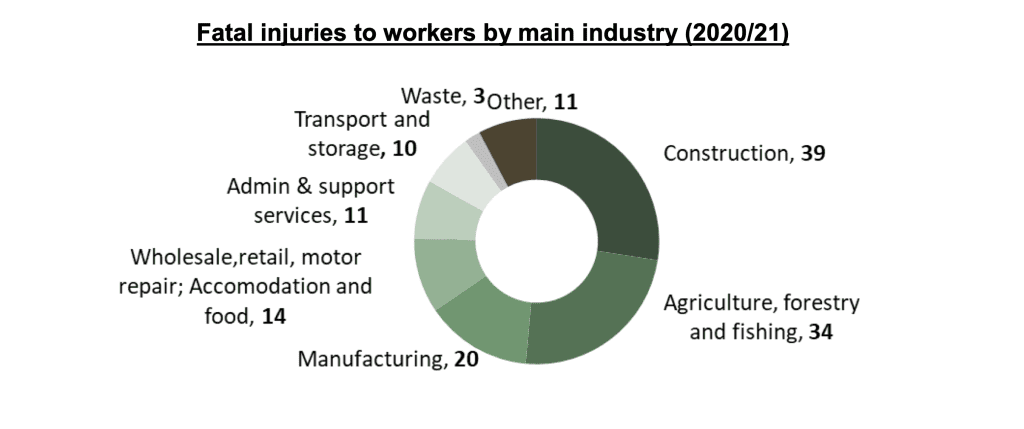 What is the most common cause of accidents in the workplace?
Handling, carrying or lifting heavy objects.
Being struck by a moving object.
Must I begin my claim within a certain timeframe?
In order to make a compensation for a work-related illness claim, you must begin your claim with 3-years from the date of the accident. Should you fail to begin your claim within these time limits, then the validity of your claim would be compromised.
Do I get paid if I injure myself at work?
You should receive Statutory Sick Pay (SSP) while you're convalescing from your workplace injuries.
Can you lose your job due to injury?
It's illegal to fire someone due to a workplace injury. But the employer may deem the employee as unable to continue their roles, though they still require justification to terminate their contract.
What are my rights if I get hurt on the job?
You could have the right to make a claim for your pain and suffering, and to receive sufficient medical treatment.
What qualifies as a work-related injury?
This is any instance where you're hurt while doing a task for an employer or on your site of employment.
What is not considered a work-related injury?
This could be where the employee takes a separate trip for leisure purposes and is hurt, but during work time.
Medical Evidence When Claiming Work Related Illness Compensation
If you're interested in claiming compensation for an illness you've suffered due to work, you might be interested to learn what evidence would be needed. You might be interested to know that your own GP's or hospital's records would not usually be enough when it comes to evidencing your case. One of the most important pieces of evidence for such claims would be the medical report. During the course of your compensation claim, you would have to attend an assessment appointment with an independent medical expert. The expert would likely review your previous medical notes, and would ask you questions about your illness. They would also examine you, and may order further tests if appropriate. More tests may be needed to give a full picture of your illness. Once the medical expert had all the information they needed, they would compile a medical report. The report could give details of the nature of your illness, how it could have developed, and what your prognosis for the future could be. Lawyers or the courts could use this evidence to work out how severe your illness is, and how much compensation you should receive for it.
What Other Evidence Might I Need?
Just like claiming for a car accident, if you're intending on claiming special damages for occupational disease or illness, there are other documents that could help you do so. Bank statements could show the costs you've had to bear because of your illness, as could bills and receipts. Payslips could be useful in showing how much income you've lost due to any time you've taken off work to recover from your illness.
Thank you for taking the time to read our guide to work related illness compensation, which discusses work-related illness examples and gives advice to those looking to make a work-related illness claim.