Welcome to our guide on pneumoconiosis claims. Pneumoconiosis is the name given to a group of occupational or industrial lung diseases. These include silicosis, siderosis, coal worker's disease, black lung disease, byssinosis, kaolin and asbestosis. It is caused by exposure to certain dust particles like coal dust which damage the lungs.
If you have been affected by pneumoconiosis, you may be able to claim compensation. However, you will need to show that your employer failed in their duty of care to protect you in the workplace. In this guide, we'll explain how a pneumoconiosis claim could progress, who you claim against and how much you could be paid.
How Do I Claim Damages For Pneumoconiosis?
Accident Claims UK can help you make your claim. We provide no-obligation cases reviews as well as free legal advice about your claim options.
Should you have a strong case, we could refer you to one of our specialist solicitors. If they take your claim on, you'll benefit from their No Win No Fee service.
Are you ready to discuss claiming for pneumoconiosis today? If so, why not call us on 0800 073 8801? Alternatively, to learn more about how the claims process works, please continue reading.
Select A Section
A Guide On How To Make Pneumoconiosis Claims For Compensation
All employers have a duty of care to protect their staff while in the workplace. As part of this, they are required to assess the workplace for risks regularly. If any dangers are identified in these checks, then precautions should be taken to reduce them.
Similarly, any known risks (such as working in areas with asbestos) should be mitigated. If appropriate measures aren't taken, and you suffer as a result, you could seek damages from your employer.
In this guide, we want to concentrate on pneumoconiosis claims. We'll explain in more detail what causes these conditions and what symptoms to look out for later on. However, if you or a loved one has been diagnosed with pneumoconiosis in the past 3 years, you could take action.
We'll show you what you need to do to start a claim, the conditions that you could claim for and what amount of compensation might be awarded. Furthermore, if you'd like one of our solicitors to represent you, they'll check that:
You have been diagnosed with pneumoconiosis; and
It can be linked to your employment history.
Once your claim has been assessed fully, your solicitor will explain how to proceed if they agree to represent you. Again, to save you worry about how much a solicitor will cost, ours operate a No Win No Fee service, so you won't pay them anything unless you're compensated.

Occupational Lung Disease And Pneumoconiosis Statistics
In this section, we want to provide some statistics relating to pneumoconiosis in British workplaces. According to the Health and Safety Executive (HSE), it is difficult to identify trends in new pneumoconiosis claims given the nature of different data sources.
The graph below based on statistics from HSE shows the number of new work-related pneumoconiosis cases from 2010-2019. As you can see, there does not seem to be a consistent trend in these new diagnoses, either increasing or decreasing. However, the rate at which these illnesses are diagnosed may not illustrate the rate at which they were contracted, as there can be a delay between the start of the symptoms and the condition being diagnosed.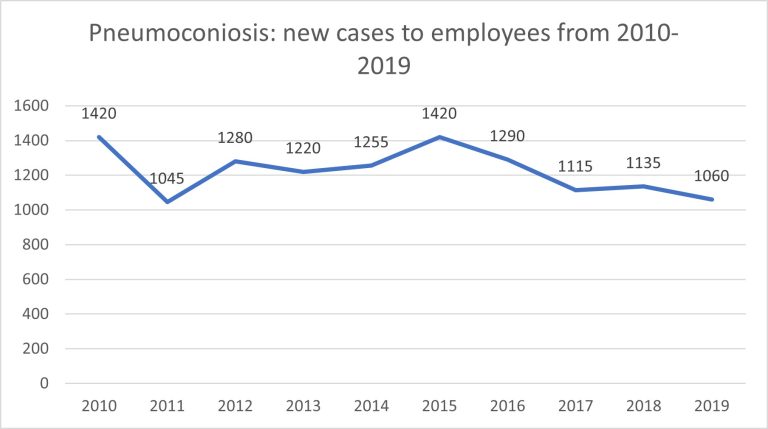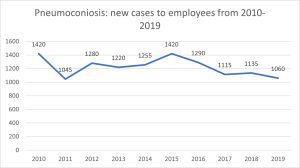 What Are Pneumoconiosis Claims?
Pneumoconiosis claims are sometimes possible when workers in certain occupations are diagnosed with lung disease that is connected with exposure to dust in the workplace. The main irritants that can lead to damaged lungs include coal dust, crystalline silica dust, kaolin, beryllium, siderosis and asbestos. Usually, long-term exposure is required before pneumoconiosis develops.
Under the Health and Safety at Work Act 1974, places of employment should be safe for staff to work in. Where an employer knew about a risk but did nothing to mitigate it, the employee could be compensated for any suffering caused.
Determining eligibility when making a pneumoconiosis claim is based on medical evidence. A GP or specialist will need to have examined you and your work history before you can pursue compensation. If they can link your lung disease to long-term exposure to dust in the workplace, you could go on to make a claim.
Accident Claims UK can support you through the process and provide free initial advice on your options, so why not call today?

Work-Related Risk Factors
As you'll see in the next section, various types of dust particles can cause pneumoconiosis if inhaled over a long period. Industries where there is a risk of inhaling dust particles that could lead to pneumoconiosis include:
Mining – particularly coal mining.
Ironworking.
Ceramic and fabric manufacturing.
Construction and building.
If you've worked in these industries and believe you have a valid claim, why not get in touch? We could help by assessing your case for free and explaining your options.
You may think that if your employer no longer exists that you won't be eligible to claim. However, you may still be able to claim against their insurance company or through a government scheme. As a result, you don't have to give up hope of being compensated; speak to a member of our team today to find out more.

Pneumoconiosis Causes
Let's now provide a little more detail on what causes pneumoconiosis. Different forms of pneumoconiosis will be determined by the type of industry and type of dust the claimant was exposed to. For example:
Coal dust can lead to black lung or coal workers' pneumoconiosis.
Abestos can cause asbestosis.
Kaolin found in paper, medicines, cosmetics, and ceramics can result in kaolin pneumoconiosis.
Silica from clay, sand, granite, slate and sandstone can cause silicosis.
Fibres from vegetables can be found in hemp, flax, cotton dust and sisal and result in byssinosis.
Iron particles can cause welders' lung or siderosis.
We'll explain more about a specific compensation scheme for coal workers later on. However, if you have any further questions about pneumoconiosis claims, please don't hesitate to contact our team for more information.
Pneumoconiosis Symptoms
There are various symptoms associated with pneumoconiosis, and the ones you experience will depend on which lung disease you have. For most conditions, the following are all common:
Constant shortness of breath.
Persistent coughing.
Weakness and tiredness.
According to the NHS, further problems can occur depending on the type of lung disease you have. For silicosis, these can include:
Chest infections like tuberculosis.
Heart failure.
Pulmonary hypertension.
Joint problems like arthritis.
Lung cancer.
Kidney disease.
Chronic Obstructive Pulmonary Disease (COPD).
Diagnosing and treating pneumoconiosis
If you believe you're suffering from any form of pneumoconiosis, it's a good idea to visit your GP initially. They'll assess you and listen to your chest with a stethoscope. They'll also ask about your employment and working conditions to see if your symptoms can be linked to exposure to dust.
If they are concerned, your doctor may send you for additional tests. These could include:
An X-ray of your chest to spot problems with the structure of your lungs.
A CT scan if a more detailed picture of your lungs is required.
Lung function tests to check how well your lungs are working. This is called a spirometry test.
As pneumoconiosis can't be cured, it's important that the symptoms are treated and managed. They can be reduced by:
Stopping exposure to the dust that's caused your illness.
Having regular tests for TB with your doctor.
Stopping smoking.
Being given a flu vaccine and a pneumococcal vaccine annually.
If you have been diagnosed with pneumoconiosis and would like to find out whether you can claim compensation, please get in touch.

Why Diagnosis And Treatment Is Important
When making pneumoconiosis claims, it's important to a) confirm what condition you're suffering with and b) prove that the condition is linked to your employment or previous employment.
Your solicitor can arrange for you to see a medical expert as part of the claims process. They will examine you, review your medical records and discuss your work history with you. Their findings and prognosis will be included in a medical report which can then be used to help value your claim.
Importantly, employers must be informed of a pneumoconiosis diagnosis. Therefore, with your permission, the medical expert will write to your employer and explain their findings. As required by law, your employer must then tell the Health and Safety Executive (HSE) about the report.
If you'd like to begin the claims process so we can review your options, please get in touch with our team today.

How Do Time Limits Effect Pneumoconiosis Claims?
As you may know, personal injury claims usually have a 3-year time limit. Generally, this would start from the date you were injured. However, as pneumoconiosis doesn't develop right away, your 3-year limitation period could claim from the date you became aware that your symptoms were caused by your employer's negligence. This is referred to as the "date of knowledge".
If somebody has died because of pneumoconiosis, close family members could claim on their behalf. A 3-year time limit will begin from the date of death, as long as the initial limitation period hadn't run out while the deceased person was still alive.
If you would like clarification on how long you have left to start a claim, please connect to live chat or call us today. If you're within the limitation period to claim and you have a strong case, you could be connected with one of our No Win No Fee lawyers.

Who Could Be Liable?
Pneumoconiosis claims would usually be made against the employer whose negligence led to you becoming ill. You can still make a claim against an employer even if you no longer work for them.
It's a requirement for British employers to hold insurance that protects them against things like personal injury claims. This is set out in the Employers' Liability (Compulsory Insurance) Act 1969.
Even if the company responsible for your illness has ceased trading, you may still be able to pursue a claim if you've developed pneumoconiosis. You would claim against their insurance company rather than against the employer directly.
If you would like help to find out who your claim should be against, please call us today. We'll review your case for free and let you know what happens next.

Calculating Pneumoconiosis Claims
In this section, we've added a compensation table to show what amounts could be paid in successful pneumoconiosis claims. The figures in our table are taken from the Judicial College Guidelines. This is a publication used to help determine compensation figures in personal injury claims.
| Injury | Compensation Range | Details |
| --- | --- | --- |
| Lung Disease (a) | £94,470 to £127,530 | Covers injuries to young people with serious disability that will probably worsen progressively and cause premature death. |
| Lung Disease (b) | £65,710 to £91,350 | Lung cancer (usually in older people) that severely impairs function and enjoyment of life. There will be severe pain also. |
| Lung Disease (c) | £51,420 to £65,710 | Diseases like emphysema that causes lung function to worsen and causes impairment of breathing, sleep disturbance, frequent coughing and restricts physical activity. |
| Lung Disease (d) | £29,380 to £51,460 | An example in this category is where the illness causes breathing difficulty (but not quite disabling breathlessness) and requires fairly frequent inhaler use. |
| Lung Disease (e) | £19,510 to £29,380 | An example in this category is where the illness causes wheezing that doesn't cause too many problems or affect work or social life. However, there will be varying levels of anxiety. |
| Lung Disease (f) | £9,990 to £19,510 | In this category, there will be a likely recovery within 2-years. No affect on work or social life will be caused and symptoms will include slight breathlessness. |
As part of any personal injury claim, a medical assessment will be required. This will help to determine how severe your injuries are and confirm that they were caused by your working conditions.
During your assessment, an independent expert will review your medical records, examine you and discuss how you have suffered. They'll then explain your prognosis in a medical report for your solicitor. If you are represented by one of our solicitors, they'll usually be able to arrange a local medical assessment.
The Coal Industry Pneumoconiosis Compensation Scheme
In some cases, you may be able to claim through the Coal Industry Pneumoconiosis Compensation Scheme (CIPCS). This option is available to coal workers who have worked in coal mining for more than 10 years. Also, part of your employment must have been in mines operated by the National Coal Board or the British Coal Corporation.
Importantly, claiming through this scheme may prevent you from making a civil claim. Therefore, we would suggest seeking legal advice on your options before starting a claim through the CIPCS. Please call if you'd like to know more.

Further Costs You Could Claim
If you suffer financially because of your illness, it's also possible to claim special damages. The amount involved will vary between cases, as everybody is affected differently. However, it could include:
Lost earnings. If your symptoms mean you needed to take time off as you weren't fit to work, you could claim back any income lost as a result. This could also include any time off for medical appointments.
Care costs. Where you need support with daily activities because of your illness, you could claim back the cost of a carer. If a family member or friend looked after you, an hourly rate for their time could be calculated and claimed back.
Travel costs. In cases where you have to pay for trips to the hospital or doctors, you could claim back any fuel costs, public transport fares or parking costs.
Home modifications. In this category, you could claim if making changes to your home will improve your quality of life. For example, if you have problems climbing the steps into your home because of pneumoconiosis symptoms, the cost of installing a ramp could be included in your claim.
Future loss of earnings. If your symptoms mean you can't work at the same level as previously, you may need to claim for earnings reductions in the future. This would be based on your age, current salary and job prospects.
Medical costs. You shouldn't be left out of pocket because of medical expenses. Therefore, you could ask for prescription fees or costs associated with non-NHS treatment to be included in your claim.
Importantly, you should not benefit from special damages. They are simply designed to put you restore the financial position you were in before the accident. Receipts, payslips and bank statements could all help to prove your losses.

No Win No Fee Pneumoconiosis Claims
The cost of hiring a solicitor is something that could put people off from seeking compensation. That's especially true if you think the claim will be long and drawn out. However, if you work with Accident Claims UK, you won't need to worry about such costs.
That's because our solicitors work on a No Win No Fee basis. If they agree to work for you after reviewing your case, they could offer you a Conditional Fee Agreement (CFA). This is the formal name for a No Win No Fee agreement and it explains what needs to happen before you are asked to pay your solicitor.
With a CFA, you won't be asked to pay your solicitor anything in the event that they don't secure your compensation. A success fee is payable if your claim is successful.
This success fee is a percentage of your compensation that will be deducted from any settlement that's paid. Legally, success fees are capped, so you don't need to worry about being overcharged.
We can check if your case could be processed on a No Win No Fee basis when you call our team. So why not call for your free claim review? We could connect you with one of our solicitors if you have a strong claim.

Why Choose Us To Handle Your Pneumoconiosis Claim
Our team of solicitors have plenty of experience in accident at work claims and industrial illness claims. Importantly, we can help you by communicating over the phone, by email and online.
Because of this, you don't need to waste time travelling to see your solicitor. Also, our team are all registered with the Solicitors Regulation Authority (SRA).  That means you can rest assured about the quality of their work.
If your claim is taken on, your solicitor will manage all aspects of the claim for you. They'll provide regular updates on the process of your case. Crucially, they'll also be there if you think of any questions. Ultimately, they'll always work as hard as possible to try and make sure that you get the compensation you deserve.
Please call today to see if we can help you make a claim for pneumoconiosis. Our contact details can be found below.

Speak To An Expert On Pneumoconiosis Claims
We hope that you found this guide about pneumoconiosis claims useful. If you would like to discuss your claim further with our team, you can:
We appreciate how busy life can be at times. Therefore, we operate our claims line 24 hours a day, 7 days a week. That means it's easy to get in touch when it's most convenient for you.

Related Industrial Illness Claims
We are almost at the end of this guide about pneumoconiosis claims. To provide additional support, we have linked to some extra resources and guides that may help you further.
The British Lung Foundation – A charity that aims to help people affected by lung conditions.
Respiratory Diseases – Information from the NHS on their ambitions for lung diseases.
Dust In The Workplace – Advice from the Health and Safety Executive about managing dust in the workplace.
Accident At Work Claims – Information on when you could claim if injured at work.
Claiming Against Employers Who No Longer Trade – Details of whether it's possible to seek damages from an employer who is no longer in existence.
Psychological Injury Claims – This guide tells you why you might be able to claim for any psychological injuries following an accident.

FAQs On Pneumoconiosis Claims
In this final section of our guide on pneumoconiosis, we have listed some common questions  that may help you.
What are the symptoms of pneumoconiosis?
Some of the symptoms associated with pneumoconiosis include fast breathing, shortness of breath, a cough, chest pain that worsens when taking a deep breath, weakness, a fast heartbeat and fatigue.
What is the other name of pneumoconiosis?
There are various names used as alternatives to different kinds of pneumoconiosis. They include lung disease, black lung, silicosis and coal miners' disease.
What is the treatment of pneumoconiosis?
There is no cure for pneumoconiosis, so doctors use various treatments to relieve symptoms and improve quality of life. The first step is to remove any exposure to the dust that caused the condition. Then oxygen and medication can be used to reduce symptoms. Another measure that doctors recommend is to stop smoking.
Is pneumoconiosis a COPD?
No. COPD, or chronic obstructive pulmonary disease, is a name given to a few conditions that cause breathing difficulties. While symptoms are similar, pneumoconiosis is not treated in the same way as COPD.
Thank you for reading our article on pneumoconiosis claims.
Guide by BH
Edited by FS