By Jo Jeffries. Last Updated 11th May 2022. Welcome to this guide to making accident claims for Liverpool-based claimants. Personal injury claims in Liverpool could be something we could help with.
Accident Claims Liverpool
Liverpool is one of the largest cities that Accident Claims covers for compensation claims.
With our head office in Manchester our personal injury solicitors work closely with the accident claims Liverpool team. Our team of specialists are some of the finest legal professionals in the country.
When it comes to claiming in Liverpool we're normally the first port of call. Our accident claims advice line is open 24 hours a day which gives residents in Liverpool the peace of mind that their personal injury claim will also be dealt with straight away.
The History of Accident Claims Liverpool
Over 20 years ago Accident Claims was founded to help residents claim personal injury compensation in Liverpool. Today we still fight that corner. Our reputation has steadily grown over the last 4 decades making us one of the leading whiplash claims specialists among other disciplines.
When you've been injured in an accident you need to ask yourself the following question; 'Was it my fault?'. If the answer is no then you could be entitled to make a claim. Our personal injury claims team in Liverpool have unrivaled experience and will be able to advise you on your prospects of success. Every accident claim is different which is why we always recommend speaking to our solicitors for accurate and reliable advice.
No Win No Fee
Our Liverpool personal injury solicitors all work on a no win no fee basis which is the standard agreement for UK legal services. Making a claim is easy – the accident claims team will handle everything from your initial consultation with a personal injury solicitor to receiving your compensation cheque. Most whiplash claims are dealt with outside of court and are normally settled fairly quickly. In some cases after a car accident, we will need you to attend a short medical to assess your injuries. The medical process isn't designed to catch claimants out but adds significant weight to any accident claim being made.
With a no win no fee agreement you have nothing to lose by using our personal injury solicitors in Liverpool. All we ask is for your cooperation during your claim as we may need certain information from you from time to time.
What We Cover
We have specialist personal injury solicitors in all major UK cities. Our team in Liverpool can deal with the following types of accident claims.
Military Injuries
Spinal Injuries
Serious Head Injury
Dental or Medical Negligence
We have a close connection with the Royal British Legion and are proud to help our British Troops not only claim compensation but get their lives back together.
How much can I claim?
Compensation for accident claims can vary dramatically e.g £2000 for a whiplash claim to £1m for life-changing catastrophic injuries. Whilst we do have a claims calculator on our website we encourage you to speak to our personal injury solicitors for the most accurate advice on compensation amounts.
With a 24-hour no-obligation advice line and specialist personal injury solicitors, it makes using accident claims Liverpool the right choice. Call us now on 0800 073 8801.
What to do if you have a car accident in Liverpool?
Car accidents can cause a range of injuries that vary in severity as you can see from the below statistics from the Department for Transport.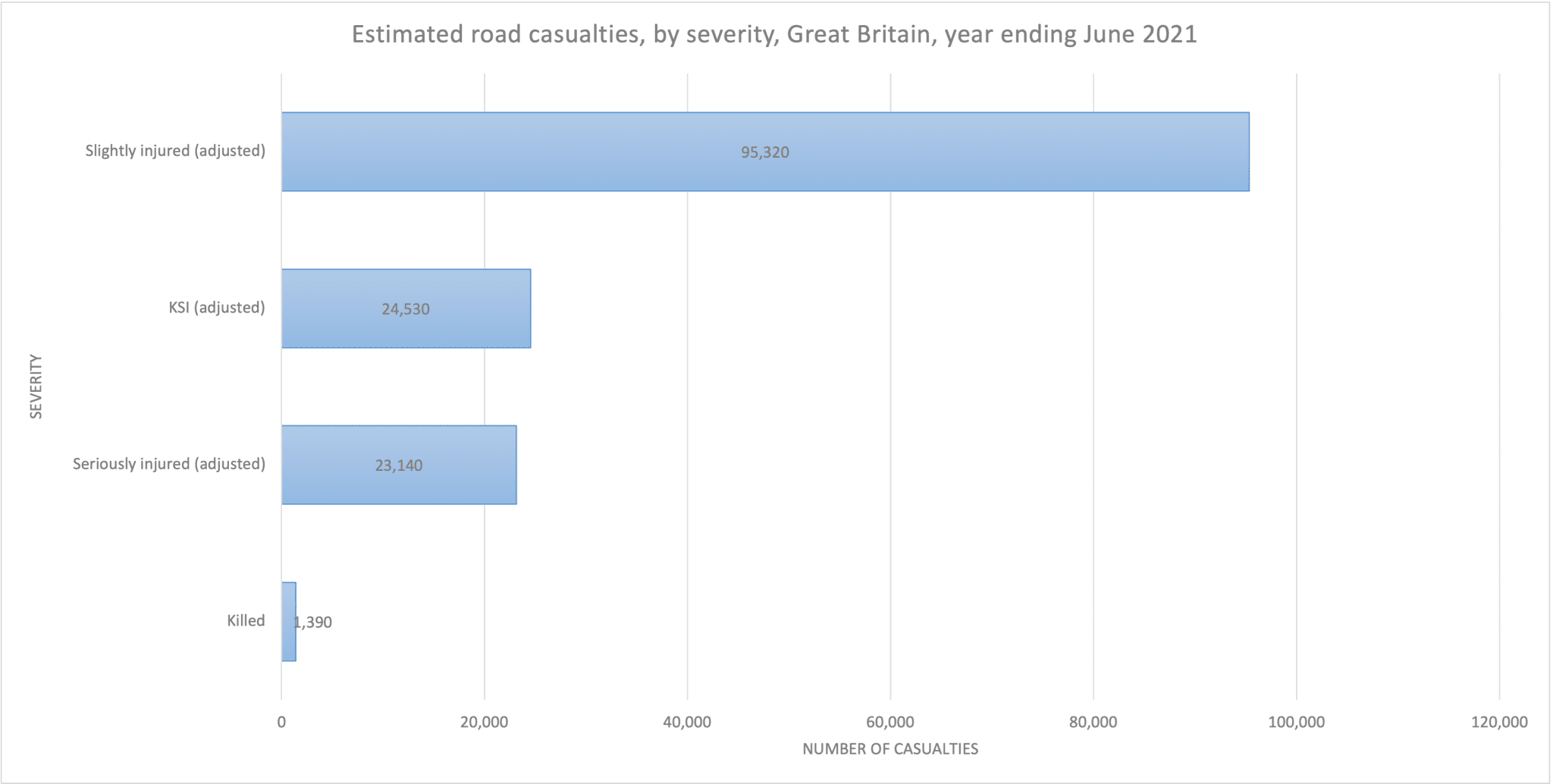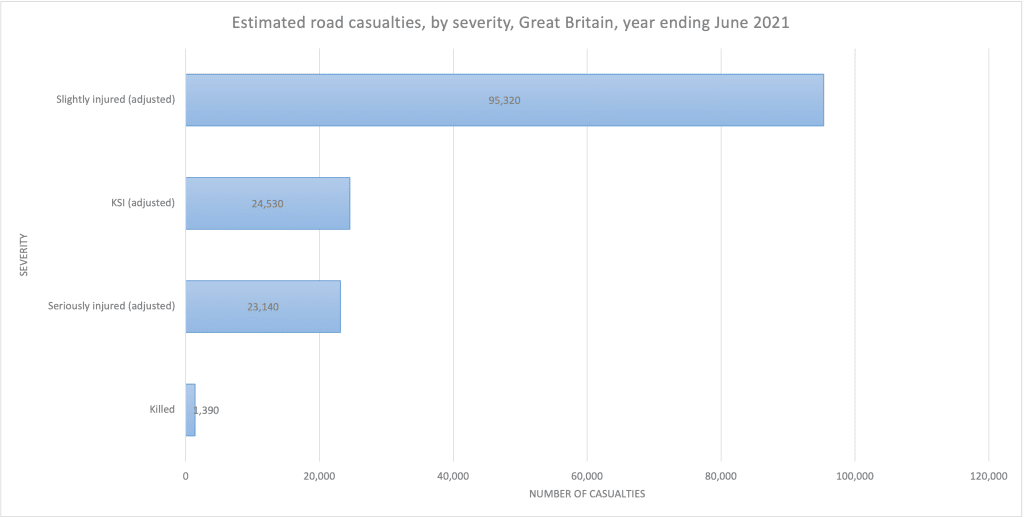 If you are injured in a car accident in Liverpool that was caused by another motorist's breach of their duty of care towards you, you could be eligible to claim compensation. But what should you do after a car accident in Liverpool? Our advice would include the below:
Seek medical attention for your injuries

Take photographs of the scene of the accident and/or your injuries

Contact your insurer

If you can, ask witnesses for contact details, as well as exchanging details with the other motorist

Call Accident Claims UK – we could provide personal injury solicitors for Liverpool claimants and we could also provide legal advice over the phone. 
What other types of claims could personal injury solicitors for Liverpool claimants help with?
We could not only provide personal injury solicitors for Liverpool claimants for road traffic accidents and accidents at work. We could also provide personal injury solicitors for Liverpool claims involving housing disrepair, theme park accidents, accidents in public places and allergic reactions. If someone has breached their duty of care towards you, causing your injury or illness, please contact our team. We could assess your case for free to see if you could claim compensation.
Do I need to use local personal injury solicitors for Liverpool claims?
You don't need to use local personal injury solicitors for Liverpool claims. You could use a solicitor based elsewhere in the country. For example, we could provide you with a No Win No Fee solicitor for your claim. Call us for more information.
Accident Claims Liverpool