By Joanne Jeffries. Last Updated 22nd September 2021. Welcome to this guide covering Teesside International airport accident claims.
Teesside International airport, formerly known as Durham Tees Valley Airport, is an airport located in the North East of England which served around 142,000 passengers in 2018.
If you have been injured at Teesside International Airport in an accident caused by third party negligence, regardless of whether you are a member of staff, a passenger or visitor to the airport, you may have grounds to launch a compensation claim.
Accident Claims UK has an experienced team of personal injury solicitors who could help you to successfully secure compensation for your injury. Whether your injury was caused by a slip, trip or fall, baggage truck accident, escalator accident or an accident resulting in manual handling injuries for example, if it was caused by a breach in the duty if care that was owed to you, you may be entitled to make a no win no fee claim. If you would like further advice after reading our guide, call us on 0800 073 8801.
Select A Section
A Guide To Claims For Injuries Caused By Accidents At Teesside International Airport
All airports, regardless of size, should implement correct health and safety policies and procedures to ensure a safe environment for all visitors, staff and passengers alike.
If you have unfortunately been in an accident in Teesside International Airport that wasn't your fault, and are considering making a Teesside International airport accident claims for compensation, having some knowledge about personal injury claims could be helpful. In this guide, you will find lots of useful information regarding making a personal injury claim for an accident in Durham Tees Valley Airport such as what is involved in making a claim, what circumstances a claim can be made in, what different types of accidents and injuries can be claimed for, how much compensation you could receive and what can be included in your claim. We also briefly discuss the potential benefits of hiring a no win no fee personal injury lawyer to make your claim on your behalf. Of course, if you have any further questions or would like us to look at your case for you, just contact us at Accident Claims UK and we will be happy to help.
What Is An Accident At Teesside International Airport?
For the purposes of this guide, a Teesside International Airport accident is an incident that is unexpected and may cause injury, illness or both that happens on the grounds of an airport. This guide will look specifically at accidents and incidents that could be prevented that cause avoidable injury or illness and are usually the result of a breach in the duty of care, lapse in health and safety and poor maintenance and upkeep.
Accidents that may potentially occur at airports in the event of third-party negligence could include slip, trip or fall accidents, baggage handling accidents, or lift or escalator accidents. An act of negligence in an airport restaurant could cause an injury such as a burn or scald, or food poisoning for example. We could help you make Teesside International airport accident claims for a variety of different situations.
Air Transport Aviation Safety
According to statistics from the Health and Safety Executive (HSE) from the year 2013/14, 39% of injuries among air transport employees across the UK were due to lifting and handling. These injuries proved to be the most common in the UK air transport sector, closely followed by slip, trip, and falls accounting for 24% of injuries. The remaining 37% of injuries involved being struck by an object, struck against something, falling from a height, moving vehicles and other unspecified injury types. This information plus further statistical reports can be found on the HSE website.
You can see common injury at work causes from 2019/20 below.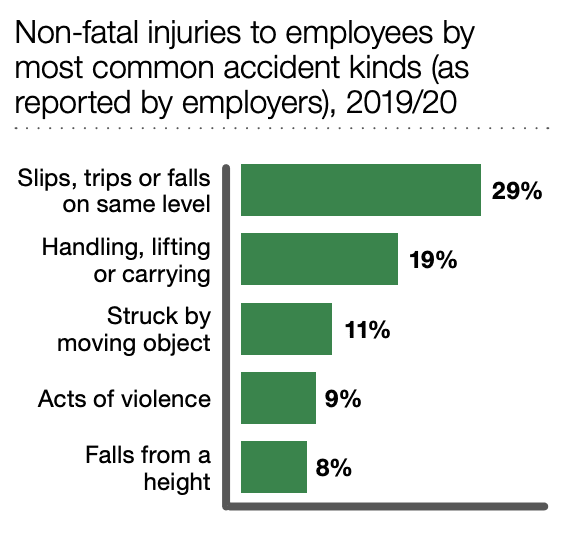 What Accidents Could Happen At An Airport?
There are many different types of potential accidents resulting in various injuries that could happen at an airport. Some of these accidents could possibly include:
Accidents whilst embarking and disembarking flights.
Airport vehicle accidents – These may involve shuttle buses, luggage carriers, electric vehicles used by the elderly and disabled, and cleaning station vehicles.
Slip, trip or fall accidents such as tripping over luggage left in walkways or slipping on spillages.
Baggage handling accidents.
Food poisoning from airport restaurants or cafes.
Burns and scalds accidents.
Falls from a height
Accidents involving the lifts or escalators
Some of the injuries that may result from an accident at an airport could potentially include:
Sprains and strains to muscles, tendons, and ligaments.
Cuts, scrapes, and bruises.
Fractured or broken bones.
Concussion or another head injury.
Crush injuries.
Slip, Trip And Fall Accidents At An Airport
With so many different hazards causing slip trip and falls they can happen anywhere at any time some are preventable and some happen due to the fault of no one.
If a passenger or employee were to have a slip trip or fall accident at Teesside International Airport which could have been prevented had the right health and safety procedures been followed the victim may have the basis to claim for damages for any harm suffered. Possible examples of causes of slip trip and falls could include insufficient signage near hazards such as spillages and poor lighting so hazards were not visible. If someone is injured at an airport through no fault of their own, they could potentially be entitled to claim compensation.
Airport operators have a duty of care to all persons that come to the airport, to ensure that the airport is a safe environment and therefore are required to have in place the correct and relevant health and safety policies and procedures to prevent accidents from occurring to the best of their ability. If they fail to do this however and someone is injured, they could be deemed liable to pay out compensation.
If the injured person is an employee, someone on their travels, or someone visiting the airport, if they are injured through no fault of their own and liability can be proven, they could be entitled to claim.
Luggage Carousel Or Baggage Truck Accidents
Luggage carousels are devices at airports which deliver checked-in baggage items to passengers while baggage trucks are a type of airport Ground Support Equipment (GSE) involved in the transportation of passengers' luggage from one place to another.
Luggage carousel or baggage truck accidents could occur if the luggage has not been properly stacked and falls off injuring someone in the process. Baggage truck accidents may also involve instances whereby someone has been struck by a moving baggage truck causing them an injury.
If you have been injured by an accident involving the carousel or baggage truck, and the accident wasn't your fault, you may be entitled to make a claim. However, if your injury was caused by you misusing the carousel or baggage truck such as climbing on or riding on it, then you would not be able to claim as you would be deemed to be at fault.
Injuries Caused By A Lift Or Escalator Accident At An Airport
Accidents involving lifts or escalators may also happen at airports. Accidents involving lifts may be caused by the floor levels being uneven when the lift comes to a stop, causing a trip or fall hazard. Accidents involving a malfunctioning escalator can result in serious injuries, especially if the victim has fallen down the escalator from a height if the escalator has come to a halt all of a sudden for example causing them to lose their balance.
Accidents might occur if lifts or escalators have not been regularly checked and maintained to ensure they are fit for purpose. Any amenities or equipment in an airport used by staff or members of the public must be in a safe and in an usable condition. If someone becomes injured due to them being faulty, they may be entitled to claim compensation.
Accident Claims UK can help victims of negligent accidents to be able to claim compensation for the suffering that has been caused to them if liability of a third party is proven.
Airport Bus And Transport Accidents
There are many different vehicles at airports that are used throughout each day for various reasons. Buses, trams and shuttles transfer passengers between terminals and between the terminal lounge and aircraft, from airport hotels to the airport, from town and city centres to the airport and vice versa. Some vehicles are used for transferring luggage to and from the plane, and some smaller electrical vehicles are used for mobile cleaning stations and some vehicles are also available for use by disabled passengers or those with limited mobility. All vehicles should be regularly tested and maintained to ensure they are in good condition for use. Certain rules should also be in place to ensure the safe movement of the vehicles. If someone is injured due to faulty vehicles, or reckless driving, if liability is proven then any injured passengers or employees could make Teesside International airport accident claims for any suffering caused.
Airport Facility, Shop, And Restaurants Accidents
There are several shops and restaurants in Teesside International Airport. These shops include:
WH Smiths
Fairs Lloyds Travel
The Teesside International Airport restaurants, cafes and bars include:
Xpress Café & Bar
Skylife lounge
Other amenities include:
Flying Schools And Experiences
Car Hire
Possible accidents that could occur in a shop or restaurant resulting in various injuries may include:
Slip, trip or fall accidents and injuries – these may be caused by food or drink spillages, items being carelessly left in the walkways, or from falling off faulty or broken furniture or having it collapse on you. Injuries such as sprains, bruising, cuts, and scrapes, fractured and broken bones are injuries that could be seen in these types of accidents.
Shelves collapsing and falling items –  Injuries in a shop could be sustained from shelving collapsing if faulty or over-stacked, or sustained from items falling from overhead shelving due to poor stacking methods. Crushing or head injuries are more likely to happen in these types of accidents.
Burns and scalds – these may be caused by hot food or drink being spilt over someone, or someone being served with food and drink too hot for consumption. Restaurant staff are also at risk of being burnt when serving food and drink and working in the kitchen area.
Food poisoning – Food poisoning can occur due to many reasons such as meat and seafood not being cooked thoroughly, cross-contamination between cooked and uncooked foods, poor hygiene, food being stored at the wrong temperature, out of date food being used and so on.
It is important to note that airport operators may not be responsible for health and safety standards in shops, bars, cafes and restaurants operating at an airport. Instead, it may be that responsibility for customer and staff safety at these venues lies with the proprietors of the shop, cafe, restaurant or bar.
If you have been injured, or become ill after being in a shop or eating and drinking in an airport café, through no fault of your own, you may be able to make Teesside International airport accident claims for compensation for your suffering.
Workplace Accidents at An Airport
In the UK, all employers have a legal obligation to provide a safe working environment for all members of staff wherever possible. To do this, they need to have in place strict health and safety protocols, policies and procedures that reflect the requirements of the government guidelines set out in the Health and Safety At work Act 1974.
There are numerous things an airport as an employer can put in place to ensure their employees' safety as best they can, these include:
Providing relevant training in lifting and handling techniques for baggage handlers.
Providing personal protective equipment where required.
Ensuring all staff receive the correct training in the health and safety policies and procedures for their area of employment.
Regularly servicing and maintaining all equipment, vehicles, and machinery throughout all areas in the airport.
Ensuring staff are properly trained in using the various pieces of equipment. Such as lifting equipment, in a safe way.
Carrying out risk assessments for certain airport tasks and attending to any potential hazards.
If an employer fails to adhere to the rules and regulations required by law to provide a safe environment for their employees, they may be liable for injuries and suffering caused due to this breach.
If you have been injured at Teesside International Airport in a workplace accident that wasn't your fault, you may be eligible to make a personal injury claim. Contact Accident Claims UK for more information.
Manual Handling Injuries To Baggage Handling Staff
According to HSE statistics offered earlier in this guide, lifting and handling injuries are the most common amongst UK air transport workers. This highlights the importance of training employees so they are able to to carry out work tasks safely and effectively without putting themselves in danger. 
Employers have a duty of care to ensure their employees are trained to carry out their roles, and so in cases of baggage handling staff, they should be trained in the proper lifting and handling techniques to minimalise the risk of injury. Any lifting equipment should also be regularly checked and maintained to ensure they are in full working order and employees should receive training to operate the equipment correctly and safely.
If you have sustained manual handling injuries in an accident while working at Teesside International Airport and you feel that they happened due to a lapse in the health and safety procedures, due to faulty machinery, not being provided with work protection items or due to lack of training you may be able to claim against your employer.
Calculating Accident Claims For Personal Injury – Updated September 2021
Due to there being several components that could make up the final settlement amount in any compensation claim, which of course will vary from case to case, we cannot accurately predict how much compensation you may receive should you make a successful personal injury claim. However, as a guide, we have shown in the table below how much compensation could be paid for certain injuries according to the latest Judicial College Guidelines. These figures are just for the injury alone and will vary between the brackets depending on the severity and any lasting effects:
| Injury | Injury Severity | Compensation Amount | Injury Description |
| --- | --- | --- | --- |
| Head Injury | Moderate Brain Damage (i) | £140,870 to £205,580 | Moderate to severe issues with intellectually capacity, a significant possible personality change, speech and sensors are both effected with a chance of suffering epilepsy. |
| Head Injury | Moderate Brain Damage (ii) | £85,150 to £140,870 | Moderate to modest intellectual capacity, there maybe slight ability to be able to work, but it may not be possible, the risk of epilepsy is not so great at above. |
| Neck Injuries | Minor (i) | £4,080 to £7,410 | In these instances, a full recovery from the injury may be made within 1-2 years. |
| Neck Injuries | Moderate (i) | £23,460 to £36,120 | These injuries may be fractures or dislocations requiring immediate medical attention. They leave markedly impaired function or vulnerability to further trauma, and limitation of activities. |
| Neck Injuries | Severe (i) | In the region of £139,210 | Severe neck injuries are associated with permanent disablement. |
| Paraplegia | Serious | £205,580 to £266,740 | An injury of this calibre is often expected to inflict a shorter life span, depression, limit mobility, and in some cases, a lack of sexual function. |
| Arm Injury | Severe Injuries | £90,250 to £122,860 | Injuries which fall short of amputation but which are extremely serious and leave the injured person little better off than if the arm had been lost |
| Leg Injury | Moderate (iv) | £26,050 to £36,790 | This bracket includes complicated or multiple fractures or severe crushing injuries, generally to a single limb. |
| Food Poisoning | Serious (i) | £8,950 to £18,020 | A serious case of food poisoning is often expect to cause a serious upset stomach, which signs such as diarrhoea and nausea. |
| PTSD | Less severe | £3,710 to £7,680 | Those who endure minor levels of PTSD are often expected to make a full recovery within the span of one to two years. However, they might endure symptoms such as sleep deprecation, anxiety, and depression. |
| PTSD | Severe | £56,180 to £94,470 | Those who experience a severe level of PTSD are often expected to be left with life-long disabilities, minimal job prospects, physical ailments, and mental distress. |
A final settlement figure is reached when other items to be included in the claim, discussed below in the guide, are added to the amount given for the injury. If you would like to discuss your claim in further detail, please contact Accident Claims UK and we will be happy to assist you with your enquiry.
What Special Damages Could You Claim?
As mentioned above, several items make up the final settlement amount of compensation to be awarded, these include:
General Damages – This amount is for the injury or illness itself and the physical and/or psychological effects it has. The severity will be taken into account as will the type of required treatment and length of recovery and if there are any long-lasting effects.
Special Damages;
Medical Expenses – Any costs incurred for medical care, treatment or medication costs should be included in the claim.
Travel Expenses – If you have incurred any travel costs as a direct result of your injury, you can include these in your claim. Travel costs also include any vehicle adaptions you may have needed too.
Care Costs – If you have needed extra help around the home or for personal care whilst recovering from your injury, you can include the costs of this in the claim.
Lost Income – Any income lost, or future income that will be lost can be included in the claim also.
Settlement amounts awarded may be comprised of both general damages as well as 'special damages' which could include compensation for any financial costs incurred through medical expenses, travel expenses, care costs or loss of earnings.
No Win No Fee Claims For Accidents At Teesside International Airport
The solicitors that work with Accident Claims UK may offer a no win no fee service. This type of service gives all potential claimants access to legal help without upfront costs. With no win no fee, we do not request for any payments to be made upfront, or whilst the claim is underway. In fact, with our no win no fee policy, we only charge you for our legal fees if we successfully win your case for you. If we don't succeed, however, we do not charge you for our fees at all, hence the term no win, no fee. A solicitor charging an hourly rate, however, may ask for an initial payment and will ask to be paid throughout the claiming process with a final fee at the end regardless of whether the claim has been successful or not, potentially causing you to end up out of pocket.
No win no fee allows you access to legal representation without the worry of how you are going to afford the legal fees.
Why Should You Choose To Make Your Claim With Our Team?
Accident Claims UK offers a comprehensive service with our legal expertise, no win no fee policy, free consultation session, and organising a local medical for you, high success rate, and years of experience in the personal injury claims industry. We have a great track record of making successful claims often securing the maximum amount of compensation. If you hire us to conduct your claim for you, you can be assured that will we work with a 100% commitment to getting you the compensation you deserve.
Start Your Claim
Starting your claim needn't be difficult, all you need to do is contact us at Accident Claims UK on 0800 073 8801. If you instruct us to run your claim on your behalf, we will set to work immediately to build you a strong case.
How could I prove my injuries for Teesside International Airport accident claims?
You might mistakenly assume that if you visit your GP or the local hospital after suffering injuries, you could have enough evidence to make Teesside International Airport accident claims. However, in many cases, you would need to undergo an independent medical assessment. An appointment could be made for you with a local independent medical professional. You would go to see them, and they would examine you and ask you questions about your injury. They may have to review your past medical notes, and they may even have to order some tests. This is all so they could get a bigger picture of your injury, so that they could include the details in your medical report. This medical report is a vital piece of evidence when it comes to making an accident claim. Solicitors and courts could use it to determine how much compensation would be appropriate for you.
Could I make Teesside International Airport accident claims for a car park accident?
If you have been injured in an airport car park, there could be a variety of people at fault for your accident and injuries. For example, if a motorist is speeding around the airport car park and crashes into you, you could make a claim against them. However, if you were injured by an airport barrier in the car park that was faulty, you may be able to make a claim against the owner or operator of the car park. If you were assaulted at work in the car park, you could make a claim for compensation against your employer if they have failed to protect you. We could help assess your case to see whether you could be eligible for compensation and who your claim could be against.
Reference Information
Work Accident Claims Time Limit Guide
This guide has lots of information regarding the time limit for making a work accident claim.
Soft-Tissue Injury Claims Guide
This is another of our guides regarding soft tissue injuries.
Health And Safety Executive – Air Transport Industry
Here you will find lots of information regarding health and safety in the air transport industry.
Guidance for airport staff from the Civil Aviation Authority on airport safety.
Thank you for reading this Teesside International airport accident claims guide.