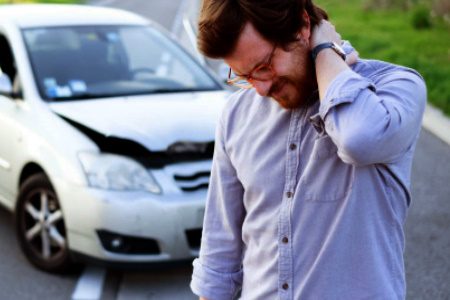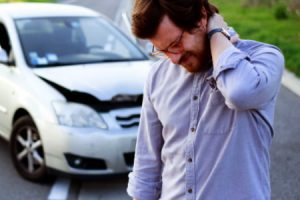 If you have been in a car accident, or indeed any other type of accident, and obtained a whiplash-type injury, it may be worth considering filing a claim against AXA insurance, if the liable party is insured with AXA.
This guide provides information on what steps you need to consider if you are thinking about making an AXA whiplash claim and advises on what evidence would be required, and why you might want to consider using the services of a personal injury solicitor to pursue your claim. The guide also provides information on how a No Win No Fee claim works and why this might be the most appropriate option to look at for your personal injury claim.
We hope the information provided is useful but if you have any questions that are not covered and you are looking to start a claim against AXA insurancem why not give a call on 0800 073 8801.
Choose A Section
A Guide To Claims Against AXA Insurance For Whiplash Injuries
If you were injured in a car accident that left you suffering from whiplash injuries, you would be entitled to file a whiplash injury claim against the liable party's insurer. If you are unsure who was at fault for the accident that caused your whiplash, or you believe that you may be partially at fault for the accident, you may still be able to pursue a claim.
This guide provides information on whether you have a valid claim, who could be held liable and what options you have to pursue a claim, and the steps you should take when filing a claim against AXA insurance. The guide also provides an idea on how much compensation you could be awarded for a whiplash injury claim and covers facts an insurance company may not want you to know when it comes to making an AXA whiplash claim.
Whiplash Injury Symptoms Explained
Whilst most people may have heard about whiplash, they may not know exactly what this type of injury is and how it could negatively impact their health and well-being. One of the more common questions that those unfamiliar with whiplash may ask is 'What is whiplash and how long does it last'.
Put simply, whiplash is an injury sustained when a person's head is thrown forward and backwards, or sideways violently. It is a typically injury sustained in car accidents. The violent movement puts a tremendous amount of stress on your neck, damaging tendons and ligaments. With this said, you could sustain whiplash while taking part in sports or when you suffer trauma to your neck.
Whiplash symptoms are not always evident straight away, following a car accident. Sometimes it can take a period of time for them to develop. At the time of the accident, there may be no swelling or inflammation but a little later which can be anything from 6 to 12 hours later, the symptoms associated with whiplash are apparent.
Symptoms to look out for could include the following
Stiffness in the neck region
Pain in the region of the neck
Headaches
Tender feelings in the area at the back of the neck
A reduction in your ability to move your neck
These are usually referred to as common whiplash symptoms. There are some other symptoms which are less common that might occur which includes the following:
Ringing in the ears (Tinnitus)
Dizziness (Vertigo)
Muscular spasms
Lower back pain
Pain in the hands and arms, numbness or pins and needles
Tiredness
Trouble swallowing
Blurring of vision
In order to diagnose whiplash, you would not normally require an X-Ray or a scan. The condition could usually be diagnosed by a medical professional following a detailed description of the symptoms you are experiencing. However, if the medical professional has reason to believe there may be other injuries, they would usually request you undergo an MRI scan or a CT scan.  Standard treatment would include resting and taking painkillers you can buy over the counter such as paracetamol or Ibuprofen. In some cases, it may be appropriate to undergo physiotherapy or osteopathy.
In some instances, the symptoms may not resolve themselves and as such the injury is diagnosed as being a long-term health issue. If you suffered severe whiplash you may struggle with symptoms for 6 months or longer. Extreme cases of whiplash could result in not being able to work and could leave you suffering from anxiety, or even depression.
If you sustained a whiplash injury, no matter how severe or mild, and the accident was the fault of a driver insured with AXA, you could pursue a claim against AXA insurance for your pain, suffering, loss of amenity and your out of pocket expenses.
How Whiplash Injury Claims Work
Research obtained through the Freedom of Information and published by the FCA, suggests that claimants who turned down an initial compensation settlement, and who pursued a claim with the assistance of a specialist solicitor, obtained an average payout that was three times higher for an injury suffered in a car accident. If you are looking to pursue a claim against AXA insurance, and would like to use the services of a specialist solicitor, we could put you in touch with one.
When Should You Use Your Own Insurance?
If you took out your car insurance with AXA, or any other insurer, and you suffer whiplash as a result of a car accident that was the fault of another driver, you may be able to make a personal injury claim against the other driver's policy and not your own insurance. If the other driver is also insured with AXA, you may be able to file AXA insurance whiplash claims, but, again, this would not be against your own policy, providing the other driver was responsible for the accident that resulted in your whiplash injury. In short, this means that as a result of the claim your premium and cover under your AXA car insurance policy, should not be affected.
What Are Split Liability Claims?
If both parties in a car accident are partly at fault for a whiplash injury, there is a possibility that you may be able to claim a reduced amount of compensation which would reflect your level of liability. There are a few ways to do this which are as follows:
Liability claims on a 50:50 basis
Claims on a split liability basis
Claims on a knock for knock basis
50:50 Liability Claims
If both parties who were involved in the accident admit to being liable doe 50% of the accident, or if there is no agreement reached on which party is to blame, and there is no evidence to prove liability either way, this may be classed as a 50:50 liability claim. In this instance, the value of the overall compensation would be placed at 50% of the value of the claim. For example, if the other driver held their insurance with AXA. then AXA could make a payout to you totalling 50% of the amount that you might have received had you not been liable at all. The other party would be paid 50% of the value of their claim by your insurance company.
To talk to us in more detail about this type of claim against AXA insurance, call our team. We'd be happy to discuss this with you in more detail.
Split Liability Claims
When the claimant believes that the defendant is fully liable for the accident, but the defendant believes that the claimant is partially responsible for their injuries, and this could be proven, the compensation amount may be reduced. A split liability agreement may be agreed to by the parties involved. If it is agreed that the liability is 60:40 then only 60% of the total amount they were claiming would be received by the claimant. This amount would reflect their level of liability or contributory negligence. If you are considering making this type of claim and the defendant was insured with AXA, you could use one of our solicitors to make your AXA car insurance whiplash claim.
Knock For Knock Claims
Insurers pay for the loses of their own policyholders in a knock for knock case, regardless of who is liable for the accident. This might happen where there is no agreement as to which party is liable, and the insurance companies involved make an arrangement to use this basis to settle a claim. Settling in this way could save both insurers some of the costs involved. If you are insured with AXA and a knock for knock is agreed, your AXA accident claims would be paid by AXA, even if the other party was insured with another insurer.
If you have any questions regarding how AXA personal injury claims payouts might be affected by split liability, then get in touch. We would be happy to discuss the process in greater detail.
Should I Accept The Initial Compensation Offer?
It is entirely possible, and legally acceptable, for an insurance company to approach you with a settlement offer following an accident . You should not feel under any obligation to accept the offer, and it is your right to reject it if you so wish. If you are sent a settlement offer from AXA before you have considered making a claim against the insurer, you may think this is the only amount you may receive.
If you are worried that turning down this initial offer of compensation from an insurance company, would mean there would be no further settlement offer, this is not the case at all. If you have any questions about an offer that you have received, you should discuss it with a solicitor who specialises in this area of law. They would be able to advise whether rejecting or accepting an offer could be a good idea. The decision, however, is entirely yours. With this in mind, below are a few point you may want to consider:
Your insurance company may refer you to a solicitor, but it is worth noting that you are not restricted to using their services. If you want, you are at liberty to select a solicitor of your choice who has no link to your insurance company if you want to file an AXA accident claim if the driver that caused your injuries is insured with AXA
You should not be put under any pressure to accept an initial payout offer in respect of an AXA whiplash claim. There is a personal injury claims time limit of 3 years from the date of the accident in place for most car accidents – although this may differ. As such, you should contact one of our personal injury lawyers who would offer essential legal advice on what time limit applies to your claim
An initial offer of compensation may be lower than the compensation amount you might receive if you went to court, or instructed a solicitor to pursue a personal injury claim against AXA insurance on your behalf
If you accept an offer for which no supporting medical assessment has been conducted, you may receive an amount that is lower than the compensation you would have received if the severity for your injuries had been documented. We will look at this in detail later in the guide
If you do not fully understand the contents of your initial offer, you must not to sign it until you have sought legal advice, perhaps from a personal injury lawyer that specialises in this type of claim at Accident Claims
If you would like any advice regarding your AXA accident claims offer, we would be happy to discuss your options with you.
Should I Take The Pre-Medical Whiplash Claim Offer?
If you have received a pre-medical offer from the insurance company for the negligent party, it could be because the insurer believes that you have a strong case, or the other driver has admitted liability, you should seek legal advice from a personal injury lawyer before accepting the offer. The reason being that a 'first offer of settlement' would be based on the fact you had not undergone a medical assessment of the whiplash injury you sustained. As such, the amount could be a lot less that you could be entitled to.
You might be asking yourself why do insurers make pre-med offers? There are a number of reasons why insurers do which are explained below:
Some insurance companies try to avoid medical assessments as this could add extra costs to claim. If no medical assessment takes place then a pre-med offer may not take into account the true severity of your injuries or any long term impact that the injury might have on you. A medical assessment would establish whether your injuries are more severe than first thought and as such could lead to a higher compensation payout being awarded if you were to pursue whiplash claims in the UK. There is, however, no way of finding this out unless you do not accept a pre-med offer and you have your injuries assessed by an independent medical professional.
In the majority of cases, if a pre-med offer is accepted, it may not be possible to re-open a claim. With this said, some claimants feel under financial pressure to accept a pre-med offer in order to help ease a financial burden. We would advise against this as it may mean that you are losing out on the compensation you would otherwise be entitled to with medical evidence to support your claim.
If your whiplash is more severe than it was first thought, then you may require further treatment which includes physiotherapy and you may need to pay for the therapy. You may also require more time off work because of your whiplash which could result in further financial hardship.
At Accident Claims, we recommend that you get in touch with us for advice on claims against AXA insurance. We would put you in contact with a personal injury solicitor who would work on your behalf in order to secure the compensation you deserve for your AXA car insurance claim.
Whiplash Calculator For Claims Against AXA Insurance
You might be wondering how much compensation you could receive for a whiplash or back injury? Unfortunately, it is not possible to get an accurate idea of the settlement amount from a personal injury claims calculator. Each case its assessed individually which could have a bearing on the amount of compensation you might receive. We could, however, give you an idea of the compensation amount that your claim may fall into. These figures are based on the Judicial College Guidelines.

| Type of injury | Severity of injury | Compensation amount |
| --- | --- | --- |
| Minor neck injury/ies | Each case would be assessed, and payouts dependant on the severity of pain, and existence of current symptoms. This might be ongoing back symptoms and any treatment that might be required on a continuing basis. Impact on the ability of the claimant to work may also be considered. Usually, in these cases recovery should be between 12 and 24 months. | Up to £6,920 |
| Moderate neck injury/ies | This might include those injuries that could have had a negative effect on a condition that was pre-existing. Cases where claimants may have experienced a lengthier recovery period. Injuries may leave them with a greater chance of future trauma, or where some symptoms may remain. | £6,920 to £12,050 |
| Moderate neck injury/ies | Wrenching type movements, that cause injuries, and disc lesions, may be included in this category. Significant periods of suffering or pain may apply to injuries in this bracket. | £12,050 to £21,910 |
| Moderate neck injury/ies | Fracture, dislocation, and other chronic injuries which leave claimants with less function may be included here. Injuries might leave them with a greater chance of future symptoms as well. | £21,910 to £33,750 |
If you cannot see your exact injury in the table, give us a call and let us know what the injury is. We would look at the Judicial College Guideline for the injury you sustained and advise you accordingly.
What Is Included In Special Damages?
In addition to a payout from AXA for the injury you suffered, you may also be able to claim compensation for  the costs you accumulated in respect of the car accident that caused your injury. These may include:
Loss of earnings – if you had to take time off work due to your injuries and it resulted in a reduced level of pay, you may be able to claim compensation for this under special damages
Medical expenses – whether you had to pay for medication or treatments such as physiotherapy, these could also be covered as part of your claim
Travel expenses – this might be the cost of travelling to medical appointments and/or parking charges which you might be able to claim compensation for
If you have other costs that you feel are directly associated with the incident that resulted in your injuries, then contact us today. One of our team would be happy to offer advice on whether these costs might be included in your claims against AXA insurance as special damages.
No Win No Fee Claims Against AXA Car Insurance
If you are considering making an AXA personal injury claim, then you may want to use the services of a No Win No Fee solicitor to assist you. The No Win No Fee terms and conditions for payment are set out in a Conditional Fee Agreement. This is a document that provides details relating to how your solicitor would be paid for the service they provide. The amount that your solicitor is paid, the 'success fee', is worked out as a percentage of the total amount of the settlement and it is deducted from the payout so nothing is paid to your solicitor until your claim is settled successfully.
If your solicitor is unsuccessful and you lose your claim, there would be no success fee to pay. All the lawyers at Accident Claims could act on your behalf on this basis. If you have any questions about how the process works, or any other questions then please do not hesitate to contact us.
Talk To Us About Your Claim
Are you ready to start the claims process, or do you have any more questions? There are several ways in which you can contact us to get things started. You could speak to one of our advisers directly on 0800 073 8801. If however, you prefer to communicate via email then you can reach us at office@accidentclaims.co.uk. There is also the Live Chat feature on our site.
When you contact us we will examine the details of your case carefully and offer an honest assessment on the possibility of a successful claim. We will answer any questions that you may have and if you want to proceed with a claim we will provide you with a personal injury solicitor who could handle your AXA whiplash injury claim. We could give you free no-obligation advice whether you eventually choose to use our services or not.
Related Guides And References
Whiplash Guide – Our updated guide to whiplash injuries may provide you with some useful information.
Claiming As A Passenger On A Bus – If you were travelling as a passenger when you received your whiplash injury then this guide would offer you more information.
Cyclist Claims – Perhaps you were a cyclist involved in an accident that resulted in your injuries, the guidance contained on this page may prove useful.
Treatment For Whiplash – The NHS pages on whiplash contains helpful information about symptoms and common treatments.
Whiplash Reforms Programme – Read about the whiplash reforms programme here.
MIB – For claims advice against uninsured drivers, click here.
Article by Jo
Editor Honey