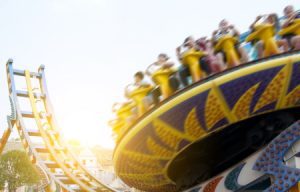 Have you been injured in a Blackpool Pleasure Beach accident, and it was not your fault, but someone else's? If so, then you could be able to make Blackpool Pleasure Beach injury claim for compensation. While many people visit theme parks and fairgrounds every year without incident, you may have read or seen in the media that theme park accidents do happen. For example, the Blackpool Pleasure Beach accident in 2017, where a 2-year-old girl was injured on one of the rides. Fairground or theme park ride accidents could cause devastating injuries, but whether you've suffered whiplash on the Big One, or leg injuries on the Icon at Blackpool, if it can be proved that the ride operators, or the park were at fault, you may be eligible to claim compensation. This guide provides information regarding liability for theme park accidents, when you could make a claim, how to go about doing so, and how we could help you. If anything is at all unclear within this guide, then Accident Claims could be of assistance. All you need to do is call us on 0800 073 8801
Select A Section
A Guide To Blackpool Pleasure Beach Accident Claims
Whether you had a slip or fall on a roller coaster, or suffered an injury at Blackpool Pleasure Beach because a ride malfunctioned, if your Blackpool Pleasure Beach accident was not your fault, you may be able to claim compensation for your injuries. This guide provides information on whether your case would be valid and covers an operator's duty of care towards visitors at Blackpool Pleasure Beach, and those who work there, and offers details of situations that could lead to a claim.
The guide also provides essential information on how to go about making a claim for compensation for a Blackpool Pleasure Beach injury, and explains how we could help you start your claim. There is also a section that covers the potential compensation amounts for certain injuries that could be caused by an accident at Blackpool Pleasure Beach.
What Are Blackpool Pleasure Beach Accidents?
Any accident that happens at Blackpool Pleasure Beach could cause you to suffer injuries. When it comes to the number of incidents that occurred, there was a crash on the Pepsi Max Big One Rollercoaster in 2000 which left several people injured. In addition to this, in 2017, a two-year-old girl was injured after falling from the Alpine Rallye. Back in 1994, it was reported that 10 people received hospital treatment because of an Avalanche at Blackpool Pleasure Beach accident. These are just a few incidents that happened over the years at the Pleasure Beach.
If a ride malfunctions, it could cause serious injuries, simply because there are speeds and gravitational forces at play while you are riding a roller coaster, and if they crash at speed, or you fall from a height, it could be devastating. Although risks are usually managed well at theme parks, when accidents do happen, they typically affect a number of people, as there are usually more than a few people on a ride at any given time.
Not only this, but where there are lots of people, pathways could get worn and damaged which poses trip hazards. Because many theme parks like Blackpool Pleasure Beach are out in the open, pathways could also be exposed to bad weather, and if they are not gritted when the weather is icy, this could lead to slips.
Essentially, any accident at Blackpool Pleasure Beach that could have been avoided had the operators acted responsibly towards the health and safety of staff and visitors, could lead to claims for compensation.
Slips, Trip And Falls At Blackpool Pleasure Beach
As previously mentioned, you could suffer a slip, a trip or a fall accident at any theme park if flooring is not well maintained. Where there are stairs leading up to a ride, there should be handrails, and where pathways are icy, they should be gritted to minimise slip and fall risks. Where the flooring still carries risks, these should be clearly signposted or cordoned off.
If you suffered a Blackpool Pleasure Beach injury due to a slip, trip or fall that could have been avoided, then please do get in touch to discuss the specifics of your case. An Accident Claims UK adviser would be happy to assess whether you could be eligible to make a claim for compensation.
Accidents Caused By Defective Rides
While some people may go on rides for the thrill, nobody expects to be injured while on the rides. Because of the nature of a defective ride accident, it may not be very clear-cut initially as to who is to blame. The ride manufacturer might be to blame, or the installer, or those who are meant to test, check and maintain the equipment.
In order to ascertain fault, it is likely that an investigation would have to take place, but to get some idea of who could be at fault, why not talk over your situation with one of our advisers, who could offer some guidance on this.
Blackpool Pleasure Beach Roller Coaster Accidents
Because of the speeds that a roller coaster can reach, being involved in an accident could result in devastating injuries. One of the most notorious roller coaster accidents in the UK happened at Alton Towers, and it illustrates just how serious the injuries in such an accident could be. On the 2nd June 2015, a car carrying 16 people collided with an empty car at speeds of approximately 20 mph. Eleven people required medical attention, with 2 passengers requiring partial leg amputations as a result of their injuries. It was thought that a ride operator overrode a safety mechanism, which allegedly led to the crash.
While this accident did not happen at Blackpool Pleasure Beach, the risks of something going wrong on a roller coaster are clear, and while many rides go smoothly with no incidents, if operator error led to you suffering injuries in a Blackpool Pleasure Beach roller coaster accident, you could be entitled to compensation for your injuries.
Spectator Barrier Accidents And Injuries
Quite often at theme parks, there are spectator barriers for people to stand behind and watch their friends and family on the rides. These are an important safety element, as they could help to control crowds and distance the public from any risks involved with standing or walking too close to the rides themselves. Where safety barriers are missing, defective or broken, they should be replaced or repaired quickly to avoid accidents. If this does not happen and you suffer injury, then you could potentially be eligible to claim compensation.
Fatal Blackpool Pleasure Beach Accidents Or Injuries
If you're wondering how many people have died at amusement parks, the answer would be fairly low. The reason being that there are lots of safety checks in place to avoid such an incident. However, it could be possible for someone to be fatally injured at Blackpool Pleasure Beach if something went seriously wrong. If the operator was at fault for a fatality at Blackpool Pleasure Beach, as a dependent of the deceased you could be entitled to file a claim against the pleasure beach, or another liable party and the same applies to the managers of the deceased's estate. The settlement could include a bereavement award as well as damages to cover funeral expenses and more. If you are wondering how to go about making such a claim, then our specially trained advisers are here to help.
Evidence And Liability To Support A Claim Against Blackpool Pleasure Beach
For a personal injury claim to be successful, there would need to be proof that the owners/operators of Blackpool Pleasure Beach were negligent, and such negligence caused you to suffer injuries. The type of evidence you may need could include:
Medical evidence – you must see a doctor after any Blackpool Pleasure Beach accident whether you were considering making a claim or not, as it is essential for your injuries to be treated.  As well as this, as part of any personal injury claim, it would be necessary for you to attend a medical appointment with an independent doctor who would examine you, ask questions and write a report that is an essential part of your case
Photographic evidence – if possible, you should take photographs of the scene as well as your injuries. This evidence strengthens and supports your claim
Witness details – if anyone witnessed you sustaining a Blackpool Pleasure Beach injury, you should take down their details. They may be called on later on to give a witness statement which would support and strengthen your claim
It would be prudent to mention that you would also need to be within the relevant personal injury claims time limit for your case. This is usually 3 years from the Blackpool Pleasure Beach accident date, but there could be some exceptions to this rule, especially if claimants had lacked the mental/physical capacity to make a claim at the time. If you are unsure as to whether you'd be within the limitation period for your specific incident, please get confirmation from a lawyer as time limits can vary.
Blackpool Pleasure Beach Accident Compensation Claims Calculator
Whether a pleasure beach accident was caused by poor maintenance, or lack of attention of operators, there could be a number of different injuries that you could suffer. Whether you were injured on the Icon at Blackpool Pleasure Beach, or suffered injuries on any other of the Blackpool Pleasure Beach rides, you may want to know how much compensation you could be awarded. The table below, provides an ideal of the level of compensation you may receive and is based on the Judicial College Guidelines for specific injuries you may sustain in a Blackpool Pleasure Beach accident.

| Injury | Notes | Award Bracket |
| --- | --- | --- |
| Moderate injuries to the neck | This bracket could cover those injuries that are caused by a wrenching movement and that could cause lesions to the discs in the neck. Claimants might require surgery to fix the damage and their condition could leave them more vulnerable to future damage to the area. | £12,900 to £23,460 |
| Moderate injuries to the neck | This bracket could cover dislocations or fractures within the neck. There would be significant immediate symptoms and there may be a need for spinal fusion. Long term impairment to function could exist. | £23,460 to £36,120 |
| Forearm fractures | Simple fracture to the forearm | £6,190 to £18,020 |
| Less severe injuries to the arm | While there may have been significant impairment at first, this would have improved over time. | £18,020 to £36,770 |
| Clavicle fracture | How much displacement there was would be taken into account as well as the pain experienced and the level of disability. | £4,830 to £11,490 |
| Fracture to the tibia | With some minor symptoms remaining. | Up to £11,110 |
| Scarring (body) | A disfiguring scar (single) or a number of noticeable scars on the arms, legs, hands, chest or back. | £7,350 to £21,330 |
| Less Serious Injuries to the Leg | Severe soft tissue damage or fractures with an incomplete recovery | £16,860 to £26,050 |
| Amputation of one leg | Below the knee | £91,950 to £124,800 |
If you don't see the specific Blackpool Pleasure Beach injury you've suffered in the table, then please do get in touch. One of our advisers would be happy to give you information on the guidelines specific to your injury.
What Could I Claim If Injured At Blackpool Pleasure Beach?
Making a claim when injured at Blackpool Pleasure Beach, could bring you compensation for your actual injury as well as the costs associated with the accident at Blackpool Pleasure Beach. On top of general damages you could receive for your Blackpool Pleasure Beach injury, you may also claim for the following in special damages:
Loss of income – If you've suffered injuries that led to you taking time off work, you could claim for the loss of income you incurred because of this accident at Blackpool Pleasure Beach. If you suffered paralysis, or a broken neck in a roller coaster crash, for example, you may not be able to return to work at all, and your future loss of income could be factored into a claim for compensation
Medical costs – if you suffered an accident on one of the Blackpool Pleasure Beach rides that caused your injuries and you need physiotherapy, for example, the costs of the treatment could also form part of your claim. Likewise, you may be able to claim for prescription costs, etc
Travel costs – whether you had to pay for parking charges at the hospital, or needed a taxi to take you to a medical appointment, you could include these as part of your claim
Care costs – if you were paralysed, for example, in a Blackpool Pleasure Beach accident, you may need daily care, and the costs of this care could also be included as part of your claim
Funeral costs – if Blackpool Pleasure Beach deaths led to you losing loved ones, you may also be able to claim for their funeral costs
No Win No Fee Accident Claims Against Blackpool Pleasure Beach
Whether you're making a personal injury claim on behalf of a loved one who suffered a Blackpool funfair death, or you're looking to make a claim yourself for roller coaster whiplash, or other pleasure beach accidents that caused you an injury, you could do so without having to pay upfront for legal services you receive. All of the solicitors at Accident Claims could represent you on a No Win No Fee basis, which means you would only pay once your claim was settled and a compensation payout was made. This would be documented in a Conditional Fee Agreement; a document that you would sign which lays out the amount your lawyer would receive from your settlement if they were successful in winning your case. If your case was unsuccessful, but your claim was valid, then you would not be expected to pay the 'success fee' at all.
If you would like to ask any questions about making claims for an injury at Blackpool Pleasure Beach under a No Win No Fee agreement, then why not call us. We'd be happy to explain this in more detail.
How We Could Help You Make A Personal Injury Claim
If you're unsure of anything mentioned in this guide, or you think you may have the basis for a Blackpool Pleasure Beach accident claim, then Accident Claims UK could help you. Not only could we assess your situation and give you guidance tailored to your specific situation, but we could also provide you with a personal injury lawyer who could help you claim compensation for your roller coaster injury, or any other injury that you've suffered in a Blackpool Pleasure Beach accident that someone else could be held liable for.
When you call us, we'll start by taking some details of what has happened to you. We may need to ask you some questions about your accident so that we could tailor the support and advice we give you. Once we've assessed what has happened to you, we could then advise whether an injury lawyer could help you. If we feel that you could be eligible to make a claim, we could then offer to provide you with a lawyer for your Blackpool Pleasure Beach accident claim. If we don't feel that your claim would be successful, we will explain the reasons we feel this is the case. We'll be sure to explain everything clearly as we know some legal terms may be confusing, and we'd like you to be fully informed about all of your options.
Start Your Accident Claim Today
Would you like to begin a claim for an accident at Blackpool Pleasure Beach that caused you injury? Or, do you have further questions about a roller coaster accident or slip and fall accident? Whatever your position, you could call us for free advice on whether you could make a claim with the assistance of a personal injury solicitor for your injuries. You can reach us in any one of the following ways:
By telephone – 0800 073 8801
By Live Chat
By filling out the contact form
By emailing office@accidentclaims.co.uk
However you choose to contact us, you'll find us ready and willing to help in any way that we can.
Essential References
HSE – Fairground Advice – Here you can find information from the HSE on fairground safety.
Ride Controller Information – More information from the HSE, this time on ride controllers' responsibilities.
Study Surrounding Safety/Integrity of Fairground Rides – This study might be of interest to you if you've suffered an injury on a fairground ride.
Fairground Rides – Our general guide on fairground ride accident claims.
Slip and Fall Claims – Did you slip and fall at a fairground? Then this guide may offer some useful information.
Head injuries – Did you suffer head injuries at a fairground? This guide that covers head injuries may offer some useful guidance.
Article by Jo
Editor Honey