By Joanne Jeffries. Last Updated 17th June 2022. Care home negligence is an all too real issue for some. From lack of appropriate health planning, avoidable slips and trips, to bedsores, there are various reasons that could justify care home claims.
In this guide, we'll take a detailed look at the types of neglect that could warrant a care home claim.
Neglect And Negligence In Care Homes
When the time comes that someone you love needs to go into a care home facility, it can be very difficult to come to terms with.
In many cases, this is a challenging conversation that needs to be had between a child and a parent, and it can be heartbreaking, especially if the person does not want to go into a care home.
They can feel like their independence has been taken away from them, which is why incidents of care home negligence are very bitter pills to swallow. While most care homes in the UK have great reputations, there are those that have received negative media attention for neglect and poor standards. Moreover, even in the best care homes, accidents can happen from time to time.
If you or someone you love has been the victim of care home negligence, it is critical that you get the compensation that you deserve. Our guide on care home claims will help you through this process.
For more information about the service we provide, as well as care home negligence cases in general, read on.
You can also:
Contact us on 0800 073 8801
Use the live chat feature to speak to us now
Select A Section
What Is Care Home Negligence?
In the United Kingdom, care homes are split into one of two categories. The first is a residential care home. They vary in terms of size, including those with large-scale facilities, as well as those that are very small and only have a couple of beds. These care homes offer support and care, day and night.
Staff will help residents in terms of using the bathroom, dressing, and washing. The second type of care home is a nursing home, and this offers everything that a residential care home does, yet there is one distinct difference: 24-hour medical care is also available from a qualified nurse.
No matter what type of care home you are thinking about placing a family member or relative in, there is no doubt that the decision can be a difficult one. Therefore, if the decision does not turn out how you intended to and you have put your trust in a care home that has failed your relative, it can be very difficult to take.
How care homes should operate
The UK Government has put together a Health and Safety in Care Homes publication, which provides guidance for those who provide and manage care homes. This is a good resource because you can use it to determine whether the care home in question has been acting in the manner it should be or whether it has been providing a substandard level of care and health and safety.
Our next section will look in greater detail at the statistics related to care home neglect, so if this is something that interests you then you should continue reading. Or if you would like to know more about how to claim care home compensation then don't hesitate to give us a call.
Care Home Negligence Statistics
You may hear about issues in care homes in the news, but it's worth taking the time to actually investigate the facts and figures yourself. To save you that trouble, we've included the latest available negligence statistics below.
The Care Quality Commission (CQC), the body in charge of regulating the provision of care in the country, released their State Of Care report for 2019/20.
The CQC found that the care that people received was mostly of good quality. This was the same as the previous year, with no improvement.
Breaking this down into figures, as of 31st March 2020 it was found that 80% of adult social care services were rated as good, with 5% noted as outstanding, as shown by the graph below.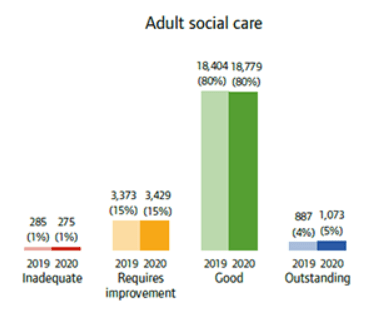 The CQC suggests that adult social care, under which care homes fall, is very much reliant upon public funding. It was found that 75% of residents are funded by the local authority.
If we look at the latest figures from the World Health Organisation (WHO), published in June 2020, we can see that around 1 in 6 people older than 60 experienced abuse in some form in a community setting in the past year.
Sadly, the WHO report found that elder abuse is predicted to increase with rapidly ageing populations.
For more advice on care home compensation claims, why not give our team a call? Friendly and experienced, they can answer any questions you may have about care home clams and if you wanted to pursue a claim, they can connect you with our specialist team of solicitors today.
Common Negligence And Injuries In A Care Facility
Care home compensation claims can be the result of a variety of incidents. In most cases, negligence can fall into one of the following categories:
Personal hygiene neglect
Basic needs neglect
Social or emotional neglect
Within these categories, some of the most common failures are as follows:
Failing to prevent pressure ulcers or pressure sores from developing
Failing to treat bedsores in nursing homes that are already there
Not providing clean clothing and bedding
Providing the wrong medication or medical care
Failing to provide medication or medical care when required
Inadequate lifting aids, which can cause harm and injury
Inadequate water or food provision, which causes malnutrition and dehydration
Lack of or inadequate assistance with regular cleaning, washing and bathing
Failure to prevent falls
If the injury that your loved one has sustained has not been featured in the information above, you are still entitled to make a claim. This list is not exhaustive and merely covers the most common type of failures that may lead to care home claims.
Example Of Care Home Claims
When it comes to care home compensation claims, we can assist with any type of negligence accidents and injuries.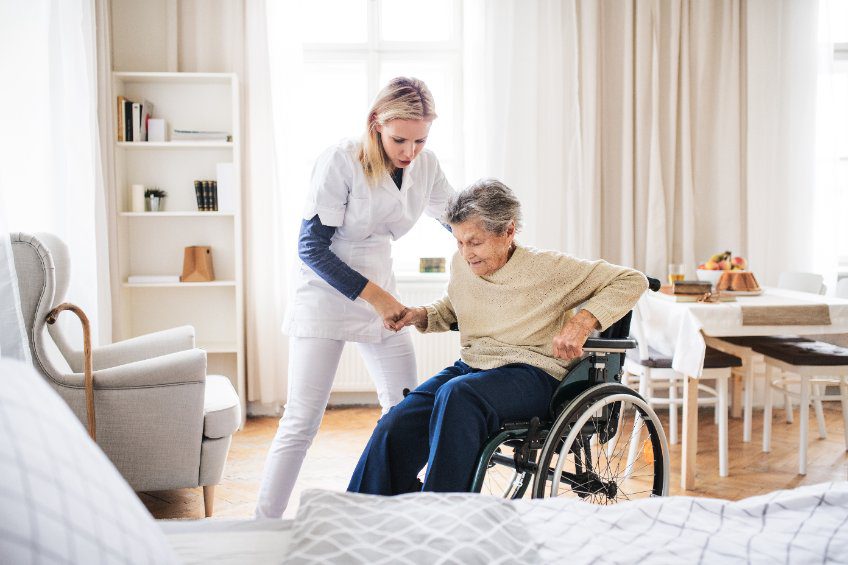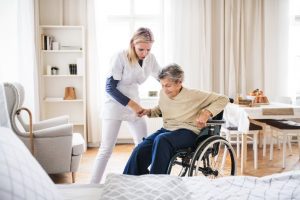 The duty of care negligence definition is when a care worker acts or fails to act in a certain manner and this has resulted in an injury or illness being suffered by a resident. If this has occurred, we can help you get the care home compensation you deserve.
Elder abuse in a care home
When it comes to suing a care home for neglect, one type of neglect you may wish to make a claim for is care home abuse. We have plenty of experience in launching these types of care home compensation claims. Elder abuse is any type of abuse that is directed at an older person. This includes both physical and emotional abuse, for example, verbal threats and insults. Some signs to look out for with regards to nursing home abuse include:
Caregivers not wanting a patient to be left alone with others (in case they say something about the abuse)
A change in mental status
Lack of cleanliness or poor physical appearance
Unexplained weight loss
Refusal to take medication or eat
Refusal to speak or reclusiveness
Emotional outbursts and mood swings
Dehydration
Regular infections
Bedsores/ Pressure sores
Welts, cuts, or bruising
Fractures or broken bones
Medication Errors In Care Homes
Primary care needs include providing food and medication, as well as assistance with bathing, cleaning and getting dressed.
Medication forms a big part of care and it's important that residents:
Receive the correct medication
Get the right dosage
Aren't prescribed anything they're allergic to
There's a lot more to medication error claims which you can read in our guide, linked below.
Click Here To Learn More About Care Home Medication Errors
Fatal Accidents In Care Homes
One of the most tragic and heartbreaking outcomes of care home negligence is death. Some residents have complex medical needs and it's important that those needs are met.
For instance, a failure to provide a resident with medication could see the risk of them suffering a serious medical incident, such as a stroke, could increase.
Such incidents could be avoided if proper care is taken. You can learn much more about care home claims relating to fatalities in our guide, linked below.
Click Here To Learn More About Fatal Accidents In Care Homes
Bedsores In Care Homes
The pressure ulcers in nursing home statistics do not make great reading. A pressure ulcer is described as an underlying tissue over a bony prominence or a localised injury to the skin, which has occurred due to pressure. In terms of pressure sore compensation NHS and expenditure, it costs the UK £2.1 billion per year. You can use the table below to see statistics regarding the number of bedsores in nursing homes.
If you'd like to know more about care home compensation claims
Failure To Control Infections
You can use this publication to find out more about the prevention and control of infection in care homes. If a control infection is not controlled, it can easily be passed onto other patients. This is something that could have been prevented if the care home had taken the correct measures. With that said, you can begin a claim for suing care home centres for such an incident.
For more information on care home compensation claims, please get in touch with our team, or read on to find out more about care home claims please read on.
Slips, Trips And Falls In A Care Home
Slips, trips and falls are some of the most common accidents in care homes. These incidents can easily occur if the facilities and buildings have not been maintained properly. Call us today to start your claim or to discuss care home claims in greater detail.
Reasons you could claim for a fall
It might be fair to say that some elderly people aren't as steady on their feet as they were when they were younger. Therefore, you might think that if they fall over, it's just one of those things. In some cases, that may be true. However, care home compensation could be sought for injuries sustained following a fall that was caused by the care home operator's negligence.
Avoiding falls
As the operator has a duty of care to try and keep residents as safe as possible, they need to conduct regular risk assessments. If a potential problem is identified, it should be removed or improvements should be made to help keep residents safe.  These measures could include:
Ensuring cleaning of floors is completed while residents aren't using the area.
Providing handrails in bathrooms and toilet facilities.
Providing adequate staff training in lifting techniques.
Using harnesses and lifts correctly.
Assessing individual needs and providing adequate mobility aids where required.
Where the correct procedures are not adhered to, you could seek care home compensation on behalf of a loved one if they fall and hurt themselves as a result. It goes without saying that any form of abuse that causes injuries following a fall could also entitle you to claim compensation.
To learn more about how we could help with care home compensation claims, please get in touch today. Our team will assess what's happened and explain your legal options for free.
Can I Sue For An Accident At Work In A Care Home?
We have also launched a number of care home accident claims for individuals that work in this environment. There are many types of accidents that could happen in this workplace. You need to show that your employer is to blame for what has happened to you; for example, he or she may have failed to protect you from violence or slip and trip hazards. They may have not given you the correct training or they may have told you to lift a patient that was too heavy without assistance.
Can I Make A Care Home Claim On Behalf Of A Relative?
The short answer to this question is 'yes' – if someone you love has been the victim of care home accident, you can claim on his or her behalf. There are four distinct legal entities that can launch nursing home negligence cases. These are as follows:
The victim of the injury
The immediate family members of the victim
The estate of the victim
The dependants of the deceased or victim
No matter whether you want to launch a nursing home bed sores lawsuit or you want to make a claim for a lack of primary care, we can assist you in claiming care home compensation. Call us today to find out about making care home compensation claims on behalf of a relative.
Compensation Payouts In Care Home Claims
Compensation payouts in care home claims can vary from case to case. However, it's possible to gain an idea of how much could be awarded before you make a claim.
In the table below, you can see the average payout for common injuries relating to care home negligence.
| Injury | Notes | Amount |
| --- | --- | --- |
| Back | Injuries of this bracket will include things like disturbance of ligaments and muscles giving rise to backache, soft tissue injuries resulting in a prolonged acceleration and/or exacerbation of a pre-existing back condition, usually by five years or more. | £12,510 to £27,760 |
| Neck | This bracket will include injuries causing fractures or dislocations or severe damage to soft tissues and/or ruptured tendons that lead to chronic conditions and significant disability of a permanent nature. | £45,470 to £55,990 |
| Shoulder | Injuries in this bracket will include dislocation of the shoulder and damage to the lower part of the brachial plexus causing pain in shoulder and neck, aching in elbow, sensory symptoms in the forearm and hand, and weakness of grip or a fractured humerus leading to restricted shoulder movement. | £12,770 to £19,200 |
| Elbow | Injuries causing impairment of function but not involving major surgery or significant disability will be included in this bracket. | £15,650 to £32,010 |
| Hand | Injuries in this bracket will include ones which have reduced the hand to about 50 per cent capacity. | £29,000 to £61,910 |
| Wrist | Will include injuries resulting in significant permanent disability, but where some useful movement remains. | £24,500 to £39,170 |
| Thumb | These are injuries such as those necessitating arthrodesis of the interphalangeal joint or causing damage to tendons or nerves. Such injuries result in impairment of sensation and function and cosmetic deformity. | £9,670 to £12,590 |
| Leg | This bracket will include cases of fractures where a recovery, although incomplete, is made, and in cases of serious soft tissue injuries which cause a significant cosmetic deficit and restrictions in function. | £17,960 to £27,760 |
| Arm | Injuries within this bracket will include serious fractures to the forearm where there is significant cosmetic or functional disability | £39,170 to £59,860 |
| Ankle | This bracket will include injuries which require extensive treatment and/or a long period of time in plaster, or where there have been pins inserted resulting in ankle instability and a limited ability to walk. | £31,310 to £50,060 |
| Foot | Injuries which lead to continuing pain from traumatic arthritis or carry the risk of future arthritis. | £24,990 to £39,200 |
| Chest | Fractures of ribs or soft tissue injuries causing serious pain and disability over a period of weeks. | Up to £3,950 |
These figures come from the guidelines of the Judicial College, published in April 2022. Please remember, they're included for guidance purposes only and may or may not reflect your final award.
Don't panic if you cannot see the injury you or your loved one has suffered from in the table above. You will still be able to make a claim. You can call us at our registered office to find out an estimate if you would like.
What Else Can You Include In Care Home Claims?
When suing a care home for neglect in the UK, you can claim for general damages, i.e. the pain and suffering as a result of negligence the victim experienced.
You can also claim for any special damages, which are out-of-pocket expenses. This could be a loss of earnings because you have had to take time off work to care for your loved one. It could also be counselling costs, as well as medical expenses and travel fees.
If your loved one has passed away due to the negligence they have been a victim of, you can also claim funeral expenses.
Click Here To Learn More About Special Damages
No Win No Fee Care Home Negligence Claims
All of our care home compensation cases are 100 per cent No Win No Fee. What does this mean? If care home compensation is not secured for your claim, you do not have to pay anything. If compensation is secured, the legal fees come directly from your payout.
This is a percentage amount that would have been agreed on between you and your solicitor prior to the service taking place.
This makes certain that you will have money to cover the cost of hiring a lawyer and you are never going to be left off in a worse financial situation than when you started the claim process. This could easily happen if you went for a traditional lawyer that charges per hour, though.
Get More Help With A Care Home Claim
Don't delay another minute. Start your claim today and get the care home compensation you deserve. You will be paired with a medical negligence solicitor with over 30 years of experience. Call us on 0800 073 8801.
Our lines are open 7 days per week, 24 hours per day, so you can call at a time that is convenient for you. If you would prefer, you can also use the live chat feature on our website or send an email to office@accidentclaims.co.uk.
Learn More About Care Home Negligence Claims 
We hope you have found this guide helpful. If you need further information, please use the links below.
This is the NHS guide to care homes, including how to choose a care home, payments involved, and much more.
You can use the link above to report the abuse of an older person to the UK government.
You should head to this link if you would like more information on prosecuting crimes for older people.
This link takes you to the government website for Northern Ireland. You will find advice on how to recognise and report elder abuse.
Our guide on accident at work compensation claims may help you get the compensation you deserve after a work injury.
Read our guide to GP negligence claims for more information on claiming for medical negligence caused by a GP.
And we also have a guide on head injury claims, which may shed some light on making a claim following a head injury, whether sustained in a care home or elsewhere.
If you have any questions about care home negligence claims, please don't hesitate to get in touch.