By Joanne Jeffries. Last Updated 20th September 2021. Welcome to this guide on Exeter airport accident claims.
Within this free online guide to pursuing a compensation claim for an injury caused by an accident at Exeter Airport, we try and show why you may be eligible to claim, and how to proceed with a no win no fee claim. We have created this guide as a primer to the legal process of making a personal injury claim.
After reading this guide you may be left with unanswered questions. Every claim is somewhat unique, and we cannot cover every possible eventuality in a single guide. If you do have questions, our team will gladly answer them for you if you contact them on 0800 073 8801. They will also explain how a personal injury lawyer can process a claim on your behalf.
Select A Section:
A Guide To Claims For Accidents At Exeter Airport
This guide takes a look at many of the legal and financial aspects of making a compensation claim for an injury caused by an accident in Exeter Airport. If you have been injured in an Exeter airport accident, then this Exeter airport accident claims guide is for you. You will learn why you could be eligible to make a claim, and who could be liable to pay you compensation, and other key information. This guide begins with a basic definition of what an airport accident is, and why you could be eligible to make a claim if you are injured in one.
The guide then moves on to look at some of the key statistics related to Exeter Airport safety. We then take a look at some of the most common kinds of airport accidents that could result in a claim. We go over slips, trips and falls, a very common kind of accident. We also cover accidents that are caused by luggage or baggage handling infrastructure. Accidents caused by equipment within the airport are also included, as well as accidents that take place within third party business premises inside the airport. We have also included some information about work-related accidents that could harm airport employees, such as baggage handling accidents.
The last part of this guide is given over to the financial aspects related to making a compensation claim. You will find a sample table, that gives compensation ranges for some common kinds of injuries. You will also find a section that gives a list of some of the more common kinds of damages you could receive as part of your compensation settlement. Lastly, we explain how using the services of a solicitor willing to work under a No Win No Fee agreement, could be the perfect way to have your claim processed.
If you have any questions about this guide, or the claims process in general, then our team can answer them for you if you call them on the number down at the end of this page. They can also provide you with key information, such as the personal injury claims time limit that will apply in your case.

What Is An Accident In Exeter Airport Or Airport Grounds?
Not every person who is injured in Exeter airport is harmed in an Exeter Airport plane crash. Accidents involving passenger planes are thankfully quite rare (more on this in the section below). However, there are many more hazards that can come to light at an airport, and result in less serious accidents than a plane crash.
Whenever you are injured in an accident, from minor to fatal at an airport, there is a very simple acid test to discern whether you may be eligible to make Exeter airport accident claims for the harm you suffered. In order for a claim to be potentially valid, these follow two statements must be true:
The accident was either directly or indirectly caused by a third party, or the representative of a third party, at least partially.
You suffered physical harm at the time of the accident, or developed a health issue at a later time (such as post-traumatic stress disorder), as a direct result of the accident.
If these two statements are true, you could potentially be eligible to make a claim for the harm you have suffered. We mentioned that the third party must be at least partially to blame. In some situations, the injured party may have contributed to their own accident, but a third party will still care the major portion of the blame. In this case, the defendant will agree to a lowered percentage of liability. This lowered level of liability will drive the amount of compensation the claimant is awarded. If you need more information about the concept of eligibility to claim, please speak to one of our advisors, who will help you further.

Exeter Airport Safety Statistics And Information
In this section, we cover related to Exeter Airport information safety. Since 2003, there have been a number of incidents involving aircraft that took off from or landed at Exeter Airport.
There have been two accidents involving aircraft that were close to Exeter Airport.
There have been four accidents involving aircraft that took off from Exeter Airport.
There have been 7 accidents involving aircraft that landed at Exeter Airport.
These statistics may seem on the high side. However, you need to understand that Exeter Airport doesn't only service large passenger jets.  It also services light private aircraft, freight aircraft and also some military aircraft (as can be seen in the link in the first paragraph).

Common Accidents Affecting People In A UK Airport
There are many ways that an accident at Exeter International Airport can harm an airport visitor. However, some are more common than others, for example:
Slips, trips and falls inside the airport, or outside in the parking area or access roads.
Accidents that are caused by passenger luggage or baggage handling facilities.
Accidents involving the airport infrastructure such as travellators, list and escalators.
Road traffic accidents and also accidents involving electric vehicles used by the airport operator inside the airport.
Accidents that take place within business premises inside the airport that is leased from the airport operator.
Work-related accidents, such as baggage handler accidents.
Each of these common types of accidents is covered in its own section below. However, you could be able to claim for any accident, as long as you have been harmed by the actions of the third party.

Airport Trip / Fall Accidents
A slip, trip or fall is a very common kind of accident in the UK each year. An airport presents some fairly unique hazards that could cause this kind of accident, such as:
Luggage that has been left in an inappropriate place could cause an airport visitor to trip.
Faulty equipment, such as the mobile aircraft steps could be faulty, causing a passenger to fall.
A trailing electrical lead, powering a floor cleaner, for example, could cause an airport passenger to trip.
If you have suffered an injury in a slip, trip or fall kind of accident, then if you can prove a third party was directly or indirectly to blame, you may have a valid reason to make a claim.

Baggage And Suitcase Accidents In An Airport
Luggage is one of the inherent hazards of am airport. Baggage can cause accident hazards in many ways. for example, a personal injury solicitor may be able to process a claim for you if you are injured in accidents such as:
A faulty baggage reclaim carousel snags the clothing of a passenger and drags them along.
A small item of luggage that has fallen from a baggage trolley, causes a person following the trolley to trip over.
A piece of baggage falls off of a baggage train that is being moved through the airport and injures a passenger.
These are just some of the ways that passenger luggage or baggage handling facilities can result in harm to a passenger. If you have been harmed by luggage, then as long as you can prove it was the fault of a third party, you may have a valid basis for making a claim.

Airport Lift, Stair Or Escalator Accidents
Airport infrastructure such as stairways, lifts, elevators and escalators, can put airport visitors at risk if they are poorly maintained or become faulty. For example:
In an escalator accident a passenger gets their hand stuck under a broken handrail, causing lacerations.
A travellator stops abruptly, and a passenger falls forward because of this, spraining their wrist trying to break their fall.
A faulty safety rail in a stairwell comes away from the wall, causing an airport visitor to fall down the stairs, fracturing several bones.
These are just a handful of the ways that airport infrastructure could have a visitor. If you are injured by a lift, travellator, escalator, etc. then as long as you can prove that a third party was responsible for causing the hazard, you may be able to make a compensation claim.

Airport Shuttle Bus And Transport Related Accidents
There are two separate kinds of vehicular accidents that could result in harm to an airport visitor. Firstly, there are accidents that involve the electric vehicles that are used by airport staff to move baggage and passengers around inside the airport. These can cause harm to a passenger if a collision occurs, even though the airport staff should have received proper training in driving them.
The second kind is a road traffic accident that can occur within the grounds of the airport on the access roads. And also, road traffic accidents that happen in the Exeter Airport car parking area.
Whichever of these two types of vehicular accidents you are injured in, as long as you can prove that a third party was to blame for the harm you suffered, you may be able to make a claim.

Accidents In Shops Or Cafes At Exeter Airport
Not every injury caused by an Exeter Airport incident is going to automatically be the fault of the airport operator. Most airports lease space inside the airport terminals to businesses, often large franchise operations such as coffee shops, fast food outlets, and retails brands.
If you are injured in an accident inside one of these business premises, it will be the operator of the premises that could be responsible for paying you damages. Once you step across the entrance, the jurisdiction changes from the airport itself, to the business that operates the premises. Once again, if you can prove a third party caused your injuries, then you may have a valid reason to make a compensation claim.

Employee Accidents Working At An Airport
It is possible for airport employees to make personal injury claims if they are injured in a work-related accident. Every employer in the UK is legally obligated to provide its workforce with a healthy, safer working environment.
However, accidents at work do happen, as we illustrate by featuring some key facts from the HSE's 2019/20– report below.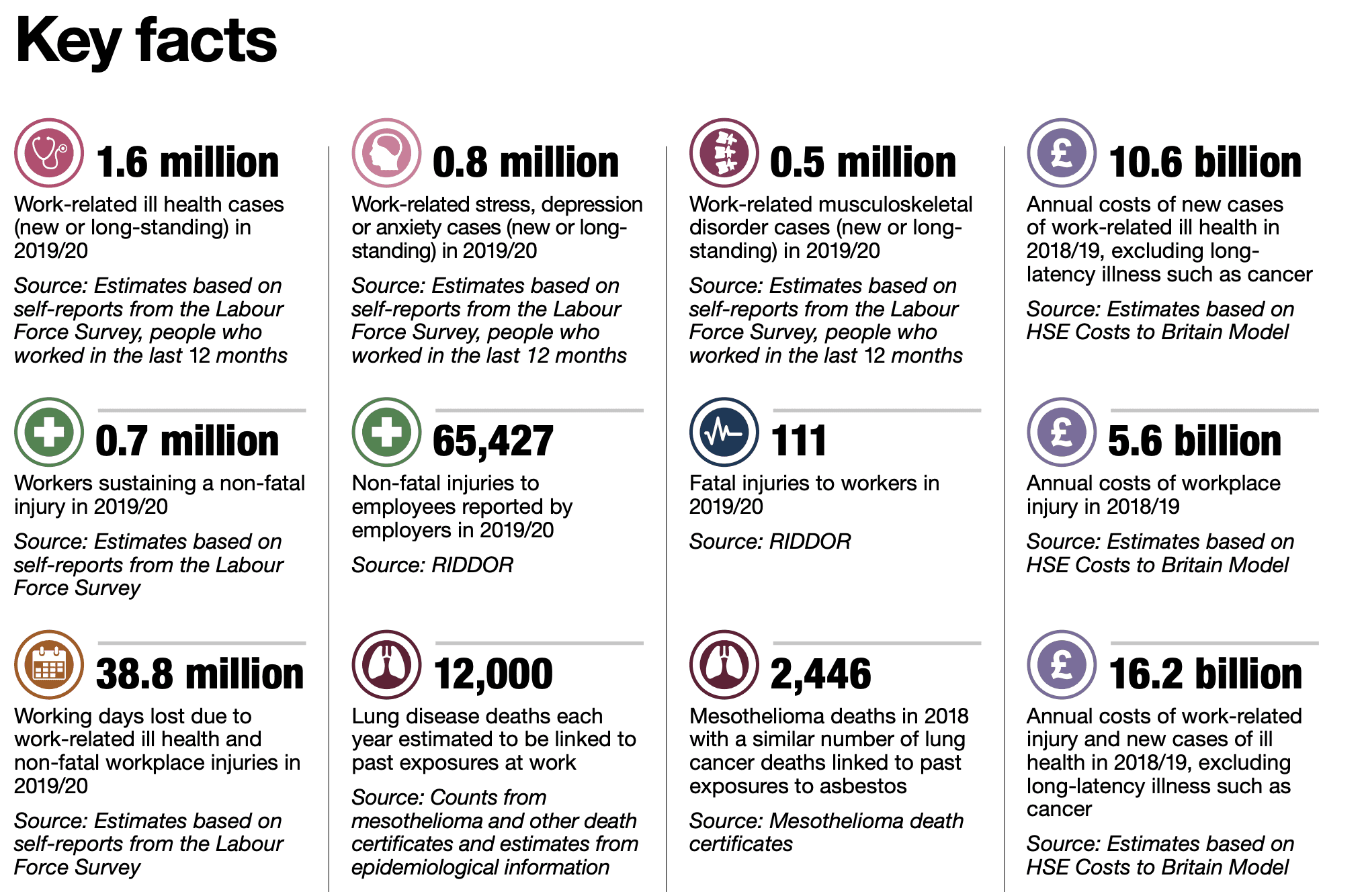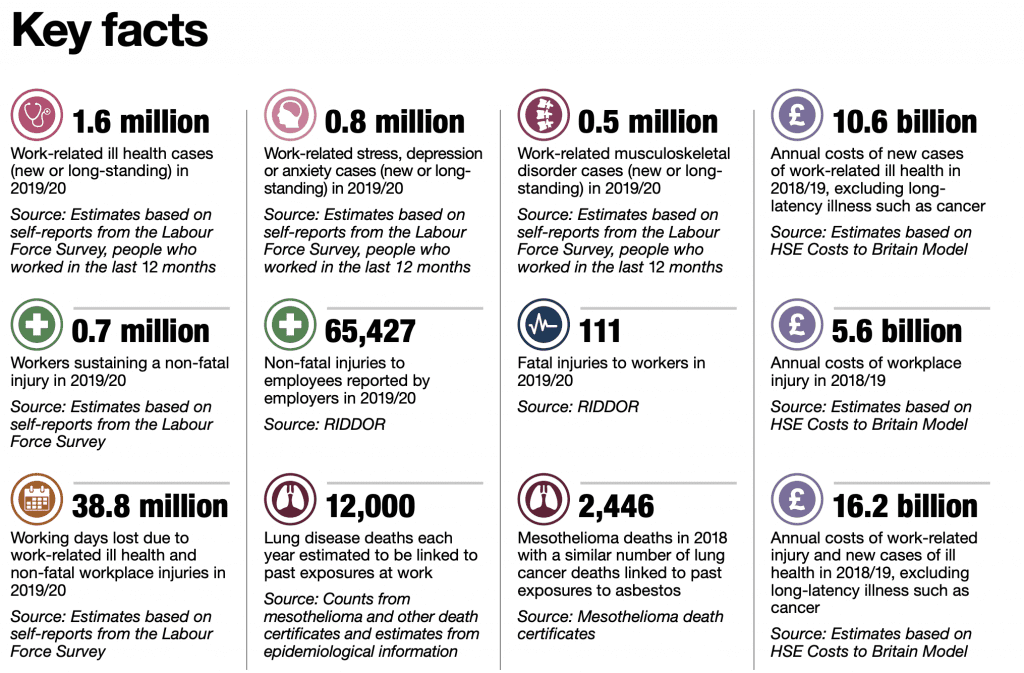 When the employer fails in its duty to keep employees safe in some way, and this results in a member of the workforce coming to harm in an accident at work, then it could be possible for the injured party to claim against their employer, as long as liability can be proven. If you have questions about making a workplace injury claim, please speak to one of our advisors.

Injuries When Working As A Baggage Handler
One of the ways that an airport employee can be injured in an Exeter International Airport accident is when working in the baggage handling area, or whilst loading or unloading planes.
A baggage handler should be trained in lifting heavy loads safely before they are allowed to carry out their duties. A failure to provide sufficient safety training that results in harm to a baggage handler could see the airport liable to pay compensation.
The same holds true for injuries caused by baggage handling infrastructures such as forklift trucks, electric baggage trains, and the baggage trucks that take the luggage out to be loaded into a plane. If an accident is the result of negligence on the part of the airport, a valid reason to make a work-related accident claim could exist.  If you need to find out if you are eligible to claim for your own workplace accident, please speak to our team to have your claim evaluated.

Compensation Calculator For Accidents At Exeter Airport – Updated September 2021
You might be able to find an online personal injury claims calculator that can estimate the amount of compensation you might receive. You could also use this table below, which is based on the actual UK judicial guidelines.
| Injury | Severity | Compensation | Notes |
| --- | --- | --- | --- |
| Injured foot | Moderate | £12,900 to £23,460 | This would include both complex and compound fractures, as well as damage to the muscles, ligaments or tendons and other soft tissue injuries. More serious lacerations, puncture wounds and crush injuries. |
| Injured leg | Less serious | Up to £26,050 | Minor or trivial injuries including shallow lacerations and cuts as well as simple or hairline fractures, and soft tissue injuries that will heal entirely within a period of 6 months. |
| Injured hand | Moderate | £5,260 to £12,460 | All kinds of flesh would such as crush injuries, penetrating wounds, cuts and lacerations. Also, any injury that was originally more serious, but has been partially treated using surgery. |
| Injured arm | Moderate | Up to £11,820 | Conditions such as tennis elbow and others, as well as deep lacerations or cuts as well as puncture wounds, minor fractures and more serious soft tissue damage that will heal completely in time. |
| Clavicle fractures | Various | £4,830 to £11,490 | Dependent on disability level and extent of fracture |
| Forearm fracture | Simple | £6,190 to £18,020 | Simple |
| Arm amputation | At the shoulder | Not less than £128,710 | At the shoulder |
| Mental trauma | Fear of loss of life | £4,380 | Fear of loss of life |
| Loss of thumb | - | £33,330 to £51,460 | - |
For a more accurate estimate of the amount of compensation you could be able to claim, you will need a solicitor to value it for you. Please speak to our team to find out how to proceed with this.

Special Damages In Airport Accident Personal Injury Claims
If your airport accident claim is a success, then your overall compensation settlement could consist of a number of different kinds of damages. For example:
Special damages – for non-physical, financial and other losses:

Lowered earning potential – for a disability that will negatively impact your future work potential, or even stop you working completely.
Care costs for nursing – if you need to hire a nurse at home to care for you and you had to hire one privately.
Private medical costs – if you needed treatment that wasn't available for free on the NHS, and you paid the cost of treatment yourself.
Loss of earnings – if you took time out from work for your injuries to
Travel fees – to cover for out of pocket expenses related to travel for treatment, or for legal reasons related to the claim itself.

General damages – for pain and suffering, both physical and psychological:

Painful recuperation – if you will need traumatic medical treatment in the long-term before you recover.
Permanent disability – if you will not recover from your injuries fully and will be left with an affliction.
Shock and trauma – caused by being involved in the accident.
Pain and suffering – at the point of the accident, and also painful emergency medical treatment.
Loss of life quality – if your lifestyle will be negatively impacted.
If you would like to get some more information on the kinds of damages you could be able to claim for in your own case, then please speak to our claims team today. They will be able to help you further.

No Win No Fee Claims For Accidents At Exeter International Airport
If you decide to use a No Win No Fee lawyer to process your claim for you, then you will not be expected to pay any legal fees unless your claim has been a success. At this stage, the lawyer will take their pre-agreed percentage form the compensation payment they received for you. So, no fee to start a claim, no fee to process the claim, and no fee if the claim is not a success.

Why Make Your Claim With Our Accident Claims Team?
We offer a very simple three-step new claims process, that can get your claim underway right away:
Call our claims team on the number below and explain your circumstances and get your questions answered.
A claim advisor will evaluate your claim and let you know whether it is valid or not.
If it is valid, we can organise an accident and injury lawyer to begin processing your claim for you.
This is all that you need to do to get your claim underway as soon as possible.

Start Your Claim Against Exeter Airport
Have you been injured in an accident at Exeter Airport, as a passenger, visitor to the airport, or airport employee? If you have, then contact our claims team on 0800 073 8801 today. One of our claim advisors will go over your claim with you, and offer you some free legal advice on how to proceed with your claim.

Could I make Exeter airport accident claims if I no longer work at the airport?
No matter whether you are still under the employ of Exeter airport, or you left to find another job, or were fired, you could still make a claim for compensation. If you could prove that your employer had not taken care of your health and safety while you were at work and this led to an accident or illness, you could be eligible for compensation. However, you would need to claim within the relevant time limit. This is usually three years from either the date you became aware that your injury was caused by work, or the date on which an accident happened. Many ex-employees who have been injured due to their employer's negligence, could be eligible for compensation no matter whether they were an employee, an agency or contract worker, for example.
Would I be able to make Exeter airport accident claims for one of my children?
Our specialist solicitors, who are all authorised and regulated by the Solicitors Regulation Authority, could assist you in helping to claim for a child. During such a claim, you would have to apply to be your Child's litigation friend. This would give you the power to make decisions on their claim with their best interests at heart. Of course, you could leave it, and await your child coming of age so that they could make a claim on their own. There could be some complexities involved in gathering evidence after some time has passed however so you may prefer to make a claim right away. Whatever you decide, we are here to help you and we could provide you with legal services and free legal advice on making such a claim. Why not call today to find out more.
Essential References
You may find these external links to be useful:
Are You Entitled To Claim For Delayed Or Cancelled Flights?
Information About Airport Safety
UK Government Info About Air Travel
You might also like to read these other guides:
Claiming For A Workplace Accident
How To Claim For An Airport Accident
Thank you for reading this Exeter airport accident claims guide.