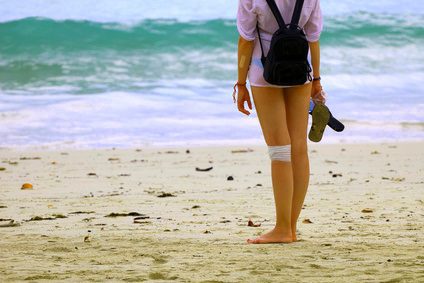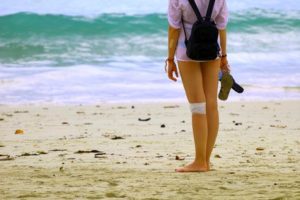 Becoming ill or suffering an injury following an accident on holiday can be very distressing. We expect holidays to be enjoyable and relaxing so when something goes wrong it is a huge disappointment. If you have been a victim of injury or illness whilst on a package holiday booked through Virgin or operated by Virgin Holidays, then you may be able to make a claim against them. As your tour operator, Virgin have a responsibility to keep you safe. If you would like to find out more about making a claim for a personal injury in a Virgin holidays hotel, whilst en route to or from your holiday or during an excursion then speak to Accident Claims. We have legal experts who can help with your case. Call us today on 0800 073 8801.
Read on to find out more about your entitlement after an accident on a package holiday with Virgin.
Select A Section
A Guide to Claiming Compensation for An Accident on A Package Holiday with Virgin
If you have had an accident on a package holiday with Virgin, then you may be eligible to claim compensation. However, before you make your personal injury claim you will want to know that your holiday is by definition a package holiday. In order for a holiday to meet the requirements of a package holiday claim, two of the following parts of your trip must have been prearranged and purchased together. The holiday must last for longer than 24 hours or includes a hotel stay overnight.
Travel to get to your holiday destination.
Hotel or other holiday accommodation.
Another service provided by your tour operator that makes up a large portion of your package.
The definition of a package holiday is reasonably flexible and even if you have chosen your accommodation, travel plans and excursions independently then as long as everything was paid for at once it can still also be classified as a package holiday. If you are still unsure whether your holiday is classed as a package holiday, then speak to Accident Claims who will be able to talk you through the definition and help you understand whether your trip falls within it.
Common Types of Package Holiday Accidents
Some of the most common accidents that may happen whilst on a package holiday include:
Poor hygiene in the hotel. Low hygiene standards can cause gastrointestinal illness if bacteria are allowed to multiply.
Sports injuries. Whilst on a package holiday, holiday makers may enjoy trying out different types of sport. Most commonly these will include water sports such as jet ski and sailing. Water sports accidents can lead to serious injury if anything goes wrong. Other high-risk activities include skiing and snowboarding which holiday makers may participate in if they have taken a winter package holiday.
Accidents on boats. Whether taking a boat trip for fun, as part of a sport or whilst on an excursion, accidents can happen and if you are injured whilst taking part in an activity that was organised by the tour operator, you may have a claim.
Road traffic accidents. Some countries have a higher risk of road traffic accidents than others. If your injury was caused by a defective rental car or you were injured whilst travelling in another vehicle on a journey that was arranged as part of your package holiday, then you may be eligible to claim compensation.
Food poisoning. Hotel restaurants and in particular buffets may on occasion fall below the acceptable standard of food hygiene. Food poisoning can be caused by food which has been improperly cooked or stored and food that has passed its use-by date. Food poisoning is unpleasant and can spoil a holiday but can also lead to other more serious long-term conditions.
Swimming pool injuries. Injuries caused by a swimming pool can include sprains and fractures if you have slipped around the pool, lacerations from sharp objects within the pool, accidents that have occurred due to poor supervision or stomach upsets that have been caused by poor quality swimming pool water.
Slips, trips and Falls. Slips trips and falls can lead to nasty injuries and are most commonly caused by slippery surfaces, spillages which have not been cleaned up properly and poorly maintained floor coverings.
Transport accidents. If you are involved in an accident whilst travelling on a coach or other mode of transport organised by the package holiday company then you may be able to make a claim against the tour operator.
Common Types of Injury Which Happen to Holidaymakers
If you are unlucky enough to have an accident whilst on a package holiday, here are some of the common types of injury that you may experience:
Being harmed by something sharp such as tiles, drains or objects in a swimming pool can lead to serious cuts. These cuts need to be treated properly to avoid further infection.
Food poisoning. Bacteria such as salmonella, e-coli, shigella and Campylobacter can lead to nasty illnesses causing severe stomach problems.
Fractures and sprains. Limbs may become fractured or sprained as a result of a slip or fall, a road traffic accident or taking part in a sporting activity.
You may be unlucky enough to be burned or scalded whilst on holiday due to hot liquids being spilt or overheated food or drink.
Other illnesses including norovirus and Legionnaires disease have been reported from holidaymakers on package holidays.
What Obligation Does Virgin Have to Keep Holidaymakers Safe from Harm?
The contract that you have entered into with Virgin when buying your package holiday means that Virgin are under certain obligations and duties as a tour operator under the Package travel, Package holidays and Package tours Regulations 1992. Virgin must fulfil its contractual obligations to you as a holiday maker and if it fails to do so then the contract is considered broken and Virgin become liable to pay compensation to you. The case of Hone vs Going Places sets out certain conditions that must be fulfilled before a tour operator is considered liable.
In the case of Hone vs Going Places a claimant had been on holiday with his wife to be. They had enjoyed a lovely time on holiday but on the flight back, there was a problem with the aircraft and an emergency evacuation was required. Before setting off down the evacuation chute, the claimant spotted a large lady at the bottom. After he had begun his descent down the chute, the claimant realised that the large lady was unable to move out of the way because she was stuck. He opened his legs out wide in an attempt to stop himself from crashing into her but was unable to miss her completely and a collision occurred. Mr Hone's fiancée was behind him on the chute and following the collision with the large lady, the claimant's fiancée crashed into him with her shoes colliding into his back. This resulted in severe spinal pain. Despite the agony he was feeling, the claimant managed to climb down from the chute and help the larger lady. In assisting the larger lady to move, the claimant made his back injury even worse. Mr Hone sought medical advice following the incident and decided to make a package holiday compensation claim. It was decided in the Court of Appeal that although the tour operator was not considered to be liable automatically, following assessment of the situation it was decided that the tour operator had not acted with reasonable care and skill. This conferred fault on to the tour operator. The message from Hone vs Going Places is that strict liability does not exist for package holiday claims and in order for personal injury claims to win, the claimant must be able to prove that their injury was caused by the tour operator's failure to fulfil the requirements of the contract.
What Are The Time Limits I Need to Make My Holiday Accident Claim In?
In most cases, a personal injury claims time limit of 3 years will be imposed. There are some exceptions to this. For example, if an event occurred a number of years ago but the symptoms of the condition did not surface until much later, then the time limit begins from the date of diagnosis. Another exception to the rule is if a child has been involved in an accident. The 3-year time limit then begins when they reach the age of 18.
Claiming Compensation for An Accident in A Virgin Package Holiday Hotel
There are a number of accidents on a package holiday with Virgin which could occur that may lead to a compensation claim. These could include injuries that occur within the hotel either in common areas or in your bedroom or bathroom such as slips, trips and falls. You may be harmed by broken furniture that collapses when you sit or lay on it as furniture in hotels has often been well used and can become worn out. Swimming pools are particularly hazardous areas as they can present a slipping hazard, a drowning hazard or a gastrointestinal illness if the quality of the water is poor. You may also become ill from food poisoning if the food in the hotel restaurants is not stored or prepared correctly. It is also reasonably common to experience burns and scalds from spilled food and drink, or food and drink that has been overheated. If you have experienced this type of accident on a package holiday with Virgin, then please contact Accident Claims today to find out if you may be eligible to receive compensation.
Car Accidents and Road Traffic Crashes on Package Holidays
If you have been unlucky enough to be involved in a road traffic accident whilst on holiday, then as long as this was not your fault you may be able to put forth a claim for compensation. You have this entitlement whether you were travelling in a car, on public transport or were injured as a pedestrian or cyclist.
Food Poisoning and Illness Claims Against Virgin Holidays
Food poisoning is one of the most commonly reported ailments that is experienced whilst on holiday. Food poisoning may be caused by badly prepared food in a hotel restaurant or on a buffet, food which has been stored incorrectly or food that is past its best. In some countries it can be a drink that gives you food poisoning, particularly if local water is used to make the drink or to make ice cubes, as local water isn't always fit for drinking. Another common culprit for food poisoning is a badly maintained swimming pool. If swimming pools are not treated with the correct chemicals then levels of pathogenic bacteria can multiply leading to illness.
What Should I Do After Being Hurt in An Accident on a Virgin Holiday?
There are certain steps you should take if you have been injured on holiday. The more evidence that you can compile, the better the chance you have of making a successful claim as a later date. First of all, you should seek medical attention. This enables you to get the treatment that you need and also provides a record of your injuries for your personal injury lawyer to use at a later date. You should then contact your travel insurance company and let them know what has happened. Try to write down what has happened whilst it is fresh in your mind and take photographs wherever possible. If anybody witnessed the incident, it can be helpful to your case to gather their contact details.
What Can My Package Holiday Accident Claim Include?
If you have experienced illness on holiday and wish to make a package holiday sickness claim, then there are a few things that you need to think about. It is not only frustrating to experience illness whilst on holiday but can be infuriating if you believe that the illness has been caused by the negligence of somebody else and could have been avoided. To prove that your illness was caused by the hotel you will need to consider whether or not you were experiencing illness before you arrived at your holiday destination. If not, had you been mostly eating food on the hotel premises and swimming in their pool? You should also consider when you began to feel ill. Did the sickness start on holiday or soon after you had arrived home? If you were not ill before you went on holiday and believe the second two statements to be true, then you have a good chance of claiming compensation.
Sickness on holiday can include stomach pain, nausea, vomiting and diarrhoea. These are common side effects of a gastrointestinal illness. They are most unpleasant while they last but can also lead to long-term conditions such as irritable bowel syndrome and reactive arthritis. Bacteria which can cause these symptoms include e-coli, campylobacter, salmonella, cryptosporidium and shigella. If your personal injury solicitor can prove that the tour operator was responsible for your sickness due to their responsibilities under package holiday legislation, then you may be eligible for a compensation payout.
Example Calculator for Virgin Package Holiday Compensation Claims
A personal injury claims calculator can be a handy tool in an attempt to estimate how much compensation you may be entitled to. This table will give you a rough idea of the payout you may be able to expect. However, this is no real substitute for advice from an experienced holiday injury solicitor. Accident Claims can put you in touch with a personal injury specialist who has expertise in this area of the law.

| Injury | Information | Expected compensation |
| --- | --- | --- |
| Severe neck injury | Severe injuries that could cause paraplegia and spastic quadriparesis causing limitations in movement and chronic pain. | Up to £130, 060 |
| Serious neck injury | Injuries including dislocations, fractures and damage to soft tissue which then leads to further more serious conditions and permanent disability. | £39,870 to £49,090 |
| Moderate injuries of the neck | Dislocations and fractures which can lead to the permanent impairment of certain bodily functions. | £21,910 to £33,750 |
| Moderate neck injury | Mobility problems and chronic pain caused by soft tissue damage. | £12,050 to £21,910 |
| Moderate neck injury | The victim suffers exacerbation of an existing condition caused by moderate to severe soft tissue injury | £6,920 to £12,050 |
| Minor neck injury | Soft tissue damage has occurred, but a full recovery is expected within 2 years. | £3,810 to £6,920 |
| Severe back injury | Spinal cord and nerve damage leading to the possibility of permanent paralysis. | £79,890 to £141,150 |
| Severe arm injuries | The victim loses the use of their arm. | £84,310 to £114,810 |
| Severe arm injury | Fracture of a forearm leading to a permanent disability and loss of movement. | £34,340 to £52,490 |
| Moderate arm injury | The victim may lose a degree of movement in their arm, but disability is not expected to be permanent. | £16,830 to £34,340 |
| Moderate or minor elbow injury | Lacerations or minor fractures that should not cause any long-term problems. | Up to £11,040 |
| Serious leg injury | A serious leg injury resulting in long term disability. | £34,370 to £48,080 |
| Less severe leg injury | Chronic pain following a leg injury. | £15,750 to £24,340 |
| Severe illness from a non-traumatic injury | Severe gastrointestinal illness which may require hospital admission, including severe toxicosis. | £33,700 to £46,040 |
| Moderate non-traumatic illness | Gastrointestinal illness which resolves quickly despite being severe. | £3,460 to £8,360 |
No Win No Fee Claims for An Accident on A Package Holiday with Virgin
When you enter a no win no fee agreement you should not be charged any upfront fees or insurance premiums. No win no fee means just that, if you do not win your case then you are not required to pay any fee. If, however you are successful, and you are awarded damages then your solicitors fee will be taken from your final payout. This means that you will never be left out of pocket and will not face the kind of financial burden which may deter you from making a personal injury claim. As your solicitor will only be paid if your case is successful, you can feel confident that they will only agree to represent you if they feel you have an excellent chance of winning.
Why Make Your Package Holiday Accident or Injury Claim with Us?
Accident Claims UK have many years' experience in dealing with personal injury claims. Over the years we have come to understand the needs of our clients and are able to go above and beyond to respond to those needs. We know that our clients are often experiencing a difficult time in their lives when they are trying to recover from an illness or injury that has been caused through no fault of their own. We seek to shoulder the burden of the personal injury case to reduce the stress on our clients as much as possible. We are always here to answer queries and our team is friendly and approachable. We do our utmost to achieve the best possible compensation payout that our clients deserve.
How to Call Our Team?
Whether you are ready to make your claim or still have some outstanding queries, please contact us at Accident Claims UK. We are available 24/7 on 0800 073 8801 or you are welcome to contact us via our web page and we will get back to you whenever it is convenient for you to speak.
Further Helpful Resources
Fracture Claims – Our guide pertaining to fractures should give you some guidance if this is the injury you've received.
Accidents and Restaurant Claims – If you have had an accident within a restaurant, then this may help.
NHS Poisoning Information – Poisoning symptoms and treatment.