By Jo Jeffries. Last Updated 12th April 2022.Welcome to our child whiplash claims guide. In it, we explain how to make a child whiplash claim, and answer questions about how to claim whiplash for a child. We explain how child whiplash compensation could be calculated, and answer FAQ such as 'What happens to children's compensation?'
Can you claim for a child in a car accident?
Were you injured in a car accident and suffered whiplash as a child? Alternatively, has a child you are responsible for suffered child whiplash symptoms because of a car crash? Was the road traffic accident that caused whiplash someone else's fault? These are all reasons that might lead victims to look into making child whiplash claims. Within this guide is information that could help you.
Making a child whiplash claim – your questions answered
Here, we'll take a look at how you could act on someone else's behalf when making a claim – in this case, a child. We also look at answering questions such as;
Can children suffer from whiplash injuries the same as adults can?
What happens to children's compensation?
How much could child whiplash claims be valued at?
We'll also explain the personal injury claims time limit. As well as all this, we'll explain how we at Accident Claims UK could help you claim whiplash compensation for a child, or for yourself if no one claimed for you when you were a child.
If anything in this guide is unclear, and you're still not sure after reading whether you could make a car accident claim for a child, please do not hesitate to speak to an Accident Claims UK advisor on 0800 073 8801. However, we believe we have covered a wealth of information on making a claim below, so your question may already have been answered.
Select A Section
A Guide To Making A Child Whiplash Claim
Has your child experienced whiplash in a car accident that was someone else's fault, or did you experience whiplash as a baby in a car accident and no one claimed for your injuries on your behalf? Either way, you may be able to make a child whiplash claim, and we at Accident Claims could help you with this.
How to claim whiplash for a child?
Whiplash could be considered a fairly common injury relating to a car accident, but it could also be prudent to mention that it could be caused by other accidents too, which we'll explain in more detail further in to this guide. Within the sections below, we'll also explain all about child whiplash symptoms, as well as going through important information about claiming compensation for a child as a litigation friend or claiming for yourself as an adult when you were injured as a child.
We'll offer a snapshot of potential child personal injury settlements for whiplash too, as well as explaining how child whiplash claims could be made for yourself or a child without having to find the funds upfront to pay for legal representation. There's even some further reading material at the bottom of the guide if you'd like to learn more after reading.
What Is A Child Whiplash Injury?
Whiplash in children could present similarly to whiplash in adults. If a child whiplash injury occurs due to the fault of another person, and they could be held liable for the injury, then you might be able to help claim compensation on a child's behalf.
Whiplash happens when the head is jolted quickly forward and backwards, or sideways, very quickly and violently. It could stretch the tendons and ligaments within the neck, which could cause pain, stiffness in some cases, headaches and other symptoms such as tingling in the arms. While most cases of whiplash resolve over a period of time with no invasive treatment required, in some cases it could lead to longer-term problems.
How often are children injured in road accidents?
We can see from the DfT's statistics the number of children injured on GB roads in 2020.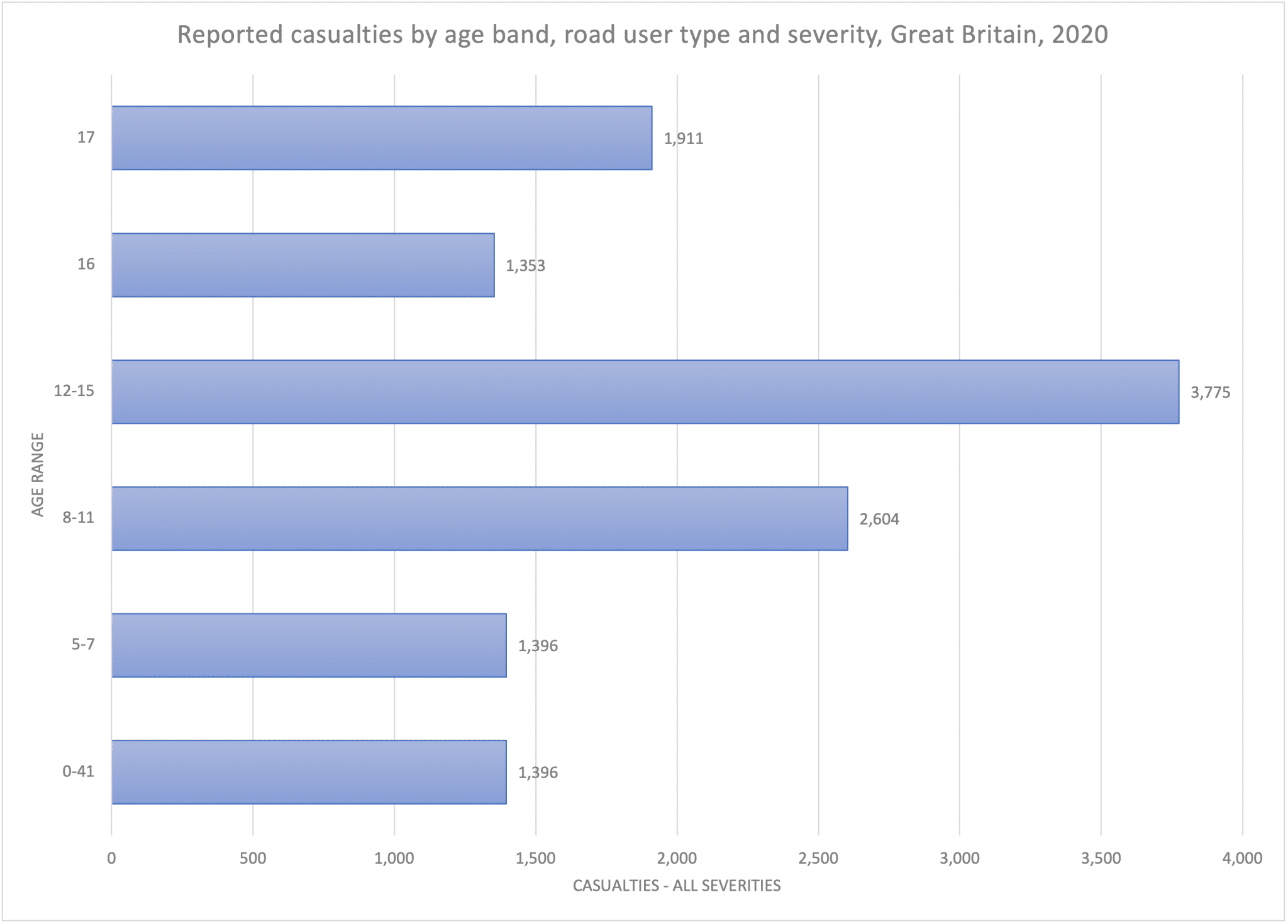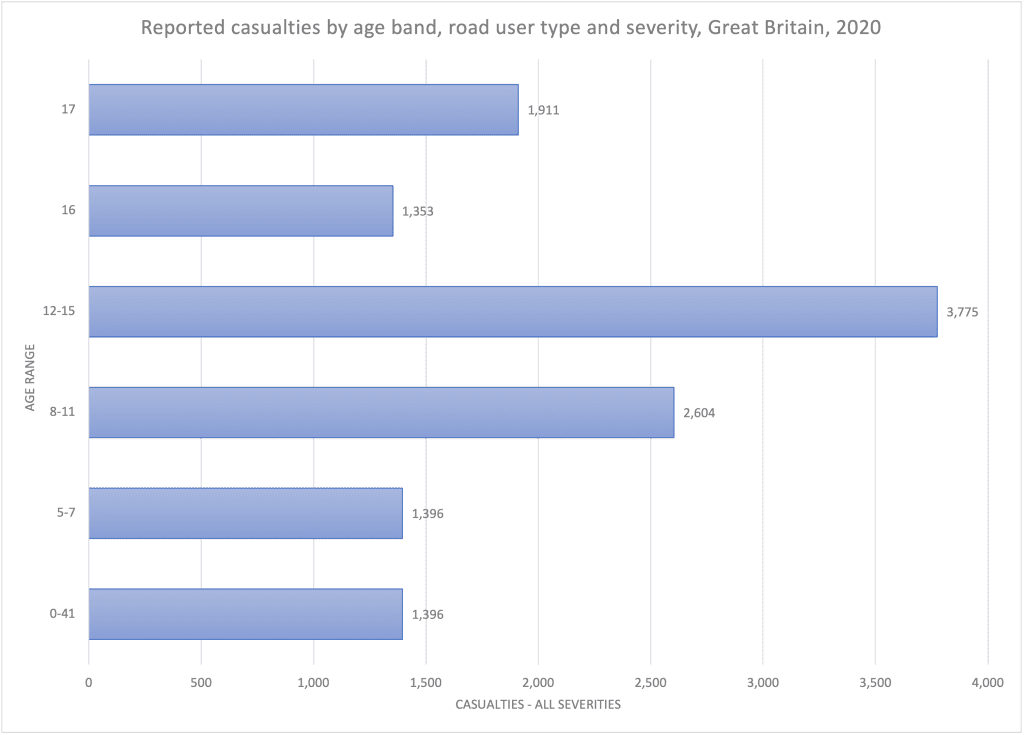 If your child is injured and it is thought that they may have whiplash, it would be a wise idea to seek medical treatment, whether you are considering making a child whiplash claim or not, not just to rule out any more serious injury but also to ensure that the correct advice and treatment could be offered.
Causes Of Child Whiplash Injuries
As we mentioned, a severe jolting or jerking of the head could cause a whiplash injury. While many instances of child whiplash symptoms could arise as a result of a car accident, child whiplash could also occur due to other types of accidents, such as trips and falls, physical attacks, fairground rides, sporting activities and more. If someone could be held liable for the injuries, no matter what the accident was or where it happened, you could make a child whiplash claim against them, whether on behalf of a child, or for yourself once you turned 18.
Common Symptoms Of Whiplash In Children
Common symptoms of whiplash in children could be considered fairly similar to those seen in adults. While they may not appear right away, they could come on over hours or even days after the accident that caused the injuries. Common signs could include:
Pain in the neck
Stiffness
Lack of movement in the neck
Dizziness
Nausea
Headaches
It could be difficult for you to spot whiplash symptoms if your child is too young to tell you about how they're feeling, so it could be wise after an accident to keep a close eye on your child and look for any changes in their behaviour. This could be difficulty sleeping, changes in mood or eating habits.
As soon as you suspect that your child has an injury, it would be a good idea to ensure you seek medical attention as soon as possible to ensure the appropriate treatment and advice could be given to you by a medical professional.
Does Whiplash Treatment For Children Differ?
The treatment for whiplash in most cases could be very similar to that for an adult. A doctor may advise that you should give your child pain relief such as Calpol to relieve pain, or they may give something to relax the muscles. They would more than likely advise you to not allow your child to lift anything or take part in any strenuous sporting activity that could strain the tendons further.
Caring for a child with whiplash could involve:
Ensuring you seek medical attention quickly after an accident that could cause whiplash
Ensuring you give over the counter pain relief (if recommended) at the right dosage and time intervals
Trying heat packs (15-20 minutes each 2-3 hours could be considered a good schedule)
Trying ice packs (10-15 minutes each 203 hours could be considered a good schedule)
Allowing your child to have a warm shower, where warm water could be directed onto the area
Ensuring your child rests from any strenuous activities for a few days
Making sure the head is fully supported when the child is sleeping – it may be worth looking into a supporting neck pillow for them
Ensuring any physiotherapy exercises are performed once the pain is gone to ensure that your child could help strengthen the neck
Signs to look out for
If you notice any symptoms below, you may wish to get your child to a doctor quickly:
There is a loss of movement in your child's arm or leg
There are new or worsening symptoms of numbness, tingling, weakness or pain in your child's chest, belly, neck, legs, arms or buttocks.
Your child loses bowel control
The child loses bladder control
Your child's condition is not improving
This is because there may be a more serious issue and your child may have other injuries as well as their whiplash injury.
How Long Could A Child Whiplash Claim Take?
When making child whiplash claims, you would usually have 3 years from the date of the car accident if you are claiming for a child. However, if a child has not been claimed for and they decide to claim when they turn 18, then the personal injury claims time limit of 3 years begins on their 18th birthday. There are a few exceptions to these time limits, however, so it might be worth calling us to check your position before you go ahead and make a child whiplash claim.
In terms of how long it could take to settle a child whiplash claim, this could depend on whether liability is admitted right away or whether it is denied. If someone admits liability for a claimant's whiplash injuries, the matter may be settled within a few months, however, if it has to go to court (which could be considered unusual for whiplash claims) then it might take longer.
How A Litigation Friend Could Help A Claimant Under The Age Of 18
If a person is under the age of 18, they are not considered to have the capacity to make a claim for themselves. Instead, a litigation friend could be appointed on their behalf to make decisions on court cases for them. This litigation friend could be a person that has an enduring or lasting power of attorney, a solicitor, a guardian, a parent or a professional advocate.
Anyone wishing to be a litigation friend for a child would have to be assessed in terms of whether or not they were able to make fair and competent decisions for the person they are acting as a litigation friend for. It would also need to be made sure that there were no conflicting interests between the person acting as a litigation friend and the person they were claiming on behalf of. A suitability certificate would need to be signed to apply to be a litigation friend and if a child turned 18 during a child whiplash claim, then a litigation friend could have to apply to stop acting as such.
What Happens To Compensation Awarded To Children?
If you are wondering what happens to compensation awarded to children, in most cases, the settlement would be held in trust and released to the child when they turned 18. However, in some cases, it might be that medical or care costs need to be covered for the child, and an application to release some of these funds from the trust to cover such expenses could be put together. To learn more about this, please do not hesitate to contact our advisors, as we would be happy to go through the ins and outs of this with you.
Child Whiplash Injury Claim Calculator – Updated August 2021
If you have seen a personal injury claims calculator on another site, you might be wondering why we have not included one on this page. We have made the decision to offer a simple snapshot of the Judicial College's Guidelines for specific injuries that we feel relate to these kinds of cases instead of a child injury compensation calculator. If you cannot see your injury below, then all you need to do is call us and we'll go through your injuries with you and give you an approximation of their worth.
| Injury | Bracket | Notes |
| --- | --- | --- |
| Neck injuries | In the region of £139,210 | Where there is paraplegia (incomplete) or injuries have resulted in spastic quadriparesis that is permanent. Cases where an injured party has regained little to no movement despite wearing a collar for a period of years could be included here. |
| Neck injuries | £61,710 to £122,860 | Cases where there have been damages to the discs within the cervical spine, leading to disabilities such as substantial movement loss in the neck, and further loss in one of more of the limbs |
| Neck injuries | £42,680 to £52,540 | Where there are dislocations/fractures or damage to the soft tissue that is severe, leading to pemanent significant disability or chronic conditions. |
| Neck injuries | £23,460 to £36,120 | Severe immediate symptoms could be present, with dislocations and fractures that could lead to the claimant needing to undergo spinal fusion. There could also be referred symptoms elsewhere in the body. |
It would be prudent for us to mention here that the amounts are approximations only and child whiplash claims would not be valued until such time as all the medical evidence was assessed. Claimants would always be required to attend an independent medical examination as part of any claim so that such evidence could be gathered.
Special Damages Which Could Be Included In A Child Whiplash Claim
You may be interested in learning that, as well as the child personal injury settlement for the injuries a child has suffered, you could also look into claiming for those costs that have been faced because the car accident that has caused whiplash. This could include:
Earning losses – Whether you have been required to take time off from your job because of your child's injuries, or you're expected to be off in the future for them to undergo further treatment, this may mean you have – or may in the future – less money coming in. If this wage loss has, or will be a result of your child's injuries, then compensation could be claimed for this.
Medical costs – Whether this is private physiotherapy, chiropractic treatment, prescription costs or counselling, you may have incurred medical costs because of your child's injuries. If you have then these may be claimed back within a personal injury claim.
Travel costs – Any reasonable travel expenses that have been incurred because of child whiplash injuries could also be included as part of a claim. These could include having to pay for travel to get to medical appointments and more.
Care costs – If your child has required specialist care while they were recovering, or will require this care long term, care costs could also be requested as special damages within a child whiplash claim.
Whatever costs or losses you may have faced due to your child suffering a whiplash injury, why not speak to our team and ask whether they could be claimed for as special damages. We'd be happy to explain whether they could or not, and what proof may be required.
No Win No Fee Whiplash Compensation For Children
For those wanting to make child whiplash claims that are not keen on paying for legal services up front, we could offer the perfect solution. The solicitors we could provide you for your claim or a child whiplash claim you are making on behalf of someone else could all work on a no win no fee basis. What this means is that there is no need for you to pay the lawyer before the case is concluded.
How to claim whiplash on a No Win No Fee basis
The way in which these types of claims work is under an agreement document called a conditional fee agreement. Within this document are the terms and conditions under which you would be required to pay the personal injury lawyer. Their 'success fee' would be set out as a percentage of the total compensation settlement, but if you are worried there would be no compensation left for you or your child once a lawyer has taken their percentage, then you may be relieved to hear that there is a cap that has been put in place by the government that means the maximum a lawyer could request is 25% of the compensation. This amount would also only be payable in cases where the solicitor secures compensation. If a valid claim does not result in compensation, then there would be no requirement to pay the lawyer this fee.
In some cases, a solicitor may advise you that it would be a good idea to consider taking out an insurance policy for an unsuccessful claim, but they would be able to discuss the reasons for this with you if it was something that may be of benefit.
Getting help with a child whiplash claim under No Win No Fee terms
If you would like to learn more about the no win no fee process, then our advisors would be delighted to explain anything you are not clear on. We are proud to say that all of the solicitors we work with and could provide for claims work under this method of payment, which we believe presents less of a financial risk to claimants, as well as meaning that anyone, irrespective of their financial position, could make a claim for compensation.
How Accident Claims UK Could Help You Make A Child Whiplash Claim
Here at Accident Claims UK, we have trained advisors on hand to help ascertain whether you could be eligible to make a child whiplash claim for a child as a litigation friend, or because you suffered whiplash as a child and no one claimed for you, and you have now turned 18. We pride ourselves on helping to make the claims process easier for anyone facing such a situation.
How to claim whiplash for a child with our help
When you get in contact with us, however, one of our professional advisors would take a few details from you about what has happened that has led to you getting in touch. We could then assess the situation and provide the most appropriate solution to you. If we do not feel that your situation could lead to you making a compensation claim, we will be clear on the reasons why we feel this is the case. If we think you could be eligible to make a claim, then we could advise you on your options and, if appropriate, provide you with a No Win No Fee personal injury lawyer that could help you take your claim further.
Using a personal injury lawyer in child whiplash claims
To win a personal injury claim, you'll need supporting evidence to show who caused the accident, how it took place and what injuries were sustained as a result. If you don't have the evidence or you can present it in a clear manner, you could lose the compensation that may be due. However, the process of claiming could be made easier if you have a personal injury lawyer on your side. Furthermore, their skills and experience could increase the amount of compensation awarded.
When making child whiplash claims, lawyers start by collecting evidence. This can include any evidence you can provide yourself along with witness statements, police reports and medical records. They will then ask for an independent specialist to review your child's injuries in a local medical assessment.
Once the claim is ready, it will be sent to the defendant's insurers. At this point, your lawyer will try to handle everything on your behalf so you don't face any complex questions directly. They will use additional evidence to try and answer any queries or counter any objections raised by the insurance company.
If a settlement is offered, your solicitor will fight to increase it if they believe it doesn't cover the suffering your child endured.
If you'd like free advice on making child whiplash claims, why not speak with a specialist advisor today?
Start Your Child Whiplash Claim Today
Do you want to ask any questions about the content within this guide, or are you in a position to begin a child whiplash compensation claim right away? Either way, we have made it easy to get in touch and get the information and support you may need to make a claim.
You can reach us via telephone – on  0800 073 8801 – via email at office@accidentclaims.co.uk, via our contact form, or through our live chat. We look forward to helping you.
Essential Resources
Accident Claims UK Guide To Whiplash – Another guide we have produced covers whiplash claims for adults. This may be of interest to you.
Accident Claims UK Guide To Road Traffic Accidents -Road traffic accidents could cause lots of other injuries. Our general guide can be found here.
Our Guide To Passenger Injury Claims – If your child was injured as a passenger in a car, you may find this guide of interest.
NHS Whiplash Guide – The NHS page might offer some guidance on caring for someone with whiplash.
British Medical Journal Whiplash In Children – A study into how whiplash claims present in children.
Acting As A Litigation Friend – The GOV page on litigation friends can be found here.
Child Whiplash Claims FAQs
Here are some frequently asked questions about child whiplash claims that we've summarised briefly.
What is the typical payout for whiplash?
There are no typical payouts for personal injury claims. As mentioned above, they're valued according to how much you've suffered, both mentally, physically and even financially. Therefore, every settlement is different.
How much is my whiplash injury claim worth?
If you'd like to see how much you could get as part oof a child whiplash claim, please call one of our specialist advisors today. By doing so, you could receive a free assessment with an estimate of how much compensation you could receive. Furthermore, you could be connected to our panel of personal injury lawyers if you have a case that they could handle for you.
How to claim for whiplash – can you help?
If you want to know how to claim for whiplash, we could help. If, after reading this guide, you're not sure if you could be eligible to make a claim, our advisors could assess your case for free. They could give you insight into how to begin a child whiplash claim and how to apply to be a litigation friend for a child you're responsible for.
Can you claim for a child in a car accident?
You could claim for a child in a car accident provided you could prove that another motorist was at fault for your child's injuries, by way of driving negligently. You would need to apply and be accepted to be their litigation friend. Our team could talk you through the process of claiming child whiplash compensation in more detail.
What happens to children's compensation?
What would happen to children's compensation in most cases is that it would be put into a trust. The child would be able to access their trust, once they come of age. If you are considering claiming child whiplash compensation and are wondering whether any funds could be released from the trust for your child's ongoing needs, please speak to our team.
Can I make a child whiplash claim for myself once I turn 18?
You could make a child whiplash claim for yourself once you reach adulthood, if you have a valid claim, and no one has claimed on your behalf prior to this.
Thank you for reading our child whiplash claims guide.
Article By Jo
Editor Jay