By Jo Jeffries. Last Updated 27th June 2022. This is an online guide to making a whiplash claim against Tesco car insurance. Once you have read this guide, we hope that you will have a better understanding of the various aspects of personal injury claims, such as what pre-medical settlement offers are, what whiplash is, how to make a claim for a road traffic accident and when to begin your personal injury claim.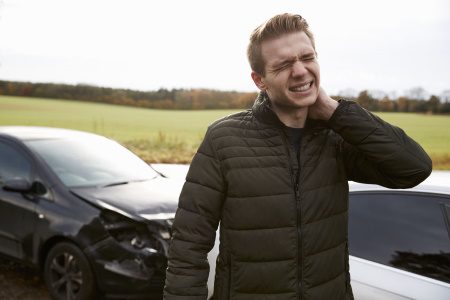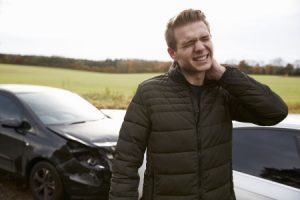 Whiplash is one of the most common claims made for personal injury compensation and here at Accident Claims UK our solicitors have the capabilities and knowledge to be bale to handle your claim for whiplash on your behalf. Our claims team can answer any additional questions you have and also help you to move forward with your claim. Give them a call any time of the day, 7 days a week on 0800 073 8801.
Choose A Section:
A Guide To Making A Whiplash Claim Against Tesco Insurance
This guide to making a Tesco car insurance whiplash claim has been created to provide you with advice and information that should enable you to understand the claims process better. However, you will need to be within the personal injury claims time limit in order for you to be eligible to make a claim. This time limit is 3-years, however there are some exceptions to this rule. The time may not begin until the injury is recognised and in some cases such as those affected under the age of 18 the time limit will not start until they have turned 18.
This guide will also explain what whiplash is, how it is caused, diagnosed and treated.
The next part of this guide will focus on the specific aspects of the claim process. This includes a discussion of whether it is a good decision to accept a pre-medical settlement offer and what happens if you reject it. We will also go over split liability claims in this part of the guide, as well as 'knock-for-knock' claims.
How much could successful Tesco compensation payouts be?
The last part of this guide will look towards to the financial aspects of making a claim. We will present a detailed table, based on the UK Judicial College Guidelines for valuing an injury, that shows potential compensation ranges. We have also added a list of some of the more common kinds of damages you might receive as part of your overall settlement. Finally, we move on to explain how one of our No Win No Fee solicitors could be a good choice for you.
There may be questions that this guide does not answer. As each claim is unique, you may have questions that fall outside of the scope of this guide. If you do, please speak to our claims team on the number down at the bottom of this page. They will provide you with the answers you need and free legal advice about how best to proceed with your claim.

How Is Whiplash Caused?
According to the Association of British Insurers (ABI), there are over 1,500 whiplash claims made in the UK every day. Whiplash is a very common medical condition for road traffic accident victims. It is caused by kinetic trauma to the neck and shoulders. The NHS has published an excellent resource covering neck pain and whiplash.
Whiplash falls under the category of nonspecific injuries. This means that the underlying cause of whiplash cannot be diagnosed. Instead, it is a composite of many minor injuries to the neck and shoulders that combine to create symptoms such as:
A stiff neck or the inability to move the head through its entire range of movement.
Pain in the neck or shoulders (this can be from minor to extremely severe).
General headaches (these can range in severity from trivial to severe).
Spasm muscles in the shoulders and arms, as well as pins and needles, numbness, etc.
Whiplash can be caused in a car crash, a passenger in the back seat of one of the vehicles involved has their neck forced forward violently due to inertia. This causes strain on the neck and shoulders, and results in whiplash.
Due to its non-specific nature, it can be very difficult to treat whiplash. Pain medication is typically the main treatments used. Because whiplash has been the basis of fraudulent claims in the past, insurers scrutinise whiplash claims closely. You may rely on the evidence provided by a medical professional to prove how bad your injuries were.

How Do Whiplash Insurance Claims Work?
In many whiplash injury claims, the offer of a pre-medical settlement may be made by the insurance company in question. Before you make any major decisions about your own claim, please take the following into account:
In some cases, people who accept a pre-medical settlement may get less compensation than those who follow the complete claims process.
You will not be able to claim for; loss of earnings, medical expenses, rehabilitation, travel costs and so on and so fourth.
Using a specialist accident and injury lawyer can help to increase the chance of a claim being successful and receiving the most compensation possible for your case.
Our claims team possess a wide range of knowledge about whiplash claims. When you speak to one of our claim advisors, they will be happy to go over the claims process with you and offer you some free legal advice about the best way to move your own claim forward.

Does the Tesco accident policy allow me to claim?
All employers owe their employees a duty of care as per the Health and Safety at Work etc. Act 1974. As such, they must take all reasonable measures to reduce the risk of injury in the workplace. If you have been injured due to an employer failing to uphold their duty of care, you can call us to find out more.
Can I Claim For Whiplash On My Own Insurance?
If you are wondering" "Can I claim whiplash on my own insurance?" It entirely depends on the circumstances of your case there is no one answer to this question. If you are injured in a road accident due to the negligence of another road user you would automatically be claiming against their insurance as they are the liable party.
A 'knock-for-knock' agreement is when two insurance companies are in agreement that if two parties who are in the same incident and incur the same loses agree to deal with their own client. This will mean that the driver of the vehicle will be making a claim against their own insurance rather than that of the third party insurance. This maybe beneficial to the insurance company as a lot of the administrative costs will be incurred by the company itself.

What Happens If I Reject The First Offer From Tesco?
In most cases, this sum will be an estimate based on a basic assessment of your injuries. If you decide to accept this offer, you will not have to undergo a medical assessment. However, in most cases the claimant may lose out on a significant amount of money as a result. Before you do accept any offer, you should consider the following:
If Tesco car insurance offers you legal help with the claim, you don't have to accept it.
You are not obligated to accept any offer you receive. You can turn down the offer of an early settlement and proceed with taking the claim to court if you wish.
In general, the time limit for making a claim is 3-years. Although in some cases this time limit might differ depending on the circumstances of the injuries. So you do not have to rush into making a decision.
If Tesco sends you any documents that they wish you to sign and return, you should have them checked over by a solicitor before you sign them.
We understand that the claims process can be a little confusing for claimants. Especially if they have never had any dealings with a solicitor before. Making decisions, such as accepting an early settlement offer, can be tough for claimants. Our claims team is available 24 hours a day to go over your situation with you and offer advice on whether or not to accept an early settlement offer.

Why Pre Medical Offers May Not Be The Best Offer
A pre-medical settlement offer is made to the claimant once liability has been admitted by the parties involved. This offer could be a lot lower than the final settlement amount at the end of a personal injury claim, especially for more severe cases of whiplash. There are several factors that will be disregarded in this pre-medical offer, such as:
The full extent of your injuries.
How long you will take to recuperate fully.
Whether or not there will be any long-term or permanent disability.
The compensation being offered from a pre-medical offer is not based on medical evidence at all and as a result this it will not include damages such as:
Lost earnings due to having to take time off work.
Your future prognosis and its effect on your daily life.
Any money you have spent on private medical treatment.
The cost of home-visit care.
In many cases, the claimant would benefit from utilising the expertise of a personal injury lawyer to help guide them through the accident claims process. If you need help in deciding which route would be best for you in your own circumstances, then you may like to talk the problem over with our claims team. They are available 24/7 and will offer you some advice on whether to take the offer or to proceed with the claims process.

Can I Claim For Whiplash If Partially At Fault?
It is possible to make personal injury claims if you were partially to blame for the accident happening.
This maybe known as a 50/50 split although it can come in other forms of ratio such as 75/25 or 60/40. This means that you are partially to blame but not entirely to blame. However, your legal team will negotiate a reduced level of liability with the defendant. This level of liability, expressed as a percentage, will be used to calculate the level of compensation you receive.
Calculating Whiplash Claims In A Claim Made Through Tesco Insurance
You may be wondering, if a claim were to be made through Tesco insurance, what the process of calculating whiplash claims could be.
If you're considering making whiplash claims it could be wise to consider that there are rules in place that have changed. The way some whiplash claims would be processed could depend on their value. For example, if a whiplash injury was valued under £5,000 it could come under the Whiplash Reforms Programme. This means it would need to be made through an online portal. 
If your injuries are valued higher than £5,000, it could be made in the traditional way. The below table includes values from both the tariff and the April 2022 release of the Judicial College Guidelines. This is a publication that could be used by solicitors in traditional claims. It could give a rough idea of how much compensation could be appropriate for such claims.
Severity of neck injury
Compensation amounts
Notes
Severe (i)
In the region of
£148,330

Incomplete paraplegia or permanent spastic quadraparesis
Severe (ii)
£45,470 to £55,990

Fractures, dislocations and severe damage to soft tissues in the neck. Leading to chronic conditions ruptured tendons that lead to significant disability of a permanent nature.
Moderate (i)
£24,990 to £38,490

Severe immediate symptoms and may require spinal fusion.
Moderate (ii)
£13,740 to £24,990

Soft tissue injuries, severe disc lesion, cervical spondylosis, serious limitation to the movement of the neck, possible need for further surgery. The type of injury may result an existing injury to worsen and could last for up to 5 years.
Minor
Up to £13,740
With full recovery
Whiplash reforms injuries
£4,345
Table B Amount – Regulation 2(1)(b) - Injury lasting more than 18 months, but not more than 24 months
Whiplash reforms injuries
£3,100
Table B Amount – Regulation 2(1)(b) - Injury lasting more than 9 months, but not more than 12 months
Whiplash reforms injuries
£2,125
Table B Amount – Regulation 2(1)(b) - Injury lasting more than 12 months, but not more than 15 months
Whiplash reforms injuries
£1,390
Table B Amount – Regulation 2(1)(b) - Injury lasting more than 9 months, but not more than 12 months
Whiplash reforms injuries
£895
Table B Amount – Regulation 2(1)(b) - Injury lasting more than 6 months, but not more than 9 months
Our claims team will be able to give you a more accurate indication of the level of compensation your claim may attract. They can also arrange for a solicitor to evaluate your claim fully.

Special Damages In Whiplash Claims
If a solicitor processes Tesco whiplash claims on behalf of a claimant, the claimant will be offered a compensation settlement if they are successful in doing so. This settlement will take into consideration two main kinds of damages. General damages are valued using the pain, suffering and loss of amenity caused to the claimant. This will usually make up the larger part of the compensation settlement. The second is special damages. This takes into consideration the financial losses faced or future financial losses that the claimant will incur.  Below we have provided examples of both general damages and special damages:
General damages – for physical harm and suffering.
Harm and suffering – when the accident took place.
Shock and trauma – having been involved in a traumatic accident.
Psychological damage – more serious psychological issues such as anxiety or post-traumatic stress disorder.
Long recovery – if it will take some time and involve repeated medical treatment and therapy before the victim is fully recuperated.
Long-term disability – if the victim will suffer from a disability either permanently or in the long-term.
Special damages – for financial and ad-hoc losses.
Travel costs – to reimburse out of pocket expenses.
Cost of care – for hiring in a home help or a nurse.
Medical fees – to reimburse for the cost of paying for private medical care.
Loss of earnings – if you missed out on salary/wages either fully or partially, due to taking time off work.
Lowered potential – if your injuries will never heal fully, and will leave you with a reduced capacity for working in the future.
If you speak to one of our claim advisors, they will be able to let you know which kinds of damages you could possibly claim for in your own case. Always ask your solicitor before spending out on treatments or rehabilitation equipment to ensure they can be recuperated back. Also keep receipts so you can show where the moneys have gone to.

No Win No Fee Claims Against Tesco Car Insurance
If you used the services of a No Win No Fee solicitor, you could reduce the financial risks associated with making a claim. This means that:
You are not expected to pay a new claims fee.
You won't be asked to pay ongoing fees while the claim is processed.
If you don't receive any compensation, you won't pay for your solicitor's fees.
If the claim is successful, the solicitor will receive a compensation payment for you. They will take their fee out of this money automatically through what is known as a 'success fee'. The percentage of the claim value taken as the fee will have been pre-agreed at the start of the claim. This percentage is legally capped at 25%.

Talk To Us About Your Case
We can assist with all kinds of car crash claims, not just whiplash claims. You can contact our claims team 24 hours a day, 7 days a week on 0800 073 8801. A claim advisor will evaluate your claim for you, discuss your legal options with you, and explain how we can organise an accident and injury solicitor to process the claim for you.

Whiplash References And Resources Relating To A Whiplash Claim Against Tesco
These links to external pages below, could contain useful information that may relate to your claim:
NHS Information About Whiplash
Information About Whiplash Form The Chartered Society Of Physiotherapy
NHS Direct Wales Information About Diagnosis And Treatment Of Whiplash
You might also like to read over these other guides that we have published elsewhere on this site:
How To Claim For Whiplash As A Pedestrian
50/50 Split Liability Compensation Claims
Whiplash Compensation Claims Calculator
Article by MW
Edited by HH.