By Joanne Jeffries. Last Updated 8th September 2021. Below you can read our accident claims solicitors covering Bracknell guide. This could help if you're looking for personal injury solicitors for  Bracknell accident claims.
If you were to have been injured in an accident that was not in any way your fault, you might feel a little aggrieved, especially if the accident could have been avoided. From slip and fall claims because your employer didn't provide safe flooring, to car accident claims when someone ran a red light, there are lots of situations where someone else could have been at fault for the injuries you have received. If this applies to you, then seeking accident claims solicitors covering Bracknell could be a wise choice. Clicking on the sections below will give you specific information regarding some of the most commonly asked questions about the claims process and our service. If, after reading the guide you have questions, or want to begin a claim, then dial 0800 073 8801 to be put through to our team of expert advisors. We could also provide you with no win no fee accident claims solicitors covering Bracknell for your compensation claim.
Choose A Section
What Is An Accident Claims Solicitor Covering Bracknell?
Accident claims solicitors covering Bracknell are legal professionals who know the ins and outs of personal injury law. These professionals have to undertake a great deal of education and training to qualify, and they could bring this knowledge and experience of the law to help build a successful personal injury claim.
But, what constitutes an accident claim and how do you know if you have one? Simply put, if you have suffered an avoidable accident because someone should have acted in a certain manner, or not behaved dangerously, putting your health and safety at risk, then it could be that you have a personal injury claim. There is a personal injury claims time limit to most claims, and this is 3 years from the date the accident happened. However, there are some exceptions, including when an illness or injury developed over time or where minors are involved.
Within the sections of this guide, we'll take you through some common claims, explaining the ins and outs of the claims process. We'll also provide more guidance on the service we can offer and why we feel that you could consider using the services of our solicitors who can cover Bracknell accident claims.
Workplace Accident Compensation Claims
Injuries in the workplace could range from minor to life-changing. Depending on the job you do, there could be risks to performing some or all of the tasks relating to your job. Accident claims in Bracknell for workplace injuries generally focus on whether or not your employer has taken steps to reduce the risk to your health and safety as much as reasonably possible. They do have a duty by law to do this. This could avoid an accident at work by providing equipment, training, supervision or changing the way a job is done. If they have not done so, and you have been injured while carrying out work, then you could look into finding accident claims solicitors covering Bracknell to help you claim compensation.
You could also claim for work-related conditions including RSI and asbestosis, for example. To see the rates of work-related illness in 2019/0, please see the below, from the HSE's 2019/20 report.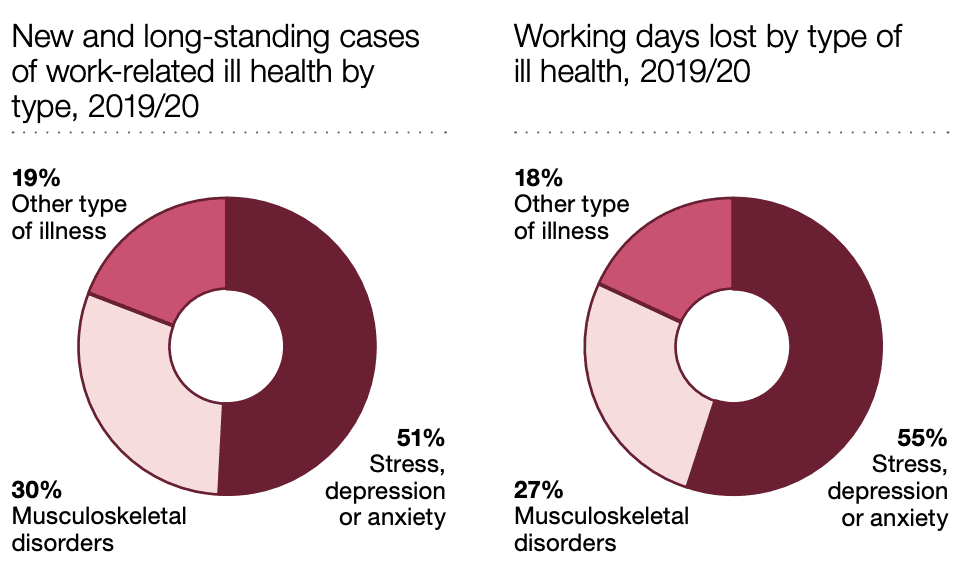 Statistics For Rates Of Injuries At Work
Below, we can see the incidences of workplace injury in the local area. Details for other areas can be found on the Health and Safety Executive (HSE) site.

Location
Total - non fatal injuries (2018/9)
Total - non fatal injuries per 100,000 workers (2018/19)
Fatal injuries
(2018/19)
Bracknell Forest
99
159
0
Slip, Trip, Fall Accident Claims
While a slip trip fall claim might sound fairly minor, it could actually be quite serious. From falls from a height that could cause life-changing or even fatal injuries, to a trip downstairs that could lead to a long time off work, a slip, trip and fall could result in significant damage. When assessing accident claims in Bracknell for slips, trips, and falls, you would see an independent doctor to assess your injuries and prognosis for the future. In some cases, you could be claiming for adaptations to your home, or loss of earnings both for now and into the future. While a personal injury claims calculator might give you a sum for the general damages payment (that is for the pain and suffering), it is unlikely to be able to give you a guide on how much you could claim in loss of earnings etc. If you would like a more specific estimation of your claim, please do not hesitate to contact us.
Road Accident Compensation
Having an accident on the roads in Bracknell could result in your seeking assistance from accident claims solicitors covering Bracknell for road traffic accident claims. Common claims for road traffic accidents where you sustained an injury include:
Accidents due to dangerous/negligent driving
Pedestrian accidents
Car accidents
Uninsured driver/untraced driver accidents (this could be covered by the MIB)
Taxi accidents
Passenger accidents
Motorway accidents
Bypass accidents
… and many more.
Simply put, if the road traffic accident was someone else's fault, and it caused you to be injured then it might be worth seeking out a personal injury solicitor to help with an accident claim for compensation.
Criminal Injuries Compensation
If you have been the victim of criminal injury, you could make a claim for compensation through the Criminal Injury Compensation Authority CICA. This is the agency responsible for compensating victims of crime. You could be eligible for compensation if you have been directly or indirectly injured as a result of a violent crime. You could claim for both physical and psychological injuries. The time limit for claims through the CICA process is 2 years, however, there are exceptions for cases of historical sexual abuse. Should you have any questions relating to the criminal injuries claims process, please do not hesitate to contact us.
Compensation For Medical Negligence
When you're in the hospital, or being treated by a dentist, care home worker, GP or another healthcare professional, these people owe you a certain standard of care. If they are negligent in your care and you suffer in terms of your physical or mental health, then you could seek compensation for medical negligence claims. There are a wide variety of people who could be negligent in caring for you and this could include:
Surgeons
GPs
Hospital doctors
Dentists
Optometrists
Nurses
Midwives
Consultants
It is important to remember that you could retain the services of an accident claim solicitor for medical negligence or clinical negligence that happened in an NHS or private setting. If you feel you may have a case, then why not call us today?
Claims If Injured In A Public Place
If you are injured in a public place, such as a public park, public library, shopping centre, supermarket, gym or leisure centre, for example, there could be a chance for you to make a claim for compensation. But, who could be liable for your claim? You could use the assistance of a personal injury solicitor to help work this out for you however, we will provide some examples to assist you in finding who could be responsible. For public parks, for example, it could be the local authority, but for supermarkets, it could be the owner/operator of the building. As long as the person/entity responsible for the area did not live up to their responsibility to protect your health and safety, then you could look into making a claim for compensation
No Win No Fee Accident Claims Solicitors Covering Bracknell
We usually advise our clients to use the service of a no win no fee solicitor. This is due to the fact that there are many benefits for those pursuing accident claims in Bracknell in going down this route. The first is that it does not require you to make an upfront payment to use the services of your solicitor. At a time when you could be worse off financially because of your accident claim, it may give you relief to know that you don't have to find a lump sum to pay your lawyer upfront.
A further benefit of making such a claim using a no win no fee agreement means that you will not have to pay for the services of your solicitor if your claim has not been successful . When your claim is successful, you solicitor will take a success fee from the final settlement figure in the form of a pre agreed percentage. For more information regarding the benefits of using a solicitor who provides a no win no fee service please get in contact with us today.
Talk To Our Team Today
Would you like to ask more questions about making a claim? If so, call 0800 073 8801 to speak to our accident compensation helpline, manned by expert advisors who are ready and willing to help with any aspect of your compensation claim. You can also fill in our online enquiry form. Whether you'd like to check on the accident claims time limit applicable to your case, or you'd like clarification on some of the accident compensation guidelines, we're always ready to listen and provide advice. And, of course, if you're at a point where you'd like to start a claim, we can connect you to our panel of accident claims solicitors covering Bracknell.
FAQs About Accident Claims
Below, we answer some frequent questions on accident claims. We hope you find the below information useful.
How Could Your Team Help My Claim?
Here at Accident Claims UK, our accident claims solicitors from our panel could assist with anything from road accident compensation claims and criminal injuries compensation, to workplace accident compensation and almost everything in-between. By calling our advisors, you could take advantage of accident claims advice for free, and there is be no obligation to use our service. If you feel ready to begin a claim and would like to be provided with accident claims solicitors covering Bracknell, then we could help here too. All of our panel of accident claim lawyers work on a no win no fee payment structure too – which lowers the financial risks that come with making a claim.
Do I Need To Choose A Solicitor Close By?
You may consider a search for "solicitors near me" the most appropriate search term to find the right accident claim solicitors for you. However, it may not be. Our panel of accident claims solicitors could help you claim even though we may not be based in your local area. You do not have to use solicitors in Bracknell, you can use accident claims solicitors covering Bracknell, so you'd be able to choose your personal injury lawyer based on their level of experience and knowledge, instead of having to use a solicitor just because they are close by.
Why Am I Being Asked To Have An Assessment By A Doctor?
Examinations by medical experts are a vital part of personal injury claims. This is because the medical report is often what the compensation settlement is calculated from. Your medical notes, your current condition, and your prognosis would be assessed by an independent doctor, who would then write a medical report that would form part of your evidence. As accident compensation payments can vary depending on your medical state, this piece of evidence could prove vital to ensuring you get the compensation you could deserve.
Where May I Be Assessed By A Doctor?
You could well be assessed by a doctor that is located nearby. We could be able to arrange a local appointment, for example, at this address:
Patrick Kirwin
2-4 Pond Head Lane
Wokingham Road
Earley Reading
RG6 7ET
What do I need to be looking at when choosing accident claims solicitors covering Bracknell?
The solicitor that you choose for your injury claim could have a significant bearing not only on the success of your case but also on whether you get the maximum compensation possible for your claim. For this reason, you might want to take care when choosing personal injury solicitors for Bracknell claims. But what should you be looking for?
Aside from checking that the solicitor in question is registered in England and Wales, and is also authorised and regulated by the Solicitors Regulation Authority, you might want to check into the levels of service they provide. Many solicitors all seem to offer similar legal services. However, you need to know that they will keep you in communication and updated at all relevant points throughout your case. You might also want to check how many years experience they have in pursuing such claims, and whether they've been successful in the past. Aside from all this, you might want to know whether they are able to offer you any free legal advice, and whether this comes with an obligation to utilise their services. Working with a no win no fee solicitor could also be beneficial to your claim. This way you would not have to pay any funds upfront to begin.
 Would accident claims solicitors covering Bracknell be able to assist with a housing disrepair injury claim?
Whether you live in rented property and your landlord is the local authority, a private landlord or a housing association, they should ensure that the property you are living in is safe for you to live in. If you have reported disrepair, which could include mould, damp or a broken heating system, for example, and your landlord has not fixed them in a timely manner, this could cause you injury or illness.
Housing disrepair could cause a number of injuries and illnesses. These could include asthma, carbon monoxide poisoning, mould related illnesses and more. You could be injured by a broken staircase, for example, if it collapses. If you'd like us to assess your case to see if you could have a claim against your landlord, we would be only too happy to do so. We could give you lots of guidance and support and could connect you with a solicitor who could fight for the maximum compensation possible for your claim.
Local References And Further Guides
Reporting Incidents, Accidents And Illnesses – The HSE site provides a wealth of information on reporting incidents.
Reading Court – Here are the details for Reading County and Family Court.
Report An Incident To The Police –  Local incident reporting details can be seen here.
Injured Through A Building Site Accident – If you're on a building site and are injured, this guide might help.
Cycling Accidents – Whether you've been knocked off your bike or been hit by a car, this guide might help.
Claiming For Wrongful Death – Our guide on wrongful deaths or fatal accidents could help you claim after a loved one has passed away.
We hope you've found our accident claims solicitors covering Bracknell guide helpful. Now, if you're looking for personal injury solicitors for Bracknell accident claims because you've suffered an injury, you know what to do.