By Joanne Jeffries. Last Updated August 23rd 2021. Welcome to our guide on accident claims solicitors for Bristol claimants. This guide explains why personal injury solicitors for Bristol claims don't have to be based there.
A guide to making accident claims in Bristol, and how personal accident solicitors could be able to help you to make a personal injury claim. In the guide below, you are going to learn about many of the ways that people can be injured, that could leave them eligible to make a compensation claim for the harm they suffered. We also cover the legal services you could access via our personal injury team.
If you have any questions about your claim, the contents of this guide, or the claims process in general, please speak to one of our team of experts on 0800 073 8801. They will provide you with the answers you need. They will also explain how our panel of accident claims solicitors can cover the Bristol area so you are not limited to personal injury solicitors in Bristol. Although we have not provided a personal injury claims calculator on this page, our team will be able to give you an estimate of how much you could be able to claim. They will also tell you which accident claims time limit applies depending on your personal injury compensation claim type and circumstances. They could also provide legal advice.
Choose A Section:
What Is An Accident Claims Solicitor Covering Bristol?
This guide is going to give some accidents claims advice, covering many different types of claims. In general, in order for a person to be eligible to make a claim, they must have suffered harm in some way due to the negligence of a third party that owed them a duty of care.
If it can be proven that a third party was even partially responsible for causing harm through negligence then it could be possible for the injured party to make a claim.
It is important to understand that a third party only has to be partially to blame, for them to be liable. Even if you contributed to your own accident, you could still be able to make a claim. Your solicitor and the defendant's legal team will negotiate a reduced percentage of liability, and any compensation settlement you are offered will reflect this.

Statistics Showing Rates Of Accidents At Work In Bristol
The table below shows data related to workplace accidents.
| Location | Total - non fatal injuries | Total - non fatal injuries per 100,000 workers | Fatal injuries |
| --- | --- | --- | --- |
| Bristol | 511 | 141 | 1 |
You can find more information about this kind of data at the following link:
The graph below shows statistics for injury causes in 2019/20 from the HSE.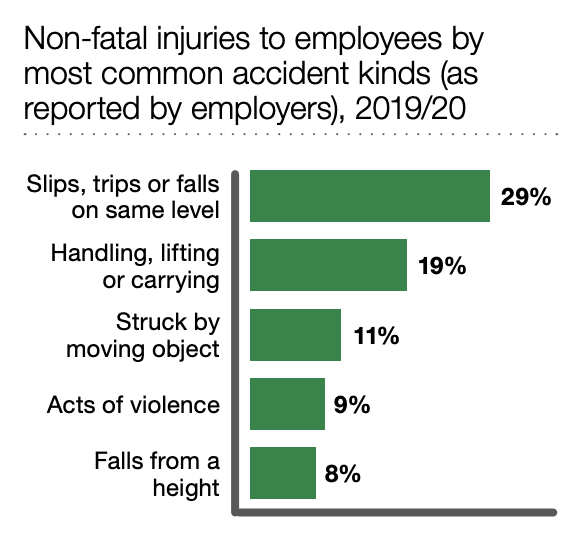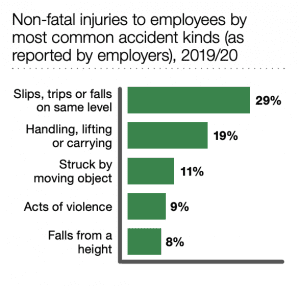 We will cover the process of making work accident compensation claims in Bristol in the following section of this guide.

Accident At Work Compensation Claims
Every employer in the UK is always legally obliged to conform with all legislation and health & safety protocols related to providing employees with a safe and healthy working environment. This compliance is mandatory, and a failure in compliance of protocols can lead to harsh penalties being levied. When compliance fails, this could lead to an employee being injured. If it can be proven that the company was to blame for an employee becoming injured or ill due to negligence, then personal injury lawyers in Bristol could be able to process an accident at work claim for the employee.

Road Traffic And Car Accident Claims In Bristol
The car accident claims process relies upon being able to demonstrate that a third party was at least partially responsible for causing the accident the claimant was harmed in. Road traffic accidents are a common type of accident in the UK each year, with whiplash being a common accident-related injury claimed for. A solicitor could help you make medical claims for a car accident, as long as you can prove the third party was at fault for the road traffic accident which caused your suffering. You may not always be claiming against another driver. For example, if a damaged road causes an accident, in this case it could be the local council that you need to claim against. Speak to our team on the number at the end of this guide, if you are unsure of who would be liable.

Trips, Falls And Other Pedestrian Accidents
Slip, trip and fall accidents are common as they could happen almost anywhere and be caused by many different things, sometimes there is not always a cause and not every injury that happens due to a fall will be the fault of a third party.
Examples of causes of slip, trip and falls could include;
Torn or frayed carpets.
Wet or dirty floors that have not been cleaned or signposted.
Damaged or improperly laid paving slabs and curbstones.
Trip hazards left on a public walkway.
It could be possible to make compensation claims in Bristol for a slip, trip or fall, against liable partys' insurance companies, if it can be proven that a third party caused the hazard which resulted in the accident. Who you claim against depends on where the accident took place. For example, if the accident happens on a public street, you may claim against the local authority. If the accident happens at work, it could be your employer you claim against. Your solicitor will be able to advise you about who the claim will be made against and what financial loss and other special damages you could claim.

Assault Injury Claims
The Criminal Injuries Compensation Authority (CICA), is an organisation in the UK that is in place to compensate victims of criminal acts. This includes physical harm that resulted due to an assault or attack of some kind. If a victim of crime is claiming through the CICA the perpetrator will not be pursued for damages any compensation awarded will come from the government scheme.

Injured In A Public Place
The local authority or council, has a duty to keep all roads, public footpaths and other publicly accessible premises such as a library or a children's playground, in a safe to use condition. When the council fails to do this, it can lead to risks such as:
Damaged park equipment posing an injury risk to children.
Slips, trips and falls due to uneven pavements.
Inadequately maintained safety railings.
These kinds of hazards can very easily cause harm to a member of the public. It could be possible for people to claim accident claims in Bristol if they are injured due to damaged and defected public pathways however there is a criteria that must be met so please call our advisors for more information.

Injuries Due To Clinical Malpractice
Medical negligence occurs if a patient is injured by a doctor, nurse, dentist, etc. due to negligence, oversight, error or omission. One key point here, is that actual harm must have been caused. Negligence alone is generally not a valid reason to make a claim.
Every medical practitioner has a duty of care towards their patients, to never cause them harm. When this duty of care is not met, and this causes harm to a patient in a way that could have been avoided, then the injured patient could be able to use medical negligence solicitors to be able to start a clinical negligence claim.

No Win No Fee Accident Claims Solicitors Covering Bristol
If you use our No Win No Fee solicitors that can cover the Bristol area, you can concentrate on recuperation why they do all the hard work for you. When we provide you with a No Win No Fee solicitor we don't charge a fee when we take your claim on, and we won't charge a fee during the time we are processing it. If we fail to secure you any compensation, we also won't charge you a fee. When we do successfully get you a compensation settlement, we will take our fees directly out of the money we have received for you. We will then give you the rest.

Taking The Next Steps
Do you believe that you have a valid cause to make an accident claim?  Do you need an outstanding personal injury lawyer to process your claim for you? If so, we can help. Speak to one of our claims experts on 0800 073 8801 today. They will go over your claim with you, explain your legal options, and also explain how our personal injury lawyers can be of service to you. 
Accident Claims FAQs
Why Should I Claim With Accident Claims UK?
By using our claims service to have your injury claim managed, you will find that there are many benefits, such as:
We have a specialist team of injury solicitors with many years of experience.
All of the initial advice we give is entirely free.
We will always aim to get you the most compensation that we can for your case.
We work in an entirely transparent manner, and will always keep you in the loop.
We will never charge you a thing, until you have actually won your claim.
Speak to one of our claim advisors today to learn more about the service we offer, and how we can help you.
Do I Have To Claim With A Personal Injury Solicitor Near Me?
There are no legal guidelines on where your accident claim solicitors should be located, whether you're claiming for a brain injury, a broken leg or an allergic reaction. You don't have to use a local firm, you can use any legal team you like. It is more important to think about how effective your solicitor will be in processing your claim for you, whether they are authorised and regulated by the SRA, whether they work on a No Win No Fee basis and whether they can win you the most compensation possible for your case, than to worry about the location of the legal firm.
Do I Have To Have A Medical Exam?
Something that can help your accident claim solicitor in processing your claim, is being able to prove how you have been injured, and the severity of your injuries. Towards this goal, we recommend that claimants undergo an independent medical examination by a qualified doctor. The report the doctor produces can be submitted in support of your claim.
Will My Medical Examination Be Carried Out In Bristol?
We can arrange for you to have a medical examination in the Bristol area, as part of our claims service. From the following medical professionals:
| | | | |
| --- | --- | --- | --- |
| Mihaela Coman | Cabot Circus, Bond Street S | Bristol | BS1 3EN |
| Altaf Choudhry | Armada House Conference & Events | Bristol | BS1 4BQ |
| | Armada House | | |
| | Telephone Avenue | | |
Speak to a member of our team on the number below to learn more about this.

Could accident claims solicitors covering Bristol help with hit and run claims?
Whether you've been injured as a pedestrian in a hit and run incident or you've suffered harm due to being involved in a car crash where the driver fled the scene, you could still claim compensation. In many cases, where a driver or other road user is uninsured, or untraceable, you could claim through the Motor Insurers' Bureau for compensation. Our personal injury solicitors covering Bristol claims could assist with your claim.
What about whiplash low value claims? Could your accident claims solicitors for Bristol claims help with those?
Now, low value claims for soft tissue injuries including whiplash from road traffic accidents are handled differently than they were before. Due to the Whiplash Claims Reform Programme, such injuries should be claimed for through the government portal. You would need to ensure you have medical evidence to back up your claim. In addition to this, you would not be able to recoup legal costs from the at fault party and your compensation would be according to a new government tariff. The tariff is based on how long you've suffered with your injuries. If you're worried about whether making a claim would be worth it, we could assist.
Could personal injury solicitors covering Bristol help with allergic reaction claims?
Have you experienced an allergic reaction while eating at a restaurant or café? If so, and you could prove that the restaurant or café was to blame, you could be eligible for compensation. You could claim if the allergy information provided to you was incorrect, or if you were served food with allergens in even though you specifically asked for your meal to be prepared without the allergen in question.
Could accident claims solicitors help with dog bite or animal attack claims?
This would be dependent on your specific case. For example, if you were attacked by a neighbour's dog because they had not kept it secure on their property, you could be eligible to claim. In some circumstances, you could also claim for a dog bite or animal attack at work if your employer had failed to keep you safe. If you're considering making such a claim why not speak to our team. We would be happy to assess your case to see if you could be eligible to make a claim with one of our personal injury solicitors covering Bristol and the surrounding area.
Where Can I Find Out More?
Although our accident claims solicitors will be able to answer many of your questions, which is the duty of any personal injury solicitor, you may also like to do a little research yourself. These links should be useful for this:
Health & Safety website about reporting workplace accidents
ROSPA website covering reporting accidents at a leisure facility
How to report a car accident in Bristol
You can also check these additional guides:
How to make pedestrian accident claims
Claiming for a workplace accident
We hope you found this guide on accident claims solicitors for Bristol claimants useful. Now you should understand why personal injury solicitors for Bristol claims don't have to be based there.