By Joanne Jeffries. Last Updated September 1st 2021. Below, you will find our guide to finding accident claims solicitors for Crewe injury claims. We will explain why you don't need to use local personal injury solicitors for a Crewe injury claim.
In this online guide to making accident claims in Crewe, you should find enough information for you to begin to understand the process involved in making an accident claim. Once you have finished reading it, you should be in a good position to start making decisions about how to proceed with your own claim.
We have covered many of the causes of accident claims, and also why people may be eligible to make a claim. If you need extra information, or have questions about anything included in this guide, please talk to a member of our claims team on 0800 073 8801. They are available 7 days a week, 24 hours a day to give you the answers you need, and free legal advice and also tell you about how our accident claims solicitors covering Crewe could help you to make a claim.
Choose A Section:
What Is An Accident Claims Solicitor Covering Crewe?
If you become the victim of an accident that was not your fault, how do you go about claiming compensation for your injuries? You probably already realise that you may need the help of a solicitor to do so, but what will the solicitor do for you?
They will, of course, act as your legal representative and process the claim for you. They will attempt to reach a settlement with the entity you are claiming compensation from, and try and get you the most compensation possible for your particular case.
But before the claim can be processed, it needs to be evaluated, and your solicitor will offer you accidents claims advice on how much would be a suitable level of compensation to aim for.
We can provide you with one of our panel of accident claims solicitors to help you prepare for making your claim. To value the claim, and then to process it on your behalf. If you would like to know a little more about the service we offer, reach out to our claims team today. They will answer any questions you have, and explain what our solicitors can do for you. You can use the number at the end of this page to contact us.

Slip, Trip And Fall Compensation Claims
Slips, trips and falls are very common accidents. They are one of the kinds of accidents that are specifically covered in the Health and Safety at Work Act 1974 in great detail, rather than in general terms. These accidents can happen anywhere, and at any time, being caused by hazards such as:
Wet or dirty floors.
Damaged floor coverings.
Uneven pavement and road surfaces.
Obstructions left causing a hazard.
Anyone who falls foul of hazards such as these (and others), that are the responsibility of a third party, could be able to claim slip trip and fall compensation for any injuries they suffered. We can provide you with an accident claims solicitors of who will be experienced in processing slip, trip and fall claims, to help you get any compensation that you could be entitled to.

Traffic Collisions And Road Accidents In Crewe
According to the Cheshire Police, during 2018, 46 fatalities resulted from road traffic accidents in the county. Anyone who is involved in a road accident in Crewe, that results in injuries, could be able to make a compensation claim if a third party was to blame for causing the accident. Our specialist personal injury lawyers could give you specialist legal advice on a wide range of road traffic accident claims.
All road users could be eligible to claim, meaning cyclist, horse riders, car drivers and their passengers, motorcyclists, pedestrians, etc. As long as they were injured due to the actions of another road user, their claim could be valid. If you have been injured in a road traffic accident in Crewe, a car accident Crewe, or any other kind of Crewe traffic accident, we could be able to help you to make a claim.

Work Accident Compensation Claims
The Health & Safety Executive is responsible for maintaining and enforcing rules and regulations that relate to workplace safety in the UK. Every company that employs staff has to comply with these regulations at all times. It is the duty of every employer to make their best efforts to remove any workplace hazards that could result in an injury to a member of staff.
When an employer fails to meet these regulatory obligations effectively, and the result is an injury to an employee, then it could be possible for the injured party to make a claim for accident compensation. If you have been injured in an accident at work, we can provide you with an accident claim solicitor that could be able to help you to make work accident compensation claims.

Reported Injuries At Work In Cheshire
Crewe is in Cheshire East, and the table below relates to workplace accidents over a number of years in this region;
| Location | Total - non fatal injuries | Total - non fatal injuries per 100,000 workers | Fatal injuries |
| --- | --- | --- | --- |
| Cheshire East | 395 | 235 | 1 |
You can find further detailed information about the period 2013/14 – 2017/18, at the following link:
Below, we show the most common reasons for these injuries, as per the HSE 2019/20 statistics.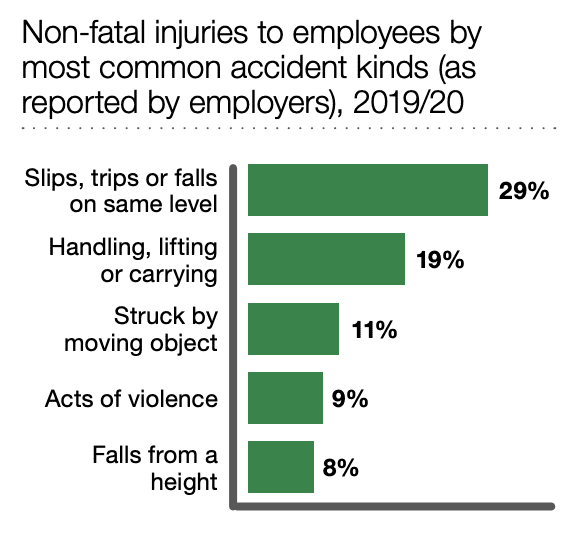 Crime Victim Compensation Claims
Violent crimes include assault, murder, rape and sexual assault. Some kinds of robberies can also be classified as a violent crime, such as a mugging, or a burglary in which the resident confronted the burglar, and was attacked by them. In these cases, who does the victim pursue for compensation? There is a special organisation in the UK that exists to compensate victims of violent crimes. This is called the Criminal Injuries Compensation Authority (CICA). The role of CICA is to give claimants a way to make a crime victim compensation claim. The victim of a crime, will make a personal injury claim through CICA. Our accident claims solicitors have many years of experience dealing with such issues for more information please call our advisors.

Public Liability Accident Claims
There are two kinds of circumstances that could result in a member of the public being eligible to make a public liability accident claim, if somebody else was responsible for causing the accident. Firstly, there are accidents that could take place on premises owned by a business or some other organisation. This could be premises such as an airport, a shopping mall, etc. Secondly, there are accidents that could take place in public places maintained by the local council such as a public building, a park, a public street, a cemetery, etc.
In both cases, if it can be proven that the premises owner, or the local council had failed to maintain the place or premises to a safe standard, then our accident claim solicitors could be able to help the victim claim for the harm they suffered in the accident.

Medical Negligence Solicitors Covering Crewe
Medical negligence could be considered an umbrella term for if a patient suffers unnecessarily due to negligence by a health care or medical professional. It can even go as far as avoidable harmed suffered when getting cosmetic treatment. This negligence could take place in any healthcare facility, from your local GP's surgery, through to a Crewe accident and emergency department or even when getting any private healthcare procedures carried out.
As long as it can be proven that a) a medical professional failed in their duty of care, resulting in negligence, and b) that this negligence caused you avoidable harm, a personal injury lawyer could be able to process negligence claims for you.

No Win No Fee Accident Claims Solicitors Covering Crewe
Do you understand what a No Win No Fee solicitor is? This section will help you to, if you don't. Under this kind of fee agreement, a solicitor will take your case on without charging you anything up front. The solicitor will then process your claim for you. If your claim is successful and you receive a compensation payment, the solicitor will deduct their fee from the money they receive on your behalf. If your claim is unsuccessful and you don't receive any compensation, then the solicitor won't charge you anything at all. We can provide you with this kind of fee arrangement. Please speak to a member of our claims team on the number below to learn more about the service we offer.

Talk To Accident Claims Solicitors Covering Crewe
Have you been injured in a Crewe accident that was not your fault? If you were, then you could be able to make a compensation claim for the harm you have suffered. We recommend that you contact our claims team on 0800 073 8801 today. They will go over the details of your claim with you, and once they know a little about your circumstances, they will offer you some free legal advice on how best to proceed.

Accident Claim Frequently Asked Questions
We have covered the actual claims process and the reasons for claims in the sections above. These following sections give additional information that relates to starting a claim, and how best to proceed.
Could I Claim Without A Solicitor?
You don't legally need to use a solicitor to make a personal injury claim. However, how do you know how to proceed with a claim without proper legal guidance? How do you find out which accident claims time limit will apply in your own case? How do you value your claim? Who do you make a claim against? As you can see, there are many aspects to making a claim, and using a solicitor is a way to make sure that the proper claims process is followed, and that you have the best chance of making a successful claim.
Do I Need Accident Claim Solicitors Near Me?
You are not legally obliged to use a local legal firm. You are free to select any team of solicitors to process your claim for you. More important than the location of your legal team, is how experienced they are in making similar claims, and what the likelihood of them successfully securing a compensation settlement is. For example, we specialise in injury and accident claims, and can cover the whole of the country.
Do I Need My Injuries Examining If They Were Already Treated?
You may have used an online personal injury claims calculator to get a general idea of how much compensation you could be able to claim. There is nothing wrong with doing this, but to get a more accurate estimate of how much you could claim, you need a solicitor to value your claim. In order for this to be possible, the solicitor will likely ask you to go for a medical examination. They will then use the results of this examination to work out how much compensation you could be eligible for.
Do You Work With Doctors Near Me?
We work with some local doctors in the Cheshire area that would be able to perform a medical examination for you.
| | | | |
| --- | --- | --- | --- |
| Christina Sendegeya | The Crown Hotel | Cheshire | CW5 5AS |
| | High Street | | |
| | Nantwich | | |
| Andre Brittain-Dissont | Suite 2, 10 West Street | Cheshire | SK9 7EG |
Call our claims team on the number above today, and we can start arranging an appointment for your medical examination.

Could accident claims solicitors covering Crewe help me with an accident that was in part my fault?
Sometimes, you might be involved in an accident where it isn't immediately clear who is at fault. In cases such as car accidents, this means that you should not say anything at the scene that could be considered admittance of fault. Even a simple 'sorry' could be used against you. If you're partially at fault for such an accident, but there is also some blame by another party, this could mean you could still claim compensation. Our personal injury solicitors covering Crewe could help you make a split liability claim of this type, and would be happy to speak to you about your claim.
Sometimes, these claims can be somewhat complex, especially if the other party doesn't admit they were partly to blame. Such cases take carefully evidence gathering and negotiation to resolve. In cases where the liable party refuses your claim or disputes your injuries, it may be necessary to go through the courts to claim the compensation you deserve. Lawyers could support you if your claim needs to be heard in court, and could help you with your fight for compensation throughout.
What do I need to be looking for when choosing accident claims solicitors covering Crewe?
Whether you've suffered a back injury in a workplace accident or have suffered whiplash in a car accident, you don't need to use a locally based solicitor or law firm. This opens up your choice of law firms and solicitors across England and Wales. So, with all this choice, what should you consider when making your decision on who to use to assist with your claim. Some of the following could be useful in helping you make your decision:
Do they work on claims under a No Win No Fee agreement? Making claims on a No Win No Fee basis might be something you're considering.
Are they authorised and regulated by the Solicitors Regulation Authority (SRA)?
Do they provide free of charge, no-obligation legal advice to potential claimants?
Have they many years experience in their field?
What's their success rate?
Do they have any reviews on independent websites? Are they good reviews?
Are they easily contactable and do they keep people updated throughout the claims process?
Here at Accident Claims UK, we believe we are in a good position to answer all these questions positively. Please don't hesitate to ask us anything you like about our service. We'd be happy to help you.
Accident Claim Advice
These additional external links have information that may be useful:
How To Report A Workplace Accident
The Local County Court In Crewe
Cheshire Police RTA Reporting Process
These other guides could also be a useful read:
Making A Claim For An Amputated Limb
Claiming For An Accident On A Package Holiday
How To Claim For An Allergic Reaction To Nuts
Hopefully, you'll have found our accident claims solicitors for Crewe accident claims useful. Now you'll know why you don't need to use local personal injury solicitors for Crewe claims.