By Joanne Jeffries. Last Updated 13th September 2021. Welcome to this accident claims solicitors covering Hemel Hempstead guide. Here we explore what to consider when using personal injury solicitors for Hemel Hempstead claims.
If you have been injured and it was not your fault, but a third party who owed you a duty of care was responsible you may be able to make a claim for compensation. Using the services of accident claims solicitors covering Hemel Hempstead could assist you throughout the claiming process. Claiming compensation after an accident that was not your fault will not only cover the pain and suffering you have been caused but also any financial losses.
When it comes to securing compensation, the first thing you might want do is determine whether you actually have the basis for a successful accident claim. The first thing you may need to do is make sure you can prove that someone else is to blame for your injuries. You might need to show that they made an error or acted negligently and this resulted in the incident that occurred. Aside from this, it could be vital that you see a medical expert, as you could need their medical report as evidence of your suffering. The date of the accident could also be important because there is a three-year time limit on many personal injury claims. There are exceptions, though, for example, those that relate to incidents whereby the injuries you have sustained have occurred over time, in which case you could have three years from the date of the diagnosis instead.
Once you have determined whether you have the basis for a claim, the next part could be really easy. Just give us a call and we could handle everything for you. Accident Claims UK has many years of experience in helping personal injury victims, thus you can rest assured that you will be in safe hands. All of our panel of solicitors work on a no win no fee basis as well.
Choose A Section
What Is An Accident Claims Solicitor Covering Hemel Hempstead?
There are many components that come together to ensure a successful personal injury claim, yet it could all begin with one thing, and this is with choosing a quality personal injury solicitor to take on your case. Keeping that in mind, in this section, we will reveal everything you might want to look out for when narrowing down your search for accident claims solicitors covering Hemel Hempstead.
No win, no fee – One of the most pivotal factors to take into account could be the payment structure the personal injury lawyer is happy to work to. You could look for someone that is willing to work to a no-win, no-fee payment agreement, as this means you will only need to pay legal fees to your solicitor if your case is a success, which reduces monetary risk significantly. You could also be confident of a quality service if you go for this option because the amount of money the personal injury lawyer makes is going to be determined by the outcome of the case, and thus they should ensure they give your accident claim the amount of attention it deserves.
Reputation – It could pay to spend a quick five to ten minutes researching the accident claim solicitor online to see what previous clients have had to say. This could be one of the greatest ways of getting a true picture of the service you are likely to experience. If someone has a poor reputation, you should be able to pick up on this quite easily, and you would know to look elsewhere.
Experience – Finally, although everyone has to start somewhere, we would not advise you to go for an inexperienced no win no fee solicitor. People could be drawn to such professionals because they offer low rates, but if the accident claim solicitor costs you your chance of getting compensation, they are going to end up being much more expensive in the end. Instead, you might wish to make sure the personal injury lawyer has plenty of years of experience in his or her locker and that they have handled personal injury cases similar to yours before.
Accidents In The Workplace
Workplace accidents could vary dramatically. There are those that occur as the result of one specific incident with the effects evident straight away, e.g. construction accidents or accidents that have happened because of poor health and safety. There are then those injuries that develop over time because of an employer's negligence, such as industrial deafness or repetitive strain injury. No matter what type of accident you have been involved in, read on to discover some top workplace accidents claims advice.
Report the incident – One of the most crucial things you might need to make sure you do is report the accident at work to your employer and your safety representative. This could be imperative because all employers are required to have an accident book by law and thus they will need to record your injuries in there. If you fail to do this, you could find yourself experiencing a few obstacles later down the line when you go to make an accident at work compensation claim.
See a medical professional – This could prove the suffering you have endured, and it would be used as medical evidence if you are eligible to be able to pursue a claim.
Keep proof of expenses incurred – If you have encountered any expenses because of your injuries, such as loss of income or prescription expenses, you may need to keep proof so you could claim for these as special damages. So, it might be wise to make sure you keep your hands on any receipts or relevant documents that will help to back up your case.
Take photographs – In some cases it could strengthen your case if you take photographs. For example, if your injuries are visible or there is visual proof of poor health and safety, then you could take a photo, and this could help to strengthen your case.
Numbers Of St Albans Workplace Injuries
The statistics below show many people have been injured in the workplace in Hemel Hempstead. These are taken from the HSE Site.

| Location | Total - non fatal injuries 2018/19 | Total - non fatal injuries per 100,000 workers 2018/19 | Fatal injuries 2018/19 |
| --- | --- | --- | --- |
| St Albans | 93 | 165 | 0 |
Below, you can see some common 2019/20 causes of work injuries from the HSE's statistics.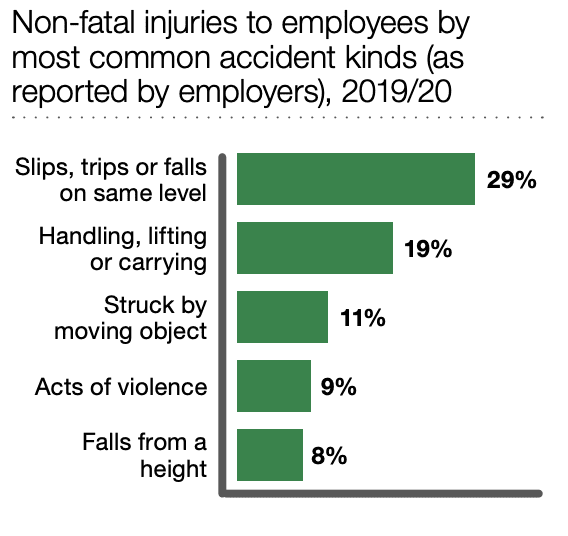 Whiplash Injuries And Road Traffic Accidents In Hemel Hempstead
When it comes to road traffic compensation claims in Hemel Hempstead, one of the most common injuries that could be suffered could possibly be whiplash. A whiplash injury could occur in many different ways, from a car crash to slipping on a wet floor, and it can show itself with many different symptoms, from neck pain to dizziness.
If you have suffered a whiplash injury in a road traffic accident in Hemel Hempstead, as part of your claim you would need to see a medical professional, even if you have seen a doctor immediately after the accident. If you don't see an independent medical expert you might struggle to get the compensation you are entitled to. After all, your medical report from an independent medic could form the basis of how your compensation is calculated.
When it comes to getting compensation, you generally need to be able to prove that the accident was not your fault and that the injuries were sustained in the last three years – in most cases. If this is the case, you could have the basis for making a compensation claim.
Fall, Trip And Slip Accident Compensation
There is no denying that slips, trips, and falls could be very common. This is because they could happen anywhere and they could occur in so many different ways. From slipping on a wet floor in a supermarket to tripping over an obstruction due to poor lighting, if the incident was not your fault, call our panel of accident claims solicitors today.
Criminal Injury Compensation Solicitors
Claims could also be made if you have been injured because of a crime, whether or not you were the intended target. Criminal injury compensation solicitors will launch your claim with the CICA. This is a government body that was set up to compensate victims of crime, no matter whether the perpetrator has been caught or not.
Accidents Which Happen In Public Places
It is the responsibility of the local highway authority or local councils to ensure that all paths, roads, cycle paths and bridleways are maintained properly. If they fail to do this and you have been injured as a result, you could be entitled to claim. Some common examples of this type of incident could include tripping due to potholes in the road, tripping over manhole covers or missing grids, as well as tripping on defective paving slabs.
If you have been involved in this type of accident, you should report it as soon as possible. If applicable, you may wish to take photographs of the defect while it is still there. It could also be a good idea to get the contact details of anyone that witnessed the incident. Then, you could call our accident claim advice line for help on what to do next.
Medical Negligence Claims Against Practitioners In This Area
The final example of personal injury claims is medical negligence claims. If you have suffered because of clinical negligence and it can be proven that another healthcare expert of the same calibre would have not caused the unnecessary suffering you may be eligible to make a medical negligence claim. You need to show that their actions or lack of action resulted in you suffering further illness, injury or progression of illness that would not have happened if they had not been negligent.
No Win No Fee Accident Claims Solicitors Covering Hemel Hempstead
When it comes to personal injury claims, no win no fee claims in Hertfordshire are often advised as a good way to go. This means that you are only going to need to pay legal fees to your solicitor if your case is a success. This could reduce your financial risk and also lead to a quality service because your solicitor would directly be impacted by the result of your case.
Talk To A Specialist
Get in touch with the team at Accident Claims UK today on 0800 073 8801 to start your claim process. We're happy to answer any queries and provide you with a solicitor who has a registered office in the UK that could fight your accident claim for you.
FAQs For Accident Claims
Below, we answer some of your common queries.
How Do I Make A Claim?
It is not a requirement to use a personal injury solicitor the choice is yours but it can make claiming a lot less stressful. Informing the solicitor of when the incident happened, how it occurred and where, as well as the details of your injuries, medical diagnosis and treatment, and any financial losses you have occurred because of your injuries is a good way to start the process. Your solicitor will then be able to give you a realistic depiction of your case, telling you how likely it is to succeed. They could also give you an idea of how much compensation you will be able to claim.
One of the great things about our service is the fact that all of our panel of solicitors work on a no win no fee basis. Thus, you can be sure that we won't waste your time. If we believe that your case isn't strong enough we will tell you.
Why Location Is Not Important To Choosing A Solicitor?
You can work with an accident solicitor based anywhere in the country because claims can be handled via telephone and email today.
Why Are Medical Assessments Important?
Medical assessments and examinations are key as the report that the independent doctor will compile will be used to calculate a significant part of the overall damages that you will be awarded
Where Are Medical Experts Located?
Some local experts could include:
Q.F. Mirza
Treatment room, Sportspace Hemel Hempstead
Park Road
Hemel Hempstead
HP1 1JS
Ketan Bhatt
Regus Building
Suite G, Ground Floor
Breakspear Park,
Breakspear Way
Hemel Hempstead
HP2 4TZ
Should you choose no win no fee accident claims solicitors covering Hemel Hempstead to work on your personal injury case?
If you have been injured or suffered an illness as a consequence of any sort of accident or incident, you may want to work with an experienced and reputable personal injury expert who could give you the best possible chance of a successful case and the maximum compensation possible. One thing you do need to think about is the payment structure the professional works to. A no win no fee solicitor authorised by the Solicitors Regulation Authority could make a lot of sense.
This approach means that you will only need to pay legal fees if your case is a successful one. If your case is not a success, you don't pay your solicitor a success fee.  This could lower the financial risk considerably and could mean people can claim who otherwise would not be able to if they went down the traditional route.
Understanding the different work accidents that accident claims solicitors covering Hemel Hempstead could help with
The Health and Safety at Work etc 1974 Act is in place in the UK, and this is something that all employers need to adhere to, irrespective of the industry they are in. As per these regulations, it is imperative that a safe and healthy working environment is provided for all.
To ensure that this is the case, employers may need to conduct risk assessments on a regular basis. They would need to get to the bottom of any of the risks within the working environment so that they can put provisions in place to deal with them. A fresh risk assessment should be done once per year, and also whenever there has been a change in workplace. If you have been injured because of a lack of a risk assessment or your employer has failed to take action based on the findings, there is a chance that you will be able to make a claim.
There are a lot of other examples whereby it is possible for workers to make a claim against their employer. For example, if you have been assaulted in the workplace, and your employer could have protected you from a foreseeable risk of this happening but failed to do so, this could result in a successful claim. Or, if you have been injured due to a lack of PPE or because you have received adequate training for your job role, these scenarios could also result in a successful payout. Not sure if you could claim?  Simply give our experienced and friendly team a call for more information a free assessment and an overview of the legal services we could provide.
Hemel Hempstead Resources
Workplace Accidents – Reporting accidents at work is important – see the guidance here.
Accident Data From The Local Council – Here, you will see accident data for the area.
Report An RTA – Local area reporting information for road accidents.
Local Court – You can find the local court details here.
Self-Employed Accident Claims – Are you self-employed but feel you have a claim? Read here to find out more about how solicitors registered in England and Wales could help.
Building Site Accidents – See information and legal advice on making building accident claims here.
Accidents In Restaurants – You can find information on these types of injury or illness claims by reading this guide.
We hope this accident claims solicitors covering Hemel Hempstead guide was useful. Now you'll be aware of what to look for when seeking personal injury solicitors for Hemel Hempstead claims.