By Joanne Jeffries. Last Updated 14th September 2021. Welcome to our guide covering accident claims solicitors for Kidderminster claims. Hopefully, this will help you understand what personal injury solicitors covering Kidderminster claims could help with.
Accidents and personal injuries could have a serious effect on your life. You may suffer physically, psychologically or both. Knowing that another person or an organisation was responsible for your accident taking place and knowing that this accident could have been avoided may make it even harder to deal with. Whilst a personal injury claim may not be able to make up for your accident having happened, it could compensate you for the effects of it. In this guide you could find out how accident claims solicitors covering Kidderminster may be able to help you claim any damages which you are entitled to. if you're looking to seek legal advice because you've sustained an injury that was not your fault to get the compensation you deserve, we'd be happy to help.
Whether you were hurt because of an accident at work, were involved in an accident on the road, or suffered ill effects of medical care, our accident claims solicitors could help you. They could also provide you with specialist accident claims in Kidderminster advice and guide you through the claims process.
Choose A Section
What Is An Accident Claims Solicitor Covering Kidderminster?
Accident claims or personal injury solicitors covering Kidderminster are simply solicitors who may not have offices or be based in this area but who could conduct claims here. The terms accident claim or personal injury are used when describing cases in which the claimant has suffered some form of injury due to third party negligence. This may be a physical injury, such as whiplash, or psychological trauma, such as PTSD. This injury will have occurred as a result of an accident caused by another person, company, organisation etc.
There are numerous different ways in which someone could sustain a personal injury and have reason to claim compensation. Some of the most common of these are looked at below and include;
Accidents in the workplace,
Accidents on the road,
Accidents which happened in public places,
Cases of medical malpractice,
Injuries suffered as a victim of a crime.
Find out more about each of these circumstances below, as well as how to make a no win no fee compensation claim.
Accidents Caused By Slips And Falls
Tripping over or having a fall may not sound like a serious accident, but they can be. In fact, according to Health and Safety Executive data, these account for the majority of accidents in the workplace. You can see statistics here. Slips and falls do have the potential to cause serious injuries to a victim. Around a third of injuries in the workplace are accounted for by this type of accident. If you have suffered a slip trip and fall due to the negligence of a third party that owed you a duty of care which has caused you an injury you may be eligible to make a claim for compensation.
Slips and trips could be caused by broken paving or flooring tile accidents in a shop, by trailing wires, or through spillages. They could also be caused by general debris not being removed or cleared from the floor. They may also be caused by broken or damaged stairs or by a damaged handrail on a staircase. Even inadequate lighting could lead to people having this type of accident.
Workplace Accident Claims
If you have had an accident at work, you will know how distressing this could be. At the same time you may also be wondering if you could claim compensation from your employer who caused your accident. It is vital that all employers provide a safe and healthy working environment where possible. Accidents that could happen in different work places could include;
Repetitive strain injuries.
Agricultural or forestry accidents.
Crane accidents.
Noise induced hearing loss.
Industrial diseases and other illnesses.
Back injuries
Construction worker accidents.
Lorry or HGV accidents.
Lifting and carrying injuries.
Forklift truck accidents.
Electric shocks
Falls.
Hernias.
There are many ways in which you could have an accident or be injured when at work and those above are just some of the different ways in which they happen. If you have experienced any injury at work in which you feel could have been prevented had the right health and safety procedures been followed and are unsure if you could claim compensation, please talk to a member of our team.
Injuries At Work Reported In The Worcestershire Area
This table presents some statistical findings in relation to accidents in the workplace reported in the county of Worcestershire. Data is not published at the town/ city level for Kidderminster and so we are instead looking at the wider area. Statistical indicators included in this table are rates of non-fatal injuries at work, the overall rate per 100,000 workers in this county and finally the number of those fatally injured at work. The original accident statistics can be found here.
| Location | Total - non fatal injuries | Total - non fatal injuries per 100,000 workers | Fatal injuries |
| --- | --- | --- | --- |
| Worcestershire | 586 | 273 | 1 |
Below, we also provide some 2019/20 statistics on work-related ill-health.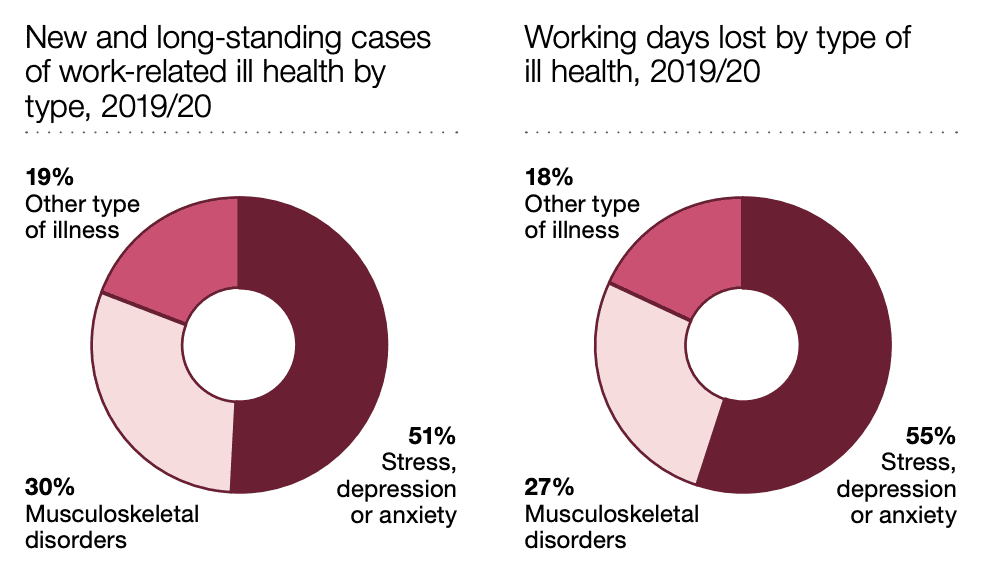 Car, Traffic And Road Accidents In Kidderminster
If you were injured in a bike crash, car accident or other form of road crash and want accident claims advice, speak to our team of personal injury lawyers and accident claims solicitors. You could have experienced a whiplash injury or find you have been left with breaks and fractures. At this point you may have many questions about how the personal injury claims process works, which is where our team of personal injury solicitors covering Kidderminster could help.
Types of accident on the road,
Motorbike or cycling accidents.
Car crashes and collisions.
Accidents involving heavy goods vehicles (HGV's).
Accidents involving pedestrians.
At what may be a distressing time it is important that you get the right information and advice so that you can make fully informed choices.
Accidents Which Happened In A Public Place
This type of accident could happen because a local council, other authority or a private body or company has neglected their duty of care to maintain a space, building or facility which they are responsible for. Public accident claims may be made for accidents as diverse as an accident in a shop or a Kidderminster train station accident.
Any place which is open to members of the public must be maintained to a standard where it is safe for members of the public to enter without significant risk of injury or illness. This does not mean that this type of accident does not happen.
Some of the most common types of public place accidents handled by our team of accident claim solicitors may also fit into other categories we look at in this guide, such as injuries caused by tripping over.
Public place accident examples,
Slips and falls which happen as a result of damage to a pavement, defective stairways and steps, a crack in the pavement or an obstruction on the walkway in a car park.
Tripping or falling over inside a shop, supermarket, shopping centre or other similar private establishment due to a tripping hazard on the floor.
Here you could see how to make public place accident claims in Kidderminster.
Medical Malpractice And Negligence
Medical negligence can be defined as a health worker or medical practitioner acting in a way that causes a patient avoidable harm such as a new illness, injury or the worsening of the existing condition. Proving liability may not be straight forward as it will need to be proven that a health professional of the same ability would have not caused the same harm given the same circumstances.
If you were harmed because the care you received was substandard and were under the treatment of the NHS, it could be helpful to also seek answers through the NHS's complaints procedures. Doing so could help to better establish what went wrong with your care and how it should have been carried out. This information may make your solicitor better able to make an informed claim about your injuries or illness.
Examples of when you could be harmed during clinical negligence and for which a personal injury lawyer could help you to claim:
Cerebral Palsy which was caused through lack of monitoring.
Instances of oncology (cancer) negligence.
Negligent misdiagnosis by a GP or specialist doctor.
Mistakes and errors during surgery which caused injuries that may have been avoidable.
To see if you could make a medical negligence personal injury claim in Kidderminster, please read this article.
Claims For Criminal Injury Compensation
If you or someone who you know has been injured as a victim of a violent crime, you or they could claim compensation. Our accident claims solicitors appreciate that having been assaulted or abused may have been extremely traumatic and will handle your claim with the care and attention that it needs. They could provide you with accident claims advice and make sure that you make your claim within the criminal injuries accident claim time limit of two years.
To be able to make a criminal injury compensation claim you may need a crime number, so we do recommend that where possible you report what has happened to you to the police. You can find details of West Mercia police in the resources section at the bottom of this guide.
Our guide to criminal injuries claims also includes a personal injury calculator allowing you to see when you could claim and how much your claim could be worth.
No Win No Fee Accident Claims Solicitors Covering Kidderminster
Conditional fee or no win no fee is an agreement or contract between you (the claimant) and a no win no fee solicitor. The purpose of this is to make sure that you are able to start an accident claim without the worry of wondering how much you will have to pay for everything from an initial consultation through to any ongoing costs. In this case, there will just be a single payment at the end of the claims process which is made when you are awarded compensation.
When we say no win no fee, we mean just that. Your no win no fee solicitor will be upfront with you about any potential costs and charges and set out their terms of payment. If they are not able to win you compensation, there are no solicitors fees due.
We are happy to say that all cases handled by our panel of accident claims solicitors are done so on the basis of a no win no fee agreement. Your solicitor may discuss this and other funding options open to you.
How To Contact Our Team
Contact Accident Claims UK's team of accident claims solicitors covering Kidderminster today. You could speak to a member of our team and have an initial consultation about your eligibility to claim compensation.
Contact us today by phone on 0800 073 8801.
Complete our online contact form on the right hand side of this page to request a call back.
Frequently Asked Questions
Before deciding to claim accident compensation with a personal injury solicitor, you may have questions about the process of doing so or whether you are eligible. Some common personal injury claim questions are answered below.
Q: Am I Able To Claim Compensation For My Accident Or Injury?
A: If you have been injured in an accident which was caused by third party negligence and if that accident took place in the last three years in the case of an accident, or last two years in the case of a criminal assault, and if you could show the other parties culpability for the said accident, you could claim compensation. Find out your eligibility to make a personal injury claim by discussing your case with a member of our team.
Q: Is The Location Of A Solicitor Important?
A: When you are looking for a solicitor to handle an accident claim in Kidderminster you do not have to limit your search to this area for a law firm with a locally registered office. Unless your case is very complex or unless there are unforeseen reasons for doing so it is not likely that you will have to meet up with your solicitor or travel to their offices. This means you can expand your search to nationwide accident claims solicitors covering Kidderminster. Having someone who has worked on this type of claim before may be more important than having a personal injury solicitor based in the town.
Q: What Is The Role Of A Medical Assessment In The Claims Process?
A: As with personal injury claims made anywhere in the country, personal injury claims in Kidderminster may require different types of evidence. From having CCTV footage or photographic evidence of an accident or of your injuries to having medical evidence, the more evidence you have, the stronger your claim may be. A medical assessment is part of this evidence gathering process. Seeing a specialist doctor makes sure that both you and the accident claims solicitor working on your claim have a good understanding of what injury you sustained. This, along with a prognosis for recovery allows your solicitor to best estimate how much you could be owed using a personal injury claims calculator.
Q: Could I Visit A Doctor In Kidderminster?
A: If you live in this area and your claim requires you to see a doctor for a checkup or assessment you may be able to see a local doctor who works with our panel of accident claims solicitors. Whilst we can not guarantee that this is the case, our team will try to make sure this is so. In Kidderminster, we work with the following doctor:
Alba Sanchez Mascunano
35 Hartlebury Road,
Stourport-on-Seven
Kidderminster
DY13 9JA
Our accident claims solicitors and team will endeavour to make sure your checkup happens as close to you as we can. However you may not see this doctor or be assessed here depending on availability.
Could accident claims solicitors covering Kidderminster help if I've been partially to blame for a road accident?
Personal injury solicitors covering Kidderminster could be able to help you if you were partly at fault for a road traffic accident. Such claims could be complex, however, as your specialist solicitors would have to argue that there was another party at fault for the accident too, and that you still deserved compensation, even though you contributed to the accident. It could therefore, be wise to investigate the solicitor or law firm you're considering choosing very carefully before making your decision. Whilst it would be wise to check that they are authorised and regulated by the Solicitors Regulation Authority, and are registered in England and Wales, there are other things you could investigate too. You might want to check that they could take on your claim under a no win no fee agreement, and that they have years of experience in helping claimants with claims just like yours. You could also read some reviews that previous claimants that have used their legal services have left for them. This way you could have peace of mind that you've made your decision based on all the information available to you.
Would accident claims solicitors covering Kidderminster assist with a food allergic reaction claim?
Many people in the UK have food allergies, and if you have one you might take extra care when you are eating out in restaurants or purchasing food from a cafe, for example. You might look carefully at the allergy menu, to make sure that what you're ordering doesn't contain what you're allergic to. Or, you could ask serving staff to leave something out of your meal, for example. Should the food business be negligent in adhering to your request or providing you with allergen information, you could suffer an allergic reaction. No matter whether your allergic reaction is minor or severe, we could help you to make a claim for compensation if a restaurant has wronged you, leading to you suffering harm in this way.
Resources For Accident Victims In This Area
Here we provide additional resources and references for those who have been harmed as a result of a Kidderminster accident. These resources may be helpful in the time immediately after your accident, or in the following weeks and months.
Reporting Of Accidents By Employers
Certain accidents and injuries in the workplace need to be reported by employers to the Health and Safety Executive. The correct procedures for doing so can be found here.
Reporting Of Injuries, Diseases And Dangerous Occurrences – 2013
This is the legislation placing a duty of care on an employer to report specific types of accident and injury.
West Mercia Police
West Mercia Police are the local force covering Kidderminster. If you have been involved in an incident, such as a car accident, it should be reported to the police. Details of how to do so are here.
Birmingham Civil Justice Centre
Accident compensation claims which need to go to court for a hearing may do so at this crown court.
We hope this accident claims solicitors covering Kidderminster guide has been useful. Now you'll know what kinds of claims personal injury solicitors covering Kidderminster could assist with.