By Joanne Jeffries. Last Updated August 23rd 2021. Welcome to our guide on accident claims solicitors for London claims. This guide explains how personal injury solicitors for London claims don't have to be based in the area. Have you been harmed by an accident in London? If so, you may be looking for accident claims solicitors London who could help you to claim compensation. There are many ways in which you may have been harmed in an accident which was not your fault, from accidents in the workplace to those on the road, pavement, in a public place or through medical negligence. If you believe that someone else was to blame for your accident you may be able to make a personal injury claim.
Despite not being located in London, our panel of accident claims solicitors could help you to make a successful accident claim. In this guide we look at what an accident claims solicitor is and circumstances in which you could make a claim. We also answer some of the most frequently asked questions by those seeking accident claims advice on making a compensation claim for claims involving traffic accidents, clinical negligence and more.
When you are ready to begin your claim, and get the compensation you deserve, contact our specialist personal injury team by calling on 0800 0738 801.
Choose A Section
What Is An Accident Claims Solicitor Covering London?
If you have been harmed in an accident in London, which was caused by someone else, you could be able to claim accident compensation. Accident claims in London could be made due to the negligence of a health care provider, another driver, employer, the owner of private premises or public services. To have the best chance of both making a successful accident claim in London and securing the highest possible settlement you could use a personal injury solicitor.
A personal injury solicitor may also be known as an accident claims solicitor. In general, they may be a solicitor in London (or elsewhere) who specialises in helping people to claim accident compensation from those who are responsible. Services which a solicitor could provide include;
They will assess whether you do have a valid claim and that you are within the applicable accident claims time limit.
They will help collect evidence.
They could estimate your potential compensation through a personal injury claims calculator.
To learn more about personal injury solicitors working on a no win no fee basis and how they could help you achieve the maximum compensation possible for accident claims in London, read on.
Statistics – How Many People Are Injured At Work In London?
People may be harmed in the workplace in a variety of different ways and to different levels. Currently in the UK there are 1.4 million people suffering from illnesses related to their work. There are a further 71,062 reports each year of people being harmed in the workplace. Additional statistics can be found at this report by the HSE.
To help better illustrate rates of accidents in the workplace in London we have created this table. Here we look at the total number of fatal and non-fatal workplace injuries, as well as the rate per 100,000 workers.
| Location | Total - non fatal injuries | Total - non fatal injuries per 100,000 workers | Fatal injuries |
| --- | --- | --- | --- |
| London | 7,817 | 178 | 7 |
Further annual statistics for other areas of the country are available in a PDF guide produced by the Health and Safety Executive which you can download here.
The HSE also provide information and statistics on work-related injuries, as you can see below.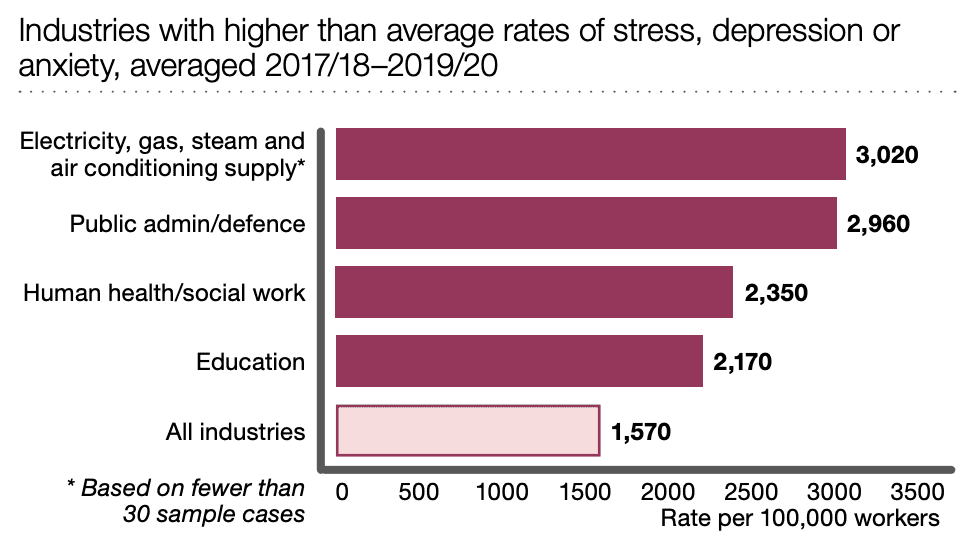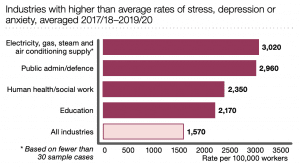 Accident At Work Claims
Accident claims solicitors London (or those covering accident claims in London) could help you to bring a workplace accident or injury claim. Such claims may generally be brought for injuries or illnesses which have arisen due to an employer acting in a negligent way. They may have failed to provide a safe working environment, or to train you how to carry out you daily activities correctly.
Employers owe their employees a duty of care. There are various guidelines and articles of legislation which set out an employers responsibilities. Some steps which employers should take (and which could lead to harm if they do not) may be,
Providing a safe working environment and safe equipment.
Providing any necessary safety equipment, such as personal protective equipment.
Appropriate safety (or other) training so that employees can carry out their job role in a safe way.
If you have been injured or contracted a workplace illness because of negligence, our panel of  accident claims solicitors could help you. We could provide legal advice over the phone for minor injuries and fatal accident claims.
Road, Traffic And Pedestrian Accident Claims
Travelling on the capitals road network and using crossings as a pedestrian is generally very safe to do. However some people may be harmed due to negligent actions on the part of another road user, whether they are another car driver, moped rider, cyclist or pedestrian crossing the road. If you have been in a road accident in London, such as a car accident in London, you may be able to claim compensation for any injuries that you have suffered if a third party is responsible through negligence.
According to figures from Transport for London we can see that 12,375 people were harmed in some way in a car accident in London in 2017. We can also see that the total number affected by road accidents in London in the same period were 32,567. You can learn more about the car accident claims process elswhere on our site.
Slip And Fall Accident Claims
According to various organisations, slips and falls are either one of or are the most common ways in which people are injured in the UK. Data from the Health and Safety Executive shows that they are the most common way in which people are injured at work.
Such accidents could lead to anything from soft tissue injuries to catastrophic injury, include brain and spinal injury. A brain injury or spinal cord injuries could mean the injured party needs care for the rest of their life.
Slips and falls could be caused because of a negligent employer or because pavements have not been maintained. Even potholes on the road could cause a pedestrian to trip and fall when crossing. And if icy pavements are not properly treated people could slip over and be injured through no fault of their own. Slips and falls may also be caused by footpaths having been obstructed by someone negligently leaving items and causing a hazard. Slips and falls in London could cause injuries such as sprains, fractures, or other musculoskeletal injuries.
Criminal Injury Claims
In addition to helping you make a personal injury claim for harm caused by negligence, our accident claims solicitors could also help you to claim compensation if someone has deliberately harmed you, such as through a criminal act against you.
A criminal injury or criminal accident might be physical harm or psychological trauma which a victim has suffered due to the criminal actions of another. You may be able to claim compensation for a physical injury such as a broken bone, or for psychological harm which presents later, such as PTSD. Psychological injuries may not present straight away after you are exposed to a situation. In such instances, the accident claims time limit will begin from the time you were aware of the PTSD and it had been diagnosed. Contact our injury department to find out more about this.
Public Place Accident Claims
Public places can encompass a large number of different spaces. It could include a local park, the street, a shopping centre or leisure centre. In general, any space or building where you can go as a member of the public could be considered a public place for the purposes of making a claim.
Depending on the space in question (whether it is operated by a public body or private owner) the claim may be brought against different parties. Your claim may be against a local authority responsible for maintaining the pavement or a local park, or a private company responsible for a shopping centre or car park.
If you have been harmed in a public place in London, or you're claiming on behalf of a family member contact our team for accident claims advice today.
Medical Negligence
Medical negligence is a term which is used to describe circumstances in which a medical practitioner (such as your doctor, dentist or even a nurse) who was treating you caused you to suffer unnecessarily through negligent treatment or service. As someone providing healthcare services they legally owe you a duty of care to treat you using the minimum standard required and to not cause you any 'avoidable harm' in the process. We have used the term 'avoidable harm' because sometimes necessary treatments may have side-effects which cannot be avoided.
Personal injury claims for those who've suffered injury under medical care could be brought against healthcare providers that are part of the NHS or the private sector. Our panel of accident claims solicitors could help victims of medical negligence to get the compensation they may be owed by making negligence claims.
No Win No Fee Accident Claims Solicitors Covering London
Regardless of whether you are searching for 'car accident solicitors covering London' or slip trip and fall solicitors covering London, how you will fund your road traffic accidents claim or clinical negligence claim may be one of your chief concerns. One of the most affordable ways in which you could fund your claim is to do so through a no win no fee agreement.
A no win no fee solicitor is one who operates through a CFA or conditional fee agreement (a more technical term for no win no fee). Under this type of agreement, the solicitor undertakes work for the client on the basis that their fees will only be paid if the claimant receives a settlement. If the claim is unsuccessful there will be no bill to pay your solicitor at the end of the claims process.
What To Do Next
Your next step should be to get in contact with our specialist personal injury solicitors and begin the claims process. Whether you are looking for accident claims solicitors London or law firms to help you make a London bus accident claim, or need to make a different type of claim, we could help. Although we are not based in London we have a panel of specialist personal injury solicitors who could cover the London area.
To start your claim, simply call us on the number at the top of this guide, or click here to see other ways to get in contact with our team.
Accident Claims FAQs
Below we have answered some of the most frequently asked questions which people may have when making a claim with a personal injury lawyer or solicitor.
How Our Accident Claims Team Could Help You
We appreciate that there may be many different solicitors, lawyers and law firms who could handle your claim. However, we believe that we are ideally placed to handle your claim. Our solicitors have up to three decades of experience in handling claims and we may be able to offer you a no win no fee agreement. We are also here 24 hours a day to answer your calls and queries.
Does My Solicitor Need To Be Based In This Area?
You can use a solicitor who is located anywhere in the country and do not have to use accident claims solicitors in London. In most cases you will communicate with your solicitor over the phone, by email or through the post.
Will I Need A Medical Examination?
As part of the process of collecting evidence to support your claim you may be asked to undergo a medical examination with a medical expert. This will produce a report detailing how the accident and/ or injury has affected your health, what treatment you require and your future prognosis.
How Far May I Have To Travel To Have A Medical Examination?
We work with a panel of different doctors across the country who could carry out your medical examination. In London, this panel includes,
Vivek Khare
75 Broadway,
Ealing,
W13 9BP
Mirella Radici
173-177 Euston Road,
London,
Euston,
NW1 2BJ
Marta Molinero
64A George Street,
Croydon
London,
CR0 1PD
Could accident claims solicitors help London claimants with hit-and-run claims?
If you, or a loved one has been injured in an accident where the driver fled the scene, or they were uninsured at the time the accident took place, you may worry about whether you would still be able to make a personal injury claim. If your route to compensation could not take the form of a personal injury claim against the at fault party, you may still be able to claim compensation with personal injury solicitors covering London claims. This is because the MIB could compensate you for an accident in which you were injured with an uninsured or untraceable driver.
Our accident claim solicitors covering London could help you with such claims. You would need to be able to evidence the fact that the accident occurred and that it caused injury. While the MIB attempt to settle claims as quickly as possible, there may be some delay to your claim if there is a prosecution in progress against the at-fault party. This is because the police report would not be able to be released until any court proceedings had finished.
Could accident claim solicitors covering London help with low value whiplash claims?
If you have already heard about the Whiplash Claims Reform Programme, you might be aware that for low value soft tissue injury claims resulting from a car accident, you would have to make a claim through the government portal. What you may not know is there is now a ban on settling any such claims without any medical evidence. There is also a government tariff which dictates how much compensation you could receive based on the length of your symptoms. Another feature of this programme is that you would not longer be able to recover any legal costs from the at fault party.
However, we could still help you with such claims. Please get in contact with us if you believe you have a low value soft tissue injury claim, and we would be happy to guide you.
Could personal injury solicitors covering London claims help with an allergic reaction?
Have you suffered with an allergic reaction from food at a restaurant that you were not informed contained allergens? If so, you could be eligible for compensation. People with allergies usually take great care when ordering food out and about. If a restaurant is negligent, and does not provide accurate allergen information, this could lead to an allergic reaction claim. Our accident claims solicitors covering London could help with such claims.
Further Information
This guide will have provided you with initial information about a variety of different circumstances in which accident claims in London could be made. Below, we provide additional resources which may be helpful to those who have had an accident in London.
Reporting workplace accidents – How accidents in the workplace should be reported by an employer.
Reporting accidents in leisure facilities – Advice from the ROSPA on dealing with accidents at a leisure facility.
Reporting a car accident in London – How to report a car accident in London to the Metropolitan Police.
Public Place Accident Claims – Our guide to making accident claims In London (or elsewhere) for accidents in a public place.