By Joanne Jeffries. Last Updated September 7th 2021. Here, you will find our guide to accident claims solicitors for Newport claims. In the sections below we explain why you don't have to use personal injury solicitors for Newport claims that are located in the area.
When you've been injured following an accident caused by somebody else, you may be wondering how to pursue a personal injury claim with a law firm for the harm you have suffered. Choosing to work with a solicitor who specialises in personal injury claims could be difference between a successful case and a missed opportunity for compensation. If you're looking for accident claims solicitors covering Newport, then this free legal advice guide may be useful. It should be noted that we are not based in Newport, however our panel of solicitors can offer legal services that cover both the Newport area and the rest of the country.
We'll aim to provide examples of accidents you could claim for, accident claims advice about the slip and fall claim process, making a clinical negligence claim, making medical claims for a car accident and other cases where accident compensation can be claimed.
Even though we're not local we could help you make claims for accidents in Newport through our panel of accident claims solicitors. Every claim we take on is on a no win no fee basis meaning you don't need to worry about any upfront fees.
To speak with an advisor today about accident at work claim or if you were injured in an accident elswhere that wasn't your fault, call us on 0800 073 8801. To find out more about choosing accident solicitors covering Newport, please carry on reading.
Choose A Section
What Is An Accident Claims Solicitor Covering Newport?
Making any form of personal injury claim can be complex and tricky, especially if company or person you believe to be responsible denies liability. That's why we recommend that you use a personal injury lawyer (or accident claim solicitor) to help you.
Many accident claim solicitors will carry out the following for you:
Assess the merits of your claim for free.
Aid you with gathering the evidence required to support your claim. This could be medical records or witness statements for instance.
Handle any queries or objections from the 3rd party's solicitor or insurance company so that you don't have to.
An accident claims solicitor who offers a no win no fee service will usually check the following prior to beginning the claim:
Whether the other person / company owed you a duty of care;
If they breached that duty of care;
And if the injuries you sustained were caused as a direct result of the said breach.
The accident claims time limit, which is currently 3 years for most accident claims, starts from the date of the accident or the date certain injuries were diagnosed by a doctor, such as psychological cases (e.g. PTSD).
Our accident claims solicitors are happy to help cover cases in the Newport area even though we not based locally (more about that later in this guide). If you'd like to discuss how we could help, please contact us on the number above.

I Had An Accident At Work, Could I Claim?
A question we often hear is, "I've had an accident at work, what should I do?". It's not always clear if the accident was caused by negligence of the employer, which is why we usually suggest claimants to discuss their options over the phone with one of our specialists.
Under health and safety regulations, employers are required to provide as safe a working environment wherever possible. This is done by carrying out regular risk assessments and writing guidelines and procedures for staff to follow.
You could be eligible to claim for an accident at work if:
Your employer failed to trained you in the correct procedures, which caused the accident.
Safety equipment or Personal Protective Equipment (PPE) was missing or damaged.
Equipment was faulty or damaged and hadn't been repaired.
The workplace was generally unsafe to work in.
If you still feel confused about workplace accidents, then please speak with one of our specialist advisors who will be able to help you decide.

HSE Statistics For Workplace Injuries In Newport, Wales
According to a report from the Health and Safety Executive (HSE), there were 38.8 million estimated working days lost due to work-related ill health throughout 2019/20. On average, each person suffering took around 15.1 days off work during this period.
Locally, the table below demonstrates the number of workplace injuries that occurred. The data within the table was extracted from this HSE report.
| Location | Total - Non Fatal Injuries | Total - Non Fatal Injuries per 100,000 workers | Fatal Injuries |
| --- | --- | --- | --- |
| Newport | 237 | 326 | 1 |
In cases where the employer did fail in their duty of care towards an employee, a claim could be possible for any injuries or suffering caused. The most common causes of workplace injuries in 2019/20 according to the HSE report can be seen below.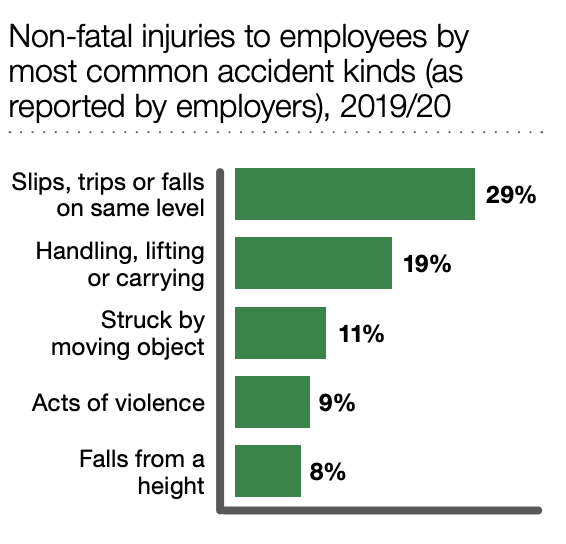 Victim Of Crime Injury Claims
A claim for compensation can also be made for injuries caused by a criminal act against you. Although it might not seem obvious that you can make a claim, especially if the criminal is never caught, in actual fact it can be possible through a Government scheme called the Criminal Injuries Compensation Authority (CICA).
There are rules about what you need to do to make a claim and what you can claim for which our accident claims solicitors understand fully. For example, the crime must be reported to the police prior to beginning the claim in order for it to be valid. We could help you seek compensation for any criminal injuries so please get in touch to discuss how we could help.

Newport Road And Car Accident Claims
Another case that a no win no fee solicitor can help with is a road traffic accident. Whether you were a driver, passenger, pedestrian or other road user, if you were injured following an accident which was caused by somebody else's negligence, then you could follow the car accident claims process to seek compensation.
You should try and obtain as much evidence at the time of the road traffic accident because much of scene will be cleared quite quickly to allow traffic to pass safely. Therefore, try to photograph the scene before anything is moved, ask witnesses for their contact details, secure any dash-cam footage and obtain the other drivers details as soon as possible.
Don't forget to get treatment for any suspected injuries at a doctor's surgery or hospital as soon as possible too.

Accidents Causing Falling Or Slipping Injuries
There are many events which could lead to slip or trip incidents in almost any environment. In cases where the slip was caused because some did (or didn't) do something that led to the accident, you may be able to seek compensation.
Common injuries associated with slips, trips and falls include:
Soft tissue damage.
Head injuries.
Back injuries.
Fractures, broken bones and bruising.
Cuts and lacerations.
Scenarios which could mean somebody else was liable for the fall include:
Damage to public highways or pavemement or damaged kerb stones (Please note the criteria for the depth/extent of such damage will determine if a claim can be pursued).
Poorly lit areas which meant you couldn't see a trip hazard.
A broken handrail which caused you to fall and hurt yourself.
Wet or slippery floors where no warning signs alerted you to the danger.
Injuries In A Public Place
A public place can usually be defined as somewhere that you're allowed to go without asking for permission. This could be a public park, a shopping centre, the high street or any other public highway.
If your injuries were suffered in a public place by an accident that could have been avoided had the party responsible for the space taken the necessary precautions, then you could seek compensation for your damages.
A problem that can happen following a public place accident is that it can be difficult to identify the person responsible. It may be the owner of the land or property; it could be the occupier, or it may be both (such as a shop within a shopping centre as an example). What can be even more difficult is if nobody admits liability.
In situations such as these, accident claims solicitors covering Newport could help. Their specialist knowledge of the law surrounding accident claims could make identifying the responsible party a lot easier. Speak with our specialists if you'd like advice on who you need to make a claim against.

Clinical Negligence And Medical Treatment Injuries
Another form of claim that can be handled by our accident claims solicitors covering Newport, Wales, is one for medical negligence.
Also referred to as clinical negligence, this is defined as any injury or illness caused by negligent treatment by a medical professional. Such professionals can include nurses, doctors, dentists, surgeons, care workers and hospital staff.
A claim for medical negligence could be for injuries sustained during medical treatment but could also cover any suffering caused by mistakes during cosmetic procedures because the standard of care dispensed by the medical practitioner dropped below reasonable guidelines.
For more information regarding clinical malpractice, read our medical negligence claims guide
No Win No Fee Accident Claims Solicitors Covering Newport
A common concern among claimants is the worry about the cost of hiring a personal injury lawyer. This is why many accident claims solicitors will offer a no win no fee service.
What this actually means is:
There's no sign-up fee or upfront payment required for the claim to begin.
You don't have to pay the solicitor if they lose the case.
And you won't have to send any funds if they win. This is because their success fee (maximum 25%) is deducted from any compensation automatically.
Contact Us About Accident Claims In Wales
Now that you've read our guide about accident claims solicitors that can work on claims in the area, we hope you'd like to discuss how we could help. To do so, please call us using the contact number at the top of this page or use our live chat feature which is available 7 days a week. Alternatively, fill in our accident claim form and we'll call you back.

Your Common Questions Answered
From our experience with accident claims, we know that many new clients have some very similar questions, so we've tried to answer a few of them here to save you time.
What Is The Best Way To Make A Claim?
The simplest way to begin a claim is to pick up the phone and speak with one our specialist advisors. They'll assess your claim for free and, if they believe you have a strong case, could introduce you to one of our panel of accident claims solicitors.
We offer a no obligation consultation and our accident claims solicitors have up to 30 years' experience in the personal injury claims industry. They all offer a no win no fee service for any claim they take on.
Why Is My Solicitors Location Not Important?
In this modern world, many accident claims solicitors are happy to deal with a claim over the phone and via email. This can save time and avoid the need for face to face meetings.
Why Will I Need To Visit A Doctor?
Even though you may have already seen a doctor following your injury, you will need another medical assessment before a full claim can be made. This assessment is used to determine the initial affect of your injuries and also to highlight how they may affect you in the future (if at all).
We understand that you shouldn't have to travel too far for any assessment, so we use a panel of doctors and medical specialist around the country who can cover a variety of areas, including Newport.
Where Could I Have This Visit?
Here are a sample of the medical assessment centres we could send you to in the Newport area:
Alan Jones
Insight Health Screening,
4 Imperial Courtyard,
Newport, NP10 8BB.
David Foster,
17 Gold Tops,
Newport, NP20 4PH.
Heena Singhai
St Joseph's Hospital,
Harding Avenue,
Newport, NP20 6ZE.

What makes good accident claims solicitors covering Newport
If you are searching for personal injury solicitors covering Newport to handle your case, there are a lot of different factors that you may need to consider. The first question that a lot of people have is whether or not they are going to need to work with a local solicitor. The good news is that you are not restricted to the professionals working in your local area. Instead, you can concentrate on simply looking for the most appropriate solicitor for your case.
When searching for an accident claims solicitor, you might want to make sure that they are authorised and regulated by the Solicitors Regulation Authority, as well as ensuring that they are registered in England and Wales. Aside from this, experience is important. Many claimants want their solicitors to have years of experience in handling personal injury claims. They may also want to be sure that they have worked on claims similar to their own case. After all, a road traffic accident claim is very different to a criminal injuries claim.
No matter what sort of claim you want to make, you can be sure that we have a team of experts here at Accident Claims UK who can assist you. All you need to do is pick up the phone and give us a call today. We will be more than happy to answer your queries and help you in any way possible. We could even direct you to a compensation calculator to get a rough idea of your potential payout.
Can you make a claim with accident claims solicitors covering Newport if an accident was partly your fault?
In an ideal world, all cases would be crystal clear. There would be a clear person at fault and an evident victim. However, in reality, not all cases are clear cut. There can be cases whereby both parties can be to blame for what has happened. If you find yourself in this sort of scenario, you may be wondering whether or not you can make a claim for personal injury compensation.
The good news is that you could in many cases still go ahead and make a claim if you are partly to blame for what has happened. However, you likely won't get the full amount of compensation; the degree of responsibility you hold will dictate how much compensation you receive. However, you should not let this put you off from the prospect of making a claim. Simply give us a call and we will give you a realistic idea about the strength of your case.
Local Services You May Need To Contact
Finally, we've listed some other guides and resources which you might find helpful.
CICA Compensation Claims – Information on when you could seek compensation for criminal injuries following a violent crime against you.
Newport Court – Information about court opening times and contact details
Health & Safety Advice – Guidance from Newport council on health and safety for business.
Hopefully, you've found our guide to accident claims solicitors for Newport claims enjoyable. Now you could have further insight into choosing personal injury solicitors for Newport claims.