By Joanne Jeffries. Last Updated August 23rd 2021. Welcome to our guide to accident claims solicitors for Preston claimants. We offer guidance on personal injury solicitors covering Preston accident claims.
If you have suffered an injury in an accident that was not your fault, on the road, in the workplace, in public, or if you have suffered harm as a result of medical negligence, then you could make an accident/personal injury claim. A personal injury lawyer can assist with accident claims to help clients get the compensation they are entitled to. Accident Claims UK has a panel of accident solicitors helping clients across the UK to make claims for accident compensation. If you have been in an accident and you have been searching for "solicitors near me", then we have accident claims solicitors covering Preston to help you with a claim for accident compensation. Read more below to find out about the different ways our No Win No Fee accident claims solicitors can help you with accident claims in Preston.
Choose a section
What Is An Accident Claims Solicitor Covering Preston?
Although our panel of accident solicitors may not include solicitors based in Preston, we do have accident solicitors covering accident claims in Preston. These can act as your personal injury solicitor, helping you make a personal injury claim against a driver that has hit you in a road traffic accident, a hospital or a doctor that has harmed you through medical negligence, a business or property where you have hurt yourself due to the health and safety negligence of the organisation running it and so on.  As well as representing your case itself, they will also assist you in all of the requisite steps in the accident case claims process. They answer any questions you may have, gather evidence, and arrange for you to have your accident injuries examined by a doctor.
Accidents In The Workplace
Any employer is bound by law not to allow their employee's workplace to present any avoidable hazards to their health and safety. As part of providing a safe workplace, they must provide their employee's with all necessary safety equipment and safety training. If an employee suffers an accident at work causing an injury, and the employer is subsequently found to be at fault through not upholding their health and safety obligations, then that employee can receive money through an accident at work compensation claim. Employees can also claim for compensation if they have suffered from work related stress or if they have been assaulted while at work. For more information about work injury compensation claims follow this link to our websites page on workplace accident claims, this page also include a personal injury claims calculator to give you an idea of how much compensation you may be entitled to.
Injuries Reported At Work In Preston
The UK has become a much safer place to work in over the past thirty years, government statistics say that workplace accidents are down by a third from what they were in 1990. But that still leaves us with thousands of people every year suffering injuries in preventable accidents in the workplace. These are the statistics for reported incidents of injuries in workplace accidents in Preston. They include the number of non-fatal and fatal injuries as well as the rate of injuries per 100'000, to give you a general impression of how common workplace injuries are for workers in Preston.  Follow this link here to see the source for this table and the figures for workplace accident injuries in other parts of the UK.
| Location | Total- Non Fatal Injuries | Total - Non Fatal Injuries Per 100'000 Workers | Fatal Injuries |
| --- | --- | --- | --- |
| Preston | 229 | 224 | 1 |
Below you can see the updated 2019/20 causes for such accidents.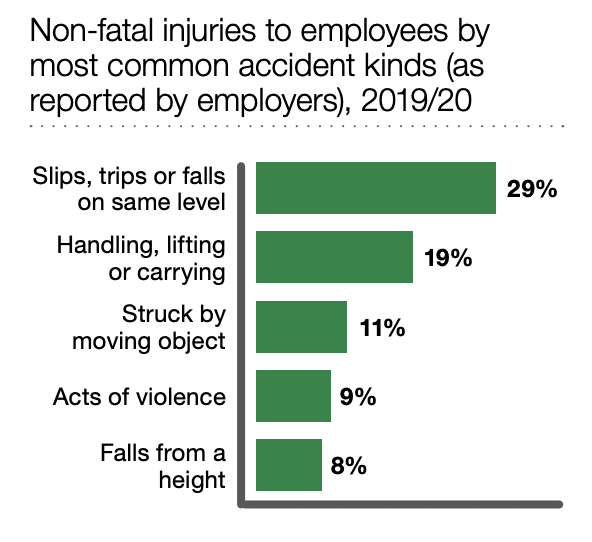 Preston Road Traffic Accident And Whiplash Claims
Our panel of accident solicitors can manage motor accident claims in Preston. If it can be proven that another road user has caused you to be involved in a road traffic accident which has caused you an injury, i.e. whiplash, then you can receive compensation for the injuries you have suffered. You make a claim with our accident claims solicitors if you have been struck by a car while walking or cycling, if you were the driver or passenger of a vehicle that was struck by another vehicle and you can also claim if you have been in a vehicle that was in an accident caused by a pedestrian. You can read more details about how our accident solicitors can help you with Preston road traffic accident claims and whiplash injury claims on our website here. This page also contains a personal injury claims calculator to help give you an idea of how much compensation you may be entitled to receive for your injury if your accident claim is successful.
Accidents Involving Trips And Falls
Our accident solicitors covering Preston can help you make a claim against the owner of a certain property if you have been injured in a trip or a fall on their property and it can be proven that the owner of the property failed to meet their obligations to ensure their property did not present such hazards. The owner of a property, whether it is a private business or a public body or authority such as a local council, is obliged to make sure that there are as few risks as possible of people falling over and hurting themselves on their property. Flooring and paving should not be in a state of disrepair with protrusions big enough to trip on, recently mopped floors should be marked out with a wet floor sign, wires should not be left lying around where people are walking and so on. For more information about the different situations in which our accident solicitors could help you make and win a slip and fall claim settlement why not read out guide.
Criminal Injuries
Our panel of accident solicitors can help you win compensation for being the victim of assault as well as accident claims if you have been injured (such as stab wounds or bone fractures) or have suffered psychological harm. Even if the person responsible for injuring you in an assault has not been found guilty you could be entitled to criminal injury compensation from the governments Criminal Injury Compensation Authority (CICA). The criminal injury compensation claims that our panel of accident solicitors can cover in Preston include claims for sexual abuse and claims for being assaulted while at work.  The highlighted links will take you to the respective pages on our website for these sorts of claims.
Accidents In A Public Place
In a similar vein to the earlier section on slips, trips and falls claims, all owners of public premises must, by law, ensure that their premises are as safe as they can make them for the public and do not present any avoidable hazards or accident risks. Preventing slips trips and falls is one aspect of this covered in a previous section. Other examples of safety measures that an owner of a public premises may need to take may include, ensuring that steps are always marked with a "mind the step" sign, ensuring that food and drink served to the public is not hot, or on plates hot, enough to cause scalding or burns, ensuring that shelving is secure and safe. Ensuring that any equipment used by the public, such as gym or playground equipment, is secure and not faulty. The owner of premises must always have proper health and safety and risk assessment procedures in place. Whether you suffer a head injury or other types of injury due to negligence, our compensation solicitors could assist with your claim.
Clinical And Medical Negligence Claims
If you have suffered from an illness or an injury that was caused by the negligence of a doctor, a dentist, a GP or by hospital or nursing home staff, then you can make clinical negligence claims for compensation with our accident solicitors. You can also make clinical negligence claims for compensation if you have lost a loved one as a result of medical negligence. Medical negligence, otherwise sometimes referred to as medical malpractice or clinical negligence is when any health professional fails to uphold their duty of care to their patient and follow correct procedure. Examples of medical negligence can range from neglect of elderly, disabled or otherwise vulnerable persons in a residential nursing home, to misdiagnosis of cancer, to injuries or infections resulting from surgical procedures, including dental and cosmetic procedures.  You can follow this link here for more information on the different kinds of clinical and medical negligence claims you can make with our accident solicitors covering Preston.  The page also contains a personal injury claims calculator for medical negligence cases for you to get an idea of how much compensation you may be owed.
No Win No Fee Accident Claims Solicitors Covering Preston
Our accident claims solicitors offer no win no fee agreements. What this means is that the only payment your solicitor will accept from you is a portion (an amount no greater than 25% agreed upon prior to beginning the claim by you and your accident solicitor via a conditional fee agreement) of the compensation you will be awarded if your claim is successful. You will not have to pay any of your own money upfront for their services. Your will not be charged by a no win no fee solicitor in the event that your claim is deemed valid but does not succeed in winning compensation.
Talk To An Expert
If you are looking for accident claims advice (including free legal advice) or if you would like to inquire about starting an accident claim with a no win no fee solicitor, then call our phone line on 0800 073 8801 or fill out our contact form on our website. Our phone line is staffed 24/7 and we work to get back to everyone who fills in a personal injury compensation contact form or enquiry form as soon as possible. We could help you get the maximum amount of compensation for accident compensation claims on a No Win No Fee basis.
Our FAQs
Below are some common questions and the responses we provide.
How Do I Claim Compensation?
You can begin the accident case claim process for compensation for North West claims with our panel of accident solicitors today by getting in touch with Accident Claims UK by either ringing our number at 0800 073 8801 or filling out a contact form.  Before starting an accident claim we can let you know everything you need to know, such as whether or not your case falls within the accident claims time limit, or how good your chances of winning your case for compensation are. Our accident solicitors have up to thirty years of legal experience, offer no win no fee agreements to their clients, can make arrangements for you to be examined by a doctor to support your case and always strive to keep you fully abreast of what's going on in your accident case claims process every step of the way. You may have a number of options when it comes to choosing an accident claims solicitor, but we are confident in saying the Accident Claims UK is your best bet for winning your case.
Where Are Accident Claims UK Solicitors Based?
Accident Claims UK has a panel of solicitors which operate across the entire country and although we may not have accident solicitors based permanently in Preston, we do have accident solicitors covering accident claims in Preston.  Don't be put off by the prospect of going through the accident case claim process with an accident solicitor who isn't based in your area. We assure you that the location of your solicitor will not factor into whether or not your case is successful, nor will it factor into how easily you are able to keep in touch with your solicitor. Our accident solicitors will make sure they are in regular contact with you throughout via phone, text or email,
Why Am I Being Asked To See A Doctor?
You are required to see a doctor in order to provide you and your accident claims solicitor with the evidence you need to support your accident claims case. In this case that evidence is the official word of a doctor and the results of their medical examination confirming that you have indeed suffered an injury. This examination will also determine to what extent you have been injured by the accident, which will assist your accident claims solicitor in working out how much compensation you may be owed. Because a medical examination is such an important part of the accident claims process, we work with a panel of medical experts in order to provide all of our clients with a medical examination as part of our accident claims management service.
Where Are Your Medical Experts Located?
The panel of medical experts that we work with are based all over the UK. We have medical experts in our panel covering medical examinations for our clients in every part of the country, including Preston, to ensure that all the clients that our panel of accident solicitors work with have the easiest possible local access to a medical expert who can perform a medical examination on them. Below are the names and practice addresses of some of the doctors we work with in your area.
Simon Briggs
The Guttbridge Medical Center
Deepdale Road, Preston
PR1 6LL
Mark Middleman
Longsands Lane, Fulwood
Preston
PR2 9PS
How would I get in touch with accident claims solicitors for Preston claims if they're not based in Preston?
There are lots of different methods of communication you could use when you choose a solicitor that may not be based in your local area. Firstly, some documents could be sent via mail. However, electronic communication is becoming much easier and if you have access to a computer or smartphone, you could video chat with your solicitor and send documents via e-mail or file transfer sites. Personal injury solicitors covering Preston claims would usually be able to adapt to what method suits you bests. For example, if you like to speak to people through Teams you could do so, or Skype or Facetime. Your lawyer could even travel to meet you and you could go and see them if you prefer to meet them in person. Your travel costs could also be compensated for if the meeting is part of your claim.
Could Accident Claims Solicitors Covering Preston help With Data Breach Claims?
You may already be aware that you could claim data breach compensation in Preston for any financial harm you've experienced due to such a breach. However, did you know that personal injury solicitors covering Preston claims could also assist with claims for psychological and psychiatric harm as the result of a data breach. If you could prove that a data breach caused you distress, anxiety or other harm to your mental health you could claim compensation. However, you would also need to prove that your employer had done something wrong when processing your personal data. Whether the breach happened because someone sent your medical records to the wrong person, or your rental statement was sent to an old e-mail address when you had provided another to the local authority, you could be eligible. Similarly, if you suffered a data breach because your employer failed to protect your payroll data on a computer from cyber attacks, this could also lead to a claim. If you believe you could have a claim, we'd be happy to talk you through how to get started with a claim.
What other claims could accident claims solicitors covering Preston help with?
Personal injury solicitors covering Preston claims could also help you with:
Claims for animal bites
Claims on behalf of children or those that don't have mental capacity
Fatal accident claims
Minor injuries claims
If you believe you could have a claim, please don't hesitate to call.
Find Out More
Guidance On Reporting Crime In Preston  – Lancashire Police Offer Guidance.
Report Work Accidents – How to report an accident in the workplace correctly.
Report RTA – Reporting vehicles to the local council.
Report RTA to police – How to contact and report an incident on the road to the police.
Car Accident Claims Guide – View our car accident injury claims guide.
Thanks for reading our accident claims solicitors for Preston claims guide. Hopefully you now know how to find personal injury solicitors for Preston accident claims.