By Joanne Jeffries. Last Updated 8th September 2021. Welcome to our accident claims solicitors covering Slough claims guidance. This could help if you're looking for personal injury solicitors for Slough claims.
If you've been injured in an accident, caused by somebody else and you're looking for accident claims solicitors covering Slough, then this guide could prove really useful. We're going to provide examples of negligence which could lead to an accident claim, information about choosing a personal injury solicitor and we'll provide general accident claims advice throughout the guide.
If you think you're ready to begin a personal injury claim today, you could speak with one of our fully trained advisors on 0800 073 8801 right away.  After assessing your claim, they could introduce you to one of our panel of accident claims solicitors who could offer you a no win no fee agreement and assist you in making your claim for personal injury.
Alternatively, if you want to understand more about personal injury compensation first, then why not carry on reading this useful guide.
Choose A Section
What Is An Accident Claims Solicitor Covering Slough?
Different solicitors choose different paths throughout the legal world. Some choose to work in criminal cases, some in family law and some in the personal injury sector.
A personal injury lawyer (or accident claim solicitor) is somebody who has studied the laws surrounding accident claims such as medical blunders, industrial injuries, and accidents at work.  They often offer a no win no fee service which can be risky for them, so they are likely to ask you if the following are true before taking on your case:
Were you owed a duty of care by the defendant (the person or company you blame for the accident)?
Did they breach that duty of care?
Were you injured because of an accident caused by the breach?
Once an accident claims solicitor believes you have a strong case, they'll assist you with the processes of making a claim by;
Offering free advice on how to proceed.
Advising you what evidence to present and help you to gather it.
Handle all communications with the other parties' legal representatives.
Assess all offers of compensation that the other party makes; or
If the case can't be settled out of court (which is rare), they will be your representation during a court case.
While you can make a claim for compensation on your own, it is highly recommended that you use accident claims solicitors to support your claim because they'll have the skills and experience to either deal with any objections from the defendant or to ensure any offer of compensation is fair.
You'll need to begin a claim as soon as possible as the current accident claims time limit is 3 years from the date of your accident.  In some cases, the 3 years begins from the date a GP diagnoses your injuries.  Don't leave it too late to begin a claim.

Accident At Work Claims In Slough
A claim for injuries sustained at work is a fairly common task for our accident solicitors covering Slough to take on. Obviously, it's not likely that an employer deliberately set out to injure an employee but, if an accident happened because the employer breached their duty of care towards the employee, then compensation could be sought for any suffering caused from an accident at work.
Employers have to abide by the Health and Safety at Work Act 1974 to protect employees while in the workplace or carrying out work duties elsewhere.  It means that any work tasks are risk assessed by the business owners or management and any risks that are found are mitigated for in some way.
This could mean the process is removed or it is changed to make it safer.  Accident claims in Slough workplaces could be possible if a member of staff is injured because:
Proper training was not provided.
Safety equipment was missing, damaged or not fit for purpose.
Equipment was damaged or in a poor state of repair.
Personal Protective Equipment (PPE) was not provided.
Our panel of accident claims solicitors can help with work-based accident claims. It is also important to mention that you cannot be disciplined by your employer for bringing a claim against them (assuming it is honest) and they will have employer's liability insurance to cover any such claims. This means that you shouldn't be put off from claiming compensation that you could be de entitled to.

How Many People Suffer Workplace Accidents In Slough?
To demonstrate the level of workplace accidents in Slough, the following table has been produced.  The data came from a government report.
| Location | Total - Non Fatal Injuries | Total - Non Fatal Injuries per 100,000 workers | Fatal Injuries |
| --- | --- | --- | --- |
| Slough | 127 | 210 | 1 |
Nationally, statistics reveal that in 2019/20 168,000 injuries resulted in over 7 days off work and 525,000 resulted in short periods off from work.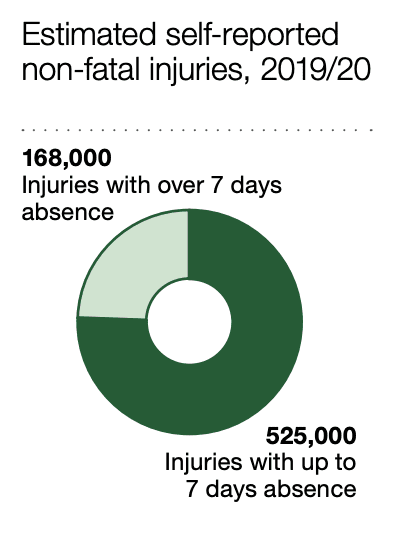 Trip And Fall Injury Claims
To onlookers, a slip trip or fall may seem minor. However, some falls, even those that look innocuous, lead to very serious injuries that can have long-lasting effects for the victim.
Common injuries from a slip or fall include:
Head injuries including concussion.
Back injuries.
Ligament damage.
Broken bones and fractures.
Other soft tissue damage.
Accidents which could lead to a claim include:
Tripping over wires trailed across walkways where no warning signs were used.
Falling down a flight of stairs because a handrail was damaged, broken or unsuitable.
Tripping on a doormat at the entrance of shop, office or building because it was not laid properly.
Slipping over on a wet or polished floor where signage wasn't used to warn you.
If you believe you were hurt following a slip, trip or fall that could've been avoided then call our team today.  We could offer a slip and fall settlement estimate once we've assessed your claim (for free).

Criminal Injury Compensation
One type of claim that our accident claims solicitors can help with, which many people don't realise is for claims for injuries sustained during criminal acts.  The Criminal Injuries Compensation Authority was started by the government to compensate anybody affected by acts of violence.
The  CICA claims process is slightly different from other claims for compensation as the time limit for these types of cases tends to be 2 years, with some exceptions. Some criminal injury compensation examples include payments for:
Physical or sexual violence against you.
Mental injuries.
Funeral expenses.
Loss of income.
Other expenses linked to your injuries.
To request additional information, please get in touch with the team here at Accident Claims UK today.

Claims For Medical Blunders
When something goes wrong during medical treatment, it can be quite a traumatic time for the patient. If the error could've been avoided, i.e. the medical professional was negligent in some way, then a compensation claim against them could be possible.
Some types of medical negligence which our panel of accident claims solicitors covering Slough could help with include:
A late or misdiagnosis causing a delay in treatment which leads to suffering.
Damage caused during surgery.
Illnesses caused by incorrect medication being administered.
Care home abuse or mistakes.
Surgical mistakes.
Avoidable childbirth injuries to either mother or baby caused by negligence.
Claims could be made where a medical professional has caused an injury or illness because of their clinical negligence. These claims could be made against NHS or private healthcare professionals and for medical treatments or cosmetic treatments as well.

Slough Road Accident Compensation Claims
Any type of road user could seek compensation for injuries sustained in an accident caused by the negligence of another road user. This can include if you were a pedestrian, cyclist, motorcyclist, car passenger or car driver.
Our more detailed look at road traffic accidents includes the car accident claims process, details about when and how you could make personal injury claims for a car accident and other useful information.
Essentially though, if you're injured, because of another road user's mistake, negligence, error or lack of awareness, you could seek compensation for your injuries. While we can't provide an average compensation amount for car accidents, we could provide you with an estimate once we've assessed your claim and injuries, so please get in touch.

Accidents In Public Places
Accidents often happen in public places. These are places that you can visit without seeking permission first such as public highways, parks, shops, shopping centres, riverbanks and similar public places.
If you're considering making a claim for an accident that occurred in a public place, you may need to seek advice from expert solicitors as claims of this nature can become complex at times. For instance, if you're injured in a shop within a shopping centre and both of those parties deny any responsibility. The shop could blame the shopping centre, the centre management could blame the building owner and you may never identify who that is!
While this sounds complex, our accident claims solicitors know which legislation to use to ensure the claim happens swiftly and is directed at the correct company or person.
If you would like to discuss making a claim for an accident in a public place, please call our team today.

No Win No Fee Accident Claims Solicitors Covering Slough
Our accident claims solicitors covering Slough offer a no win no fee service. No win no fee agreements reduce the financial risk involved with making a claim for compensation as well as reducing the stress of making such a claim reduces a lot of the stress.
With no win no fee:
You don't pay an upfront fee.
There's no need to pay anything at all if the solicitor fails to win your case.
When your case is won, the solicitor will be entitled to a success fee. This is a maximum of 25% of your compensation. The percentage amount will be discussed between you and your chosen solicitor at the beginning of the claims process.
Contact An Accident Claims Expert
Now that you've read our guide about hiring an accident claims solicitor covering Slough, you may want to contact us.  After assessing your claim, we will introduce you to one of our panel of accident claims solicitors who also offer a no win no fee agreement as part of their services.
To get in touch, please call the number at the top of the page, use our live chat feature or request a call back by filling in our online claim form.

FAQ's
We often receive the same questions from new clients when they first get in touch.  Therefore, to save time, we've answered a few here.
How Do I Get Advice From Expert Solicitors?
Here are some reasons why you should use our claims service:
You can access our panel of accident claims solicitors who have experience in dealing with personal injury claims of all magnitudes.
We're open 24-hours a day.
You'll get free legal advice with no obligation to proceed.
Our team are friendly and committed to trying to get the best level of compensation for your injuries.
Should I Find An Accident Claims Solicitor Near Me?
Even though we're not based in Slough, we're happy to handle your case as our solicitors can easily communicate with you over the phone and via email. We believe it's best to choose a solicitor based on their skills and experience rather than their office location.
When Do I Need A Medical Exam?
A personal injury solicitor will always use a medical assessment as evidence to support your claim. It will show how the injuries affected you at the time of the accident and how they're likely to affect you in the future.  Therefore, all claims do require a medical assessment but, as you'll see in the next section, we'll ensure yours is as local as possible.
Can You Organise My Medical?
We have a panel of doctors across the UK who undertake medical assessments for us.  In Slough, we could use:
Masood Ahmad
22 Whitby Road,
Slough, SL1 3DQ.
Rakesh Duggal
Oak Lodge,
Farnham Royal,
Slough, SL2 3BG.
Sanjay Lakhani
Wexham Park Hospital
Slough, SL2 4HS.

Could accident claims solicitors covering Slough help if I want to claim on behalf of my child?
If you're searching for personal injury solicitors covering Slough who could help you to make a claim for your child's accident, we could help you. When you are making a claim for a child you are responsible for, you would need to make an application to be their litigation friend. This would mean that you could make some decisions about the case and their compensation on their behalf. Whilst it could be possible for your child to claim for themselves once they reach the age of 18, it may be more difficult to gather evidence from this period, which could hinder their claim. Therefore, it might be a good idea for you to consider making a claim while the evidence is still easy to gather and fresh in everyone's minds. We could help you to do so. Please call us and we will talk you through the process in more detail, to give you guidance on what's involved. Usually in such cases, compensation is held in a trust for the child, but if they need medical treatment or other essential items paying for, it could be possible to file paperwork with the court for release of some of the funds.
Could accident claims solicitors covering Slough help me claim on behalf of a loved one who has passed away?
If you are in the awful position of having lost a loved one due to an accident that was not their fault, or medical negligence, we could help you make a claim for your loss. And award could include compensation for bereavement, lack of financial support, and it could even help with funeral expenses. Please give us a call and we will explain more about this process over the phone.
How do I know whether I found appropriate accident claim solicitors for Slough claims?
Ask there are so many law firms and so many solicitors out there all seemingly offering the same legal services, you might want to do a little digging to find out a little bit more about each one you're considering using. For example, while most solicitors are authorised and regulated by the Solicitors Regulation Authority, and are registered in England and Wales, their services could differ. For example, if you want to be regularly updated as to the progress of your claim, you might find that some solicitors do this better than others. You could also call them and ask them whether they have many years experience in claims such as yours, and how successful previous claimants have been when using their services. This could help you choose an appropriate solicitor for your accident or negligence claims.
Additional Information
Finally, and to help you further, we've linked to some more useful guides, resources, and websites.
Slough Council Claims – A portal that details how to claim against the local authority in Slough.
Slough Court – Information including contact numbers and opening times.
Reporting Car Accidents – Guidance from Thames Valley Police about how to report RTAs.
Accident at Work Claims – A more detailed look at when you could seek compensation following an accident at work.
Slip, Trip Or Fall – A further look into claims for slips, trips, and falls.
Medical Negligence – A guide regarding how you could be eligible to make a claim for medical negligence.
Thank you for reading our accident claims solicitors Slough. Now you should be aware of what to look for when seeking personal injury solicitors for Slough claims.