By Joanne Jeffries. Last Updated 14th September 2021. This accident claims solicitors covering Southampton guide reveals why you don't need local personal injury solicitors for Southampton claims. We hope you find it useful.
Sadly, accidents happen every single day, and they can happen for a whole host of different reasons. The following is a mere handful of examples – workplace accidents, Southampton road accidents, injuries from faulty products, food poisoning, slips and falls, and events which are not so much accidents – criminal assault. Nevertheless, no matter what type of accident you have been involved in, if the incident was not your fault but was caused through a failure of a third party to act accordingly you maybe able to make accident claims in Southampton. Accident Claims UK can help with this, as we can help connect you with solicitors who can cover the Southampton area.
However, the first thing you may need to do is determine whether you have the basis for a successful personal injury claim. The last thing you may want to do is waste your time and money for no reason. Generally, to secure accident compensation, you may need to prove the following three statements to be true:
The incident was not your fault; it occurred as a result of someone else's error or negligence, someone that owed you a duty of care.
The accident happened within the past three years. This is the accident claims time limit on most accident claims in the country. It is important to note there are exceptions regarding time limits for certain claims.
You suffered an avoidable injury or preventable illness.
For more information about working with accident claims solicitors covering Southampton, continue reading to discover how a personal injury solicitor could help you. Moreover, if you want to make a personal injury claim, all you need to do is give us a call and we will be more than happy to assist you in any way we can.
Choose A Section
What Is An Accident Claims Solicitor Covering Southampton?
A personal injury solicitor is someone who could handle all of the claims process for you. They could inform you of whether or not you have a strong case, as well as pointing you in the direction of how to gather the right evidence and the different steps you might take.
You may need someone that has a considerable degree of experience and specialises in the kind of accident that you have been involved in specifically. You may also want to make sure they are accredited, qualified and registered in the UK. Aside from this, it might be advisable to look for someone that is happy to work to a no win, no fee payment agreement, as this may offer you some degree of financial protection and you could be sure of a better service as the personal injury solicitor's payment is performance-related. We explain more on this later on in this guide.
Statistics Highlighting Reported Injuries At Work In Southampton
Below, we take a look at the non-fatal and fatal injuries that have happened in this part of the UK.
| Location | Total - non fatal injuries | Total - non fatal injuries per 100,000 workers | Fatal injuries |
| --- | --- | --- | --- |
| Southampton | 277 | 187 | 0 |
Click here to download and view the source of these statistics.
The HSE statistics for 2019/20 show the most common causes of workplace injuries. You can see them below.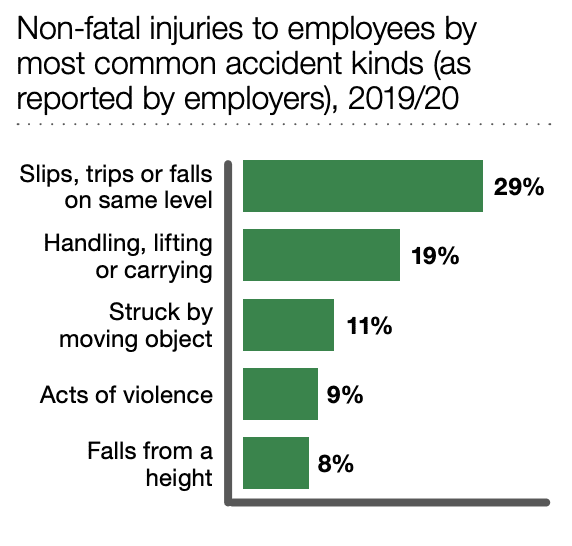 Claims For Accidents In The Workplace
Have you been injured in an accident at work? Did the accident occur due to a lapse in health and safety procedures, or because you were not trained correctly or may be you were not given the correct PPE? For accident at work free advice, all you need to do is give us a call. There are many different types of accidents and injuries that could take place in the workplace, such as:
Injuries due to poor health and safety.
Industrial deafness.
Vibration white finger.
Industrial injury.
Construction accidents.
Asbestos claims.
… And much, much more
Proving that your employer acted in a negligent way is vital if you are to succeed when making an accident at work claim. If you have developed an injury over time, rather than having been involved in an accident, you might be able to claim by showing how your employer acted negligently, i.e. they may not have provided proper protective wear, they may have refused breaks or they may not have provided the necessary training at the time. An accident claims solicitor can help with accident at work claims. But, before you choose an accident claim solicitor, it is crucial to point out that you will need to have your accident logged in an accident at work book. By law, all employers are required to have an accident book and the accident will need to be recorded inside there.
Negligent Medical Care Claims
Aside from the examples that have been mentioned, you may also want to work with personal injury solicitors covering Southampton to make medical negligence claims for negligent medical care that causes or exacerbates injury or illness. There are a number of different ways that medical negligence could happen. Medical negligence could occur if a medical professional allows their standards to fall below such a level that causes unnecessary harm to their patients. For example, a surgeon may have operated on the wrong part of the body. Other cases  personal injury lawyers could help with could include mistakes in the diagnosis process, whether incorrect or late that have a detrimental effect on your health. From dental errors to avoidable birth injuries; there are different ways that medical or clinical negligence could happen. For legal expert advice, please get in touch to find out if you could receive financial compensation for such an incident.
Road Accident Claims In Southampton 
If you have been unfortunate enough to have been involved in a road accident in Southampton, you may be wondering what to do next. We will talk you through the steps you may need to take to make a road traffic accident claim.
There are a few steps you might want to follow to increase your chances of securing compensation when making a car accident claim. These are as follows:
Get the contact details of the third party– This could include their name, address, telephone number and the details of their insurer as well as the make, model and registration number of their vehicle.
Get the contact details of any witnesses – Witness statements could help to improve your chances of securing a payout.
Take photographs – Take photographs of your injuries and/or any damage at the scene, such as the damage done to your vehicle.
Keep receipts of any expenses incurred – From vehicle repair costs to treatment expenses, you may need to keep proof of any costs encountered because of your injuries as you could be able to make a claim for them.
Claims For Slip, Trip and Fall Accidents
There are a number of different claim types, as you can see, and this may include slips, trips, and falls. If you are looking for accidents claims advice about this sort of injury, all you need to do is give us a call and we would be more than happy to assist. There are many different ways that slips, trips, and falls could happen. This could be a slip because of a wet floor in a supermarket, for example, that was not signposted, or it could be a fall because of hazards that were unseen due to poor lighting.
Criminal Injuries And Assaults
If you are thinking about making a criminal injury claim for injuries that have occurred because of criminal activity you may need to make sure you have reported the incident to the police as your claim may go through the CICA. This is the Criminal Injuries Compensation Authority. The CICA have a criteria that you must meet in order for your claim to be valid. Claims through this authority are slightly different to personal injury claims, they have a shorter time limit generally and also the amounts that are awarded are also sometimes different.
Accidents And Injuries In A Public Place
Aside from the examples that have already been mentioned, accidents and injuries in a public place may present another example of why you may need accident claims solicitors covering Southampton. When it comes to making this sort of accident claim, it could typically relate to a range of venues where the public may not need permission to use or enter the facilities or premises. This could include supermarkets, restaurants, gyms, libraries, parks and much, much more.
No Win No Fee Accident Claims Solicitors Covering Southampton
People may go down this route for financial reasons, as a no win no fee service may reduce the monetary risk that is associated with making a personal injury claim. However, this may also ensure that you benefit from a better service too, as your solicitor will be impacted on the outcome of your case.
Claim Compensation With Our Team
We have many years of experience in the industry and we can help match you with a solicitor to get the compensation you may deserve. You can simply give us a call on 0800 073 8801 if you would like some free legal advice.
Common Questions – Answered
How Does The Accident Claim Procedure Work?
The accident claim procedure is easy when you use our service. We could assign you to a no win no fee solicitor based on the ins and outs of your case.
Do I Need To Use Accident Claims Solicitors In Southampton? 
A lot of people might assume that their only option is to use accident claims solicitors in Southampton. Therefore, if they have experienced a road traffic accident, for example, they will look for 'car accident solicitors near me'. However, where your solicitor is based will not have an impact on the out come of your claim. With many advances in communication technologies solicitors can now conduct a claim through email and the telephone.
Do You Always Need A Medical Examination? 
In order to make a full personal injury claim you will need to see an independent doctor. You might want to see someone in your local area, and this is something that could be arranged for you – even if your chosen solicitor is based outside of the area.
Will I Have An Assessment In Southampton?
We have a panel of doctors covering Southampton, including…
Khalid Shehzad
Cumberland House,
15-17 Cumberland Place
Southampton
SO15 2BG
Richard Fotiadis
Regus Southampton, International House,
Southampton International Business Park,
George Curl Way,
Southampton
SO18 2RZ
Ali Al-bahrani
New Place; Shirrell Heath
Southampton
SO32 2JY
Could accident claims solicitors covering Southampton assist with a data breach compensation claim?
Nowadays, many organisations could collect, store and process personal information about us. This would make these organisations data controllers. As such they have legal responsibilities when it comes to our data privacy and security. Under GDPR and the Data Protection Act 2018, they must act to protect our data. If they fail to do so, by way of wrongdoing, such as failing to secure data effectively, or by disclosing it without out authorisation or unlawfully, this could cause us harm. If you have suffered identity fraud or theft due to a breach of your personal data, you could be eligible for data breach compensation. Our personal injury solicitors covering Southampton could also help you if you have suffered mentally because of a data breach, however. Having your personal data breached could feel similar to being burgled, and this could cause you to suffer anxiety. It could even cause you to lose sleep. If this has happened to you, a legal precedent has been set that could allow you to claim for such psychiatric/psychological injuries. To find out more about making a claim, please don't hesitate to call our team. We'd be happy to offer you a free of charge assessment. We could then connect you with specialist solicitors, authorised and regulated by the Solicitor's Regulation Authority, who could fight for compensation for you.
Could accident claims solicitors covering Southampton help me to make a claim for hit and run injuries?
While it is a legal requirement for motorists to stop at the scene of an accident if it has caused any property damage or personal injury, hit and run incidents still happen. But how could you claim compensation for such an incident if the driver has sped away from the scene? Many people may believe they could not get any compensation. However, there is a way in which you could. While in some cases, the driver may be traced afterwards by the police, and you could make a claim for them, in some cases, the driver cannot be traced or is uninsured. In such cases, you could claim from the Motor Insurers' Bureau. They could pay you compensation for incidents with untraceable, foreign or uninsured drivers. We are glad to be able to provide legal services and free legal advice relating to hit and run claims. We could help you get the compensation you deserve.
For More Information, Check Here
Reporting Accidents In Leisure Facilities 
Reporting A Car Accident In Southampton
This accident claims solicitors covering Southampton guide has now revealed why you don't need local personal injury solicitors for Southampton claims. We hope you've found it useful.