By Joanne Jeffries. Last Updated 13th September 2021. Welcome to this accident claims solicitors covering Stockport guide. Here we explore what to consider when using personal injury solicitors for Stockport claims.
Making accident claims in Stockport could be confusing, especially if you have not had any prior experience of making a personal injury claim. If you have been injured or developed an illness because of someone else's negligence or dangerous behaviour, you could be in a position to make a claim. From slips, trips and falls, to brain injury and clinical negligence claims, or other types of accidents, our team of personal injury experts are here to give you advice. But how do you find accident claims solicitors covering Stockport to help you? This guide aims to illustrate to you that you can use accident claims solicitors no matter where they are based. We have set to answer some of the most prominent questions in this guide below.
We will give you the correct advice on the accident claims time limit, as well as providing advice on different types of injury claims, such as claims for a road traffic accident in Stockport, as well as how to make a work accident claim or whether you'd be able to claim for criminal injury compensation. Should you get to the end of this Stockport accident claims guide and still have questions, we'd be only too happy to give you the answers. We have years of experience in assisting with many types of personal injuries. Our contact details could be found in a separate section near the end of this guide.
Choose A Section
What Is An Accident Claims Solicitor Covering Stockport?
An accident claim solicitor is someone that would help you make a personal injury claim, and they would have undertaken years of legal training to do so. A personal injury claim could be possible if your health has suffered (mentally or physically) because of dangerous or negligent behaviour by another party. This could include drivers who caused road accidents, local councils who did not repair broken paving causing you to trip, or even doctors who were negligent in your care. If you have had an accident and it was not your fault, and you have been injured or suffered ill-health because of it, then you could be in a position to contact accident claims solicitors covering Stockport to help you with your claim.
When it comes to making road traffic accident claims in Stockport, or other accident and injury claims in Stockport, you could use a personal injury solicitor based outside of the area to assist you with your claim – you are not restricted to using accident claims solicitors in Stockport only. This could be good for you as you would be able to choose from a larger pool of legal experts than if you were restricted to the local area. But, how do you go about choosing a personal injury lawyer for accident claims in Stockport?
Whether you ask friends and family for recommendations for an accident claims solicitor is up to you, but do keep in mind that if their claim is vastly different to yours, you may find that their recommendation does not suit you. You could be better off finding a personal injury solicitor that has experience of cases just like yours. In addition, other things to consider would be reading reviews of the personal injury lawyer you're looking at using– you could use independent websites to do this – and ensuring that they work to a payment structure that suits you. We often recommend that a no win no fee solicitor would be a good option. Our panel of accident claims solicitors who are not based in Stockport but could cover the area very easily through communication such as email and telephone work to this method of payment – so if you'd like to know more about this, do call us for more information. Our specialist solicitors are authorised and regulated by the Solicitors Regulation Authority and registered in England and Wales to practice law.
Accident Claims Against Public Liability Insurance
A public liability claim could arise from an accident that happens in a public place because the person/entity responsible for the public place has not taken the required steps to ensure the risk of harm to the public is as low as reasonably possible. For example, if you were in a public park, and you or your child were injured because the play equipment was not installed properly or maintained to the correct standard, you could be making an accident compensation claim against the council. Our accident claims solicitors would be very happy to talk over who would be seen as liable for an accident you've had in a public place.
Clinical Malpractice
Another type of claim that could occur in Stockport could be a medical negligence or clinical malpractice claim, as they are also known. Simply put, your medical professionals have a duty to care for you as well as possible and if they are negligent, this could cause further damage to your health. If this happens, and your health suffers, then you might want to find a personal injury solicitor to look at whether you might have a claim. It may be worth checking out the accident claims time limit before you go ahead and make a claim. In some cases, the limit is three years from the date of negligent treatment, while in others the litigation period could begin when the malpractice was discovered, or the symptoms you've been experiencing were linked to the malpractice.
Medical negligence could include:
Surgical errors leading to injury or further surgery to correct the error.
Midwife errors in spotting maternal or foetal distress.
GP negligence in diagnosing or treating illness.
Cancer treatment negligence.
However, this list is not exhaustive.
Stockport Work Accident Claims
If you've suffered an injury in the workplace, you might not wish to take action and claim against your employer. If you feel like this, you may be interested to know a few things about claims against your employer.
Your employer should have insurance to cover the cost of the claim.
You could prevent the same accident befalling someone else if you act.
Your employer should not be treating you any differently because you're making a claim – there is legislation that prevents this.
Working out whether your employer is liable for your personal injury is fairly easy. Your employer is required to ensure you have a safe working space, and the training and equipment required to do your job safely. If they have failed in any part of this and you have become injured, then you could potentially have a claim. Examples could include:
Trip hazards in an office have not been cleared and you've suffered an injury from tripping.
PPE has not been issued or checked to be working and you've suffered an injury.
Manual handling training has not been given and you have suffered a lifting injury.
These are just a few examples of what could constitute a workplace accident claim. If you require accident claims advice on an accident at work, then don't hesitate to call us.
Statistics For Rates Of Injury At Work In Stockport
When looking into work injury statistics in Stockport, you might be interested to view the below table. This information is taken from the HSE website.

| Location | Total - non fatal injuries | Total - non fatal injuries per 100,000 workers | Fatal injuries |
| --- | --- | --- | --- |
| Stockport | 213 | 207 | 0 |
Below, you can see the accidents that involved a fatal injury in 2020/21 in UK workplaces.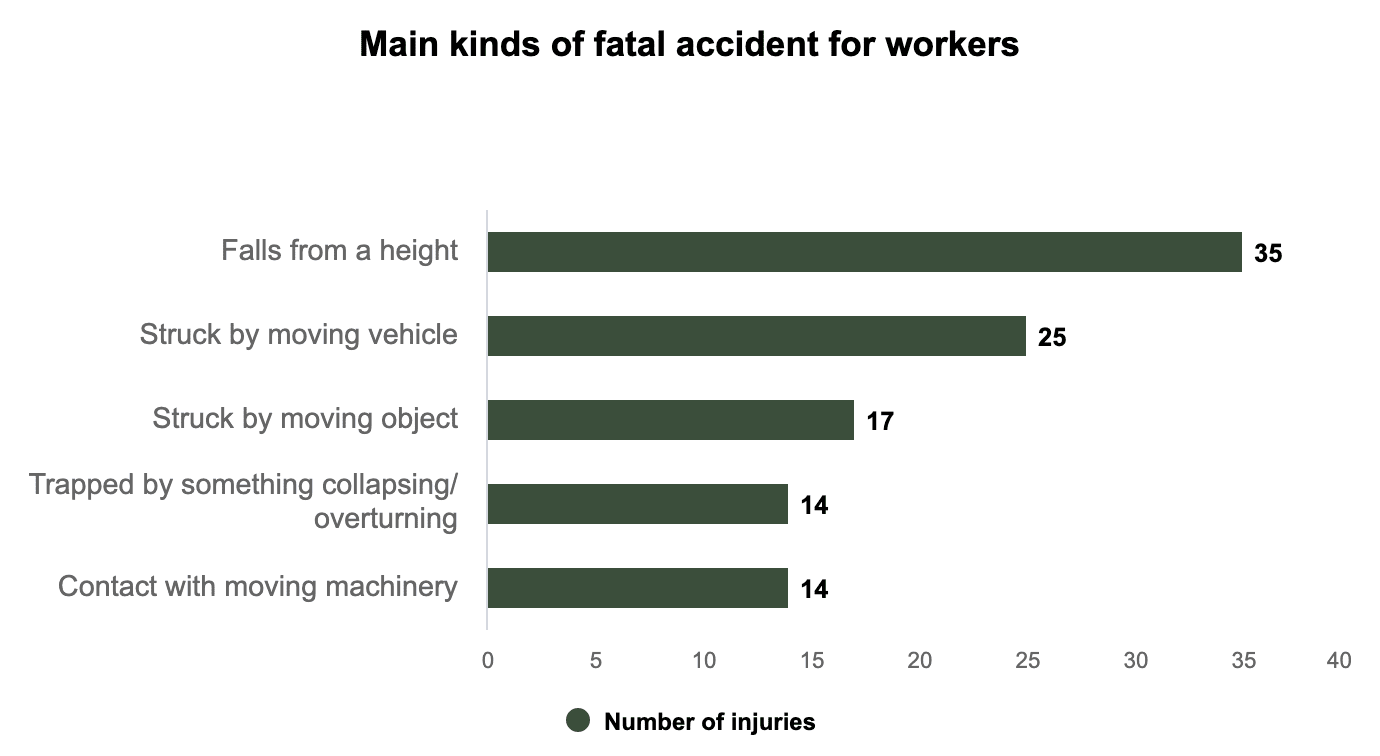 Road Traffic Accident Claims Stockport
Accidents on the road could happen in a number of different ways. From a Stockport council pothole claim for a pothole that caused a road accident, to a road user that has run a red light and crashed into you, to a cyclist that has been knocked off their bike on a crossing, if someone else was at fault and you were injured in a road accident, it could be wise to seek advice from a personal injury lawyer on the next steps to take.
One of the most common questions from potential claimants could be 'What is the average payout for a personal injury claim?' and you may have already looked at a personal injury claims calculator to try and work this out. However, this may not be the wisest idea as it would only give you a rough idea – and injuries that happen from road accidents could vary wildly in terms of nature and severity. Speaking to a personal injury solicitor could give you a better idea of how much you'd be looking at as an estimate, so why not give our team a call to find out.
Injuries Caused By Slipping Accidents
Slipping accidents could happen almost anywhere, from a slip in a supermarket to a slip on scaffolding and everything in between. The injuries you could suffer from a slipping accident could include anything from bruises and lacerations to broken bones and head injuries. In some cases, falls from height resulting from slips could prove fatal.
Making a slip accident claim would depend on whether someone else was responsible for your safety and whether you slipped because the person responsible did not take the required action to keep you safe. If they were negligent in ensuring your safety, then you may wish to look into making accident claims in Stockport for slip injuries.
Criminal Injury Compensation
Whether you have been a victim of sexual assault, or you were injured in a physical assault, you may be suffering from physical or emotional injuries. It could be possible in these cases for you to consider making a claim for criminal injury compensation. You would likely be making the personal injury claim through the Criminal Injury Compensation Authority CICA which was set up by the government for victims of crime. However, these are not the only incidences that could lead you to make a claim for criminal injury compensation. Whether you were the intended victim or not, if you were injured because of someone else's criminal act, then you could be in a position to make accident claims in Stockport for criminal injuries.
No Win No Fee Accident Claims Solicitors Covering Stockport
We mentioned earlier in the guide that our accident claims solicitors who can cover the area of Stockport allow their clients to make a no win no fee claim wherever possible. You would agree before your claim begins to a certain percentage of your compensation payout going to the lawyer in question. If there was no compensation payout, then you would not be liable to pay the solicitor working on your case. There are some benefits to working in this manner. Firstly, the financial risks are minimised, and secondly, your solicitor would be working to get the maximum compensation possible for your case as their pay would be impacted by the eventual result of the case. If you'd like to learn more about this, you could call our team for expert advice.
Begin Your Claim
Want to begin your claim? Or would you like some more advice? Whatever your position, calling 0800 073 8801 would put you through to an expert advisor to talk over your queries or help begin your claim for you. Alternatively, you could fill out our accident claim form and we will call you back.
Accident Claim FAQs
What Could My Solicitor Do?
Your solicitor would be your main point of contact during your personal injury claim. They would speak to you about your case, letting you know how strong they feel your claim would be. If they think you would receive compensation then they would agree to take your claim on, and then they would work to collect evidence, building a strong case for the liable party to answer. Having a good solicitor could provide peace of mind that everything possible is being done to help you get the compensation you deserve.
Is Experience Or Location Important When Choosing A Solicitor?
Whilst experience is important when you select a solicitor, location is not so important. You don't have to pick accident claims solicitors in Stockport for a Stockport claim. Lawyers based elsewhere could cover the Stockport area and they might well have more relevant experience than some solicitors in the local area.
What Are Medical Assessments?
Usually you would see a medical expert during your claim in order for them to assess what has happened to you from a medical standpoint. These appointments would normally include a chat about what has happened, an examination if necessary, and then the expert would also take a look at your medical notes. This would all be compiled into a report that could form important evidence of your claim.
Where Will My Injuries Be Assessed?
Even if you use a solicitor based outside of Stockport, you could see a medical expert locally. Our panel of medical experts includes:
Ayaz Abbasi
Dialstone Lane
Stockport
SK2 6AG
Paul Hadfield
Cenacle Treatment Centre
224 Dialstone Lane
Stockport
SK2 7LE
Could accident claims solicitors covering Stockport assist me if I want to claim on behalf of a loved one who has lost their life?
Unfortunately, not all accident claims are as the result of minor injuries. Sometimes people can become injured fatally in accidents that weren't their fault. For those left behind, the question of whether they could claim compensation, may be a pressing one. All solicitors could help you claim on behalf of a lost loved one if they have lost their life due to somebody else's negligence or dangerous behaviour.
When you make such a claim for compensation with personal injury solicitors covering Stockport, you could receive compensation not only for the bereavement you've suffered. You could also receive compensation to help with the cost of your lost loved one's funeral. In addition to this, in some cases, you could receive an award because you have been financially affected by the loss of household income. To discuss such claims with us in confidence, please contact our team. We have a range of legal services that we could offer you, and we could help you claim the compensation to help you move forward after you have lost a loved one in this way.
Can accident claims solicitors covering Stockport help with child accident claims?
You may be wondering what would happen if a child was injured in an accident that wasn't their fault. After all, a child could not be expected to make reasonable decisions on their case at such a young age. There are two options for you here. You could claim on behalf of the child up until their 18th birthday, as a litigation friend, or you could wait. Then your child could claim for themselves once they reach 18. However, evidence gathering could be more difficult as time progresses. It's important that you know where you stand in this regard, and if you would like to speak to our team about claiming on behalf of a child you will find that will be able to offer you free legal advice relating to your specific case. If you decide to move forward with a claim on behalf of a child, we could support you throughout the claims process. Our personal injury solicitors could fight for the maximum compensation possible for your child. This would usually be held in trust for your child until they come of age.
Local Information
Workplace Accident Reporting – Need information on accident reporting? This page should help from the HSE
Local Authority Resource On Personal Injury – Stockport's website page on personal injury may be of interest.
Local Court – Stockport court details can be found here.
Self-Employed Work Accident Claims – Our guide for self-employed workers.
Building Site Accident Guide – This guide focuses on accidents on building sites.
Restaurant Accidents – Have you had an accident in a restaurant? If so, this might be of interest.
Now you know more about accident claims solicitors covering Stockport, you should hopefully be able to find personal injury solicitors for Stockport claims.