By Joanne Jeffries. Last Updated August 25th 2021. Welcome to this guide on accident claims solicitors covering Sunderland claims. Here, we explain why personal injury solicitors covering Sunderland don't have to be based locally.
Accident claims are a type of personal injury claim that can be made by a claimant against another party, such as a business, a public entity like a local council or an individual if the claimant has suffered an injury or psychological harm as a result of an accident caused by the negligence of the party or parties that the claim is being made against. These claims seek to win compensation for the claimant to cover damages that the claimant has suffered. These claims can be made for accidents at work, accidents in public, medical negligence cases, road crashes and also in cases of assault, including sexual assault. If you have been the victim of an accident that wasn't your fault and you are looking for Sunderland solicitors to help you make a claim, or you are looking for free accident claims advice then call or contact us today. Our panel of accident claims solicitors can cover accident claims in Sunderland.
Choose A Section
What Is An Accident Claims Solicitor Covering Sunderland?
An accident claims solicitor, or personal injury solicitor, is a lawyer who specialises in helping clients make personal injury claims, or accident claims. Accident claims are cases in which a certain person or organisation such as a business or a local authority has legal action taken against them over an injury that the claimant has suffered as a result of their negligence.
Accidents In The Workplace Reported To The RIDDOR
Every year, in spite of health and safety guidelines and legislation, many people are injured in an accident at work. Tragically some of these cases result in fatal injuries. Listed below are the official government figures for the number of reported incidents of both non-fatal and fatal workplace injuries in the Sunderland area. We have included these figures to give you an idea of how commonplace workplace accidents are in your area. Follow this link here to see the source for these statistics and the statistics for the rest of the United kingdom.
| Location | Total reported non-fatal injuries | Total reported non-fatal injuries per 100'000 employee's | Total reported fatal injuries |
| --- | --- | --- | --- |
| Sunderland | 341 | 285 | 0 |
Below, we offer some statistics relating to the most common injury causes in workplaces in 2019/20.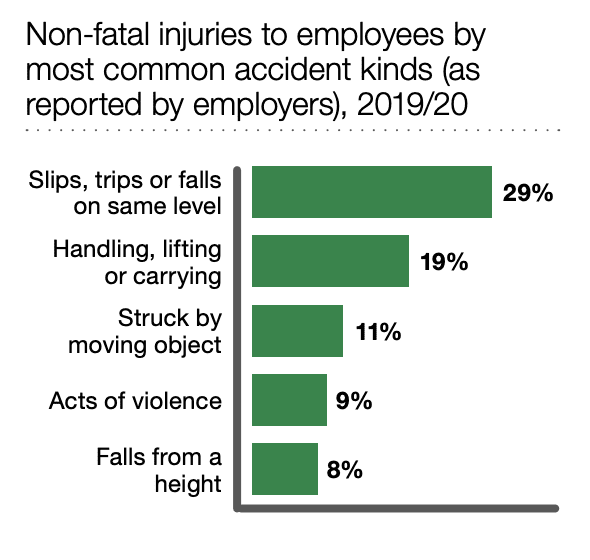 Claims For Accidents At Work In Sunderland
Accident claims solicitors Sunderland and our accident solicitors covering Sunderland can help you make accident claims for accidents at work in Sunderland. If you have suffered an accident at work that was caused by your employers negligence rather than your own then you may have grounds to make a claim against them for accident compensation. Employers are bound by law to ensure that they provide as safe a working environment for their employees as possible. They must provide all necessary safety equipment and safety training; they must perform risk assessments and inform their employees of any potential dangers. You can read more on health and safety requirements on the government Health and Safety Executive website. You can also look at our personal injury claims calculator for accidents at work to see how much money you may be eligible for if your work accident claim is successful. Our panel of accident claims solicitors can cover claims for accidents at work in Sunderland.
Road Traffic Accident Claims In Sunderland
Our accident claims solicitors can cover road crashes and road traffic accident claims in Sunderland. If you have been involved in a road traffic accident either as a pedestrian, a driver or a passenger that wasn't your fault then you can make a claim against the person responsible. If it can be proven that their carelessness while driving  was the cause of the accident then they can be held liable for injury claims for car accident related injuries you may have suffered.  If you have been looking for "car accident solicitors near me" please remember you are not limited to solicitors in your area.
Slip And Fall Settlement Cases
According to the governments health and safety figures slips, trips and falls are the most common way for people to get injured in the workplace in the UK. Whoever owns and maintains the premises in which a slip, trip or fall takes place could be held liable for the injury that the victim suffered if it can be ruled that they did not uphold their responsibility to keep the premises reasonably safe from trip and slip hazards, for example if they failed to provide a "wet floor" sign in areas where the floor was wet, or if they have allowed paving slabs and cobble stones to become damaged. Our accident claims solicitors who cover the Sunderland area can cover slip and fall cases. You can find out more information about slip, trip and fall compensation claims on our website.
Criminal Injuries Or Assault Compensation
Our panel of accident claims solicitors can cover assault compensation claims in Sunderland. You could be eligible to receive personal injury compensation if you have suffered physical injury or psychological harm from being assaulted either in public or at work. Sexual assault and rape also fall under the category of assault case which you could make an assault compensation claim for. If you have suffered from workplace assault, or any other kind of assault, then contact our team today. Should further information be required, you can find more information on rape and sexual assault claims on our website, and information about any important questions you may have about workplace assault cases and how much compensation you may be entitled to if your assault claim is successful on our website.
Claim For An Injury In A Public Place
Accident claims for an injury in a public place can be made for accidents in any area considered to be a public place, such as parks, shopping centers and leisure centers. Depending on where the accident takes place the claim could be made against either a private business which owns the premises or space, or against the local authority or public body responsible for the area.  A claim for an injury in a public place will be made because the party or parties responsible have not met their requirements to maintain the public place in question to a reasonable standard of safety and ensure it is absence of hazards. For example if they have failed to lay out wet floor signs where appropriate, failure to upkeep pathways, failed to provide and upkeep a correct amount of lighting and so on. You can read more about various different examples of public accident claims, how much compensation you may be owed and what personal injury solicitors  may be able to do for you on our website.
Clinical Negligence Compensation
Our accident solicitors that cover Sunderland can cover medical negligence compensation cases. Medical negligence is when a patient has suffered harm to their health as a result of the negligence of a health professional in carrying out their responsibilities and upholding their duty of care to their patients. Medical negligence cases can be brought against NHS trusts, private hospitals, and individual practices and residential nursing homes. These claims can be brought, for example, in cases of neglect of elderly or disabled people causing their health to deteriorate, in cases of patients contracting infections such as MRSA in hospitals due to unhygienic practices and in cases of surgical avoidable injuries caused by negligence. If you want to make a claim for medical negligence in Sunderland either for yourself or on behalf of a loved one who has been impacted by it then contact us today.
No Win No Fee Accident Claims Solicitors Covering Sunderland
We can provide you with a no win no fee solicitor who can cover the Sunderland area. No win no fee deals are an important offer for you to look out for when looking for a personal injury solicitor to work with on your accident claim. In a no win no fee claim your personal injury lawyer will agree not to charge you for the case if the accident claim is not settled in your favour, if your claim is successful and you are awarded compensation then your solicitor will take a prearranged percentage (the maximum being 25%) as their payment.
How To Contact Our Specialists
Get in touch with us today if you are looking for information on how to start an accident claim in Sunderland with our panel of accident solicitors or if you want free accident claims advice. Our phone line is 0800 073 8801 and is operated 24/7. Alternatively you can fill out our accident claim form on our website and we will aim to get back to you as quick as we can.
FAQs Asked Of Accident Claims Solicitors
What Steps Could A Solicitor Take To Help Me?
There are many solicitors and solicitors firms that you could choose from when looking for a personal injury solicitor to handle your case. We believe that we stand out due to the quality of legal representation and legal expert advice we provide to our clients. Our accident claims solicitors have up to thirty years of experience handling legal cases. Our phone lines are open for you to call 24 hours a day and you will receive free no-obligation legal advice, this is important as there may be a number of factors that you need to consider going forward with your accident claim such as the accident claims time limit. We strive to ensure that our clients are regularly updated with the status of their claim once the claim has gone ahead. We offer no win no fee solicitors that can cover the Sunderland area to alleviate the financial burden that our clients might face from making accident compensation claims.
Will I Need A Solicitor Near Me?
You may have assumed that your options for a personal injury lawyer are limited to no win no fee solicitors in Sunderland, however you don't necessarily have to use a solicitor who is actually based in your local area. Our panel of accident claims solicitors cover the UK and can cover accident claims in Sunderland even if they are not based in the area. You are not required to actually meet your solicitor face to face to manage your claim; you can carry out all necessary communication via phone, text or e-mail. It is important to remember this fact so that you are able to choose the accident claims solicitors who is best suited to your case regardless of where they are located.
Is A Medical Examination Always Necessary?
The medical examination serves to provide proof, in the form of the testimony of a professional doctor, that you have in fact been injured as a result of an accident, which your personal injury solicitor will use to support your case.
Will I Have To Travel Far For A Medical Check-up?
Our accident claims solicitors work alongside doctors who are based and operate in many different parts of the UK to perform medical assessments. This includes doctors who can cover medical assessments of our clients injuries for their accident claims in Sunderland. The names  and practice addresses of some of the doctors that we work with in the Sunderland area are listed below.
Ian Watson
Millfield medical center
63-83 Hylton road
Sunderland
SR4 7AF
Lehmbar Singh
Millfield medical center
63-83 Hylton road
Sunderland
SR4 7AF
Would accident claims solicitors covering Sunderland assist with data breach claims?
A huge number of organisations across the UK collect, store and process personal data relating to employees clients and other people they are connected with. In 2018, the strictest data security and protection law was brought into force to further protect the rights of data subjects. The General Data Protection Regulation has been written into UK law in the Data Protection Act 2018. This means that UK data subjects that suffer a data protection breach could be eligible to claim compensation for financial losses and expenses and psychological injuries caused by such a breach.
To make a claim, you would need to be able to evidence that there was wrongdoing on the part of the defendant. This could include cases where:
The local authority has your updated address but sends your rental statement to your old address
An employer sends your medical information in error to your colleagues
Your boss leaves your personnel file on a train
An organisation becomes the victim of a cyber attack because they failed to install relevant protection
These are just a few examples of causes of data breaches that could lead to a claim. If you would like to speak to us about making a data breach claim, we'd be happy to help.
Could accident claims solicitors covering Sunderland assist with psychological injury compensation?
There are many accidents and injuries that could cause not only physical pain and suffering but psychological injuries too. These could, in some cases, be serious and debilitating. They could lead to a person's life changing dramatically. If you have suffered a psychological injury because of an accident at work, a road traffic accident, or even by witnessing a violent crime, our personal injury solicitors covering Sunderland could assist with a claim for compensation. You would need to obtain evidence via an independent medical examination to prove your psychological injury, but we could talk you through what to expect when you attend your appointment. We are here to support all claimants throughout the claims process and we would treat your case with the sensitivity it deserves. Whether you're claiming for stress at work, anxiety due to a data breach, or mental trauma from an accident, we take claims for psychological harm very seriously indeed. We could help you fight for the maximum amount of compensation for the suffering you've gone through.
Resources Should Further Information Be Required
Reporting workplace accidents.
Reporting accidents in leisure facilities.
Reporting a car accident in Sunderland.
County And Family Courts in Sunderland.
Thanks for reading about accident claims solicitors covering Sunderland. We hope we've explained why personal injury solicitors for Sunderland claims don't have to be locally based.