By Joanne Jeffries. Last Updated 4th November 2021. Welcome to our case study relating to personal injury claims payouts for a dislocated shoulder.
This case study, of a 73 year old woman who suffered a dislocated shoulder injury following a fall in a shop, demonstrates how using a personal injury solicitor can make the difference between a small compensation offer and actually receiving the compensation you really deserve for your injury.
The lady involved in this accident was 73 at the time and had just entered the store, a well known high street retailer in the UK, when the heel of her shoe got stuck in faulty flooring. As she carried on forwards her foot was stuck which led to her falling forwards and down a small flight of stairs and after hitting the hard floor she sustained the dislocated shoulder injury.
Following the accident, she had to attend the local A&E department to receive diagnosis and treatment of her injury. After an x-ray it was confirmed that she had a dislocated shoulder injury that would require surgery to remedy it.
At Accident Claims UK we can help clients who've had a dislocated shoulder injury, that was somebody else's fault, to make a compensation claim. We are a no win no fee solicitors so if you'd like to claim then call now on 0800 073 8801. If you'd like to know more about the claims process in this case, then please carry on reading.
Symptoms Of A Dislocated Shoulder
A dislocate shoulder injury is one of the most painful upper-body injuries there is, and it can't be treated at home, you will need to visit A&E for it to be put right.
A dislocated shoulder injury occurs during a fall or collision and is where the ball part of the shoulder joint pops out of the shoulder socket.
Dislocate shoulder symptoms, according to this guide from the NHS, include:
Loss of the ability to move the arm because the pain is too severe.
There may be a bulging under the skin which is the arm bone that should be in the socket pushing into the skin.
The shoulder will look square rather than the normal round shape.
With any type of dislocated shoulder injury, the pain will be the biggest giveaway and you may have heard a loud pop as the arm bone came out of the socket during your fall.
One piece of advice the NHS are insistent on is that, if you've suffered a dislocated shoulder injury, under no circumstances should try to pop the shoulder back into the socket yourself as you can cause more damage than good if it goes wrong.
The Claimants Accident And Injury
The dislocated shoulder injury sustained by the elderly lady in this case, which required dislocated shoulder treatment, was initially treated as a simple injury and it was popped back in by A&E staff but the next day she had to re-attend the hospital because of serious swelling. Further investigation by the fracture clinic concluded that there was a three-part fracture of the proximal humerus.
Because the dislocated shoulder injury included a fracture the lady had to have an operation to fit a plate which was used to hold the bone together.
The fracture meant ongoing assessments and x-rays to assess the improvements to the fracture. It took nearly 4 months for signs of improvement to show up and nearly a year before the fracture was repaired to a level that was almost as good as it was prior to the accident.
This shows that the claimant in this case had a more complex dislocated shoulder injury than some but if you're seeking a payout for a dislocated shoulder then we can offer a free consultation to assess what compensation you might be due.
The Dislocated Shoulder Allegation And How Was Liability Established?
The allegation in this dislocated shoulder injury case was that the company was liable for the injury due to the damaged flooring inside their store. The personal injury solicitor gathered evidence from the claimant, obtained medical records and probably photographed the flooring in the store and approached the store to request compensation for the injury.
The store's solicitor admitted liability for the accident very quickly but the offer they proposed was short of what the claimant should've received for her dislocated shoulder injury and so her solicitor try to negotiate a better shoulder injury claim value.
Negotiations continued and in the end this case was settled out of court. We deal with a lot of cases for personal injuries and it is quite common for settlement out of court, in fact, it is quite rare for a case for a dislocated shoulder injury to ever get to a court room.
The final settlement amount was much fairer in the eyes of the personal injury solicitor who recommended that the client accept the offer.
What Payout For A Dislocated Shoulder Was Awarded?
The insurers for the store initially offered a settlement for the dislocated shoulder injury of £5,000 but the solicitor advised the client that the amount offered was too low considering the extent of the treatment she'd undergone.
After further negotiations the offer was increased to £10,700 which took into account all of the pain and suffering caused by the dislocated shoulder injury, the fact that the lady had to employ somebody to help around the house to complete tasks she could no longer complete because of the pain and the fact the injury wasn't completely healed a year after the dislocated shoulder injury occurred.
Because of the claimants age loss of earning wasn't taken into account but the majority of dislocated shoulder injury claims we deal with usually assess how much time you took off from work and potentially if you can claim for future loss of earning as well.
No Win No Fee Retail Accident Compensation Claims
As you can see from this case study, any personal injury claim, big or small, can lead to an extensive investigation and negotiation from a personal injury solicitor. Even though the insurers agreed liability for the dislocated shoulder injury very early in the process the solicitor employed in this case still had a lot of work to do to get the offer increased to the final settlement amount.
The problem is that people with a dislocated shoulder injury will worry about the cost of the solicitor during all these negotiations and investigations. If you've suffered a dislocated shoulder injury and are worried about expensive costs of a legal case, then please consider contacting Accident Claims UK as we offer a no win no fee service.
We will work on your behalf to claim compensation for your dislocated shoulder injury without any up-front payment, no hourly fees and we will only charge you a fee if we successfully obtain compensation following your accident.
When you call us to discuss your dislocated shoulder injury we'll offer you a free consultation during which we'll let you know what our fee will be if we're successful. Unlike solicitors who take cases on by charging an hourly rate you'll know exactly what your dislocated shoulder injury claim will cost right from the start and as we are no win no fee solicitors your claim is completely risk free as nothing is charged if unsucessful.
Talk To Us Today About Personal Injury Claims Payouts for a Dislocated Shoulder
If you're ready to start a claim for your dislocated shoulder injury today now that you know we'll deal with your case on a no win no fee basis, then get in contact now and we'll begin your completely free consultation.
To contact us you can use any of the methods below:
If you're unsure about anything regarding your injury, then get in touch and we'll help you to decide how to proceed. Our team of specialists have dealt with numerous cases and will be able to answer any questions that you may have.
Could I make personal injury claims payouts for a dislocated shoulder at work?
If you have suffered a dislocated shoulder at work in an accident that was not your fault, you could have a claim for compensation. You would need to evidence that your dislocated shoulder was the result of an accident that happened due to lack of health and safety provision by your employer. For example, if you suffered a dislocated shoulder while you're performing manual handling tasks, and you hadn't been trained to do them properly, this could lead claim for compensation. If you would like us to assess your case to see whether you could have a valid claim against your employer, please do not hesitate to contact us. Some people worry about claiming against employers for personal injury payouts. However, they should not worry about this as they are protected by law from being treated differently because of their claim. In addition to this it might be worth noting that most employers have in place insurance to cover the costs of personal injury compensation payouts in the UK.
How can I maximise personal injury claims payouts for a dislocated shoulder?
To get the maximum compensation settlement possible for your personal injury claim, you would have to have solid evidence. You would need to be able to prove that the accident that caused your injuries was someone else's fault. In addition to this, you would need vital medical evidence, from an independent medical specialist. You would see such a professional as part of your claim, whereupon they would examine you and ask you questions about your injuries. Once they have all the information that they require, they could write a detailed report which explained about your injuries and your prognosis too. This important document could be used by courts and lawyers to arrive at an appropriate compensation payout for your pain and suffering. In addition to this evidence you would need to provide evidence of special costs and losses that you incurred because of your injuries in order to claim for them. This could include pay slips showing a loss of earnings, and bills for medical treatments, for example.
How common are dislocated shoulders in road traffic accidents?
We do not have figures pertaining to the number of dislocated shoulders that were suffered in road traffic accidents in 2020. However, we can tell you that despite the fact that the UK was in lockdown for four months of 2020, there were still a significant number of people who were injured on the roads during this time. According to the Department of Transport statistics, there were over 115,000 injuries during 2020. The casualties included motorcyclists, cyclists, pedestrians, passengers and motorists. You can see a full breakdown of the types of road user injured in the graphic below.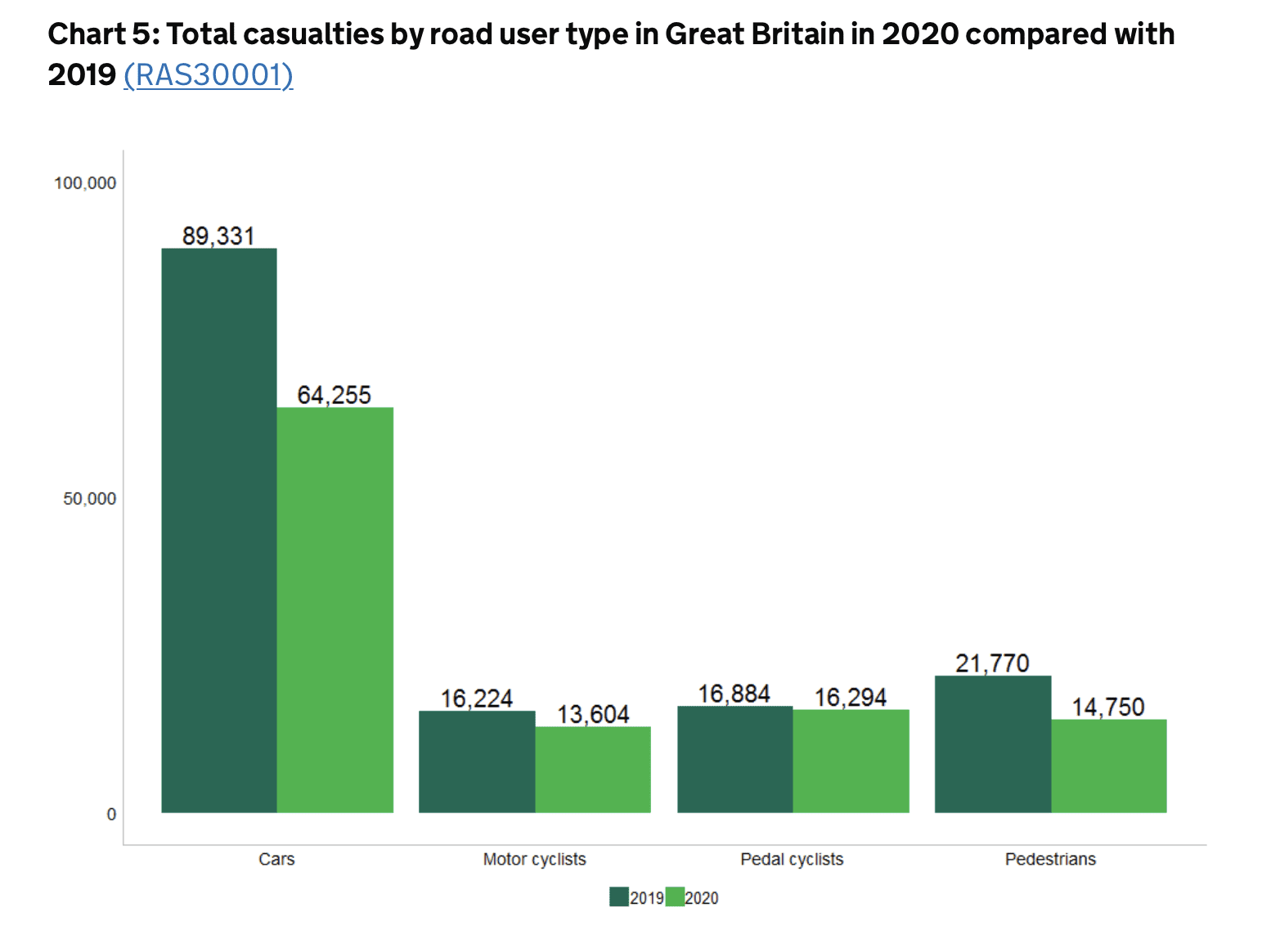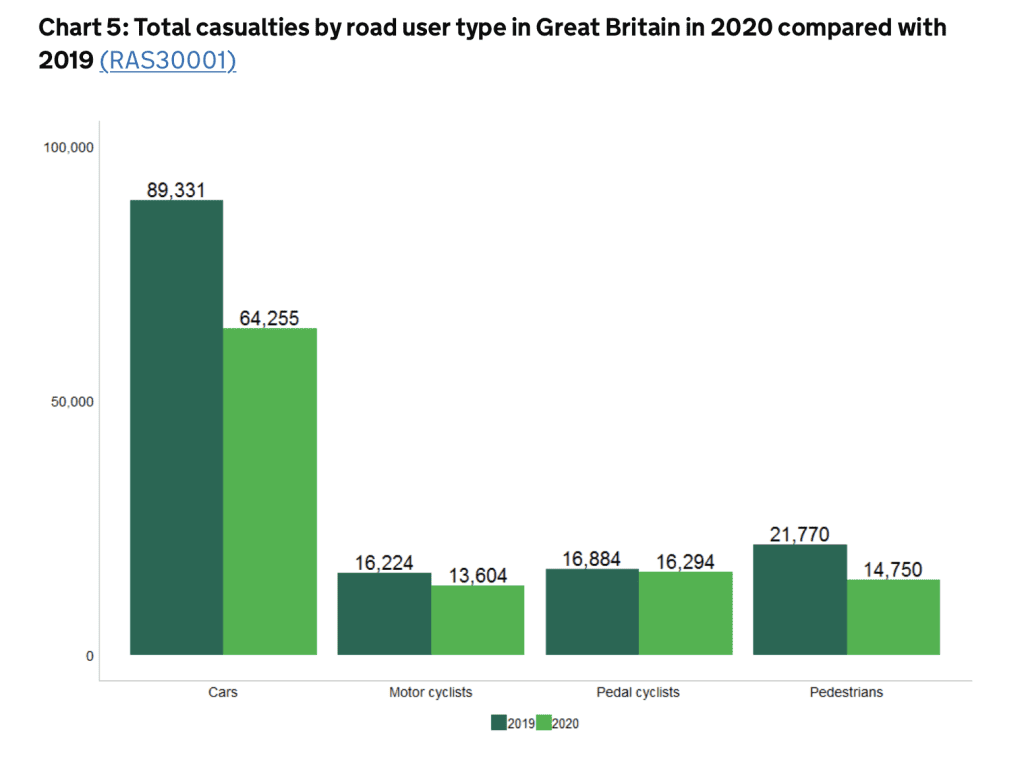 If you would like to claim personal injury claims payouts for a dislocated shoulder as the result of a car accident, we would be happy to help you. We could provide you with a free, no obligation assessment of your case and could provide you with specialist solicitors who are authorised and regulated by the Solicitors Regulation Authority who could help you with your claim on a no win no fee basis. They could fight for the maximum settlement possible for your claim.
Useful Links Relating To Personal Injury Claims Payouts for a Dislocated Shoulder
Here are some useful guides that may help you with your dislocated shoulder injury compensation claim:
Accidents in shops guide – This guide isn't specifically about a dislocated shoulder injury but covers claims for accidents in shops and common types of injuries.
Slip, trips and falls – Another of our guides that may be useful in your dislocated shoulder injury claim. It covers slips, trips and falls and how much compensation you may be entitled to.
Rehabilitation advice (PDF file) – Rehabilitation after a dislocated shoulder injury and frozen shoulder advice from the NHS.
Thank you for reading our case study relating to personal injury claims payouts for a dislocated shoulder. Whether you've suffered a shoulder injury due to medical negligence, a torn rotator cuff due to an accident at work, or soft tissue injuries due to an RTA, we could help you claim special damages and general damages on a no win no fee basis.