By Joanne Jeffries. Last Updated November 9th 2021. Welcome to this case study covering personal injury claims payouts for a femur fracture.
In this case study, we take a look at an injury claim, where an office worker broke her leg, and was successfully able to claim compensation for a workplace femur fracture.
This claim is of particular note, due to the age of the claimant (62), and the fact that her injury forced her into early retirement, which she was not financially prepared for.
The settlement itself was made out of court, after several rounds of negotiations. The claimant received a total of £240,000 in compensation, to cover both the pain and suffering of the injury, and also to make up for her loss of life-quality and financial losses and hardship caused by the accident.
How Common Are Serious Injuries In An Office
The graph above, shows that over 600,000 workplace accidents occur on average, in the UK every year. A vast percentage of these accident cause injuries that are so bad, that the victim is forced to take more than a week off work. The lower graph shows, that despite the best efforts of the UK Government and the Health & Safety Executive, there are still around 2,500 work-related accidents per 100,000 workers in the UK each year.
In this case, the claimant was a victim of a tripping accident, and slips, trips and falls are, as the graph shows, the most common type of work-related accident of all. Because of the victim's age, she suffered a grave injury when she fell, and it is more common that we see injuries such as a workplace fracture in elderly workers, following a fall, than younger workers.
Consequences Of The Claimants Fractured Femur
Serious hip injuries, such as a femur fracture at the top of the bone, are a very common injury caused by slips, trips and falls involving elderly people. However, in a woman as old as the claimant, being 63 years old, this is a very traumatic injury. Any broken hip injury in an elderly person is risky, and in a percentage of cases, it can be fatal.
Most elderly people have developed osteoporosis to some extent. The bones naturally become weaker as we age. Therefore, even a simple tripping accident such as the one covered in this claim, can cause a serious injury in the elderly.
Recuperation from a hip fracture in an elderly person, can take many months and in most cases, there is usually some loss of mobility, as the hip does not heal fully. The NHS has made some good information about hip fractures available at this link:
NHS information on hip fractures
Conducting The Broken Femur Claim
In this case, the 62-year-old victim was an office worker, who was going about her daily duties, when she tripped on a rubbish bag, and suffered a heavy fall. On being examined at the hospital, it was discovered that she had suffered a fractured femur, at the top of the bone, very close to her hip. A hip operation was recommended, and subsequently carried out. Here recuperation was long and painful. The long-term prognosis was that she would suffer some amount of pain and stiffness in her hip permanently.
She had to take an extended period away from work, and during this time, her employer terminated her contract. This effectively forced the claimant into early retirement, as it was unlikely she would find another job at the age of 62.
She was not financially prepared for early retirement. She also had to employ home help, as she could not cope on her own at home. This added to her financial hardship. Had her employer not fired her, she would likely have been able to meet her financial obligations. However, the employer decided that their best move, was to reduce their outgoings by getting rid of an employee that was on long-term sick leave. Eventually, this strategy came back on them, as they were forced to pay compensation to make up for the financial hardship they caused.
Reaching A Settlement With The Claimants Employer
The personal injury lawyer that the claimant used, faced a complex situation. The defendant failed several times, to meet legal requirements with regard to submitting evidence. This led to the timeframe for the claim to be processed, taking an additional six months.
Initially, the victim was awarded an interim payment, which helped to ease her ongoing financial problems, which were caused by the work-related accident. A further settlement was sought to pay for a mobility scooter, and also modifications to the claimant's home, so that she would be able to take care of herself properly, in a safe environment, without home help.
Negotiations consisted of several rounds of an offer being made, and the claimant indicating the amount offered was not enough. This made the claim process very lengthy. However, finally, the claimant agreed to accept an out of court settlement of a total of £240,000. This was paid to compensate her for her pain and suffering, the fact that the injury effectively ended her working life, and the financial hardship she faced once the defendant had terminated her employment contract.
This case study, is a good example of how a solicitor will often pursue compensation from a company that wished to protract the process for as long as possible, and then finally pay as little as possible in compensation. The claimant stuck to her guns, and the solicitor was finally able to win a significant compensation for the claimant.
No Win No Fee Work Accident Claims
Accident Claims UK can offer you an entirely risk-free way, from a financial viewpoint, of making a claim for personal injury compensation. Our national claims service operates under a No Win No Fee agreement, and is available to people all across the UK.
When you engage our No Win No Fee solicitors to process a claim on your behalf, there is no charge at all to begin processing your claim. As we pursue your claim, we won't charge any ongoing fees, even if it takes us many months to finally reach a settlement on your behalf. And if we fail to win you any compensation at all, then there is also no charge, we won't ask you to pay anything if we fail in processing your claim. The only time we will charge a fee, is when we actually receive a compensation payment on your behalf. When we do, we will automatically deduct our agreed percentage from the payment we received, and then send you the rest.
So, as you can see, this is a financially risk-free way to have your claim processed. You really have nothing to lose by letting us try and claim the compensation you are eligible for.
How Accident Claims UK Can Help You Get Compensation With Personal Injury Claims Payouts For A Femur Fracture
If you decide to use the Accident Claims UK national claims service, to help you to make a personal injury claim for broken femur compensation, you will be gaining access to our years of experience processing such claims. We have a proven track record of winning significant settlement amounts, across the full range of injury claim types.
We will always try to get you the most compensation possible. In doing this, we will never do anything that might put your claim at risk. We are always available to answer any questions you may have, or simply to update you on the status of your claim. When you call us, our team will always use simple English, and not legalese to answer your questions.
If you are ready to start your no win no fee claim today, then call Accident Claims UK on 0800 073 8801 right now. One of our team is waiting for your call, and will talk you through our new claim onboarding process, so we can get started on your claim right away.
What makes up personal injury claims payouts for a femur fracture?
Whatever type of leg fracture or leg injury you've suffered, if you could prove that it was someone else's fault and that that person had a duty of care towards you which they failed in, you could claim for both the suffering, pain and loss of amenity caused by your injuries and the financial losses that you have experienced because of them.
When you receive a compensation settlement for personal injuries, it could be include both general damages and special damages. If you would like to know what these are, a brief explanation is given below.
Special damages-these types of compensation payouts relate to any financial losses and costs you've experienced because of your injuries and the accident. It could include costs and losses such as loss of income, if you've had to take time away from work to recover from your injury. It could also include any care costs, medical costs or travel expenses you've incurred due to your injuries or the accident.
General damages -this is the payout you would receive for any pain, loss of amenity and suffering you've experienced due to your injuries.
In some cases, special damages could make up more of the compensation settlement than the general damages. However, in other cases this could be reversed and your general damages payout could be more than your special damages payout.
How can I maximise personal injury claims payouts for a femur fracture?
The medical evidence you provide as part of your claim could significantly impact any compensation settlement amounts you receive. This is because an independent medical report, detailing the level of severity of your injuries, how they have affected you and your prognosis for recovery could provide an accurate picture from which courts and lawyers could arrive at a compensation payout. In order to maximise your personal injury claims payouts for a femur fracture, we would also advise you to consider using the services of a specialist solicitor, authorised and regulated by the Solicitors Regulation Authority. They could use all of their legal knowledge and expertise to negotiate for the highest compensation settlement possible for your claim. If you would like us to provide you with such a solicitor, we would be happy to speak to you. Please call our expert team, whereupon we will conduct a free, no obligation assessment of your case. If we believe you could have a strong claim, we could provide you with a no win no fee solicitor to help you.
How common are femur fractures in road traffic accidents?
While the case study above related to a workplace accident, it is important to note that femur fractures could also be caused by other accidents and could lead to compensation claims. One common accident that could lead to a femur fracture could be a road traffic accident. If you could prove that someone else was at fault for a road traffic accident that caused you a fractured femur, you could claim compensation. Such claims are not uncommon, as there are lots of road traffic accident casualties in the UK every year. In fact, even though there were four months of lockdowns in the UK in 2020, there were still over 115,000 people who suffered road traffic accident injuries. You can see the type of road users that were injured below.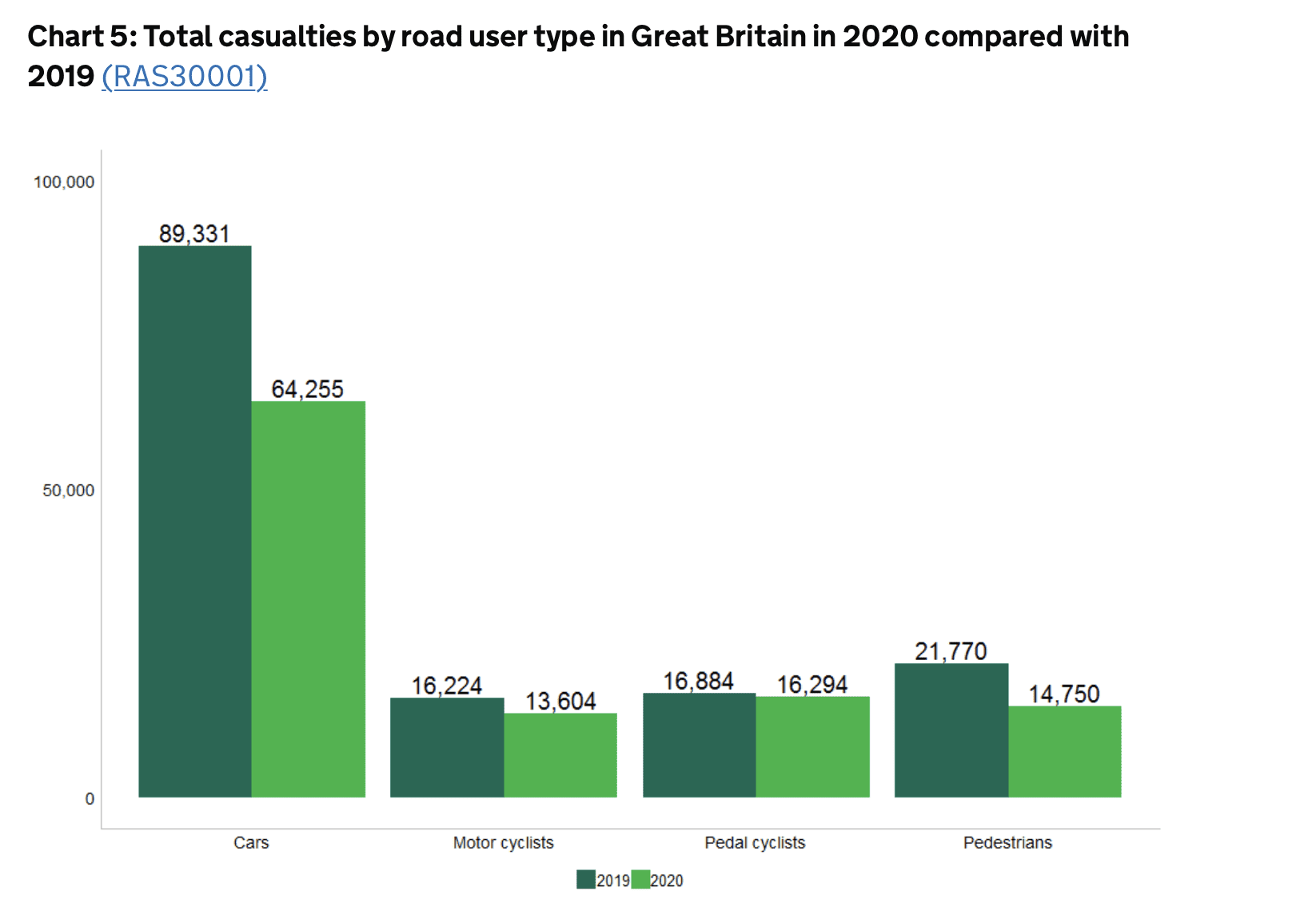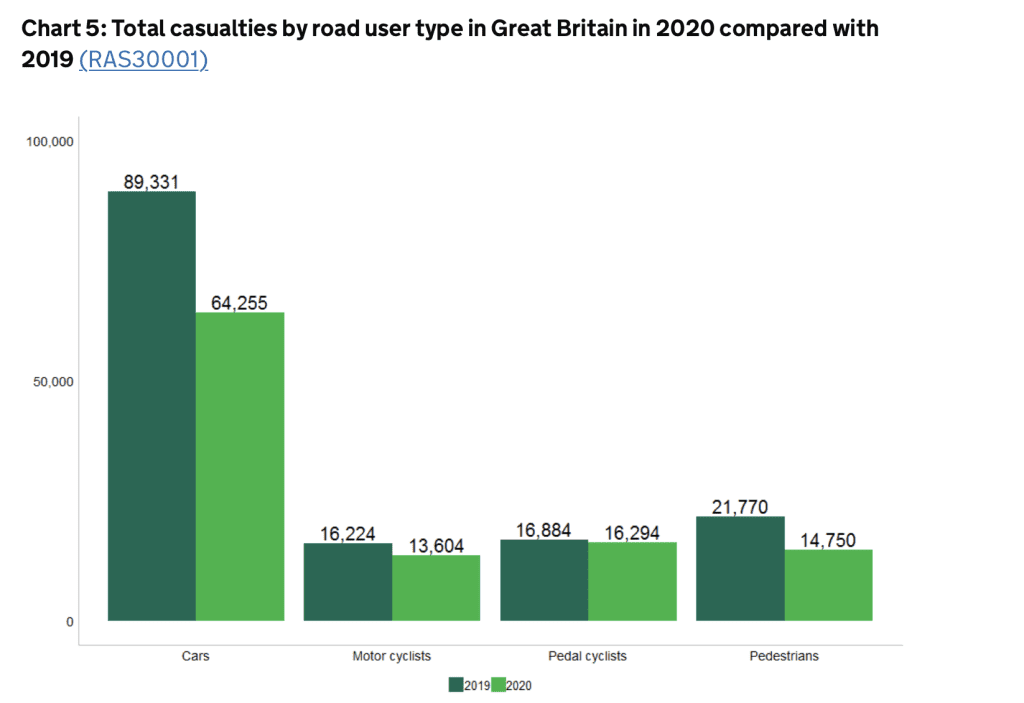 Useful Links Relating To Personal Injury Claims Payouts For A Femur Fracture
At the link below, you will find a complete guide to making a compensation claim for a leg injury:
A guide to claiming for a leg injury
At the link below, you will find a complete guide to making a compensation claim for a hip injury:
A guide to claiming for a hip injury
You will find UK Health & Safety guidelines covering office work at this link:
Some general information published by the UK Government, related to claiming compensation for work-related injuries, can be found here:
UK Government work accident information
Thank you for reading this case study relating to personal injury claims payouts for a femur fracture. If you have had a broken femur injury that has affected your ability to work, or a broken bone or comminuted fractures, and would like free legal advice from a friendly solicitor about the compensation amounts you could receive, we could connect you with specialist solicitors with up to 30 years experience to help you with injury compensation claims.