By Joanne Jeffries. Last Updated 4th November 2021. Welcome to our case study which provides insight into medical negligence payouts for misdiagnosis of meningitis.
In this case study, we are going to take a look at a personal injury claim, made by a litigation friend on behalf of a 15-month old girl. The bottom line here, is that a baby girl suffered permanent, severe brain damage due to her condition being misdiagnosed. A litigation friend, one of her parents in this case, engaged a solicitor to pursue personal injury compensation. And eventually, she was awarded a staggering £4.5 million payout for misdiagnosis of meningitis.
The 15-month old baby girl was first diagnosed with a simple and harmless ear infection, and her GP sent her home. However, the diagnosis was wrong; she had actually contracted meningitis. Due to the fact the illness was treated so late, the baby suffered some truly terrible health problems. These included damage to her hearing, sight, and speech and also a very severe loss of cognitive function. Effectively, any chance of her ever living a happy, normal life was ended. She required 24/7 support, and this would be ongoing for the rest of her life. The baby's solicitor, was able to negotiate a settlement of a total of £4.5 million.
In this case study, we will take a look at what meningitis is, and how serious the effects of the illness were in this particular case. We will also take a look at the fact that the baby's GP originally refuted liability. Additionally, we look at the settlement itself, why it was awarded and what it was awarded for.
How Serious Is Meningitis If Not Diagnosed Or If Untreated?
The really tragic thing, in this case, is that meningitis if detected early enough, is fairly simple to treat. However, misdiagnosed bacterial meningitis if left untreated, can quickly cause serious physical damage in a child. As with the case in this claim, the baby was eventually awarded compensation for misdiagnosis of meningitis. Had the GP not made a mistake, no misdiagnosis claim would have been made, and the young girl would have lived a healthy life.
Meningitis is an infection of the brain and the brain stem, more common in young children than in teenagers or adults. The symptoms of meningitis are similar to those of generally less severe conditions, such as the common cold or flu. They consist of a fever, nausea, headache, rash, stiffness in the neck, photosensitivity, drowsiness and in a few cases, seizures. Not every symptom occurs in every case. Meningitis is spread by sneezing, coughing, etc. When meningitis is caught early enough, antibiotics is all that it takes to cure it. Along with intravenous fluids and oxygen.
In this case, the illness went undiagnosed for far too long, and the baby's brain was damaged, permanently. This is typical of meningitis cases that go untreated.
What Were The Effects Of Not Being Treated On The Claimant?
In this claim for compensation for the misdiagnosis of meningitis, the baby had suffered truly catastrophic effects. Meningitis misdiagnosed often results in such terrible results.
The baby suffered very severe brain damage. This meant that the baby's hearing and eyesight was badly effected, leaving them almost non-functional. This would mean that the baby was unlikely ever to develop the ability to speak. Furthermore, and much more seriously, the baby suffered a significant impairment in cognitive ability. Functionally, she would never become an adult member of society; she would require 24-hour care for the rest of her life. Her life expectancy prior to this disaster, was some 83 years.
The GP's Liability Was Disputed – How Did This Affect The Claim?
In some undiagnosed meningitis claims, the GP will deny that they made a mistake. The medical negligence lawyer will then need to negotiate a settlement based on this. In this specific claim, the GP did deny liability. The GP's insurance firm, offered to settle the claim at only two-thirds of the total that could be claimed.
What Settlement Was Awarded?
The personal injury lawyer in this meningitis compensation claim, faced a tough situation. The GP had denied liability, and the insurers were backing them up. Offering just a 2/3rd payment. However, the financial obligations that the girl would have to meet for her entire life, were huge. It was estimated that she would have lived to around 83 years old if the case of meningitis had been diagnosed properly. Some 81 years. She would need special housing, and 24-hour care for all of this time. When the £4.5 settlement was offered, just £120,000 of it was awarded to the baby's parents for the care they had already given her. The remainder, was awarded for a number of things, including:
Finding suitable housing for the rest of her life.
Equipment that would be needed to take care of her health.
The cost of paying for care workers to take care of her.
The £4.5 million payment was agreed, and it was approved by the High Court. This type of settlement is typical in this kind of claim, where the damages awarded for the loss of quality of life, and the permanent medical care, is by far the largest portion of the total amount paid.
No Win No Fee Meningitis Compensation Claims
If you have suffered at the hands of a medical professional, and you believe you may have a valid reason to make a compensation claim, then Accident Claims UK could be able to help you. We can act as your No Win No Fee solicitors, and process a claim on your behalf. What this means, is that you have a financially risk-free way to attempt to claim compensation, as No Win No Fee means what it says. If we don't win your claim, you don't pay anything.
The way this works, is very simple to understand. Accident Claims UK operates a national claims service, available to people all across the UK. When you call us, and ask us to take your claim on, then we won't ask you to pay a fee to onboard your claim. While we are processing your claim, and this could take months or even years in extreme cases, then there is still no cost. If, for some reason, we fail to win you a compensation settlement, then we zero our bill, and you walk away without paying anything. If we are successful in winning you compensation, then when we receive the payment on your behalf, we will take our pre-agreed percentage as our fee, and then we will give you the rest.
As you can see, you really have nothing to lose by letting Accident Claims UK process your claim, using our national claims service. If you are ready to proceed, have any questions, or require more information, then please do call us on the number below.
Make A Meningitis Misdiagnosis Claim With Accident Claims UK And Advice On Medical Negligence Payouts for Misdiagnosis of Meningitis
If you have suffered harm at the hands of a medical professional, for example, you need to make a meningitis compensation claim; then Accident Claims UK can help you. We can represent you as your personal injury solicitor, and process your claim on your behalf. All you have to do to move your claim forward, is call us now on 0800 073 8801. When you do, one of our team will be on the other end of the line, ready to help you start a new claim with is. This is a very simple process, and our team member will use plain English without confusing legal jargon to explain everything. We will start by asking you a series of questions, the answers to which, are designed to give us a better picture of your claim. Once we know enough, we will offer you some free legal advice on what to do next. In most cases, this will be to use our No Win No Fee claims service to win you the compensation that is rightfully yours.
How Common are Medical Negligence Payouts for Misdiagnosis of Meningitis?
We do not have statistics relating to the number of meningitis misdiagnoses, but we can tell you that there are large numbers of clinical and medical negligence claims made against the NHS each year. According to the 2020-21 figures from NHS Resolution, there was a huge amount of money paid out in clinical negligence compensation payouts during this time. We have included a graphic below from NHS Resolution to illustrate this.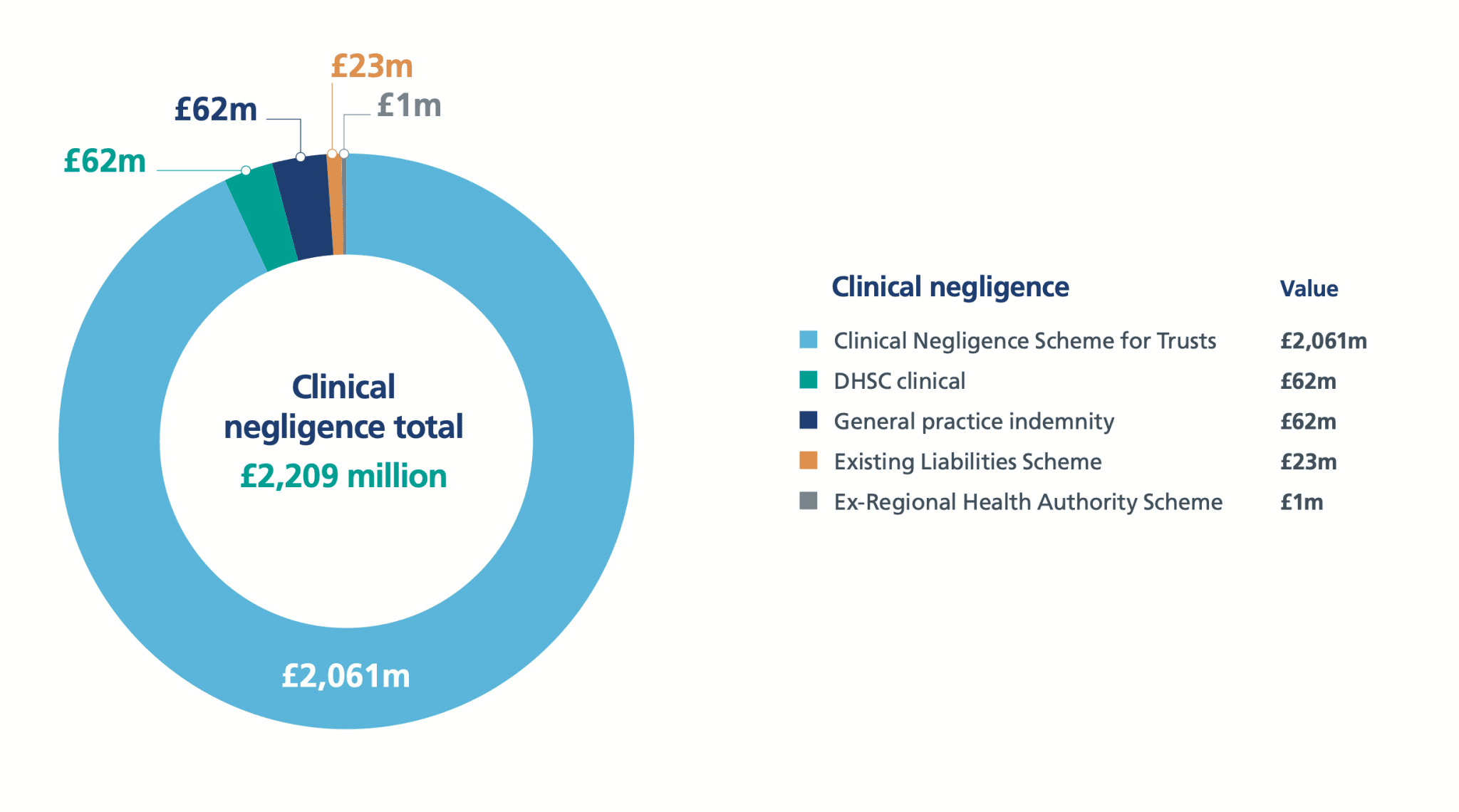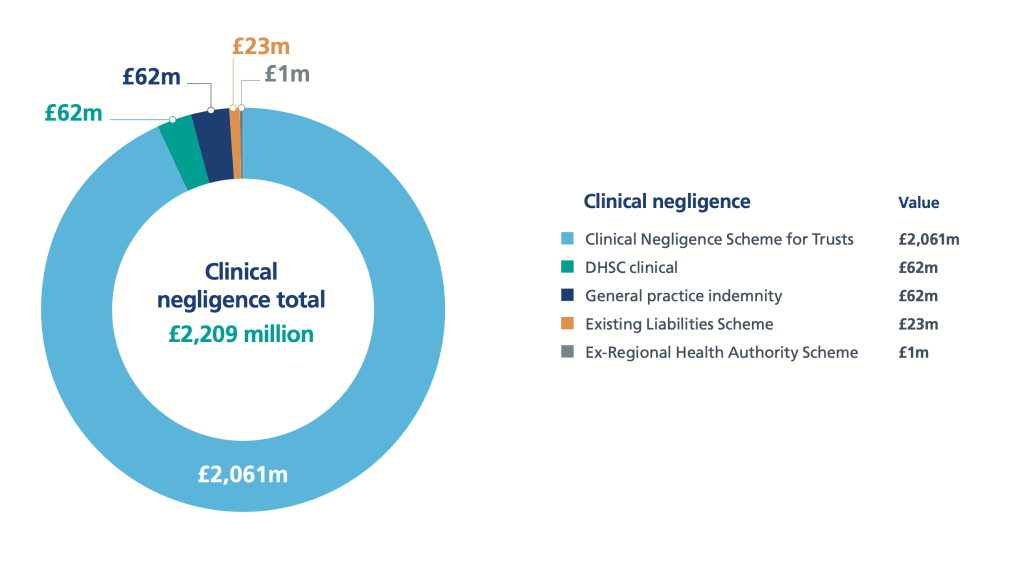 How Can I Maximise Medical Negligence Payouts for Misdiagnosis of Meningitis?
The compensation payouts you receive for a misdiagnosis could differ depending on the level of severity of your injury, and your prognosis. When claiming personal injury compensation payouts in the UK, a large part of the evidence you'd need would be the medical evidence. However, your past medical notes would not be sufficient to allow you to make a claim for compensation. You would need to attend an appointment with an independent medical specialist, who could assess your injuries, examine you and speak to you about what has happened. They would then write up a report which could be used as medical evidence for your case. The details of the level of severity, pain and suffering you've experienced and your prognosis could significantly affect the compensation payouts you could receive. As well as this, to maximise medical negligence payouts, you should keep all evidence relating to any costs or losses you've suffered due to the medical misdiagnosis. This could be pay slips for loss of earnings claims, or receipts and bills for treatments you've had to pay for. It could also include proof of care costs if you've needed at home care because of your injuries.
Can I receive medical negligence payouts for misdiagnosis of meningitis for my child?
When you make a claim for compensation as a litigation friend for a child, you would not be the person who would receive compensation. The compensation would be for your child, and their injuries, pain and suffering. The compensation could also go towards paying medical costs and ongoing care costs should they be needed. However much the settlement for personal injury claims or medical negligence claims in the UK is, it would usually be held in trust for your child. However, should funds be needed for medical treatment, for example, you could apply to the courts to have some funds released.
Alternatively, you could allow your child to claim for themselves once they become an adult. They could have from the date they turn 18 years old until their 21st birthday to make a claim for themselves. If you are struggling to make a decision on whether to claim for your child or whether you should wait and let them claim for themselves, please do not hesitate to call our team. You could receive free advice from a friendly solicitor who could give you all the information you need to make an informed decision. We could also provide you with specialist solicitors, authorised and regulated by the Solicitors Regulation Authority, who could assist with your claim on a no win no fee basis.
Helpful Links Relating To Medical Negligence Payouts for Misdiagnosis of Meningitis
At the link below, you will find a guide to claiming compensation for a medical condition that has been caused or made worse by medical negligence involving misdiagnosis:
A guide to claiming for medical negligence and misdiagnosis
At the link below, you will find a guide to claiming compensation for a medical condition that has been caused or made worse by medical negligence:
A guide to claiming for medical negligence
The National Health Service has published detailed information about meningitis, its causes, symptoms and treatment, at this link:
NHS information about meningitis
The UK Government operates a meningitis family support website, which can be found at this link:
UK Government meningitis support site
Thank you for reading our case study which provides insight into medical negligence payouts for misdiagnosis of meningitis. If a missed or delayed diagnosis of meningitis has led to long term brain injury and financial losses, we could help you claim the maximum compensation under a no win no fee agreement.