By Joanne Jeffries. Last Updated 30th June 2022. Welcome to this guide on personal injury claims payouts for laser hair removal burn injuries. In it, we look into a laser hair removal burn claim. We explain what to do if you get burned by laser hair removal, due to negligence. If you are thinking of making a compensation claim for laser hair removal burn on genital area, it is a good idea to seek advice and guidance from a reputable personal injury solicitor. Letting them represent you and your case is best to ensure the best chance of having a successful No Win No Fee claim as the case study below clearly shows.
Further on in this guide, we explain who could claim laser hair removal burns compensation. Plus, we give advice on making laser burns compensation claim, whether you've suffered minor laser hair removal burns or been left badly scarred by a laser burn injury after hair removal.
Laser Hair Removal Burn Case Study
A compensation amount of £7,500 was awarded to a claimant that had suffered a laser treatment injury. She was undergoing a laser pubic hair removal treatment when she sustained a burn and small blisters after laser hair removal appeared in the genital area.
The laser hair removal process was to be completed over a number of treatments, however, during one of the treatment sessions, the claimant experienced more heat in the genital area after the therapist had turned the settings to a higher setting. She alerted the therapist who then turned them back down and continued with the treatment.
The result
Unfortunately for the claimant, she still felt very uncomfortable in the genital area through the evening following the laser hair removal and noticed that she had started to develop blister from laser treatment where she had been burnt.
The claimant decided to contact a personal injury solicitor to discuss her eligibility for making a laser hair removal burn compensation claim. She found that the salon where she had received the treatment had indeed been negligent in their duty of care to her and so launched a laser hair removal negligence claim. The salon admitted liability and the claimant was awarded 7,500 for her suffering.
What Should You Do If You Get Burned By Laser Hair Removal?
Accident Claims UK is an experienced personal injury claim specialist firm that, although we didn't handle the case mentioned above ourselves, can certainly help anyone who may have experienced a similar accident. We have a fantastic track record and could help your claim be a success. If you'd like to know the answers to questions such as 'can I sue for laser burns?' or 'do scars from laser hair removal go away?', or maybe you'd like to know more about laser burn settlements, just call us on 0800 073 8801 to discuss your case or to ask any questions you may have laser hair removal burn compensation claims.
Select a Section
Types of laser hair removal injuries
Laser hair removal is achieved by using intense pulsed light (IPL) in the form of a powerful laser to get rid of unwanted body hair. This intense light is used to heat and destroy the hair follicle in the skin, disrupting hair growth in that area. The most common areas treated are the arms, legs, face, under the arms and in the genital area.
The treatments are usually spread over four to six sessions with each one occurring every four to six weeks or so.
The results aren't permanent and the client should take care in choosing a reputable salon that has the relevant training in laser hair removal.
Side effects – are they possible?
Laser hair removal genital area is becoming a more popular cosmetic procedure and like the other types of laser hair removal procedures it does come with a risk of side effects such as:
Redness and irritation – The treated area may appear red with a slight rash for up to 24 hours after the treatment. A cool ice pack on the area may help relieve the irritation. Also sun exposure should be kept to a minimum around a week or so after.
Crusting of the skin – The skin may become crusted in the affected area which although minor, may be inconvenient. This can occasionally lead to scabbing but if moisturised regularly this should be prevented.
Skin colour – Sometimes the laser treatment can cause the skin to lighten or darken in the treated area. Eventually the skin should return to normal but can take several months.
Infection – As with any cosmetic procedure that involves the skin, there is always a slight risk of an infection of the skin occurring. After the procedure, the affected area should be treated with care as you would a wound to lessen the likelihood of an infection occurring.
Swelling – The body may react to the laser treatment on the skin by swelling for a few days in the treated area.
When Could I Make A Laser Hair Removal Burn Claim?
Unfortunately though, although thankfully rare, more serious injuries can occur during or following a laser hair removal treatment particularly if the treatment isn't conducted properly.
Due to the use of powerful lasers, there is a risk of eye injury, particularly when carrying out laser hair removal on the face. Protective eye equipment should be worn by both the therapist and the client during all types of treatment.
Burns and blisters – Laser hair removal blister and burns may occur if the treatment is not carried out correctly or by a fully trained therapist due to the use of high heat lasers. Most therapists will use a cooling spray before beginning the treatment to help prevent these injuries from occurring.
Scars – Although not normally a typical side effect of hair removal, if the therapist makes an error when carrying out the treatment, then the client may end up scarred. After care treatment advice should be given as well to prevent any permanent scar occurring following the procedure.
Can I claim?
If you have sustained any Brazilian laser hair removal side effects or laser hair removal burn and blister, and it was because of the negligence of your therapist who performed the cosmetic procedure, then you may be eligible to make a laser hair removal burn compensation claim. Contact our no win no fee solicitors for help and advice on how to start your claim.
Laser hair removal injury suffered by the claimant
In the personal injury claim case study mentioned earlier in the guide, the claimant had suffered a laser hair removal burn on genital area. This occurred on her sixth treatment having undergone five treatments already without any problems. During the session she experienced an uncomfortable increase in the temperature of the lasers after the therapist had changed the settings. After alerting the therapist, the therapist turned the settings back down and continued, she found the remainder of the treatment time fairly uncomfortable but bearable.
It wasn't until later on that day / evening that the client realise the full extent of what had happened during her treatment when she noticed that she had been burnt and had developed blisters in the genital region. Apart from the physical pain and suffering the claimant experienced, she also felt very self-conscious of her injury which in turn made her feel in a very low mood.
Permanent results of laser hair removal burns
Unfortunately, the Brazilian laser hair removal blisters left the claimant with scarring and pigmentation of the skin which is likely to be permanent.
Approaching a reputable personal injury claims firm was the right decision for this lady as they helped her to get some justice for her injury and the pain and suffering she had experienced, and got her the compensation award amount she deserved.
Accident Claims UK is a team of no win no fee personal injury claim solicitors that specialise in cosmetic procedure injuries and will work hard and strive to get you the maximum compensation payout amount that they possibly can for you.
The laser hair removal burn on genital area allegation and settlement
As with all personal injury claims, liability needs to be proven in order to make a successful claim for compensation.
In the case study above, the personal injury solicitor looked into the duty of care to client requirements that all salons should present and uphold, to see if the salon in question had been in breach of their duty of care to the claimant resulting in burn and blister from laser treatment.
In order for the salon to have negligent, they may have done any of the following:
Not given the correct and relevant training and supervision to the therapist.
Failed to do a health and safety assessment of the laser hair removal procedure and not taken care of their clients safety.
Incorrectly carried out the procedure and didn't stop when the client complained.
Put the temperature of the lasers too high and then failed to check before commencing.
Not carried out regular maintenance checks on the equipment used for the procedure.
How the claim progressed
The solicitor contacted the salon and discussed the relevant issues and the salon admitted liability. The case was settled out of court. In fact, most personal injury claims cases are actually settled out of court.
The final payout amount that was awarded in this case would have taken into account both general and special damages.
General damages – These take into account the physical aspects of the injury, such as the pain and suffering  and loss of amenity it has caused and the mental anguish. The severity of the injury and any long term affects will be taken into consideration.
Special damages – These cover the financial aspect of the injury. So these include any extra expenses such as medical and prescription fees, counselling costs, travel costs etc that have been as a direct result of the injury sustained. Also any loss of earnings or salary benefits will also be included.
A good personal injury claim solicitor will know what can and should be included in your compensation claim and they will make sure that everything is included to get you the best payout amount that they can.
No Win No Fee laser hair removal genital area burn compensation claims
Accident Claims UK offer a No Win No Fee service. This basically means that if we are unsuccessful in winning your compensation claim, you are not expected to pay our legal success fees. We only require payment if we are successful and we take this as a set percentage of the award amount. We feel that by offering a no win no fee service, everybody, regardless of their financial situation, can start a compensation claim if they have suffered an injury due to someone else's negligence. With no win no fee there is no financial gamble whatsoever.
Contact Accident Claims UK today About Personal Injury Claims Payouts For Laser Hair Removal Injuries
If you have suffered a laser hair removal burn on genital area and want to make a claim for compensation against the party liable for your injury, then call us on 0800 073 8801.
You will be offered a free consultation where the details of your case can be discussed and we can establish if you have a legitimate claim. You can use this time to ask whatever questions you need to in regards to making a personal injury claim and what the whole process involves.
We may also offer you a local medical at no cost to you to assess and document the injuries you have sustained if you have not already seen a medical professional which can be a great piece of supportive evidence for your case.
When we have gathered all the relevant information, with your permission to go forward, we shall begin to work on gathering as much evidence as we can to support your no win no fee claim and begin to build you a strong case. We will work tirelessly on your behalf to make your claim a success while you can focus on recovering.
Laser Hair Removal Statistics
Unfortunately, there are no published statistics as to how many people have claimed compensation for laser hair removal burns. However, you might be interested to know that should you suffer clinical negligence after receiving such an injury, you may be able to claim compensation from either a private practice or an NHS hospital or clinic that has wronged you.
Is it negligence?
If, for example your laser hair removal burn was not treated appropriately, or you were not given the correct medical advice, this could lead to your laser hair removal burn becoming worse, harder to treat or more extensive. When you make a claim for compensation for clinical negligence of this type, you would not be claiming for the initial injury. Rather, you would claim for the undue harm you'd suffered due to the misdiagnosis, negligent advice or treatment of your injury.
This could be complicated. You would need to be able to prove that your injury had been worsened by negligence. If you're interested in how common clinical negligence claims are, we could point you to the below statistics. This is the amount paid out by the NHS in 2020- 2021, according to NHS Resolution.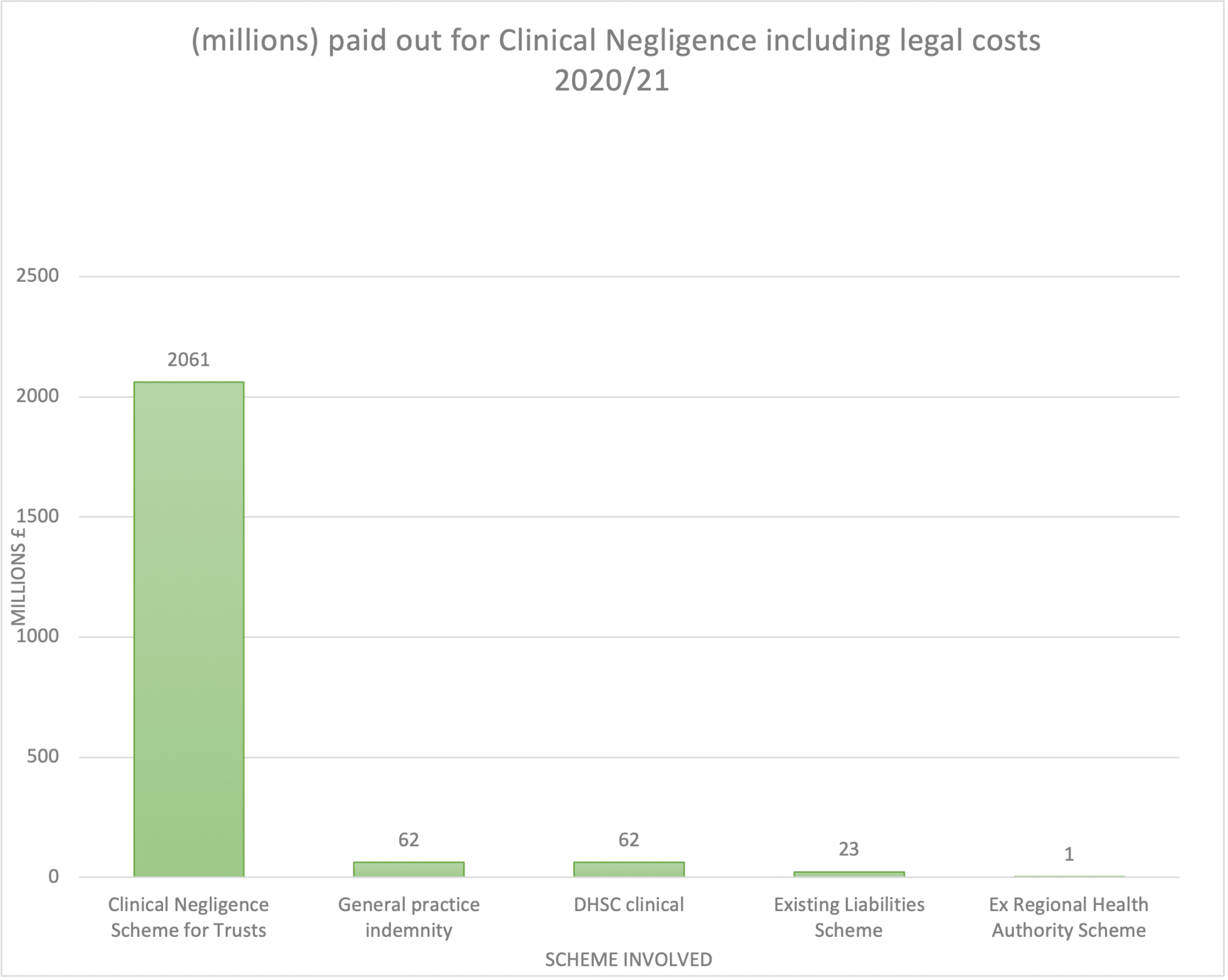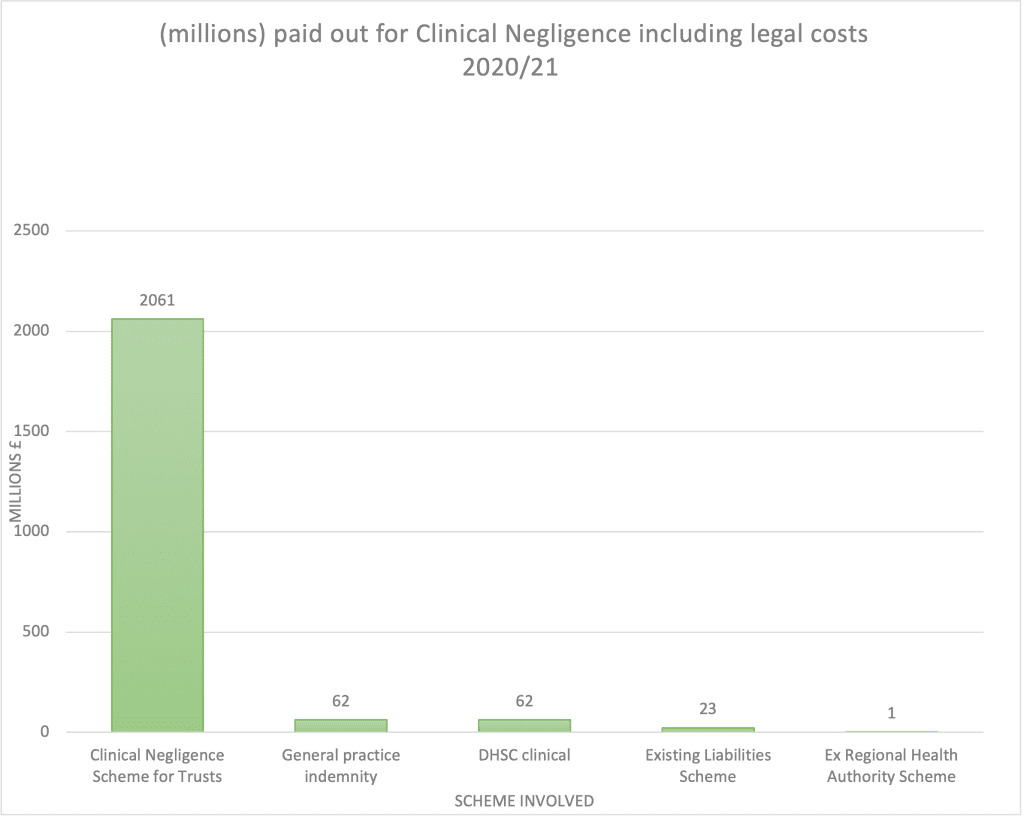 What could affect payouts for personal injury claims?
When it comes to personal injury claims payouts in the UK, how much compensation you get could depend on a number of things. Initially, you could find that compensation amounts for injuries depend on the medical report, which would detail how bad your injury was and the pain and suffering you'd experienced. Compensation amounts of personal injuries could also differ depending on the eventual prognosis. As well as compensation amounts for injuries, you could also claim injury compensation amounts in the UK relating to loss of earnings, care costs, medical treatments and more.
Whether you were not made aware of the potential risks of injury or there was no patch test carried out at the beauty salon you visited, our personal injury lawyers could tell you whether you're entitled to compensation. We could take on your claim on a no win no fee basis.
What evidence would I need to maximise payouts for personal injury claims?
As we mentioned in the section above, you would need to visit an independent medical expert to have medical evidence documented. Seeing your own doctor or GP for medical attention would not be enough to provide sufficient evidence for your claim. When you go and visit an independent medic, they will speak to you about your injuries and examine you. They will then write a detailed medical report documenting your injuries and your prognosis. This could help to prove your claim. Along with this evidence, you would need to provide some evidence that the accident that caused your injury occurred.
What other evidence do I need to collect for a laser burn compensation claim
You could use photographs of the scene of the accident, and your injuries. You could also take witness details if there was anywhere else in the room that witnessed your injuries. That way, your lawyer could approach them for a witness statement later on. In addition to this, proof such as an injury diary, where you document your recovery from your injury could also be useful. You would have to provide a statement as part of your claim, and if you keep accurate records of how you suffered, this could assist you. In addition to this, you should keep proof of any costs that you've incurred due to your injuries so that you could claim compensation for special damages.
What should you do if you get burned by laser hair removal?
If you're wondering what to do if you get burned by laser hair removal, we would advise you to seek medical attention. That way you could be sure you were doing all the right things to optimise your recovery. You could make a complaint to the salon in writing too to make sure your complaint has been documented.
Aside from this, we would advise, if possible, for you to obtain witness details. Photographs of your injuries could also be useful. Further to this, you could write down your experience, so you have a record to refer back to.
We would also recommend you call our team for free legal advice. We could work out whether you could have a favourable chance of receiving compensation.
What do I need to prove to make a laser hair removal burn claim?
For a claim to be valid, three criteria must be met. The first would be proving the beautician had a duty of care towards you. The second would be evidencing they'd breached the duty of care. Thirdly, you'd need to prove your injuries were caused by the breach of duty of care.
If you would like to learn about the evidence that could assist with your claim, we'd be happy to talk to you.
Would I need to go to court if I wanted to make a laser hair removal burn claim?
Generally, if you hire a solicitor, they will aim to settle your claim before it reaches the stage of needing to go to court. For more information on how a solicitor could help you through the claims process, call our team. 
How much could I receive in laser hair removal burns compensation?
How much you could receive in laser hair removal burns compensation would depend on your case. No two cases are exactly the same. Your compensation would be unique to your case. For example, when making a laser burns compensation claim, different factors such as the severity of your injury would influence your compensation. For example, if you have minor laser hair removal burns that don't cause severe pain and suffering, your compensation could be less than it would if there was permanent scarring. 
The way the laser burn injury after hair removal affects your quality of life could also impact your compensation. For example, in some cases, injured claimants could claim for the psychological impact their injuries have on them. Further to this, you could also claim for financial costs and losses caused by a laser burn injury after hair removal.
Laser burns compensation claim amounts
Below, we have put together a table to give you some insight into laser burns compensation claim amounts. These figures, which relate to the general damages head of your laser hair removal burns compensation claim, come from the Judicial College Guidelines. We have used the latest edition of this publication (published April 2022) to illustrate bracket compensation amounts listed in the guidelines. Please note, these are only rough estimates and don't necessarily reflect what you will receive.
| Injury Type | Typical Award Bracket | Any Further Information |
| --- | --- | --- |
| Scarring to other parts of the body | £7,830 to £22,730 | Large number of noticeable scars or one that is disfiguring |
| Scarring to other parts of the body | £3,950 to £7,340 | Full recovery within 2 years |
| Scarring to other parts of the body | £2,370 to £7,830 | Single noticeable or several minor scars |
| Damage to hair | £7,340 to £11,020 | poor regrowth |
| Very severe facial scaring | £29,780 to £97,330 | Severe psychological impact. Very disfiguring cosmetic impact. Usually for relatively young women. |
| Less severe facial scaring | £17,960 to £48,420 | Substantial disfigurement. Psychological impact. |
| Significant facial scaring | £9,110 to £30,090 | Plastic surgery has reduced the worst effects, however there may still be a level of cosmetic disability. |
| Less significant facial scaring | £3,950 to £13,740 | Small scars or one scar that can be disguised. |
| Trivial Scarring | £1,710 to £3,530 | Only minor effects |
If you don't see your injury in the table, or you'd like to speak to us about compensation and how it is calculated, please call us. We'd be happy to discuss your case with you.
Useful Links Relating To Personal Injury Claims Payouts For Laser Hair Removal Burn Injuries
Laser hair removal burns claims guide
This links to one of our guides that gives a more in depth look at how to make a compensation claim for laser hair removal burns.
Burn injuries compensation claims
This is one of our guides that give's information about claiming for burn injuries. On here you will find a compensation amounts table that will show average amounts that have been paid in compensation for certain burn injuries.
This is the NHS guide on laser hair removal, what is involved and what could go wrong.
We hope you have enjoyed reading this personal injury payout guide relating to personal injury claims payouts for laser hair removal burn injuries.