By Joanne Jeffries. Last Updated 10th November 2021. Welcome to this case study which looks at personal injury claims payouts for a fractured femur.
In this case study, we look at a claim involving a young woman, who was successfully able to claim for broken femur compensation, after she suffered a fractured femur at work. Her solicitor was required to follow certain claim protocols, including submitting medical evidence to support the claim, that make the case an interesting claim to take a look at, and one that resulted in a five-figure compensation settlement being awarded. The case is of specific interest, due to the complications that the solicitor had to overcome while they were processing the claim. These are explained in the sections below.
How Many Workers Are Injured Because Of Trips And Falls?
Slips, trips and falls are one of the most common of all reasons a person in the UK makes a personal injury claim. This includes workplace accidents, as was the case in the claim that is being discussed. The graph above, shows just how prolific this type of accident is in the workplace. A slip, trip or fall can happen anywhere, either inside a building, or outside in a parking area or yard, and even on a public street. In this case, the claimant was working behind a shop counter.
In the UK each year, there are over 110,000 slip, trip and fall accidents reported in the workplace. Furthermore, some 80% of all of these slip, trip and fall accidents at work, resulted in the employee taking more than 7 days away from work because of their injuries. These statistics are taken from UK Government sources, and show just how much of a problem slip, trip and fall accidents are for employers in the UK. Despite following Health & Safety guidelines, employees are still often injured in this kind of accident.
Fractured Femur Injuries
This case is interesting for several reasons, one of them being the severity of the injury that the tripping accident resulted in; a fractured femur. Most usually, it is only the elderly that suffer such traumatic bone injuries due to slips, trips or falls. Where broken femur injury compensation claims would not be out of place in a person over 60, who has tripped over. It is quite uncommon for a person of working age to suffer such a bad injury from a simple trip.
Recovering from a broken femur can take many months, with much of this period spent being immobile. Furthermore, if surgery is used to position the bones before they can heal properly, the risk of complication is quite high. The NHS has published some excellent information on leg injuries here:
In this specific claim, it was the complications which caused the major problems. A broken femur is at risk of infection if surgery is required, and also compartment syndrome. However, in this case, the complications were much more serious, as explained below.
Details Of The Case And The Payout Received
Taking a deeper look at the claim that this case study is based on, we find the following. The shop assistant was working in Morrisons, behind the deli counter. During her normal work tasks, her feet became snagged in a loose wire that was running across the floor behind the counter. This caused her to trip. This was the accident that her personal injury solicitor claimed fractured femur workers compensation for.
The claimant was taken to hospital after the accident, in severe pain. Upon examination, it was found that she had broken her femur. Unfortunately, the bone needed to be pinned in place using surgical pins, so that it could begin knitting back together. This meant that a surgical procedure was needed to insert the pins. It also meant that once the cast was put on, she would need to stay off her feet for up to three months, while the bone set.
However, things went wrong with her recovery. The bone did not set properly, and before it was fully healed, she had to undergo further surgery. The complications were very serious, so serious that she had to undergo a total hip replacement. So, what started as a broken femur, evolved into a broken femur with complications, that resulted in her hip being damaged so severely, it had to be replaced with a prosthetic.
Of course, the recuperation period was painful, as was the surgery, and the final resolution of a hip replacement. Furthermore, during the entire period, from the accident happening, until her hip replacement has been done and she had recovered from it, she was totally incapacitated. Not only unable to work, but also missing out on much of her life, with a significantly lowered life quality.
Her solicitor submitted medical evidence to support her claim. The defendant, Morrisons, came back with an out of court settlement offer. Here we find the final surprise in this case study. The claimant turned down the out of court settlement, stating that she did not believe it was a high enough amount to compensate her for her pain and suffering, and also the loss of life quality.
The solicitor processing her claim, then went into negotiation with the defendant, and eventually, a suitable figure was agreed, that was in the five-figure range.
This has been an interesting case to examine for several reasons. Firstly, due to the fact that the injury was so severe, considering the actual accident that caused it. Secondly, that what should have been a simple and straightforward course of treatment and subsequent recovery, went so dramatically wrong. And thirdly, that the initial out of court settlement that the defendant proposed, was turned down by the claimant.
This case is a good example of how what would usually be a pretty straightforward claim, can soon snowball into some much more complex, due to a change in the circumstances of the claim.
No Win No Fee Retail Industry Injury Claims
Accident Claims UK has come up with a financially risk-free way for people to claim broken leg compensation payouts. Our national No Win No Fee claims service, can help people all across the UK, get the compensation they are titled to.
Under our No Win No Fee agreement, there is zero cost to you, when we begin handling your claim for you. As we process your claim, even if reaching a resolution takes months, there is still zero cost to you. If, for some reason, we fail to win you any compensation at all, there is still zero cost, as we won't charge anything at all for a lost claim. However, when we have successfully won a compensation settlement for you, and have received the payment on your behalf, then we will deduct our feed from the amount received. The rest, we will forward to you. So, as you can see, this is a very low-risk way to pursue compensation for a work-related injury. If you are ready to begin your claim today, call Accident Claims UK on the number below so we can get your claim started.
Start Your Accident At Work Claim And Receive Personal injury Claims Payouts for A Fractured Femur
Do you believe you have a valid reason to make a fractured or broken bone claim for injuries you sustained at work? Are you ready to engage Accident Claims UK as your personal injury lawyer, to help you by processing your claim? If so, then please call us on 0800 073 8801. One of our team will be on hand, and they will talk you through our simple new claim onboarding process, so that we can get started on your claim as soon as possible. We will always be on hand to answer any questions you may have, using simple English and not legal jargon, and will update you on the status of your claim whenever anything changes.
Do I need to use a solicitor that is local to me to receive personal injury claims payouts for a fractured femur?
Whether you are claiming for an accident at work, medical negligence, slips trips and falls in a public place or a road traffic accident, you may be surprised to learn that you don't have to use a solicitor that is local to you. In fact, you do not need to use a solicitor if you do not want to. However, many claimants prefer to use personal injury solicitors with experience of pursuing claims like theirs. There are a number of benefits associated with doing so. These could include:
The lawyer could put together all of the legal paperwork and build the strongest case possible
A solicitor could argue for the highest compensation settlement possible for your claim
You could have a legal professional support you if your case goes to court
A solicitor could take the stress off making a claim, leaving you able to concentrate on recovering from your injuries
The solicitor would know what you could claim for in terms of general damages and special damages
If you would like us to connect you with a specialist solicitor with up to 30 years of experience in pursuing personal injury claims, we would be delighted to do so. Simply call our team for a free, no obligation case assessment, and we will be happy to give you the guidance and support you are looking for.
What damages make up personal injury claims payouts for a fractured femur?
When it comes to the damages you could receive for an accident at work such as the one referenced above, you could receive both general damages and special damages. General damages relate to your suffering and your pain, as well as any loss of amenity your injuries have caused you. You would need to submit medical evidence to prove the level of severity of your injuries. This would need to come from an independent medical professional, who you would have to have examine you. An appointment could be arranged with a medical expert close to where you live in most cases. Based on the assessment, the expert would compile a medical report or juiced com which could help to evidence your injuries. It could also impact the compensation settlement amount you would receive.
As well as this, you could claim special damages, which are pecuniary costs associated with your injuries. These could include loss of earnings, medical and travel expenses and care costs, for example. For further insight into what you could claim for, and to get free legal advice from a friendly solicitor, please contact our team.
How serious can accidents in the workplace be?
Unfortunately, not everybody suffers an injury they are able to recover from in work related accidents. In fact, in 2020 – 2021, there were a total of 142 fatal injuries in workplaces across the UK. You could see the industries that were affected in the graphic below.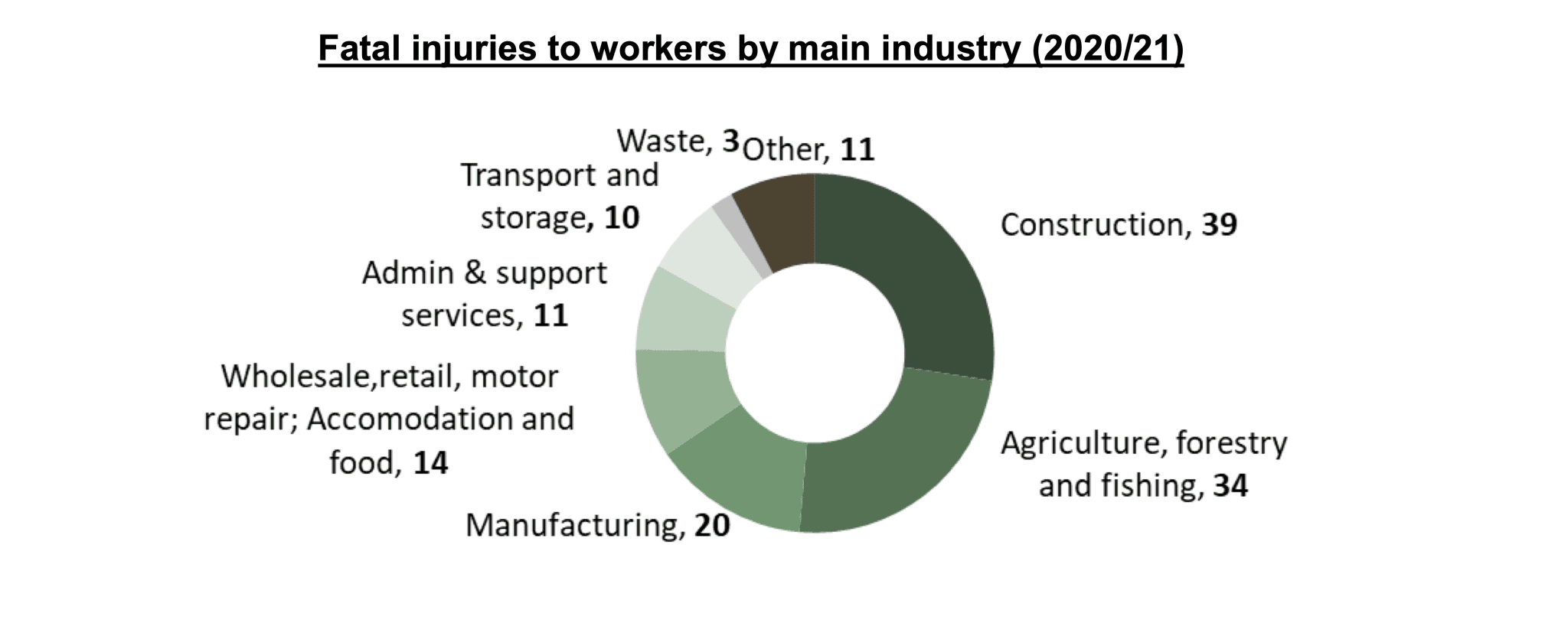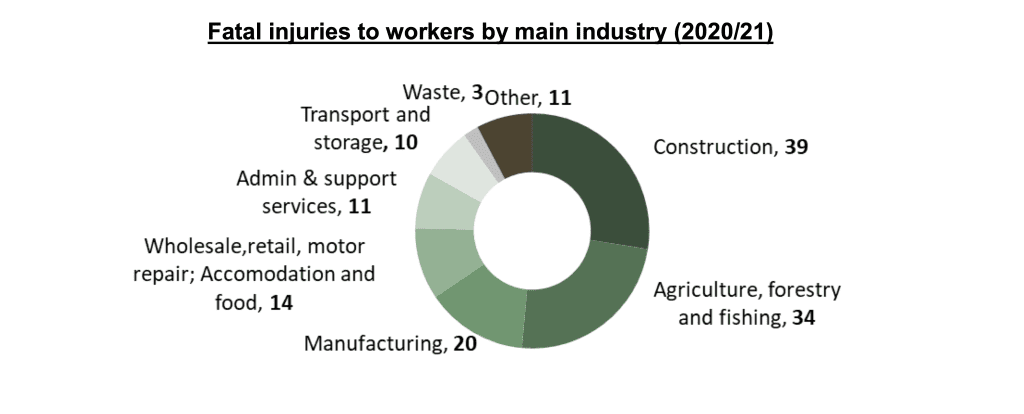 Useful Links Relating To Personal injury Claims Payouts for A Fractured Femur
At the link below, is a full guide to making a compensation claim for a work-related injury:
A guide to claiming for workplace accidents
At the link below, is a full guide to making a compensation claim for a work-related back injury including a compensation calculator alternative:
A guide to claiming for workplace back injury
If you would like some additional information about claiming compensation for work-related injuries, the UK Government has published some excellent information at this link:
UK Government information on claiming for workplace accidents
You can find some useful information relating to Health & Safety requirements in the retail market, at the link below:
Health & Safety information for retail companies
Thank you for reading this case study based on personal injury claims payouts for a fractured femur. Whether you've suffered knee injuries, hip injuries or any injuries from a broken bone from the hip to the knee or a hip fracture, we could help you get the compensation amounts you deserve.