By Joanne Jeffries. Last Updated 3rd November 2021. Welcome to this case study covering medical negligence claims payouts for an MMR vaccination.
In this unusual case study, we are going to look at the case of a family who won £90,000 in MMR vaccination compensation. The case concerned 18 year old Mr F who received an MMR vaccine (a vaccination against measles, mumps and rubella) when he was 13 months old. Prior to the combined measles, mumps and rubella vaccine, he was a healthy boy, who seemed to be developing normally. Ten days after the immunisation, Mr F experienced a major epileptic seizure, which left him seriously brain damaged.. As well as becoming epileptic, Mr F's brain damage caused him to become severely disabled, becoming unable to stand unaided, eat unaided, could only speak a very limited number of words and suffered from severe learning difficulties. He is also incontinent because of his disability.
For Mr F's parents this claim and the compensation awarded was the end of a thirteen year battle to win MMR vaccination compensation for their son from their initial application for complication from the department of health. They had initially applied for a vaccine damage payment on behalf of their young son in 1997 from the government's Vaccine Damage Payment scheme. Unfortunately, the claim was rejected by the medical assessment panel because it could not be proven beyond reasonable doubt that their son's epilepsy and disabilities was caused by the MMR vaccine. This scheme has since been disbanded.
What Are The Risks Surrounding The MMR Vaccine?
Sadly there is a lot of misleading information about the MMR vaccine and other childhood vaccines  in the media and online, pertaining to MMR and autism links and other issues, much of which has been spread by anti-vaccine pressure groups and activists. Therefore it is very important that we look at the potential risks and side effects of vaccines objectively.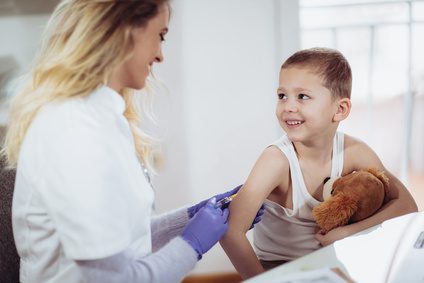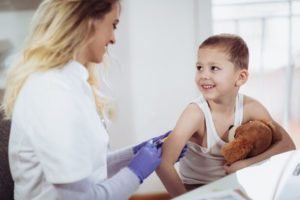 According to the NHS in Britain, there are some side effects to the MMR vaccine. Firstly, some children will experience a mild form of measles, which will result in a high temperature, loss of appetite, general feelings of unwellness and a rash. This may last 2-3 days. 1 in 50 children will develop a mild form of mumps after experiencing the MMR vaccine, which involves a swelling of the cheeks and jaw and should only last a day or two. Some adult women who receive the MMR vaccine also experience joint stiffness, which can last 2-3 days. Unfortunately while its success has been endorsed through numerous studies, the NHS does acknowledge that there are some rarer side effects from the MMR vaccine.1 in 24,000 cases will develop a rash of bruise like spots known as idiopathic thrombocytopenic purpura (ITP). These will usually be gone within two weeks.
The most dramatic side effect of the MMR vaccine is suffering from a seizure. This can occur 6 to 11 days after receiving the vaccine. MMR triggered seizures, like the one that Mr F suffered from, affect 1 in 1,000 children. The risks of a seizure being triggered by the MMR vaccine is far lower than the risk of a seizure if a child contracts measles. What's more, Mr F suffered a very severe form of seizure which left him badly brain damaged. Because these risks are so low, the MMR vaccine is classified as a safe vaccine.
Controversy has surrounded the MMR vaccine since Dr Andrew Wakefield published a paper in The Lancet journal linking the MMR vaccine to autism and bowel disease. The results of these findings were widely discredited and there has been no evidence to prove that the MMR vaccine can cause autism or bowel disease. (Please remember as well that Mr F, the subject of this case study, is not autistic). Dr Andrew Wakefield has since been struck off the medical register. What's more, measles, mumps and rubella are highly infectious diseases with extreme symptoms such as meningitis and encephalitis, as well as cause children to go deaf. These illnesses can also cause pregnant women to miscarry their unborn baby. Since the vaccine was introduced, diseases it prevents have become rare, but it is important to get your children immunised to protect them from exposure to the disease and also to help prevent these diseases from spreading across the general population.
What Were The Alleged Effects Of The Vaccine On The Claimant?
As we have said, the vaccine caused a 13 month old Mr F to have a serious seizure which left him with severe brain damage. As a result mr F suffered from epilepsy, was unable to walk or stand unassisted, suffered from learning difficulties, impaired speech and could not eat on his own. He now needed at home care, which his parents had to provide him. This affected their ability to work and earn a living. As we have already mentioned, Mr F's parent's originally applied for compensation from the Vaccine Damage Payment scheme and lost their claim for vaccine injury compensation. They eventually won their claim for MMR vaccination compensation in 2010, after several appeals.
About The Vaccination Injury Compensation Claim
The hearing was a very delicate matter. It was chaired by a barrister sitting with two consultant doctors. One of the doctors on the board for the vaccine compensation claim did not believe that the vaccine directly caused Mr F's epilepsy and disabilities. Instead, she judged that young Mr F may have been born with a genetic predisposition to epilepsy, and would have developed the condition anyway. But he was overruled by his two colleagues. The advisory board gave this final comment of warning: "We would stress that this decision is fact-specific and it should not be seen as a precedent for any other case. In particular, it has no relevance to the issue… as to whether there is a link between the MMR vaccine and autism."
Mr F's parents were awarded £90,000 in damages on Mr F's behalf. This vaccine injury compensation amount may seem like a lot of money, but please consider that given the severity of Mr F's disability and the time his mother and father have devoted to his care, it is a small price for the Defendant to have to pay. His mother said that the money will mostly go towards paying for Mr F's care.
No Win No Fee Vaccine Injury Compensation Claims
If you or your child has been injured due to a vaccine, such as suffering an extreme reaction to a vaccine then suffering from an injury, illness or disability as a result then you could be entitled to make a vaccine compensation claim. Your vaccine damage payment could be worth tens or even hundreds of thousands of pounds, which will go towards getting you or your child the best possible medical care that is needed. Accident Claims UK offers all of our clients the option to make a no win no fee claim. Your no win no fee solicitor will not charge you an upfront fee and you will only have to pay your fee if you win your claim. So there is no financial risk to you. To enquire about making a no win no fee claim, call us today to talk about your circumstances. If you have legitimate grounds to claim then we will put you through to the right no win no fee solicitor.
Contact Our Vaccine Injury Compensation Claim Experts Today And Get 
Medical Negligence Claims Payouts for An MMR Vaccination
Do you think you or your child could be owed a vaccine damage payment for injuries caused by the MMR vaccine, or any other vaccine? Speak to Accident Claims UK today. We offer a free, no obligation consultation to anyone looking to make a vaccine compensation claim. Our friendly advisors are trained to speak to you knowledgeably and with sensitivity. You can discuss the circumstances of your vaccine injury compensation claim and if we think you are entitled to a vaccine damage payment form the Department for work and pensions or the Department of health,  we will provide you with an excellent personal injury lawyer to help you make your claim. What's more, we will estimate how much vaccine injury compensation your claim could be worth.
If you think you are owed MMR vaccination compensation, or compensation for any other sort of vaccine damage claim then make sure that you speak to Accident Claims UK today. If you have legitimate grounds to claim MMR vaccination compensation, we would love to hear from you.
As well as medical negligence claims payouts for an MMR vaccination, what other clinical negligence claims could I make?
As well as medical negligence claims payouts for an MMR vaccination there are a number of other types of medical negligence that could lead to a compensation payout. Clinical negligence payouts could be made to claimants who have suffered incidents such as:
Missed diagnosis
Surgical negligence
Childbirth negligence leading to birth injuries or injuries to the mother
Hospital acquired infections
Negligent treatment or advice
Wrong prescriptions
These are just a few examples of how you could suffer clinical negligence. If you want to make a clinical negligence claim you would need to be able to evidence that the negligence you'd suffered directly affected you and caused you harm. For example, if you suffered a missed diagnosis of cancer, and your disease progressed untreated to a point where it became untreatable, you could be eligible for compensation. If you would like to learn more about making medical negligence claims and achieving the highest compensation payouts possible for your claim, please contact our friendly, knowledgeable team for advice and support.
How common are medical negligence claims payouts for an MMR vaccination?
Clinical negligence effects the NHS significantly. According to NHS Resolution, there was a huge sum paid out in clinical negligence claims by various trusts in 2020- 2021. Below, you can see a graphic with the figures from NHS Resolution.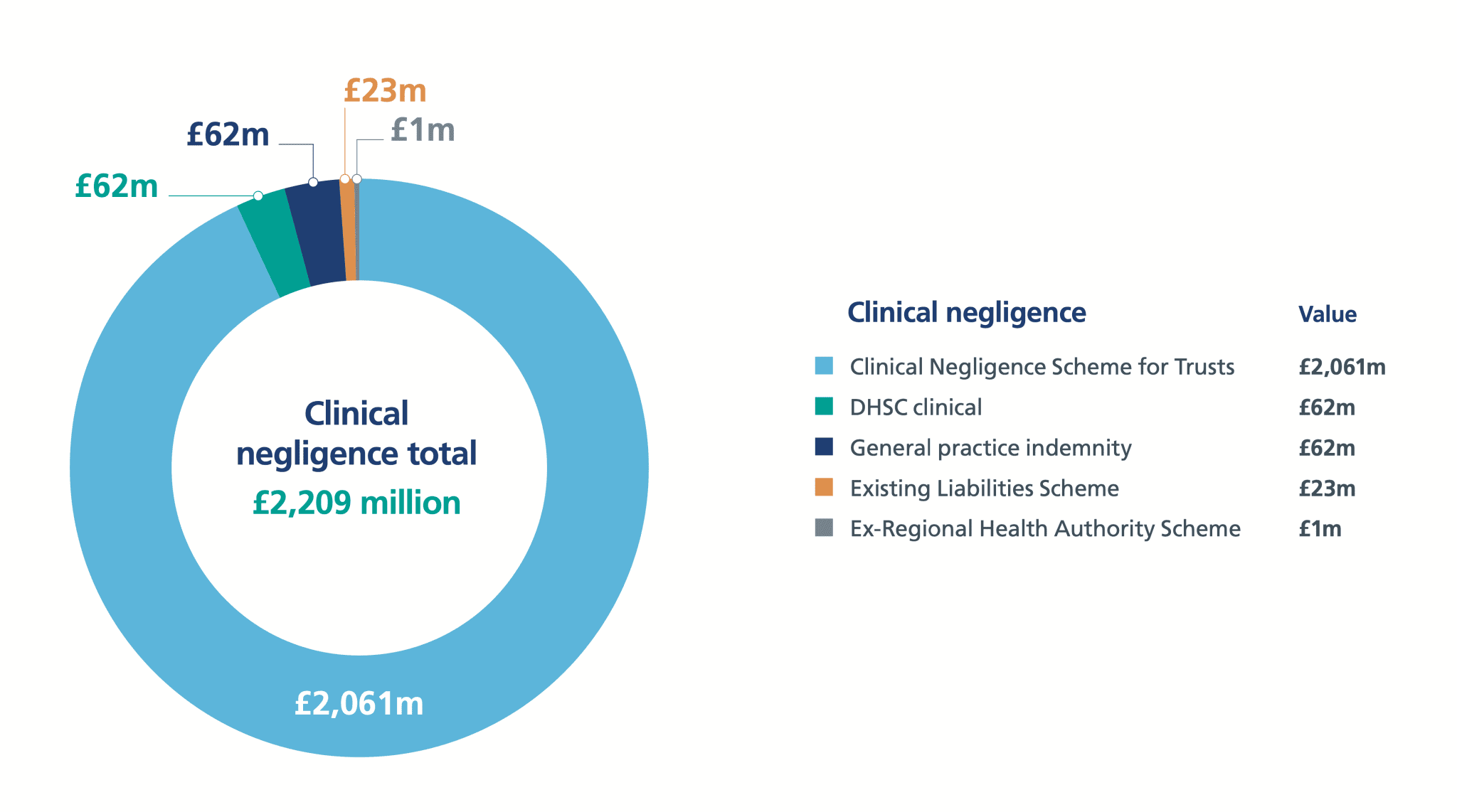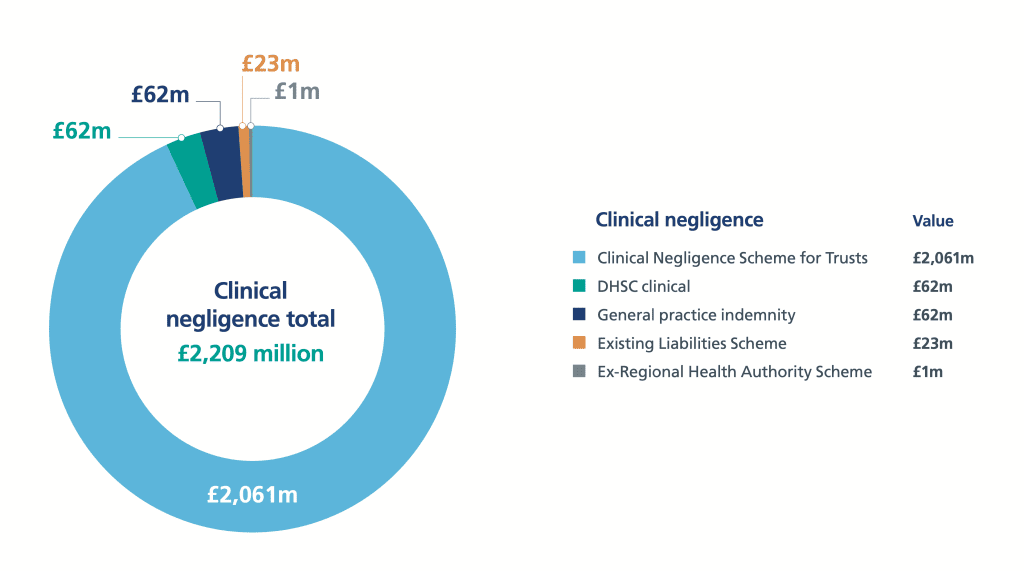 How could I maximise medical negligence claims payouts for an MMR vaccination?
If you are looking to maximise medical negligence claims payouts for an MMR vaccination, you might be interested to learn about the different forms of evidence that could be used within a claim. Initially, you would need to be able to prove that you have suffered medical negligence that had caused you an injury. This could involve obtaining witness details, and written statements from yourself and others involved in the case. As well as this, you would need to submit complex medical evidence. You would need to attend an appointment with an independent medical specialist, who could examine you, review your medical notes and write a detailed report of your prognosis as well as your condition and what they think may have contributed to it. In addition to this, you would need to be able to evidence any costs you may have incurred due to the negligence and any losses such as loss of earnings. These would help you have the strongest case and claim the maximum in general damages and special damages possible for your claim.
Could my choice of solicitor affect medical negligence claims payouts for an MMR vaccination?
As we have mentioned prior to this, this case was quite a complex one that required experienced, dedicated personal injury solicitors to achieve the compensation settlement. If you want to maximise your chances of getting compensation for any type of clinical negligence, it would be wise to have an experienced solicitor on your case. That way they could harness all of their knowledge and experience to fight for the maximum compensation possible for your claim.
Useful Links Relating To Medical Negligence Claims Payouts for An MMR Vaccination
Clinical And Medical Negligence Claims Guide, How To Claim The Compensation
How to make a claim for an injury or harm caused through clinical negligence.
Death Due To Medical Negligence Amounts
Settlement amounts for fatal accidents and deaths caused by clinical negligence
Thank you for reading  this case study covering medical negligence claims payouts for an MMR vaccination.