If you're looking for information on how to prove a cycle accident claim, the chances are you or someone you're responsible for has sustained injuries in a cycle accident. We have created this guide to provide information about how to prove fault in a bicycle accident, and what evidence you may need to get the compensation you deserve.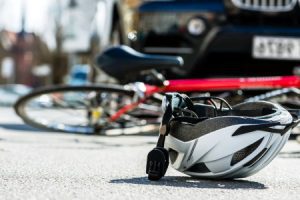 As one of the most vulnerable road users, cyclists could suffer a range of injuries in a cycle accident. Due to their lack of protection when compared to other motorists, those injuries could be quite significant and may lead to long-term issues. This could cost them money in lost wages, and medical bills, for example.
Making a claim for cycling accident compensation may not take away all of the pain and suffering experienced due to your injuries. However, it could help you to recoup any expenses you've faced which could help you move forward after a cycling accident.
We at Accident Claims UK could help you begin such a claim. We could also answer any questions you might have about making a claim for a bike accident, including checking your eligibility for free. You can reach our expert team by calling 0800 073 8801.
Select A Section
A Guide On How To Prove A Cycle Accident Claim
According to a 2019 Government report, there were 100 pedal cyclist fatalities on Great British roads that year. This is an increase of 8% from 2009.
Bike users have less protection when they are in an accident than road users in structured vehicles such as cars or vans, for example, and as such, they could suffer serious injuries in road traffic accidents.
If you've sustained injuries in a cycling accident that wasn't your fault, you could make a claim for bike accident compensation. We have put this guide together to show you how to prove a cycle accident claim and understand compensation.
When you make a claim for bicycle accident compensation, you would need to be able to prove that you'd suffered injuries due to someone else's negligent actions, whether that is someone in a car, van, lorry or motorbike, for example. To do so, you'd need to have evidence.
In this guide, we explain how to prove liability in a cycle accident, and we also go through the type of evidence you could collect before starting a claim.
We also look at how courts and lawyers calculate bike accident settlement amounts in the UK and discuss the damages you could claim. Finally, we explain how we could put you in touch with a personal injury solicitor from our panel to help you seek compensation.
What Is A Cycling Accident Claim?
Before we look at how to prove a cycle accident claim, we should take a look at what could lead to such a claim. Some of the most common causes of cycle accidents could include;
Vehicles turning into a cyclist's path: This could happen if a motorist attempts to overtake a cyclist then slows down to make a turn, cutting into a cyclist's path.
Failure to spot: If a motorist fails to spot a cyclist, they could make a manoeuvre that puts the cyclist in a dangerous position.
Failure to judge a cyclist's speed/ability to move off: This could also cause a cycling accident.
Car dooring accident: This could happen when someone opens a car door into the path of a cyclist.
Whatever type of cycling accident you've sustained injuries in, if another road user was at fault, and you could prove liability, you could claim bicycle accident compensation for your injuries. You could also include the expenses you incur because of those injuries in a bike accident claim.
Who Is Liable For Your Cycling Accident?
Road users have a duty of care to act in a way on the road that doesn't put other road users at risk of harm. This duty extends to pedestrians, motorists, cyclists and other road users. A breach of this duty of care could lead to a road user being held liable for personal injury, loss or damage that occurs because of the breach.
When you launch a claim for a cycling accident you would need to prove that:
Someone else had a duty to protect your safety.
They were at fault for the accident and so breached this duty.
Their actions or negligence caused you to sustain injuries.
You would also need to make your claim within the relevant personal injury claims time limit. Usually, this limit is three years. However, in some cases, exceptions could apply.
Proving fault (liability) in such accidents is essential if you are going to claim compensation. If another motorist is liable for your accident, their motor insurance provider could pay your compensation.
Should the local authority be to blame for your accident, for example, due to unsafe road conditions they could have reasonably prevented, you could make your claim against them.
If you're not sure who could be liable for your accident, we could help assess your case to see if you could claim. We could also provide you with a personal injury lawyer who could start your claim for you.
How Do You Prove Who Caused The Accident?
In personal injury claims, the claimant has to prove that a third party was responsible for an accident. They must also prove that the accident caused them to sustain injuries. In some cases, it may be easy to prove liability. For example, in cases where a motorist has been speeding, run a red light, or made a dangerous manoeuvre, and the driver admits liability, claims could be fairly straightforward.
However, this does not always happen. In many cases, a motorist could refuse or dispute claims for compensation. They may accuse the cyclist of being at fault, or they may dispute the seriousness of the cyclist's injuries. They may even accept some proportion of liability but ask the cyclist to accept some of the blame too.
This is why many claimants seek advice from legal professionals when making a claim. A personal injury lawyer should know how to build the strongest case possible with the evidence available and could help to negotiate a compensation payout for the victim.
How Medical Evidence Can Help To Prove A Cycle Accident Claim
As we mentioned, one thing a motorist at fault could query when you make a cycle accident claim is the severity and nature of your injuries. A medical report, therefore, is a vital piece of evidence that could not only help to prove you've had an accident, but that you've been injured too.
In some cases, people may have called the emergency services to a road traffic accident involving a cyclist. Therefore, you would be able to provide evidence from your medical records, showing that you had received medical attention at the scene.
However, in some cases, you may have walked away from a cycling accident with minor injuries, and you may have then visited your GP for help and advice on how to treat your injuries. This could also serve as evidence you've been injured.
Whether you've sought assistance from medical professionals or not, you would still need to see an independent medical expert as part of your claim. We explain more about this in a later section of this guide.
Will An Admission Of Liability Help Your Claim?
If the defendant in your cycling accident claim admits liability, this could help your claim significantly. An admission of liability means that your case could move on to negotiations for an appropriate settlement. However, sometimes an admission of liability doesn't mean a case would be settled quickly.
An Admission Of Liability Without Causation
If the other road user or their insurer admits liability save for causation, this would usually mean they disputed that you'd sustained your injuries in the accident. Or they could dispute the severity of your injuries. You would therefore have to provide medical evidence to support your claim.
An Admission Of Liability With Contributory Negligence
If the defendant agrees that they were to blame in part for the accident but that your actions contributed to it, they may make an admission of liability with contributory negligence. Your compensation could be reduced if you are partly to blame for an accident in which you are injured.
If you're not sure whether you could be partly to blame for an accident or would like to know how to prove your injuries were caused by an accident, we could help. Our team of experts could assess your case to see if you could claim. They could also connect you with a lawyer who could help you prove your claim.
What Evidence Could Prove Your Cycle Accident Claim?
When it comes to how to prove a cycle accident claim, there are lots of different types of evidence that could help. These could include:
Photographs: Photos of the scene or your injuries could help to prove your claim.
Medical Records: As we mentioned, your GP or hospital records and a report by an independent medical expert could help you prove your claim.
Police Report: It is important that any road traffic accident that results in injuries to persons involved is reported to the police. The police report could be useful in proving who was at fault for an accident.
CCTV: Sometimes, it may be possible to obtain CCTV from surrounding cameras to show what happened in the accident.
Witness contact details: If someone witnesses your accident, it could be wise to get their contact details. Your solicitor could then approach them for a witness statement which could help to strengthen your claim.
Diary: Keeping a diary of your injury symptoms and how they affect you could help strengthen your claim too.
Victim statement: Writing a report of what happened to you could be useful for you to refer back to should you be asked to provide your own statement.
Get Help With Gathering Evidence
While it could be possible to make a claim without using a solicitor, a legal professional could help you to gather the evidence you need to prove liability. They could also help you fight for the maximum compensation possible for your claim.
Cycle Accident Compensation Claims Calculator
Now you know how to prove a cycle accident claim, if you're considering launching one, you may be unsure as to whether the claims process would be worth it. If this is what you're wondering, the information below could be useful to you.
How Are Compensation Claims Calculated?
Courts and lawyers don't use a personal injury claims calculator to work out bicycle accident compensation payouts. Instead, they would look at all the evidence, facts and circumstances of a case when working out how much a claim could be worth.
One piece of vital evidence in personal injury claims is the medical report. You would obtain this by visiting an independent professional for a medical assessment. The assessment would involve the medical expert reviewing your medical notes if appropriate, examining you and asking you questions.
Based on their professional knowledge and the results of the assessment, they would then put together a medical report. This could be used to help value your claim.
The Judicial College Guidelines
We have used a legal publication called the Judicial College Guidelines to give you some insight into compensation amounts personal injury claims. This is a publication that courts and lawyers could use to come to appropriate payout amounts for pain, suffering and loss of amenity caused by injuries.
While these figures are only approximate, we believe this could be useful when making a decision about whether to go ahead with a claim. If your injury isn't in the table below, please call us. We'll be happy to discuss other injuries over the phone.
| Injury Type | Notes | Compensation Bracket (Approx) |
| --- | --- | --- |
| Minor brain or head injury | Compensation would be based on how long recovery took, the severity of the initial injury and any continuing effects such as headaches. Brain damage, if any, would be minimal. | £2,070 to £11,980 |
| Chest injuries (C) | Chest and lung damage which lead to some continuing disability. | £29,380 to £51,460 |
| Chest injuries (G) | Rib fractures/soft tissue damage leading to weeks of serious pain/disability. | Up to £3,710 |
| Moderate Neck injuries (ii) | Wrenching-style injuries/ soft tissue injury and disc lesions causing cervical spondylosis, a serious limitation on movement, permanent/recurring pain. | £12,900 to £23,460 |
| Moderate Back injuries (ii) | A lot of common back injuries could be compensated for in this bracket. Soft tissue injury that accelerates/exacerbates a previous condition over 5+ years could feature here, as could disturbed ligaments or muscles that cause back ache. | £11,730 to £26,050 |
| Moderate Shoulder injuries (C) | Soft tissue injuries with symptoms continuing over 2 years. Frozen shoulders persisting for approx. 2 years. | £7,410 to £11,980 |
| Fractured clavicle | Severity and length of suffering would be assessed. | £4,830 to £11,490 |
| Less severe arm injuries | Leading to a significant disability. However, a substantial level of recovery could be achieved. | £18,020 to £36,770 |
What Are Special Damages For Cycle Accident Claims?
When claiming compensation for cycle accidents, you may receive compensation for more than just your pain and suffering. Claiming for special damages could be possible if you have incurred financial expenses because of your injuries. Special damages could include:
Travel Costs: If you've paid to get to an appointment with your lawyer or to get to medical appointments, you could recover these costs.
Medical Costs: Have you paid for prescriptions, or had to pay upfront for physiotherapy or counselling sessions, for example? If you have, you could include these costs as part of your claim.
Care Costs: If you've needed care at home due to your injuries, you could also include care costs within your claim.
Loss Of Income: Some injuries may require you to have time off work to recover. If this happens to you, you could lose out on pay. Loss of income claims could include regular overtime and bonuses. In some cases, if you're unable to return to work, they could also include future loss of income.
Proving Special Damages
It is essential that you retain proof of any expenses you've incurred because of your injuries. Bank statements, payslips and receipts could all serve as vital evidence. If you aren't able to evidence expenses you've incurred, you might not be able to claim for them.
No Win No Fee Cycle Accident Claim
Were you considering whether to get a lawyer to show you how to prove a cycle accident claim? If so, you might be pleased to learn that you could obtain assistance from a personal injury lawyer under a No Win No Fee agreement. This means you'd pay no legal fees upfront, instead opting to pay your lawyer out of your compensation payout.
How Do No Win No Fee Claims Work?
To make a No Win No Fee claim, you'd need to sign an agreement. Your lawyer would send you this document before they start work on your claim, asking you to read and sign it. Within the document would be a success fee, which would usually represent a small proportion of your compensation. It would be legally capped. You would only pay the fee if your claim was successful. Then:
Once your solicitor receives your signed agreement, they'll get started on your claim.
They will build a case against the liable party, and negotiate compensation on your behalf.
If the liable party disputes or refuses your claim, your personal injury lawyer would help you take your case to the courts.
Once your compensation is arranged for you, the lawyer deducts their success fee. The rest of the payout is then meant for your benefit.
What Happens If My Claim Doesn't End With Compensation?
As we mentioned, you only pay your lawyer the success fee if they achieve a payout for you. If no compensation is arranged, you don't pay the success fee.
If you would like to learn more, we've put together a useful guide to explain all you may need to know about No Win No Fee claims. Or, you could always call our team for a chat if you have any questions.
Speak To An Expert
Now you know how to prove a cycle accident claim, are you now ready to make a claim for compensation? Or, would you like to check your eligibility or ask us any questions about bicycle accident claim tips? Either way, we're ready and waiting to speak to you about any accident on a bike. You can reach us by:
Essential References
The Road Traffic Act 1991: The Road Traffic Act reveals what could constitute an offence by a cyclist. For examples, if you're a pedestrian hit by a cyclist, this could show you how a cyclist could be at fault.
Cycling and Walking: Government information on cycling and walking.
Keeping Cyclists Safe: Councils have some powers to keep cyclists safe. You can read more about these here.
Bike Insurance Claims: If you're wondering what happens if a cyclist hits a pedestrian in the UK, this guide to bike insurance claims could be useful.
Claim For A Bike Accident: Now you know how to prove a bike accident claim, you might want to read our general guide on claiming for an accident on a bike.
General Guidance – Road Traffic Accident Claims: Our guide to road traffic accident claims may also be useful to you.
Thank you for reading our guide on how to prove a cycle accident claim.
Guide by JJ
Edited by RV