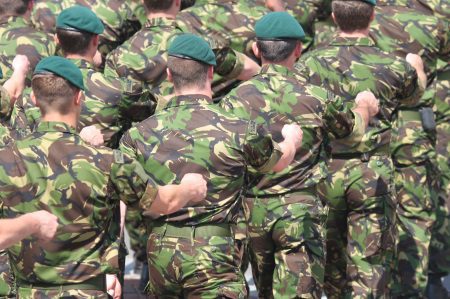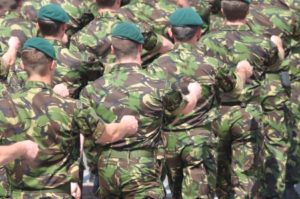 Serving in the armed forces, such as the British Army, could be a very rewarding job for service personnel. However, as we can see in statistics produced and updated by the Ministry of Defence, serving in the British Army or armed forces could carry a higher risk of being injured than some civilian workplaces. Due to the nature of the job determining and identifying what injuries may be eligible for compensation damages may not always be clear.
In this guide on the process of making a workplace accident claim if negligently injured in the British Army we are looking at accidents that could potentially happen in non combat situations. Whilst members of the army do expect to be put into extremely hazardous environments when in combat situations, when in peace time the British Army owe their military personnel as well as civilian workers a safe and healthy work environment.
To find out more about how to make a British Army workplace accident claim, please read the article below and when ready, contact a military claims solicitor.
Select A Section
A Guide To Compensation Claims For British Army Accidents At Work
As a member of the British Army, you have the same rights to safety in the workplace as any other employee when in non combat situations and combat immunity does not apply. What this means is that you should be provided (as far as is possible) with a safe working environment and that the Army or Ministry of Defence should take reasonable precautions to ensure your safety.
Of course, serving in any armed forces has inherent risks and if you are in a combat zone these risks may be unavoidable for military personnel. However, whilst they may not be able to keep you from risks, the army should ensure that you have the correct training and equipment to safely carry out your tasks and to deal with situations which you may face.
Our panel of solicitors includes those with experience in understanding the complexities of making a military compensation claim. We could help you to navigate the complexities of dealing with the Ministry of Defence and the Army when claiming.
What Is An Accident At Work In The British Army?
As someone working for the army, you may be a member of the military or a civilian worker. You could be working in environments as diverse as barracks and training ranges in the UK to battlefields overseas. With men and women serving in the army, from support operations to frontline personnel, claimants could be both men and women.
In this particular guide as mentioned earlier we are not here to discuss combat injuries or accidents. Accidents that we are concentrating are those that could potentially happen in non combat situations. In order to claim for accident at work compensation for an accident while employed by the British Army it must be proven that in some way the army breached their duty of care they have towards you and this breach caused you to become harmed.
What Accidents Could Happen When Working For The British Army?
In the subsequent sections we shall look in further detail at examples of potential accidents that could take place, however, your accident could include (but may not be limited to) those listed below.
Accidents on ships.
Aircraft accidents.
Vehicle and/ or road traffic accidents.
Manual handling accidents.
Accidents on a training exercise or assault course.
Accidents when diving or parachuting.
Workshop accidents.
Accidents in office environments.
Noise-induced deafness, hearing loss or tinnitus.
Fatal accidents.
Workplace stresses and/ or bullying.
If you are unsure whether your accident that caused your injury qualifies for the basis of a claim call Accident Claims UK today and one of our specialists will be able to evaluate the circumstances of your incident.
How Could British Army Workplace Accidents On Training Exercises Occur?
Training programs for new recruits (as well as for existing soldiers) can be both strenuous and and hazardous. However, with the right oversight and planning, risks should be minimised.
It is essential ensure that these training exercises are rigorous enough to prepare you for the hostile conditions which you may face on active service whilst ensuring your safety during such exercises.
Training accidents could potentially happen whilst you are taking part in training if the correct instructions are not given, supervision is not maintained, the correct training equipment is not provided, training facilities are damaged or defected causing injury.
Figures released show that 52% of all injuries happened during training activities. At times it could be difficult to establish liability, but a personal injury solicitor from our panel will work as hard as they can to do so.
Accidents That Could Occur Due To Defective Military Equipment
If you have had an accident caused by defective equipment, you could be eligible to make a military injury at work compensation claim.
It is very important that when needed equipment that is supplied to military personnel is in good working order as defective equipment that is not fit for purpose could possibly result in severe injury or illness. A parachute if defected could cause devastating effects if used by military personnel.
If you have been involved in an accident due to insufficient or defective equipment, call Accident Claims UK to see if you could pursue a claim for British Army accident at work compensation.
Workplace Stress Or PTSD In The Army
Working in the armed forces could potentially be stressful and could involve working in potentially traumatic environments. A recent parliamentary report estimated that rates of PTSD in those who served in combat roles, as well as reservists who have been deployed on active service, could be as high as 10%.
On an emotional level, the effects of PTSD could last a long time and be severe. Those with PTSD could experience symptoms such as nightmares, panic attacks, flashbacks and depression. If you have in the past or are currently experiencing either stress caused by your working environment in the UK or have experienced PTSD, why not call our specialists to see if you qualify for damages.
I Suffer Army Noise-Induced Hearing Loss Am I Entitled To Claim?
As a member of the army, you may have to work in noisy environments. Whilst you may become accustomed to this, that will not prevent cumulative or sudden damage to your ears or hearing if you are not provided with the right equipment to protect your ears.
The early stages of noise-induced hearing loss or the early development of tinnitus may not be very obvious and you might just find that you need to turn the TV up a little louder. But as the symptoms progress, they will become more apparent. You could be able to make a British Army hearing loss at work compensation claim if you can show that the damage was caused by your working environment due to the lack of sufficient protective equipment, such as ear defenders or plugs. Even if you left the armed forces many years ago, you could still be eligible for compensation if the effects on your hearing are only now becoming evident and medical evidence suggests that the cause of the hearing loss was from your work environment.
Causes of noise-induced hearing loss in the army could include proximity to vehicles, explosions and the discharge of weapons, pyrotechnics and the launching of projectiles.
Hearing loss or tinnitus could have a large impact on your life. To check if you can make a British Army hearing loss at work compensation claim, talk to our team.
Can I Claim Army Road Traffic Or Air Accident Compensation?
As a part of the army, you may need to be transported to various locations not just across the UK, but around the world. At times this may even happen at very short notice. It is important that all military vehicles are maintained and serviced in order to reduce risk of defects and damage.
Depending n the circumstance of the road traffic or air accident will depend on whether you could claim compensation and who if anyone is liable.
British Army Duty Of Care And Welfare At Work
The British Army has a duty of care to provide a safe and healthy work environment when reasonable to do so. In some cases, it could be reasonable that the army is not able to guarantee your safety. In such instances, you could be provided with personal protective equipment, such as clothing to protect your body or items to protect your ears and hearing. You can find out about the army's duty of care during training in this guide.
Armed Forces Compensation Workplace Accident Scheme
If your military accident at work took place after the 6th of April 2005 you could be able to claim compensation through the Armed Forces Compensation Scheme. To be able to make a military claim through this scheme, your accident will need to have been caused as a direct result of your military service. You can find out about claims through this scheme by clicking the link above.
Personal Injury Claims Calculator
Many of our guides will include a personal injury claims calculator. This is because people commonly want to see examples of how much they could be able to claim for a particular type of injury. Of course, this calculator does not include every type of injury which you may be able to claim compensation for, but, it helps to illustrate how much you could be owed for a certain type of injury. Figures in this calculator are taken from recommendations by the Judicial College.
| Injury Type | Explanation | Amounts |
| --- | --- | --- |
| Severe Psychiatric Injury | The amount that is awarded will largely depend on the injured party's ability to cope with life, work, education, how family life and relationships are affected. If treatment will be effective, future vulnerability and prognosis and to what extent has medical treatment been sought. | £51,460 to £108,620 |
| Moderately Severe to Less Severe Psychiatric Injury | The brackets will largely reflect how the injured party's ability to cope with life, work, education, how family life and relationships are affected. If treatment will be effective, future vulnerability and prognosis and to what extent has medical treatment been sought but with the future prospect that a level of recovery will be expected. The more severe the problems present the higher the award will be. | £1,440 to £51,460 |
| Severe to Moderate Post Traumatic Stress Disorder | Cases within this category are exclusively those where there is a specific diagnosis of a reactive psychiatric disorder following an event which creates psychological trauma in response to actual or threatened death, serious injury or sexual violation. | £7,680 to £94,470 |
| Total Loss of Sight in One Eye | The level of the award within the bracket will depend on age, psychiatric consequences and cosmetic effect. | £46,240 to £51,460 |
| Partial Hearing Loss or/and Tinnitus | This section reflects those who have been exposed to noise at work over a lengthy period of time. The brackets will include Severe tinnitus and NIHL. | £27,890 to £42,730 |
| Severe Neck Injuries. | Neck injury associated with incomplete paraplegia or resulting in permanent spastic quadriparesis. | In the region of £139,210 |
| Moderate Back Injuries | Brackets will begin with disturbance of ligaments, moderate soft tissue injuries prolapsed discs necessitating laminectomy or resulting in repeated relapses to residual disability being present with possible compression/crush fracture of the lumbar vertebrae where there is a substantial risk of osteoarthritis and constant pain and discomfort. | £26,060 to £36,390 |
| Loss of One Arm | Amputated from the shoulder. | Not less than £128,710 |
| Severe Fractures to Finger | This may include partial amputation which impairs the grip and causes deformity, reduced mechanical function and disturbed sensation. | Up to £34,480 |
| Amputation of Both Legs | This is the appropriate award where both legs are lost above the knee or one leg has been lost above the knee at a high level and the other leg has been lost below the knee. | £225,960 to £264,650 |
| Serious Foot Injuries | Severe foot injury causing traumatic arthritis or the risk of future arthritis and prolonged pain. | £22,460 to £36,790 |
| Chest Injury | Toxic fume/smoke inhalation | £5,000 to £11,820 |
A good way to get an accurate assessment is to discuss your injuries with a personal injury lawyer or solicitor.
Typical Types Of Special Damages Workplace Accident Claims Could Include
There are a variety of different types of compensation which you could claim for when pursuing accident at work. At the start of the personal injury claims process, our team will assess your injury. This could be through an examination by one of our panel of medical experts. Our team will then work hard, ensuring that you get all of the forms of compensation that you could be entitled to. We will also help you to recover compensation for the emotional or physical impact the injury may have had on you.
Factors which we could take into account and which you could be included are;
How much time you have taken off work and any income lost because of this.
The overall impact on your ability to work.
Whether you have had to pay for medical costs or care costs, or if a loved one has had to care for you.
The wider effects on things such as family life or social life.
No Win No Fee Compensation Claims For British Army Accidents At Work
No win no fee army compensation claims allow you to work with a solicitor and their team without having to pay any upfront fees. For many people dealing with injuries, this can provide extra peace of mind. At the start of the claims process, we should be able to tell you whether you can make your claim through a no win no fee agreement. We can even assess your eligibility to make a claim and advise you on whether or not to pursue a claim with no charge to you.
How To Begin A Workplace Accident Claim Against The British Army
When you first contact us about making a personal injury claim for your workplace accident our priority will be to talk to you about your accident and to listen to everything you have to say with regards to how it happened and what the effect of this has been on you. Next, we will try to provide you with advice relevant to your particular situation.
At no point will we pressure you into taking a particular course of action. Rather we will provide you with everything you need to know in order to make your informed choices. Our provided solicitors and personal injury lawyers have as much as thirty years of experience in helping people to claim compensation.
Contact A Military Accident Solicitor
You can call us by dialing 0800 073 8801. You could also email our team at office@accidentclaims.co.uk, or by using the contact form on this page.
Related Workplace Accident Articles
In the related guides below, you can find additional information which could help you when choosing whether to make a personal injury claim.
Workplace Accident Personal Injury Claims
This is one of our guide articles designed to help people to find out more about making an accident at work claim.
British Army Accident At Work Case Study
In this case study, we look at a successful military accident at work claim which was made by a soldier in the British Army.
Edited by Mel.