Accidents Caused By Breaches Of Health And Safety Legislation
By Brett Williams. Last updated 18th August 2021. A guide on health and safety claims against employers. While you are at work, your employer has a legal obligation to try and keep you as safe as possible. That means if you are injured in an accident at work, you could be entitled to claim compensation if it was caused by your employer's negligence. Therefore, this article is going to show you when health and safety breach claims might be possible, what types of injuries you could claim for and how much compensation might be awarded.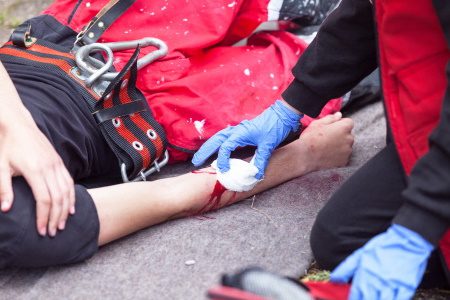 We'll look at your rights as an employee, temporary worker and self-employed worker. Furthermore, we'll explain some of the key points in the Health and Safety at Work etc. Act 1974. Importantly, this piece of legislation applies to those who employ staff from small family-operated businesses to massive international companies.
If you decide that you'd like to make a workplace injury claim, we can help. We offer a completely free assessment of any claim. Additionally, your advisor will offer free legal advice on how to make your claim.
If your case is suitable, we could appoint a personal injury solicitor from our team to represent you. If your case is accepted, and you're happy to proceed, it will be on a No Win No Fee agreement.
To get in touch with us about making a claim, please call 0800 073 8801 today. To find out more information about health and safety compensation claims before calling, please continue reading our guide.
Select A Section
A Guide To Health And Safety Breach Claims
As an employee, you have the right to be kept safe in your place of work. It is true that no workplace will be completely free of risk, but employers must take steps to try and ensure your wellbeing. Essentially, that means they need to carry out risk assessments and remove as many dangers as possible.
You could be entitled to claim compensation if an accident resulting in injury occurs because of:
Insufficient health and safety guidance.
Inadequate job training.
A lack of proper rest breaks.
Unsuitable Personal Protective Equipment (PPE).
Faulty, damaged or poorly maintained equipment.
In this article, we'll provide information about what could lead to health and safety breach claims. We'll also consider what amount of compensation could be paid for different types of injury. If you decide that you want to take action, you should be aware of the personal injury claims time limit. In most cases, this will be 3 years.
To support your claim, evidence is needed. Therefore, following a workplace accident, we'd advise that you:
Report the accident to your employer as soon as you can.
Get medical treatment for your injuries (not just first aid).
Photograph the accident scene before it is cleared.
Ask for copies of CCTV footage if the area was covered.
Make a note of any witnesses who saw what happened.
By taking these actions, you could improve the chances of being compensated. For example, an accident report log could help prove when, where and how the accident occurred. Similarly, medical records could substantiate the extent of your injuries.
When you're ready to start, please give Accident Claims UK a call. An advisor will review your case with you, and we could appoint a specialist personal injury lawyer to your case if it is accepted.

What Is A Breach Of Health And Safety At Work?
In terms of making a compensation claim, you will need to show that:
Your employer owed you a legal duty of care (which we'll cover shortly).
An accident occurred due to a breach of this duty.
You suffered an injury or were made ill as a result of the accident.
If you believe your case meets the criteria listed above, you could receive compensation to cover your suffering.
Should you decide to claim, it's important to understand that it will be against your employer's insurance policy. That means your claim won't have an adverse effect on your employer's profits. Also, by law, you cannot be treated differently, disciplined or fired for suffering an injury and making a personal injury claim against them.
If you'd like to know more about your case and health and safety breach claims, please give us a call on the number above today.

The Main Points Of The Health and Safety at Work Act
We're now going to provide a brief overview of the Health and Safety at Work etc. Act 1974. Things employers should provide include:
Suitable training for all staff to make sure health and safety procedures are understood and followed.
A working environment that is safe, properly maintained and where work is carried out safely.
Proper welfare provision for staff in the workplace.
Adequate instruction, supervision and provision of relevant information.
Where an employer has more than 5 employees, they must have a written health and safety policy. Additionally, they need to consult with employees about those policies and other health and safety procedures.
As well as operating a safe working environment, the legislation means employers need to provide toilet facilities, rest areas, drinking water and other provisions.
You can read the legislation in full by following the link in the first part of our guide.
What other legislation covers health and safety at work?
There are many different pieces of legislation that could be used to prove that your employer had a duty of care. They include:
You needn't worry too much about which piece of legislation is relevant for your case though. If you choose to work with Accident Claims UK, and your case is accepted, your solicitor should use their legal experience to ensure the claim is filed correctly. Please contact our team of specialists to discuss health and safety claims against employers.

What Duty Of Care Does My Employer Owe Me?
As mentioned in the previous section, a legal duty of care comes from legislation. In the case of the Health and Safety at Work etc. Act 1974, employers have a duty 'to ensure, so far as is reasonably practical, the health, safety and welfare at work of all employees'.
The legislation goes on to explain that the duty includes:
Keeping machinery well maintained.
Providing adequate training.
Ensuring dangerous substances are stored, transported and used safely.
Maintaining a safe working environment.
Regardless of the type of workplace that you work in, health and safety regulations should apply. Therefore, you are covered for work that takes place in (for example):
Office environments.
Building sites.
Retail premises.
Restaurants, bars and cafes.
Whatever type of company you work for, we could help if you've been injured due to a breach of health and safety. Please call one of our specialist advisors today and explain your scenario. If your case is suitable, it might be accepted by a personal injury solicitor who'll represent you on a No Win No Fee basis.

Health And Safety Breach Claims For Public Place Accidents
As well as employees, members of the public could claim for a breach of health and safety if it causes them to be injured. Different legislation will apply but a claim could still be possible.
For example, if you are injured while in a shop because faulty shelving causes a heavy item to fall on you, then you might be eligible to start a claim.
As with employee claims, you should collect as much evidence as possible. Photographs, medical records, accident reports and witness contact details for statements could help you prove who was responsible for your injuries. The next thing you will probably need to do is identify who is responsible for the place your accident took place.
If you need any support with any aspect of your claim, please get in touch. One of our specialist advisors will happily look at your options with you. If they believe you have enough evidence and your case is feasible, they could pass it to one of our personal injury solicitors for you.

Health And Safety Breaches Affecting Temporary And Self-Employed Workers
You might think that as a temporary worker, you wouldn't have the same rights as other employees. However, when it comes to health and safety, you do. The employer has the same duty to try and keep you safe while you're working for them. That means if you are injured because of a breach of health and safety rules, you could be eligible to claim.
The same goes for self-employed workers in some cases. If you run your own business or are freelancing, and you work on somebody else's premises then you could be due compensation if they breach their duty of care and cause you to suffer an injury.
If you are unsure of your entitlement to claim for your injuries, why not let us know? We can use our experience to find what duty of care you were owed and whether you could take legal action to claim compensation.

Injuries Caused By Health And Safety Breaches
There are many different kinds of injuries that could result from health and safety breaches. In fact, there are too many to list here but they include:
Broken or fractured bones.
Soft tissue injuries.
Head injuries.
Back injuries.
Cuts, bruises and abrasions.
Repetitive strain injuries.
Industrial diseases.
Chemical burns.
Whatever type of injury you have sustained, if it can be shown to have been caused as a result of someone else's health and safety breach, you could be compensated for your suffering. We are happy to review any claim for free and explain your options. If you would like to discuss health and safety claims against employers with a specialist,  please call the number above today.

Calculating Health And Safety Breach Claims
It is now time to move on to look at potential compensation figures for accident at work claims. It is important to state that claims vary from case to case. Therefore, our compensation table below should be used for guidance only at this point. After your claim has been properly assessed, we should be able to provide a more accurate compensation estimate.
We've added a range of different injuries to the table that follows. Do not worry if you don't see your injury listed. The table is not comprehensive, and you could be entitled to claim for any injury whether it's listed below or not.
The figures we have supplied are taken from the Judicial College Guidelines. This is a document that insurers, personal injury lawyers and other legal professionals may use to set compensation levels.
| Injury Type | Severity | Range | Details |
| --- | --- | --- | --- |
| Facial Disfigurement | Significant Scarring | £8,550 to £28,240 | Scarring of the face where the worst effects can be reduced by plastic surgery but leaving some cosmetic disability. |
| Cheekbone | Fracture | £9,570 to £14,810 | Serious fractures that leave some element of disfigurement and result in lasting problems like paraesthesia in the lips or cheeks. |
| Neck | Moderate (iii) | £7,410 to £12,900 | This category includes moderate soft tissue injuries where there has been a protracted recovery period. |
| Back | Minor (ii) | £2,300 to £7,410 | Soft tissue injuries of the back where full recovery is achieved in around 3 months to two years without surgery. |
| Arms | Amputation | Not less that £128,710 | At the shoulder arm amputations. |
| Legs | Less Serious (i) | £16,860 to £26,050 | Fracture injuries where reasonable recovery will have been achieved but where the claimant is left with a limp, impaired mobility or similar issues. |
| Ankle | Moderate | £12,900 to £24,950 | Tears of ligaments or fractures which result in disabilities like irritation from metal plates or difficulty standing for long periods. |
The amounts listed here are known as general damages. This type of compensation aims to cover the pain, suffering and loss of amenity you suffered as a result of your injuries. As you may have noticed, the amount awarded is largely based on the severity of your injuries. For that reason, you'll need medical evidence to help prove the extent of your suffering. Therefore, during the claims process, you'll need to have a medical assessment. Our solicitors will always try to ensure these are held locally so you don't need to travel too far.
In the appointment, an independent medical specialist will assess the current state of your injuries. They'll also refer to medical records and ask questions about how you have been affected. Once they have completed the assessment, the specialist will write a report to show their findings. That report will then be forwarded to your solicitor.

Special Damages
As well as being compensated for your injuries, you could also be entitled to claim special damages too. This is an award made to cover any costs or losses you've suffered because of your injuries. The idea is to put you back in the same financial position as you were before the accident.
Again, each claim will vary but special damages could include:
Medical Expenses.
Most treatment you'll receive may be free on the NHS. However, a claim might be necessary if you've paid out for over-the-counter treatments, prescription costs or treatment that wasn't available on the NHS.
Care Costs.
If your injuries meant that somebody needed to help with daily activities during your recovery, you could claim for any care costs incurred. For example, if a friend or relative looked after you, then a claim could be made to cover their time.
Home Adaptations.
If you're left disabled because of your injuries, you might need to make changes to help you cope with daily activities. The cost of these changes could be claimed back.
Lost Income.
You may be able to add any lost earnings to your claim if they were as a result of your injuries.
Travel Costs.
Fuel, parking or public transport costs could be included if they related to doctors' appointments for instance.
Future Lost Earnings.
Where an injury will affect your ability to work in the future, you may be able to claim for future lost income. The amount may vary but it could be based on job prospects, salary and age.
To substantiate your special damages claim, you'll need evidence like receipts or bank statements. We'd advise keeping a log of expenditure so you can explain how your costs were linked to your injuries.

Health And Safety Breach No Win No Fee Claims
There are times when claims don't get made because the injured party is worried about the cost of legal representation. To remove a lot of that worry, our personal injury solicitors offer a No Win No Fee service for any claim they take on.
To offer this service, a solicitor will need to check if your claim is suitable. After a review, if both parties are happy to proceed, a Conditional Fee Agreement (CFA) will be drawn up. This is your contract. It will set out what the solicitor will need to achieve before they are paid. Also, it will show that:
No money for their fee needs to be paid upfront.
You won't be asked to cover any solicitor's fees during the case.
If your case is not won, you will not be liable for any solicitor's fees at all.
In fact, the only time you will pay solicitor's fees is when the case is won, and you receive compensation. If that does happen, your solicitor will deduct a percentage of compensation to cover their time. This is called a success fee and it is listed in the CFA. To help prevent overcharging, success fees are capped by law.
Would you like to check if your case is suitable for our No Win No Fee service? If so, please call the number above for a free claim assessment today.

Beginning A Health And Safety Breach Claim
Hopefully, you now understand your rights relating to health and safety claims against employers. If you are thinking that you would now like to begin a claim, we are ready to help. To get in touch with Accident Claims UK, you can:
We don't want to waste anybody's time. That's why we will always be open and honest about the chances of winning your case.
When you call, a specialist will review your claim with you in a free telephone consultation. They will explain your options and provide free advice. If your case appears feasible, they could refer you to one of our personal injury solicitors.
Remember, all claims that are taken on will be handled on a No Win No Fee basis. You can call whenever it is convenient as our claims line is open 24/7.

Health And Safety Resources
Thanks for visiting Accident Claims UK today. As this is the final section of our article about health and safety breach claims, we are going to supply links to some external resources. Feel free to let us know if there is any further information we can supply.
Manual Handling At Work: Guidance from the Health and Safety Executive on how to move heavy objects safely.
Back Pain: This NHS guide explains what causes back pain and how it might be treated.
Health And Wellbeing At Work: Acas information about what employers can do to promote wellbeing at work.
Finally, we have listed a few of our guides below to show how else we could help you in the future.
GP Negligence Claims: This article explains when you could claim for any suffering that results from GP negligence.
Uninsured Driver Claims: Advice on how to claim through the Motor Insurers' Bureau because the responsible driver was uninsured.
Child Accident Claims: This guide explains how you could become a litigation friend to represent a child in a personal injury claim.
Health and safety claims against employers FAQs
Does my employer owe me a duty of care?
Whatever size company you work for, your employer has a legal duty to try and protect your welfare while at work. That means they must implement safety measures to try and protect you. This includes providing safety advice and training, removing dangers and ensuring you have adequate protective equipment where needed.
Will I be dismissed if I claim for an accident at work?
It is illegal to dismiss staff who make health and safety claims against employers. In fact, if your claim is honest, you cannot be treated differently at all. Therefore, if you're left out of anything, demoted or sacked, you could be entitled to seek further damages.
How long does a workplace injury claim take?
Personal injury claims for accidents at work can be settled in around 6 to 9 months. That could be the case if your employer agrees that they were to blame for your accident and your injuries quickly. If they contest the case, and more evidence is required, claims could take longer than a year.
Time limits for workplace accident claims
Generally, you will have 3-years to submit your claim from the date you were injured in an accident at work.
Thank you for reading our guide to health and safety claims against employers.
Guide by BH
Edited by RV