By Joanne Jeffries. Last Updated 21st September 2021. Welcome to this guide on Birmingham airport accident claims.
When travelling abroad, one of the last things you might expect to be involved in is an accident, especially one that is caused by third-party negligence. Unfortunately, there are some scenarios where the negligent actions of another could cause an accident, inflicting injuries and suffering that range in severity. So if you have been involved in a Birmingham Airport accident that has caused an avoidable injury, then this guide could be of use.
This online guide aims to discuss how accidents at Birmingham Airport could potentially be caused and under what circumstances would victims of injuries be eligible to claim compensation for their suffering. While reading this online guide, you might have questions about the points that are being discussed. If that is the case, then please feel free to speak with a member of our team. Our friendly advisors are available 24 hours a day, 7 days a week. They could offer free legal advice of no obligation, which means they are available to speak with you in greater length about your potential no win no fee claim for an accident at Birmingham Airport.
Select A Section
A Guide To Compensation Claims For Accidents At Birmingham Airport
Birmingham Airport is located in the West Midlands and is a major airport in the UK. Birmingham Airport has connections to various locations across Europe, the Middle East, North America, The Caribbean and India. In 2018, Birmingham airport had an astounding 12,445,295 passengers use their facilities to get to locations across the globe.
There could possibly be some circumstances where the negligence of a third party could cause an accident at Birmingham Airport. If you have been a holidaymaker who was injured at Birmingham Airport, then you might be wondering if you could have grounds to make a claim. This online guide aims to outline and discuss the different ways an airport accident could potentially be caused. To do so, this guide aims to answer some key questions concerning the claims process, such as:
What is a personal injury claim and how does it work?
What are the different types of accidents?
How could accidents at Birmingham airport be caused leading to Birmingham airport accident claims?
What Are Accidents At Birmingham Airport?
If you travel abroad, then you may understand that an airport can be hectic. From employees to holidaymakers, an airport may have a large number of people each engaging in different actives simultaneously so they can be rather busy places.
In general, airports may often be well-kept and maintained spaces, however, if there was to be a lapse in maintenance, health and safety negligence could occur in the form of an avoidable accident. Some examples might include slips and trips, shuttlebus incidents, food poisoning, and plane crashes. In some cases, these incidents could range in severity and be a direct repercussion of negligence.
UK Aviation And Health And Safety Statistics
Birmingham Airport is one of the largest airports within the UK, and it is expected to have seen around 12,457,051 passengers in 2018. As an airport, Birmingham is expected to expand in size and scale over the next several years, and with these plans of expansion, factors such as health and safety will play a crucial role.
It was reported by the HSE that there were 878.2 injuries per 100,000 UK airport employees between the years 2009 to 2014. These statistics are based on the air transport industry statistics report "A study of HSE RIDDOR and Enforcement statistics for the Air Transport industry -2009/10 to 2013/14p ". The HSE also outlined there were 1.6 million workers 2019/20 (of all industries) suffering from a work-related illness. An estimated £16.2 billion costs of injuries and ill health in 2019/20. Other key facts from the HSE are found below.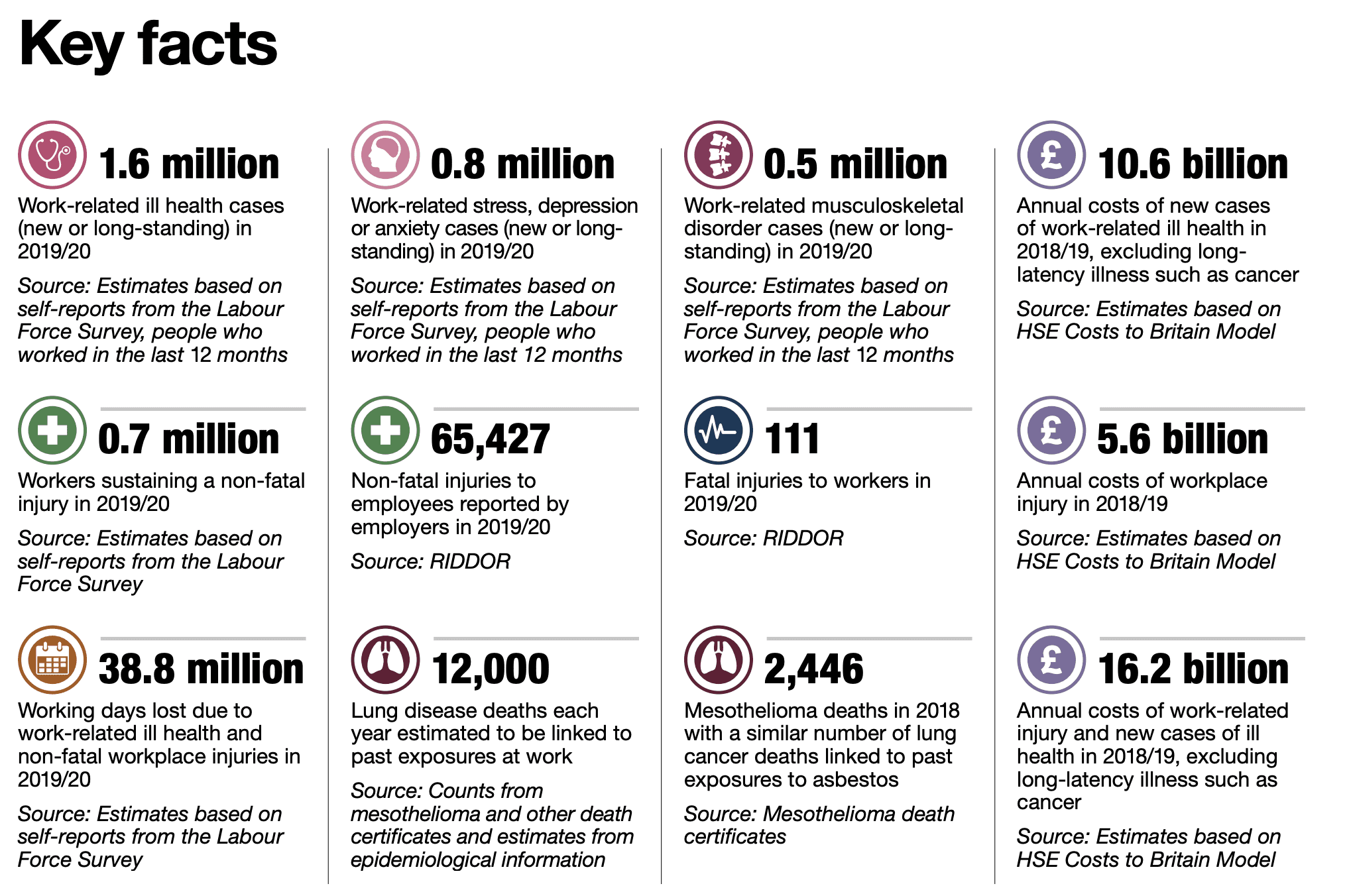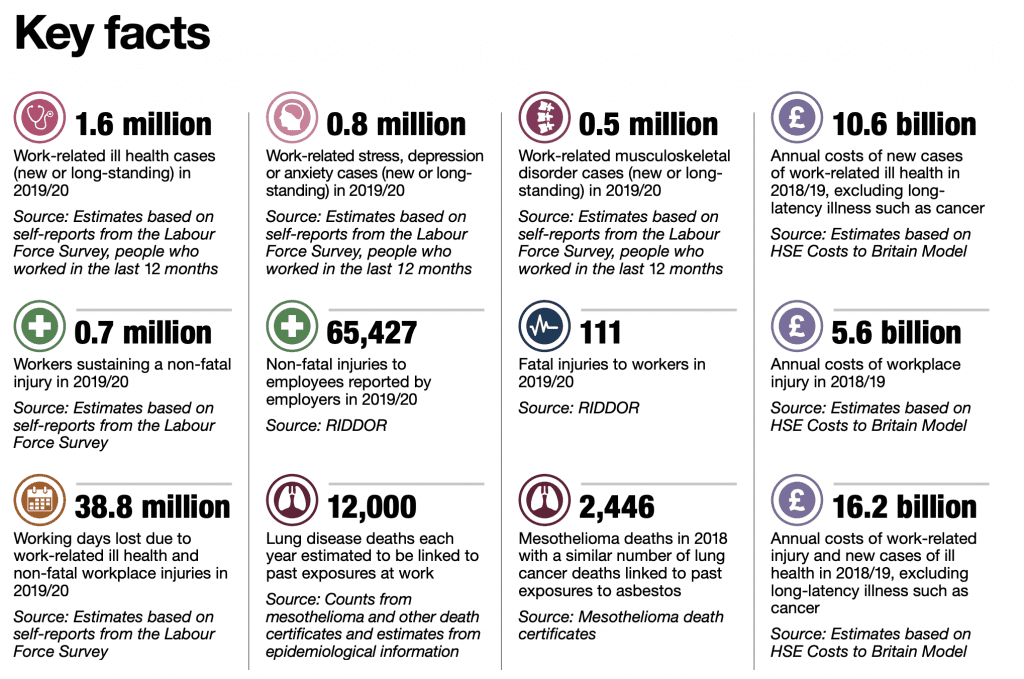 Types of Airport Accidents And Injuries
In the event you have been involved in an accident at Birmingham Airport, then there are steps outlined by Citizens' Advice that you should consider. They state that in the event of an accident, you should:
Seek medical attention and treatment as soon as possible.
Do not admit any form of liability.
Take photographic evidence of the cause of the accident.
Exchange contact information with those who witnessed the incident.
Report the accident.
Airport Slips And Trips
The Health and Safety Executive (HSE) has outlined three potential causes of slip, trip and falls. These three potential causes include walkways, housekeeping, and design and maintenance. To prevent an accident from happening, the HSE state that there are preventive measures that can be taken. These measures include risk assessments, routine inspections, and having regular and effective housekeeping. But if these obligations to health and safety are not upheld by an airport, it could potentially cause an accident. For example, if you slipped on a spillage that had not been cleaned up or posted with warning signage a passenger may slip and injure themselves.
Slip, trip, and fall incidents at an airport could be caused by hazards such as:
Poor or inadequate lighting.
Spillages.
Slippery surfaces.
To make Birmingham airport accident claims with our help, please call our dedicated helpline.
Suitcase And Luggage Accidents In Airports
When using an airport, one of the most stressful experiences could be the baggage reclaim process. There might be a lot of people crowded into one area, each attempting to get their luggage back in one piece. Unfortunately, there are some cases where luggage can become seriously damaged, or in some cases lost. If you have personally experienced the loss of or damage to personal property whilst travelling in an airport, then you could have grounds to make a claim using the Montreal Convention.
Thanks to the Montreal Convention, claims in connection to lost or damaged property can be made. The introduction of the treaty established a sense of accountability and liability between airlines and airports in the moments where they fail to uphold a certain standard.
Stair, Lift And Escalator Accidents
In airports, there may be equipment that has been designed and installed to provide assistance to passengers. From lifts to travelators, this equipment may alleviate some of the strains associated with carrying luggage. If such facilities are not maintained, serviced and repaired as and when is needed accidents could potentially happen if they fall into disrepair and accidents could mean a third party is liable. Accidents could occur if:
The equipment wasn't correctly installed.
The equipment was faulty.
The equipment hasn't been maintained and looked after.
The safety features, such as emergency stop buttons, do not properly work.
It is important to note that not all equipment at an airport will be under the responsibility of the airport operator as some operators may have equipment that is maintained by external contractors. Don't worry if this is confusing though – our friendly team of advisors are waiting to take your call and they will happily answer your queries about Birmingham airport accident claims.
Airport Passenger And Employee Transit System Accidents
At an airport, there may often be different vehicles in motion at a particular time. For example, there might be shuttle buses taking holidaymakers and other passengers from the tarmac to the terminal, refuel cars tending to the aeroplane, plus vehicles moving luggage from A to B.
Although the employees or contractors who are tending to these various vehicles may be well trained, unfortunately, there might be windows in time where an accident could potentially occur. If that is the case and you have been involved in a Birmingham Airport accident, then call our team for free no-obligation legal advice.
To discover how our panel of personal injury lawyers could assist you throughout the claims process, please contact a member of our team.
Accidents In Shops Or Restaurants At Birmingham Airport
When travelling abroad, many people might use facilities such as restaurants and bars that are located inside airports. Much like any other restaurant or bar, these establishments located inside Birmingham Airport are held to the same food standard regulations. Therefore, they should be aware of the 14 common food allergens and correctly label their food items. Some examples of foods that those who suffer with allergies need to be aware of;
Eggs
Fish
Soybeans
Milk
Nuts
Peanuts
Sesame
The Food Standard Agency, highlights the importance of correct food labelling. A failure to do so could have a serious, if not fatal outcome to the individuals that have been affected. So, if you have been seriously affected by the negligence of a shop or restaurant at an airport then you could have grounds to make a personal injury claim if liability can be proven.
Airport Worker Injured In An Accident At Work
All employers have a duty of care to their employees plus those who visit their business. Businesses are required by law to uphold and comply with the health and safety rules and regulations that have been designed to keep the working environment safe. To keep the working environment safe, an employer should wherever possible perform preventive measures to ensure hazardous causes have been acknowledged and effectively handled. From risk assessments to training, these measures have been outlined by the HSE.
As an employer, Birmingham Airport has a direct duty of care to uphold, which in return will ensure the safety of their employees in the workplace. If they fail to comply with these regulations, then their potential negligence could possibly cause an accident at work. To find out whether you have a workplace claim for compensation please call our advisors today.
Baggage Handler Manual Handling Accidents
Due to the repetitive motion and heavy lifting involved in the job role, there may be areas where potential issues could arise. To help prevent and combat accidents in the workplace from happening through manual handling, some measures can be taken. Examples might include:
Risk Assessments.
Routine Inspections.
Providing Personal Protective Equipment (PPE).
Effective Training (displaying the correct techniques).
If an airport failed to uphold these obligations to protect their employees' health and well-being, it could potentially cause an accident in the workplace. To be eligible to make a claim for an accident in the workplace it must be proven that your employer has acted in a negligent way and that if there actions would have been different the incident could have been avoided.
Calculating Accident Claims – Updated September 2021
If you have been involved in an accident at a Birmingham Airport that was caused through negligence, then you might be wondering how much compensation you could be entitled to. It has to be stated that all claims for compensation are inherently different, and in some cases, those pursuing a claim might use a personal injury claims calculator to work out an estimated compensation amount. However, we have provided an in-depth table that outlines a variety of different injuries, their severities, and the compensation amount that could be awarded. The figures within this table have been provided for guidance purposes only and are based on the Judicial College Guidelines. Therefore, you should be aware that the compensation you could be awarded may differ, which is because different factors might play a crucial role in the claims process.
| Injury | Injury Severity | Compensation Amount | Injury Description |
| --- | --- | --- | --- |
| Head Injury | Moderate Brain Damage (i) | £140,870 to £205,580 | Moderate to severe issues with intellectually capacity, a significant possible personality change, speech and sensors are both effected with a chance of suffering epilepsy. |
| Head Injury | Moderate Brain Damage (ii) | £85,150 to £140,870 | Moderate to modest intellectual capacity, there maybe slight ability to be able to work, but it may not be possible, the risk of epilepsy is not so great at above. |
| Neck Injuries | Minor (i) | £4,080 to £7,410 | In these instances, a full recovery from the injury may be made within 1-2 years. |
| Neck Injuries | Moderate (i) | £23,460 to £36,120 | These injuries may be fractures or dislocations requiring immediate medical attention. They leave markedly impaired function or vulnerability to further trauma, and limitation of activities. |
| Neck Injuries | Severe (i) | In the region of £139,210 | Severe neck injuries are associated with permanent disablement. |
| Paraplegia | Serious | £205,580 to £266,740 | An injury of this calibre is often expected to inflict a shorter life span, depression, limit mobility, and in some cases, a lack of sexual function. |
| Arm Injury | Severe Injuries | £90,250 to £122,860 | Injuries which fall short of amputation but which are extremely serious and leave the injured person little better off than if the arm had been lost |
| Leg Injury | Moderate (iv) | £26,050 to £36,790 | This bracket includes complicated or multiple fractures or severe crushing injuries, generally to a single limb. |
| Food Poisoning | Serious (i) | £8,950 to £18,020 | A serious case of food poisoning is often expect to cause a serious upset stomach, which signs such as diarrhoea and nausea. |
| PTSD | Less severe | £3,710 to £7,680 | Those who endure minor levels of PTSD are often expected to make a full recovery within the span of one to two years. However, they might endure symptoms such as sleep deprecation, anxiety, and depression. |
| PTSD | Severe | £56,180 to £94,470 | Those who experience a severe level of PTSD are often expected to be left with life-long disabilities, minimal job prospects, physical ailments, and mental distress. |
What Special Damages Could Victims Of Airport Accidents Claim?
Many people may presume that a claim for compensation may only include injuries and illnesses, but that is not necessarily the case. When pursuing a claim for compensation, a lot of various factors may be taken into consideration and could contribute to the compensation settlement. We have listed these various factors that could be taken into consideration when making a claim down below.
General Damage Claim 
A general damage claim will evaluate the physical impact of the accident and how it has impacted the individual.
Special Damages 
Medical Expenses – For therapies and treatments not available on the NHS.
Loss of Future and Potential Earnings – Earnings lost in time off work or future time off work.
No Win No Fee Claims For An Accident At Birmingham Airport
If you have been injured due to the negligence of a third party, then you might pursue a claim for compensation. If that is the case and you have an eligible claim, then a solicitor from our panel could offer to handle your claim under a no win no fee agreement. This may also be referred to as a Conditional Fee Agreement, and in simple terms, it acts as a mutual agreement between the solicitor and you as the claimant.
If you are offered a no win no fee agreement that has a successful outcome, then you will be required to pay a success fee from the final settlement which is capped at 25%. If the case does not succeed you will not have to pay your solicitors fees.
Why Claim With Our Travel Accident Claims Team?
Accidents can vary in severity, ranging from minor to major, physical to psychological. If you have been injured due to third party negligence then you might be searching for a solicitor who could handle your claim. Here at Accident Claims UK, our solicitors have up to 30 years' experience helping those affected by third party negligence. Solicitors on our panel are well versed in personal injury law, which means they could provide those who have been affected support, guidance, and legal advice.
Start Your Airport Accident Claim
Our phone lines are free to call, and our advisors are available 24 hours a day, 7 days a week, which means they are always available to take your call and answer any questions that you might have about Birmingham airport accident claims.
The number to call is 0800 073 8801.
To inquire online, please click here.
Could I make Birmingham Airport accident claims for an assault?
Unfortunately, sometimes tempers fray at airports, just as they could in other places, and you may suffer an assault. Whether this is an assault at work, or you are assaulted by another passenger, we could help you to find a route to compensation. In some cases, you may be able to hold the airport operator responsible for the assault, while in others if you are injured at work, you could hold your employer liable. However, there are other routes to compensation, including claiming through the Criminal Injuries Compensation Authority. This authority helps to compensate victims of violent crimes, who have been injured as a result of them. We know that making a claim may be confusing, because you might not know who you are claiming against. Our team would be delighted to assess your case for you, and let you know whether you could have a valid claim for compensation. We could also advise you your claim could be against. Then, our specialist solicitors, who are all authorised and regulated by the Solicitors Regulation Authority, could take on your case. They could fight for the maximum amount of compensation possible for your claim, on a no win no fee basis.
Would I be able to make Birmingham Airport accident claims for a child?
Unfortunately, sometimes children fall ill or suffer injury due to third party negligence too. If your child has suffered injury or illness due to somebody else's negligence, they could be eligible for compensation but they could not make their own claim while they are still a child. You could have two options to get them the compensation they deserve. The first would be to make a claim for your child as their litigation friend. The second would be to await their 18th birthday and then they could make their own claim for compensation. There are some complexities that could be involved with waiting, however. For example, witnesses may have moved from the area, and it may be more difficult to find them for a witness statement. Whether you choose to wait, or wish to make a claim on behalf of a child we will be happy to speak to you.
Essential References
The information that has been provided within this online guide aims to outline how our panel of solicitors could help you to make a claim for an accident at Birmingham Airport. In connection with the information that was provided within this online guide, we have supplied some resources that we believe could be useful. These materials can be located down below.
Airport Safety Resources
Work Accident Claim – Legal Rights After An Accident At Work
Fatal Accident Claims – Can I Claim For A Loved One's fatal accident?
Slip, Trip, and Fall – How To Make A slip trip and fall claim 
Thank you for reading our Birmingham airport accident claims guide.