By Joanne Jeffries. Last Updated 22nd September 2021. Welcome to this guide covering Doncaster Sheffield airport accident claims.
This guide has been put together for those who may have suffered an accident at Doncaster Robin Hood Airport and are looking to see whether their circumstances qualifies them for pursuing a personal injury claim. By reading this article you will hopefully learn what you need to know to evaluate if you could make a personal injury claim for an accident at Doncaster Sheffield Robin Hood Airport.
We are Accident Claims UK and we are here to give you free advice about what to do next if you got hurt at Doncaster Sheffield Robin Hood airport and you think the airport was at fault. More than that-one of our solicitors could handle your case on a no win no fee basis that could make the whole process a lot less stressful. Read on for more information and please use the contact details at the bottom of this page for more information.
Select A Section
A Guide To Compensation Claims For Accidents At Doncaster Sheffield Robin Hood Airport
Doncaster Sheffield Robin Hood airport has a duty of care towards all of its passengers and staff to ensure their safety. That means that it is the responsibility of the airport to make sure that all of its premises are free from any avoidable hazards wherever possible. This even extends as far as taking action to reduce the risks of people tripping and slipping while walking around the airport. If a certain hazard can't be removed or repaired or replaced in an appropriate time then measures need to be taken to reduce the risk they pose to passengers and employees.
If someone has suffered an injury at an airport, either while catching a flight or while working there and there is proof that the accident was one that could and should have been prevented by the airports operators, then Doncaster Sheffield airport accident claims could possibly be made to receive compensation for the physical, mental and financial effects of the accident. This guide aims to cover some of the key details of when and how you could make a claim, and why and how making a claim through one of our solicitors might be a good idea.
What Are Accidents At Doncaster Sheffield Robin Hood Airport?
We are addressing accidents that could possibly occur in an airport setting that could be prevented if an airport implements correct safety standards and upholds their duty of care. These are accidents that can happen to both passengers and to staff working at an airport. What this article is not aiming to address is accidents that occur while on board a plane or while the plane is in flight, under the Montreal convention that could possibly be the responsibility of the airline operator. This also isn't the place for making a claim for a delayed flight, for information about doing that, you can read this Citizens Advice article.
Doncaster Sheffield Airport Health And Safety
In a five year period between 2009 and 2014 the RIDDOR reports of the Health and Safety Executive showed that there were 594 major injuries among people working at airports in the UK and two workers were killed. The number of less serious injuries that have occurred is harder to determine since not all minor injuries in work accidents get reported.
Below, you can see what the most common causes of work-related injury are according to the HSE's 2019/20 figures. These cover all industries.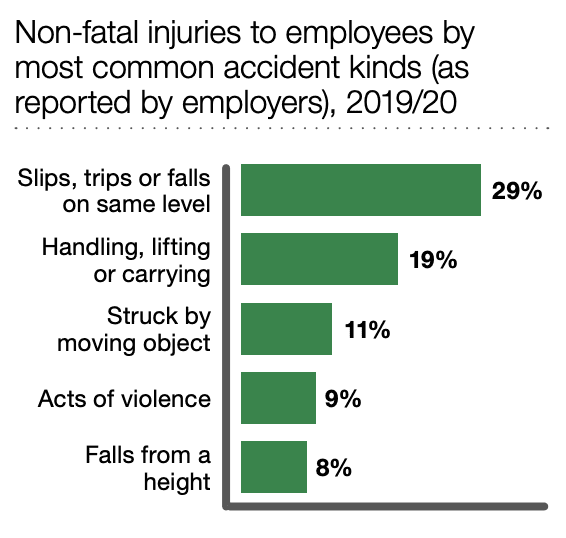 Fatal crashes involving passenger jets are highly rare despite many peoples fear of flying. There are no recorded incidents of any fatal plane crashes occurring at or near Sheffield Doncaster Robin Hood airport or involving any planes departing or heading towards that airport.
Common Accidents Which Could Happen When At An Airport
The most common cause of an injury for those working at an airport are accidents while lifting and handling baggage (39% of reported injuries), followed by slips, trips and falls (24% of reported accidents). The third most common cause of injuries for those working at airports is to be struck by falling objects (13% of reported accidents).
Other accidents that could cause injuries to both staff and passengers are:
Exposure to hazardous substances such as aviation fuel.
Being involved in an accident with one of the vehicles operating around the airport.
Being injured by machinery with moving parts: i.e. mechanised loading ramps, baggage carousels, escalators, moving walkways etc.
Slipping, Tripping Or Falling In The Airport
As mentioned earlier the airport's duty of care towards their staff and passengers extends as far as preventing slips, trips and falls on their property. This means that if you or a loved one has:
Slipped on a wet patch of floor.
Tripped on a loose or ragged carpet or linoleum tile.
Tripped on a broken paving slab or pothole outside the terminal building.
Slipped on ice outside the terminal building.
Tripping on an item that should not have been left in a concourse, i.e. wires, boxes, luggage
– and the airport has had reasonable time and opportunity to address the issue, and failed to do so then a case could be made for awarding you compensation. Feel free to find out more about how slips, trip and fall accident claims work here.
Airport Baggage Cart And Carousel Accidents
Baggage carts and carousels can cause accidents just like any other types of facilities and machinery used for moving goods if they are not serviced, maintained and repaired when needed. Baggage carts should not be overloaded nor should they be made available for passengers use if they are faulty or broken. A baggage cart laden with baggage could well be heavy enough to inflict an injury on someone if it struck them with force, so airport staff using them needs to be careful when moving them around the terminal.
Like any other piece of machinery which has moving parts, a baggage carousel needs to be serviced and maintained properly in order to reduce the risks of accidents. If baggage handling staff do not load luggage items on to it in the correct manner then luggage could fall off and hurt passengers. Having functioning emergency stop buttons or switches it vital, this is because serious injuries can be inflicted, particularly on small children, if hair or clothing gets snagged in the conveyor belt.
If you or someone you know was injured in an accident involving a baggage carousel or cart then you can call one of our solicitors today to find out if you can claim compensation by making Doncaster Sheffield airport accident claims.
Airport Passenger Escalator And Lift Accidents
The escalators, lifts and moving runways of an airport will see near constant use and heavy footfall. With their moving parts and the potential for accidents that they can cause it is crucial that an airport ensures that all such facilities are regularly monitored and are not allowed to operate if they are found to be faulty. A faulty lift, escalator or travelator could cause someone to fall (especially dangerous on escalators) or cause injuries through snagging someone's hair or clothes in their moving parts.
If such an accident occurred then the airport could be made to pay compensation on the basis of not having properly maintained their facilities or having failed to regularly check to make sure they are in safe working condition.
Airport Passenger Transport System Accidents
An airport will always have vehicles working out on the apron and the runway performing various tasks to prepare the aircraft for their journey, such as loading luggage, refueling and so on. Airports are obliged to closely coordinate and regulate all the movements and routes of the vehicles moving around the airport to ensure accidents don't happen. All operators of airport vehicles must also receive specialist training in how to safely operate them. Third parties could be liable for paying compensation if someone got hit by a vehicle that was being driven in a manner it shouldn't have been.
Inside the airport terminal you will often see small electric carts being driven by staff to help them move around quicker or to give lifts to passengers and their luggage. Needless to say these must be handled carefully inside the terminal building, if you got hurt in an airport cart crash then you could possibly make Doncaster Sheffield airport accident claims if you have good reason to believe it wasn't your fault and the cart was being driven irresponsibly.
Airports which have their facilities spread out over a large area may have a bus or tram network to make it easier for their passengers to get from one place to another, for example the car park might have a bus stations to take passengers to the terminal building of Doncaster airport. The same rules would apply to these services as to other public transport services: they are responsible for the well being of their passengers and could be liable if a passenger gets hurt through no fault of their own. If you were driving and your vehicle was hit by a vehicle operated by the airport, then please visit our guide to road traffic accident claims for more information.
Accidents In Shops Or Restaurants At Doncaster Airport
There are numerous shops and restaurants serving customers in the departure lounge of Doncaster Sheffield airport, including a Wetherspoons and a Costa Coffee among others. There are a number of hazards to customer's health that could arise in these cafes and bars if health and safety is not followed at all times. One is slips, trips and falls, others that are more unique to shops and eateries are:
Getting food poisoning.
Suffering an allergic reaction to the food.
Being burned or scalded by food, drinks or plates that were served up too hot.
All of these types of injuries and illnesses could be severe enough not just to disrupt your travel plans, but to require urgent hospital treatment. The regulations for the preparation of food in order to prevent such incidents are clear and a business could be liable for compensation if they are found not to have followed them. One of our solicitors could be the one to help you make that claim. Feel free to read up further with our guide to restaurant accident claims here.
Airport Employee Workplace Accidents
Part of the job of airport staff is making sure that the passengers are safe, but they themselves have the right to be as safe as possible in their workplace. One of the riskiest roles for staff in an airport is loading and unloading baggage, which will be addressed in the next session. Accidents that could possibly occur can include slips, trips and falls (responsible for 24% of airport workplace injuries) or being struck by a vehicle at the airport (responsible for 5% of airport workplace injuries). Other incidents that might occur could include being exposed to hazardous materials or being assaulted or threatened in the workplace.
If you were hurt while working at an airport and your employer is responsible through their negligence of failing to uphold health and safety then you could make Doncaster Sheffield airport accident claims against them. For more information about accident claims for an accident at work you can read this guide here.
Baggage Handler Injury Claims
Baggage handlers are more at risk of injury than other airport workers according to the HSE. This is because they are most exposed to manual handling injuries and because they spend more time working around moving machinery than other airport staff. Injuries relating to lifting and handling of goods at airports amounts to 39% of all work related injuries in that sector and being struck by falling objects amounts to 13%
Just because an occupation carries with it certain risks does not mean that it is normal and acceptable to get hurt in the workplace. Under the Health and Safety Act 1974 all employers have a legal obligation to take all reasonable steps they can to identify possible potential hazards and take measures to prevent them from causing harm to their workers.
An airport that employs people as baggage handlers must ensure that:
They are all properly trained in manual handling and in the use of any equipment they work with.
Any machinery they use is functional and regularly serviced and maintained.
Safety equipment such as ear protection, hard hats, hi visibility clothing, gloves and so on, is provided to all staff.
Staff receive regular breaks of a certain length during their shifts.
Baggage handling workers can suffer injuries such as:
Bruises
Fractures
Muscular skeletal disorders
lacerations
Calculating Claims Against An Airport – Updated September 2021
The amount of compensation awarded is almost always different from one case to another. The amount of compensation that is awarded to a claimant is decided based on a number of different factors. One of these factors is the amount of money that the victim has had to spend or has lost due to the effects of the accident, we will go into more detail about this in the section below. The other issue that gets factored into deciding the compensation amount is the effect of the injuries. The compensation awarded for an injury is intended to reflect how severe it was and how much of an effect it will have on the victim's life. Most forms of injuries will entitle you to at least a little compensation, but of course, a very minor injury would be worth a lot less than an injury that has permanently disabling effects. Beneath here is a table, it is a personal injury claims calculator, it shows how much money injuries are valued at according to judicial guidelines it does not take into account the accident or where it happened they are generic figures.
Please note that if you see an injury describing your own condition it does not necessarily mean that is the exact amount you will be entitled to in a real-life case.
| Injury | Severity | Amount | Comment on Severity |
| --- | --- | --- | --- |
| Brain Damage | Less Severe | £14,380 to £40,410 | Injuries will have made a good recovery but may still have persisting symptoms such as impaired concentration ability, memory loss, and mood swings which may affect personal life and ability to work in the future. |
| Minor Brain or Head Injury | Minor | £2,070 to £11,980 | There will be little to no brain damage associated with these head injuries, and the bracket may change according to how long symptoms persist for, if there are any headaches present, and on the severity or the original injury. |
| Neck Injury | Severe (i) | In the region of £139,210 | This bracket covers injuries that include incomplete paraplegia, or permanent spastic quadriparesis. Injuries here may also result in a person not seeing any improvement in neck mobility despite wearing a collar for a number of years and who also suffers persistent severe headaches. |
| Neck Injury | Minor (i) | £4,080 to £7,410 | This bracket mainly covers soft tissue injuries, but can vary greatly according to persistence of symptoms, the type of treatment needed, and over all effect on a person's life. In general, injuries in this bracket will be expected to heal in one to two years. |
| Back Injury | Severe (iii) | £36,390 to £65,440 | This bracket covers fracture to vertebrae and discs, as well as other soft tissue injuries that lead to chronic conditions. These injuries will commonly result in persisting symptoms of pain, discomfort depression, loss of sexual function, impairment to mobility as well as posing a risk to future employability. |
| Back Injury | Minor (i) | £7,410 to £11,730 | Again, covering soft tissue injuries, this bracket can also change according to severity, treatment needed, how long symptoms take to pass, as well as affect it has on other parts of the body. Injuries in this bracket are usually expected to recover without surgery in two to five years. |
| Hip and Pelvis Injury | Severe (i) | £73,580 to £122,860 | Injuries in this bracket will include extensive fractures which affect the lower back that may require spinal fusion, as well as damage to organs near the hips and pelvis such as the bladder and bowels. This could lead to impairment of these organs, as well as affect women by presenting issue when they are in labour. |
| Hip and Pelvis Injury | Moderate (ii) | £11,820 to £24,950 | This bracket commonly covers injuries that require a hip replacement and can include cases where a hip replacement may be possible in the future because of the injury, and there will usually be persisting symptoms. |
| Leg Injury | Severe (i) | £90,320 to £127,530 | This includes injuries that are so severe, it leaves a person no better off than if the leg had been amputated entirely. This can include degloving injuries, or fractures that have required extensive bone grafts to treat. |
| Leg Injury | Less Serious (i) | £16,860 to £26,050 | This includes fractures and serious soft tissue injuries that do not perfectly heal. They may result in symptoms that persist such as a permanent limp, trouble walking, as well as cosmetic deformity and nerve damage. |
| Post Traumatic Stress Disorder | Moderately Severe | £21,730 to £56,180 | Recovery with special help. However the effects may go on to have a bearing on all aspects of life and cause significant disability. |
| Food Poisoning | Serious but short-lived food poisoning (ii) | £8,950 to £18,020 | For two to fours weeks or so diarrhoea and vomitting. Remaining discomfort and disturbance of bowel function and impact on sex life and enjoyment of food over a few years. |
Special Damages Which Could Be Claimed
As mentioned before, compensation is intended to reflect the financial needs you have faced as a result of the injury as well as the impact of the injury itself. What that means is you can be compensated for the changes in your financial situation brought about by the money you have lost or have been forced to spend because of the injury. This means things like:
Any money you have spent on medical care, ranging from private health care fees to the purchase of over the counter medication such as painkillers.
Any money you have spent on travel expenses, for example if you have had to buy tickets for another flight in order to get home or if you have had to use public transport to get to the hospital for treatment or appointments.
Any income you have lost if your employment has been affected by the accident. This could mean money you have already missed out on by having sick days, money you are going to miss out on through further planned sick leave and reduction or total loss of income due to having to leave the job because of the injury.
If you haven't already, make sure to keep any paper records (receipts, tickets or contracts) of your expenditure as claiming for financial losses requires proof of the amount you are requesting.
No Win No Fee Claims Against Doncaster Sheffield Robin Hood Airport
No win no fee claims are a great way for people to get around the cost of paying up front legal fees to a solicitor taking on their case. In essence no win no fee claims reduces the financial burden of making Doncaster sheffield airport accident claims from the claimant, in order to do this the contract between the claimant and their solicitor will stipulate that if the claimant is awarded compensation then the solicitor can be paid a "success fee" of up to 25% of the compensation fee awarded. But the contract will also stipulate that the solicitor cannot be paid if the claim is unsuccessful. By making payment conditional on winning the case, and by making the payment out of money that you would not have had in the first place, a no win no fee agreement means you aren't having to risk your own money on your solicitor. If there is anything that you want to know more about or confuses you about the idea of a no win no fee claim then please call us.
Why Choose Our Airport Accident Claims Team?
Our experience in working on personal injury claims goes back thirty years and we will put that experience to good use helping you get compensation. If you work with us you won't have to worry about the financial aspect of making a claim thanks to the no win no fee claim agreements that we offer to all of our clients.
Start Your Airport Accident Claim
If you want to start Doncaster sheffield airport accident claims or receive a free consultation about starting one then doing so is very simple, you can get in touch with us right now using any of the contact details listed below:
0800 073 8801: Call this number to reach one of our accident claims team members. You can have an in depth chat with them about your situation and they will advise you on how you can go ahead with starting a claim with one of our solicitors. This phone line is open 24/7.
Start a claim form: If you don't want to talk to our accident claims team right now you can put your details into this form to book a phone call from our team whenever its convenient for you.
office@accidentclaims.co.uk: You can get in touch with us by sending us a message.
Could I make Doncaster Sheffield airport accident claims on behalf of a child?
If a child that you have a responsibility for has been injured in an accident at Doncaster Sheffield airport, you might be wondering whether they could claim compensation. In the eyes of the law, a child does not have the capacity to be able to make a claim on their own. However, you could make a claim on their behalf for their injuries. You would need to act as their litigation friend in this regard specialist solicitors, who are authorised and regulated by the Solicitors Regulation Authority could assist with this. However, you do have another option. You could wait until your child turns 18 years old. Then, they could make a claim for themselves. There are certain conundrums that this could throw up, however. In some cases, you may find it more difficult to contact witnesses to the incident, if time has passed and they have moved. This is not a decision you should take lightly, and we would like to give you all of the facts in order for you to be able to make an informed decision about whether to claim or whether to wait. Please do not hesitate to call us, and ask us any questions you like about making a claim for a child.
Could I make Doncaster Sheffield airport accident claims if I suffer an allergic reaction?
If you visit a food business, or buy pre-packaged foods they must have 14 specific allergens listed on the ingredients list, or on a menu of a restaurant, for example, to allow you to make an informed choice about the foods you eat. Allergy sufferers could take great care to avoid consuming the allergens that they react to. However, if a food business is negligent, they could unknowingly consume an allergen due to that negligence to. If this has happened to you, you could make a claim for compensation.
Essential References
Passenger Travel Issues Resolved.
Here ends this guide covering Doncaster Sheffield airport accident claims.