By Jo Jeffries. Last updated 7th April 2022. Welcome to our guide to football stadium accident claims. Below, we explain whether you could claim compensation for falling in a football stadium, and who could be liable for a trip and fall at a football ground.
Football stadium accident claims explained
Going to watch a football match at a stadium should not carry a significant risk of injury for you and the friends and family you go with. The operators of football stadiums have a duty of care to make sure that all the people in the ground are safe from any avoidable dangers. Following a number of tragic football stadium disasters in the UK and in Europe during the 1980s, safety regulations and laws concerning football stadiums were tightened significantly. Subsequently, football grounds have become a much safer place to spend a Saturday afternoon.
Could I claim for a 
trip and fall at football ground?
This doesn't mean that accidents never happen in football stadiums anymore, however, and when they do happen it could often mean that the operator of the stadium has failed their duty of care to keep the spectators safe. This means that if you've had an injury at a football stadium you could be entitled to make a compensation claim against the operators of the stadium. Our solicitors can help you seek compensation for a football stadium accident and this guide will show you how. If you have suffered some other type of injury at a sports facility you can find a guide to making a gym accident claim here.
If there is anything else that you want to know about getting compensation for suffering an accident at a football stadium that this guide doesn't fully explain then our legal team will be happy to chat with you over the phone or via email. You can call them on 0800 073 8801 or ask them to call you with this form, our email address is office@accidentclaims.co.uk.
Select A Section
A Guide To Claims For An Accident At A Football Stadium
This guide will go over some of the different ways that an accident or injury might occur in a football stadium and when and how you could work with a no win no fee solicitor to seek compensation for it. Note that some of the different types of accidents at a football stadium could mean you have to make a claim against someone other than the operator of the stadium. For example, if you suffered an allergic reaction to food you were served you might claim against the food vendor or restaurant who served you.  This guide is also for people who have suffered an injury while working at a football stadium, not just for spectators. This page here has more details about making a claim for being injured in a an accident at work.
After going over the details of some different types of accidents and how you can claim for them we'll tell you about how the compensation you seek might be calculated, providing you with an early educated guess as to how much money your injury and its effects on your personal and work life might entitle you to. Finally, we hope that this guide will convince you of the merits of working with our solicitors for making a compensation claim. Please feel free to also consult our team of advisors for any further questions you would like to know the answers to.
What Is A Football Stadium Accident?
When we say "football stadium accident" we aren't necessarily talking about big events like a football stadium collapse such as the Heysel disaster in 1985 or a stadium fire disaster such as the Bradford City Stadium fire in the same year. Big events like these have caused significant loss of life and many injuries, but they are very rare. Of course, if you were to be hurt in a high profile incident like that then you would be entitled to claim compensation for it, but for the purposes of this article, we are referring to smaller day to day accidents in which spectators and staff can be hurt.
Safety At Football Stadiums
There are a number of laws covering regulations of football stadium safety that operators of stadiums must comply with. Some of these laws apply to stadiums because they apply to businesses in general, such as the Occupiers Liability Act 1957 and 1984, or the Health And Safety At Work Act 1974. Others like the Fire Safety And Places Of Sport Act 1987 and the Safety of Sports Grounds Act 1974 are specific to sports stadiums. New laws have been created and existing ones amended in light of significant football stadium disasters, for example in the aftermath of the Hillsborough disaster in which 96 people were killed stadiums were required to provide seating room only and to phase out traditional standing room stands.
What Duty Of Care Do Football Stadium Operators Have?
Under the Occupiers Liability Act 1957, the operators of a stadium have a duty of care to ensure that visitors are safe from any foreseeable hazard. That means if a threat had emerged in a previous incident or if it should have been foreseen by carrying out a risk assessment then the operator would be liable for paying compensation to the victims if they are found to have failed to take action to prevent it. Under the 1984 amendment to this act, this duty of care also extends to people who are not supposed to be in the ground, such as supporters who have entered without a ticket.
This duty of care concerns the prevention of accidents, but also the regulation of the crowd's behaviour and the prevention of violence. A small minority of fans might get aggressive or start fights with opposition supporters if their access and movements around the stadium are not monitored or controlled closely. Football hooliganism is a well-known issue so stadium operators have no excuse for neglecting it.
Examples of Football Stadium Accident Claims
One example of how this liability could apply would be Cunningham v Reading 1991, in which Reading Football Club was held to be liable for the injuries inflicted upon police officers during fighting between supporters of Reading Football Club and Bristol City. Supporters were able to pull loose pieces of concrete from the steps of the terrace and throw them. Because the club had failed to ensure that the stadium was not in a condition of disrepair and because football supporters were known to engage in violent behaviour Reading Football club was found to have failed its duty of care by not taking further steps to ensure security.
Football clubs can also be held liable for the behaviour of fans if they have been found to have engaged in unacceptable behaviour such as racist chanting or bringing weapons or other contraband into the ground.
What Liability Does The Sports Regulator Have?
National and international sporting bodies which oversee or regulate sports and competitions can also impose liability on member or participant organisations. Regulations laid down by these organisations exist on top of and irrespective of the laws concerning the responsibilities of football clubs. Cases can be brought against sports clubs by both prosecutors and regulatory bodies for the same incidents.
For an example of how clubs can be liable to regulatory bodies, FIFA and UEFA hold both national associations and football clubs responsible for their fans' behaviour. These organisations have successfully brought cases against football clubs and national football organisations for breaching regulations about controlling fan behaviour. In 2003 the football club PSV Eindhoven was made to pay a fine to UEFA as a result of Eindhoven fans throwing missiles at players and chanting racist abuse during a champions league match against Arsenal. In 2004 FIFA successfully brought a case against the Spanish football association for racist chanting and insults coming from Spanish fans during a game against England. The Spanish FA was made to pay a fine of 65,900 Euros.
In addition to the imposing of fines by the courts, these regulatory bodies have the authority to impose bans on spectators being allowed to watch the game, in some cases, this might mean only one side is allowed to have supporters in the ground, in others clubs can be made to play behind closed doors entirely. Clubs can also be expelled and banned from participating in certain competitions. Following the Heysel stadium disaster which was ruled to have been caused by the actions of Liverpool FC hooligans, a five-year ban was instated by UEFA on any English team competing in European competitions, with an extended six-year ban for Liverpool FC itself.
What Accidents Could Happen At A Football Stadium?
Due to the nature of football stadiums, some types of accidents are more common than others.
In stadiums where the pitch and the stands are in close proximity, there is a chance that the ball could be kicked into the stands and hit a spectator, or a footballer could fall of the pitch and collide with a fan. While such incidents might appear comical on TV they shouldn't be taken lightly as people can suffer nasty injuries.
Some stadiums are very large and can accommodate tens of thousands of spectators. This necessitates stands that can be several stories high with seats accessed by both internal and external stairwells. These stairwells can pose a slip trip and fall hazard, especially if they are not kept in good condition and the flow of foot traffic is not well monitored.
Most stadiums do not have roofs, this means that fans and players will be exposed to any bad weather. Rain, snow and frost can pose a threat, such as by making stairwells and other surfaces slippery through being wet or having ice on them.
Fans can suffer a slip trip and fall as they enter the ground's property outside the stadium. The volume of fans attending the match often means that roads are filled with crowds of people heading to the stadium. This means that clubs have a duty of care to make sure that traffic and the crowds heading to the game are regulated. Failure to do so can result in people being injured in road traffic accidents.
Most stadiums have folding plastic seats. These can be damaged by vandalism or wear and tear. People can be hurt by broken or damaged seats and stadiums must ensure regular checks of all the seats in the stands to make sure any broken seats are flagged up and replaced immediately before the next game begins.
Football Stadium Accidents Caused By Damaged Or Broken Facilities
Football stadiums, like all facilities, need to be kept well maintained and in good condition in order to be safe for visitors. Football stadium safety can be compromised if any part of it is allowed to fall into disrepair. Disrepair such as crumbling concrete on the steps or loose railings in the stands can cause an injury. Leaks can lead to wet patches of floor or puddles which, if not rectified, can cause an accident. Broken or loose seats could injure spectators. Any part of the structure of the stadium or the facilities in it which is involved in a person suffering an accident due to poor maintenance could be grounds for a personal injury claim. Please don't hesitate to call us if you were hurt while on the premises of a stadium and you think that it wasn't your fault. For more information about this type of claim, see our page on public liability claims.
Football Stadium Seat Collapse Injury Claims
Even smaller stadiums usually have enough seats for thousands of spectators. Each one of these seats is the responsibility of the stadium's operators to maintain. If they aren't maintained then a spectator could suffer an injury which the stadium operator could be liable for. There are different ways in which a spectator could hurt themselves on a seat. Most stadium seats are plastic, plastic often has sharp edges when pieces of it get snapped off and a person could cut themselves on it. Seats in which the plastic seat has become loose from the metal frame, or in which the metal frame has broken or come loose could break or collapse when spectators sit on them. Stadium staff are required to comb the stands checking every seat for signs of wear or damage before and after every game to ensure that any broken seats are flagged up.
Slip, Trip And Fall Accidents At A Football Stadium
Football stadium operators, just like the operators of other businesses have a duty of care to ensure that visitors and staff are as safe as reasonably possible while on their premises. This includes taking measures against all possible accidents, even the mundane like slips, trips and falls. Slip, trip and fall claims are some of the most common types of personal injury claims.
What this responsibility means in practice is maintaining vigilance against anything which could cause a person to slip or trip over and hurt themselves and always ensuring that any problems that arise are acted on as soon as possible.  So, for example, stadium staff need to be on the lookout for spilt drinks, or wet patches of the floor which could cause someone to slip over in order that they can be cleaned up as soon as possible. Tripping hazards such as rubbish, wires or uneven flooring must be cleared away or rectified as soon as possible.  In winter any surfaces which become slippery due to ice should be covered with grit. If a problem cannot be dealt with right away, for example, if a stairwell has become damaged or is wet due to rainfall then stadiums should provide warnings to spectators. This can be done by instructing staff to remind visitors to mind their steps, by putting out "wet floor" warning signs and by making an announcement over the tannoy system. This page has more details on how slip, trip and fall claims work.
Accidents On The Field Causing Spectator Injuries
Due to the proximity of the fans to the pitch in most English stadiums, it is easy for the ball to go flying into the stands, or even for the players to collide with the fans by tripping and falling into the stands.  Since fans are usually watching the game they should be able to duck out of harm's way or catch a ball if it comes at them. In the event that a spectator is harmed by a ball or player colliding with them making a personal injury claim may be difficult as the operator of the ground is not responsible in most cases for players hitting the ball into the stand or tripping into the stands. In certain grounds where there is a protective barrier in place between the stands and the pitch (some grounds have netting between the pitch and the stand and/or between different sections of the stands to prevent missiles from being thrown), the club operator could be liable for failing to maintain the barrier such that it allows balls (or players) through. If you've been hit and injured by the ball or by a player while in the stands, call us to discuss the incident and your chances of making an injury claim.
Workplace Accidents At A Football Stadium
Like all workplaces, a football stadium must be a safe place to work for its staff. All of the different potential ways of getting hurt apply to staff as well as spectators: Slips, trips and falls, being hurt by faulty facilities, being struck by something or someone coming off the pitch and being assaulted during crowd trouble. As an employer the stadium operator is bound by the Health And Safety Act 1975 to keep its staff as safe as reasonably possible as well as owing a duty of care to spectators.  For more information about making an injury claim against your employer for an accident at work click here.
Accident At A Football Stadium Compensation Claims Calculator
Calculating the worth of your injuries in terms of how much compensation you can receive for them is done according to a certain set of guidelines that all courts and solicitors must follow. Some injuries are worth only relatively small amounts of money while others can entitle a claimant to six-figure sums or more. The amount of compensation awarded depends on how serious the injury is, the more serious the injury is the more money the claimant is entitled to receive.
Factored into the calculation of the compensation fee are other specific factors like how long it takes for the accident victim to recover, if the injury causes any disfigurement, if it causes any permanent effects or disabilities and whether or not the victim is left with psychological after-effects of the injury such as PTSD. You can see some examples of this in the table below. Please remember that every claim is different and that there are other factors that go into working out your compensation so the figures in this table may well not reflect what you would actually receive in real life. To have a close idea of what you are likely to be able to claim, you would need to have an in-depth talk with a professional solicitor.
| | | |
| --- | --- | --- |
| Injury | Notes | Compensation |
| Fractures of nose (i) | Multiple or serious fractures requiring multiple surgeries and/or leaving permanent damage to tear ducts, difficulty breathing and facial deformity. | £9,080-£21,700 |
| Fractures of nose (ii) | Displaced fracture where a recovery is only possible after surgery. | £3,370-£4,790 |
| Fractures of nose (iii) | Displaced fracture which requiresonly manipulation to heal. | £2,160-£2,960 |
| Fractures of nose (iiii) | Simple non-displaced fracture which heals completely. | £1,460-£2,370 |
| Damage to teeth (i) | serious damage to or loss of several front teeth. | £7,460-£10,710 |
| Damage to teeth (ii) | Serious damage to or loss of two front teeth | £3,710-£7,610 |
| Damage to teeth (iii) | Loss of or serious damage to one front tooth | £1,180-£3,710 |
| Damage to teeth (iiii) | Loss of or damage to back teeth, per tooth | £930-£1,600 |
Special Damages For An Injury At A Football Stadium
Suffering an injury, especially a severe one, can have a serious impact on your life and your finances. It might prevent you from being able to work, either by taking time off work, by changing occupations or by becoming severely disabled and being unable to take on any full-time occupation. You can be compensated for this loss of earnings produced by your injury. You can also be compensated for the expenses brought on by your injuries. For example, if you have had to make use of any private healthcare; such as physiotherapy, psychiatric therapy or if you have purchased any drugs or medication you can be compensated for the money you have spent. This can even include any travel costs that you incur going to and from your appointments or operations. Keep a close record of your expenses and receipts while you are recovering from your injury, if you and your solicitor are able to compile them they can calculate how much money the injury has cost you and you can claim it back in compensation under special damages.
No Win No Fee Claims For An Accident At A Football Stadium
Some people might be worried about how much it would cost to hire a personal injury solicitor and be concerned that if they lose the case they will have to pay a hefty bill to their lawyer. By working with our personal injury solicitors you won't have to deal with this problem. You can make a no win no fee claim with our solicitors. A no win no fee claim agreement stipulates that you won't be obliged to pay legal fees in the event that your solicitor fails to win you compensation, however, it also stipulates that your solicitor will be entitled to receive their "success fee" from your compensation sum if you win your claim. This success fee may amount to up to 25% of the compensation sum, though since it will be coming out of the money you have been awarded it will still leave you much better off than if you were paying upfront out of your own pocket. For more information about how no win no fee claims work, you can ring or email us to have a chat.
Why Choose Us For Your Football Stadium Accident Claim?
If you are looking to make a claim for an accident at a football stadium then you will need a personal injury lawyer who you know you can rely on. You can get just that through Accident Claims UK, our personal injury solicitors have been working in law for up to thirty years. You'll also need good advice before you begin to make a claim, Accident Claims UK can provide you with this as well, and what's more, it's free and carries no obligation on your part to use our personal injury claims services afterwards. Use the contact details below to consult with our advisors.
You can avoid the major financial cost of legal fees that you might otherwise face when making a claim by taking advantage of the no win no fee claims that we offer to our claimants.
Start Your Claim For An Accident At A Football Stadium
If you've been injured while working or watching a game at a football ground and you wish to make a claim or receive free advice about making a claim, send a message to office@accidentclaims.co.uk, or call 0800 073 8801.
Football stadium accident claims – FAQs
Who can make football stadium accident claims?
If you are injured in a football stadium accident caused by the operator's negligence, you could be compensated for any suffering. This applies to spectators, staff and visitors. If a child is injured at a football stadium, a parent could sue for damages on their behalf.
Can I claim if I'm assaulted at a football stadium?
If the stadium operator didn't provide enough security to protect spectators, you could claim against them for any injuries following an assault. If that's not the case, you could claim through the Criminal Injuries Compensation Authority (CICA).
How long do football stadium accident claims take?
If liability for your accident and your injuries is agreed upon quickly, claims can be processed in less than 6-months. If the cause of your accident or the level of your injuries is contested, the claim may take over a year.
What is the time limit for football stadium accident claims?
In most cases, a 3-year time limit applies to football stadium accident claims beginning from the date you were injured. For cases involving children, this time limit does not apply.
Could I claim compensation for falling in a football stadium as a member of staff?
You could claim compensation for falling in a football stadium as a member of a staff if you could prove that your employer breached their duty of care towards you, causing you injuries.
According to the HSE, slips, trips and falls were the most common accident at work in 2020-21, as you can see from the graphic below.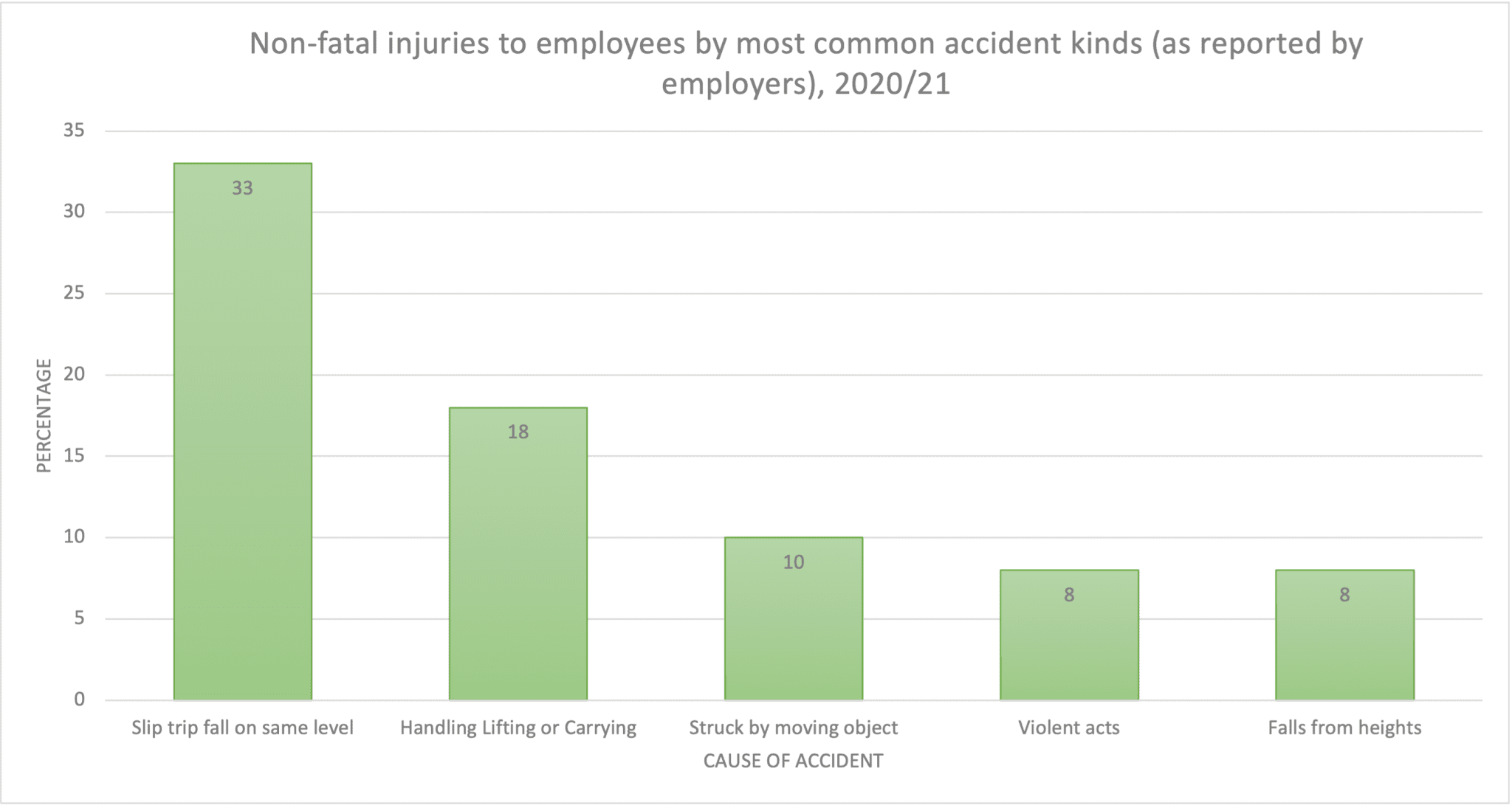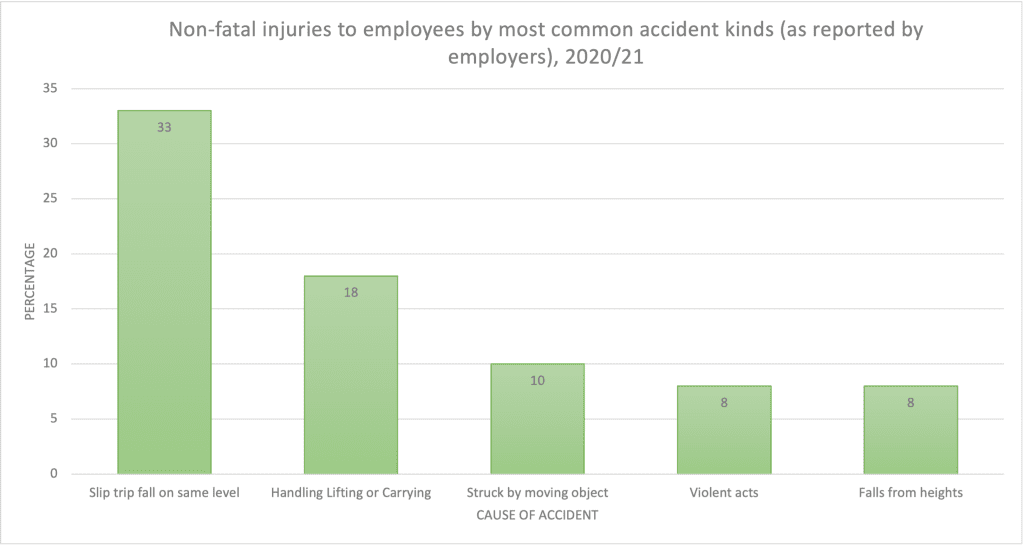 If your employer had negligently failed to remove trip hazards that they were aware of, for example, this could be a breach of their duty of care towards you. If you are injured because of this, you could claim.
Could I make football stadium accident claims on behalf of a child?
Many people take their children to football matches. If your child is injured due to a breach of someone's duty of care towards them, they would not be able to claim for themselves under the age of 18. However, a responsible adult could apply to be a litigation friend for the child. They could then bring the claim forward on the child's behalf. We could help with such claims. Why not call our team. We would be happy to explain more over the phone.
What type of damages could I receive in a successful claim for a trip and fall at football ground?
A successful claim for a trip and fall at a football ground could bring you compensation for the suffering, pain, and loss of amenity caused by your injuries. It could also lead to you receiving compensation for the out-of-pocket expenses caused by your injuries and accident.
Essential References
Thank you for reading our article on football stadium accident claims. Please call today for free legal advice.